When I visited Plano, Texas last month on business, I went out to lunch at the Taco Diner Plano Legacy. I had a taco sampler plate and opted for a combination of Puerco Al Pastor tacos and vegetarian Crispy Fried Avocado tacos. Some of the grilled pineapple from my Al Pastor tacos fell onto my crispy avocado tacos, and the rest, as they say is history. I tasted it and loved it so much that I recreated the happy accident at home, on purpose, adding some fresh lime juice and cilantro to the party. The result: Crispy Avocado Tacos with Grilled Pineapple Relish. This is our new favourite taco.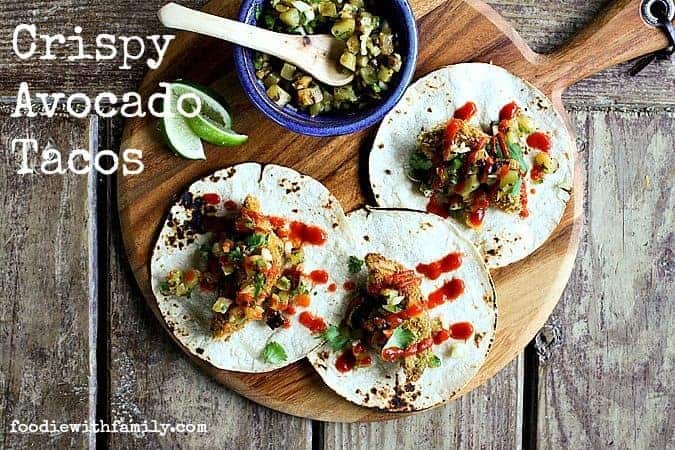 I cannot remember one moment in my almost forty years of life that I have ever turned down a taco. The truth is that I consider tacos and pizza the most perfectly designed foods on the face of the Earth. There's nothing about them that I dislike. Even a mediocre taco is better than a spectacular casserole to me. Heh. Is there such a thing as a spectacular casserole? But seriously. Tacos and pizzas… If I had to choose just a couple of foods to live on for the rest of all time I'd choose those.
Okay, maybe add fried dumplings to that list. And hamburgers. And my Grandma's biscuits and cornbread. THE POINT IS…
This recipe was the entire reason I made the Crispy Avocado Fries and Grilled Pineapple Relish. I ended up loving both of them so much on their own that I gave them their own posts, but people -PEOPLE!- this is the business. This is the stuff. Crispy, Creamy Avocado Fries on charred corn tortillas (MORE FLAVOUR!) topped with Grilled Pineapple Relish, hot sauce, and a few leaves of fresh cilantro?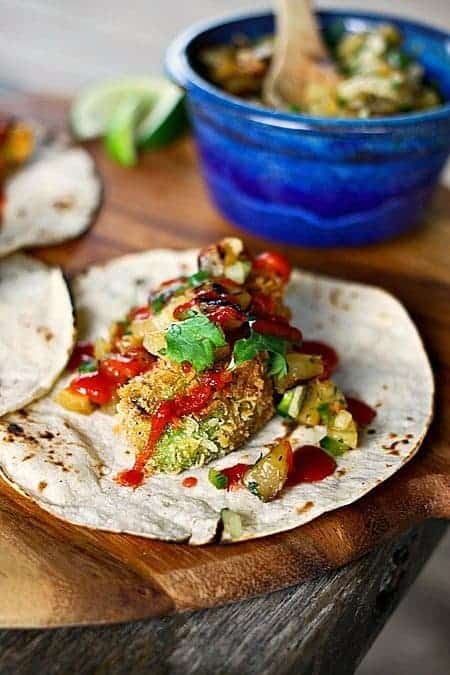 I mean honestly; can I get a 'Hubba hubba!'?
And who's ready for a little bonus? The avocado fries hold up remarkably well at room temperature, making this a dish you could have all of the components ready and waiting on you to put together your Crispy Avocado Tacos with Grilled Pineapple Relish when you're entertaining.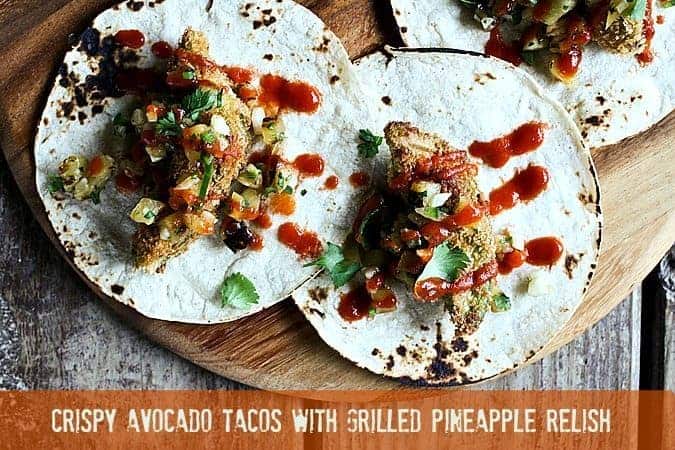 Cook's Notes
As mentioned, this is an ideal recipe for entertaining because you can fry the Crispy, Creamy Avocado Fries an hour in advance and then hold at room temperature before guests arrive. The Grilled Pineapple Relish is also a great make-ahead number and improves as it rests. HINT HINT (July 4th!)
You *could* substitute flour tortillas for the corn ones, but I find the corn tortillas to have much more flavour and hold up better as a taco.
Speaking of the tortillas, char 'em. Seriously. The smoky flavour of charring them matches beautifully with the sweetness of the corn in the tortillas. It's that extra layer of flavour that pushes them into OHMYGAWSH territory.
While you can absolutely do your avocado fries ahead of time, you should avoid assembling the actual tacos until just before serving. In fact, I prefer to present all of the components and let my family or guests make their own tacos. This way, there's no sogginess from the Grilled Pineapple Relish sitting on the crispy avocados for too long.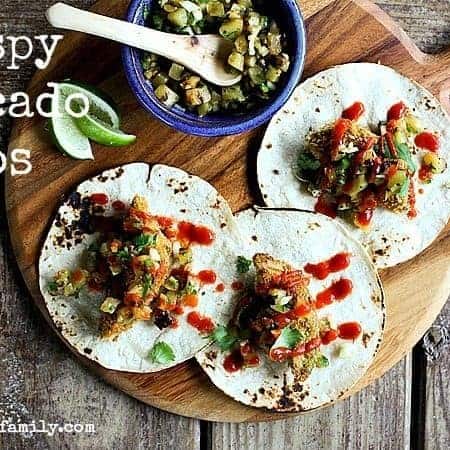 Crispy Avocado Tacos with Grilled Pineapple Relish
Rate Recipe
Ingredients
1

batch Crispy

Creamy Avocado Fries

1

batch Grilled Pineapple Relish

8-10

small corn tortillas

charred lightly
To Garnish:
Fresh cilantro leaves

hot sauce of choice
Instructions
Line up 2 to 3

avocado fries

(depending on their size) in the center of each charred tortilla. Spoon the

Grilled Pineapple Relish over the avocado fries. Garnish with cilantro leaves and hot sauce and serve.
Nutritional information is an estimate and provided to you as a courtesy. You should calculate the nutritional information with the actual ingredients used in your recipe using your preferred nutrition calculator.