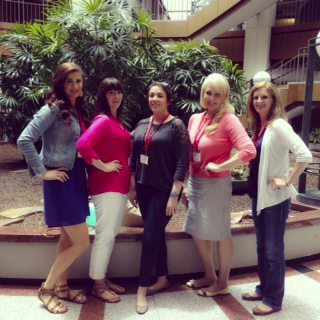 Photo credit: Susan Getgood
When BlogHer asked if I'd consider being a JCPenney brand ambassador I was a little confused. Why would a company that sold business clothing for women want me as a brand ambassador? BECAUSE I THOUGHT JCPENNEY WAS A LITTLE STODGY. Please note the past tense in that verb 'thought.' I'll get back to that in a moment. This was based in I don't-even-know-what. I had ordered jeans frequently for the older boys from JCPenney online, because they were one of the only retailers who sold the impossible-to-find-sizes (28x30s and 29x32s) I mean honestly… Who is that size other than my two lanky teenagers?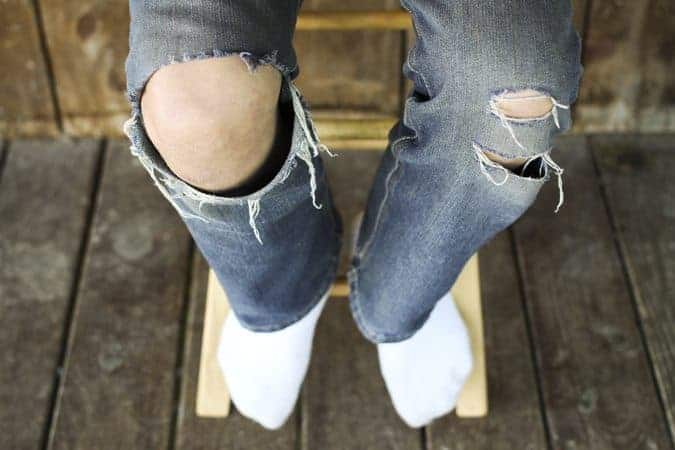 And yes. I do mean I order jeans for them frequently, because my fourteen year old does THAT to his jeans. We're considering renaming him Shredder Lindamood. Reminder: I live in the middle of nowhere. I don't get to real live stores very often. I accepted the brand ambassadorship based on the fact that they kept my kids in pants when no one else could. Part of the agreement was a trip to Plano, Texas to visit their headquarters along with the other fabulous bloggers chosen to be ambassadors: Natalia of MaNouvelleMode, Meseidy of The Noshery, Jill of One Good Thing by Jillee, and Jamie of Hands On: As We Grow. When we arrived, we were greeted by that sign you see above and at that moment, my opinion of JCPenney started to shift. The change became seismic when we sat down in a conference room and got to meet with the brain trust of JCPenney; the heads of social media, women's fashion, salon (did you KNOW JCPenney has full-service salons in many stores and provides more compensated training to their salon staff than any other chain of salons in the United States?), men's trends, divisional trends (Home and Garden!), visual merchandising, and marketing, all met with us to discuss their motivation and inspiration. Wow. Right there. That's when the idea of JCPenney as stodgy got tossed out on their ear. Why? There were five big reasons:
Every single one of them emphasized that their goal, as a company, was to treat people the way they'd like to be treated in keeping with the company's original mission statement. JCPenney employees all want to help the Mom of Too: Too little time, two little kids and too little money. In other words, they fit YOU instead of an ideal.
They wanted to offer options to people and not a complete wardrobe/look/home overhaul every season. Over and over, these leaders discussed adding a couple of trend pieces to 'what you already have.' I like that. No. I loved it. I loved that they're respectful of their consumer's budget and needs.
Everything I saw there was high quality at an affordable price. And that, unsurprisingly, is the whole idea. They want you to be able to get a trendy piece or two that is of a high enough quality to last, whether it be the latest style of pants, a vase, a hair style, or a kitchen gadget. They make it possible to dabble as lightly or heavily in a trend as you'd like without breaking the bank and without wasting your money on junk.
I loved their JCPRewards program. Unlike many other retailers, JCPenney doesn't require you to open a store credit card to get a discount or rewards. You simply sign up for the program, provide your number when making a purchase, and receive points towards discounts on future purchases with every dollar you spend. My word.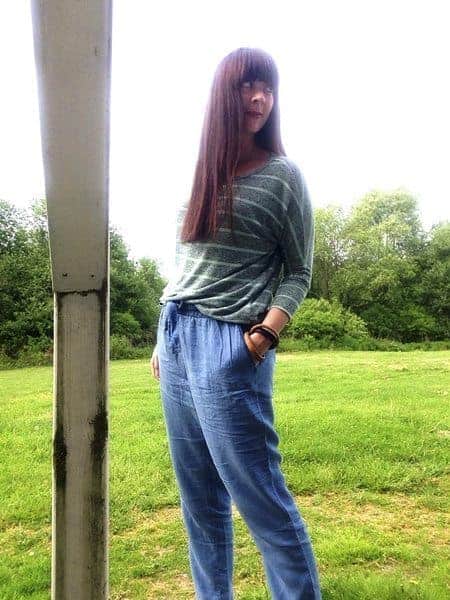 While listening to the women's fashion director, Adam Moon, discuss emerging women's clothing trends, I am pretty sure I outright dismissed the 'soft pants' trend he kept touting. I was envisioning me trying on a pair of Hammer pants. We ALL remember Hammer pants, right? Not a good look for a nearly forty year old woman, I tell ya. But then they took us shopping. They gave us each a $100 gift card and a personalized challenge. My challenge was to find a pair of jeans for Shredder to replace the jeans pictured above. Given that he is my 29 x 32 pants wearer, I was a doubtful I could find a pair in store. Wrong. I found them. In fact, I found them in five minutes. I had so much money left on the gift card, that I was able to get a pair of totally trendy plaid shorts for each of the youngest three boys AND a leather belt for my eldest son who has taken to stealing borrowing his father's belts without permission lately leaving his poor father with pants-on-the-ground. Oh, and because I'm open minded, I tried on a pair of soft pants from the MNG by Mango collection… I almost yanked the tags off and wore them out of the dressing room to pay for them. It was a trip of letting go of preconceived notions. Those soft pants were ridiculously comfortable, but they were also on-trend and flattering. (See the picture above.) Adam Moon, I'm sorry I doubted you! My current plan is to live in these pants until they fall apart.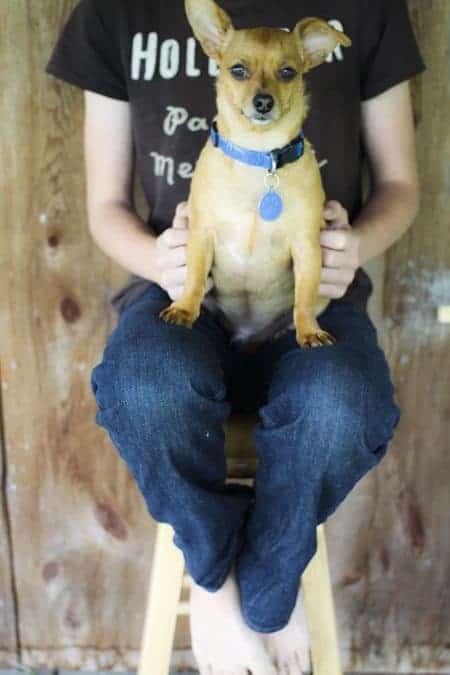 In total, between sales and coupons, I got a pair of Levi's jeans for one son, a pair of shorts each for three sons (hooray for carrying slims AND huskies!), a belt for my adult-man-sized son, and a pair of pants for me for $119. WIN! All this to say that I'm thrilled to be a JCPenney Ambassador now. I can enthusiastically recommend it to all my Mom-of-Too friends. I can't think of another store where you can walk in, get everyone in the family a stylish haircut, get mom-dad-kids clothed for any occasion – whether it be school, hanging out with friends, a wedding, or going for a run – from head to toe, restock your make-up (Did you know they often have Sephora IN-STORE?!?), replace the lamp that Shredder knocked over while sliding on his knees through the living room, AND grab a frying pan to use to make them dinner when you get home.
So I want to know, if you win the $100 JCPenney Gift Card that JCPenney is so generously offering one Foodie with Family reader, what will you buy? Leave a comment below to enter to win!
Sweepstakes Rules:
No duplicate comments.
You may receive (2) total entries by selecting from the following entry methods:
Leave a comment in response to the sweepstakes prompt on this post
Tweet (public message) about this promotion; including exactly the following unique term in your tweet message: "#SweepstakesEntry"; and leave the URL to that tweet in a comment on this post
Blog about this promotion, including a disclosure that you are receiving a sweepstakes entry in exchange for writing the blog post, and leave the URL to that post in a comment on this post
For those with no Twitter or blog, read the official rules to learn about an alternate form of entry.
This giveaway is open to US Residents age 18 or older. Winners will be selected via random draw, and will be notified by e-mail. The notification email will come directly from BlogHer via the sweeps@blogher email address. You will have 72 hours to respond; otherwise a new winner will be selected.
The Official Rules are available here.
This sweepstakes runs from 7/2 -7/30/2014.
Be sure to visit the JCPenney brand page on BlogHer.com where you can read other bloggers' posts!