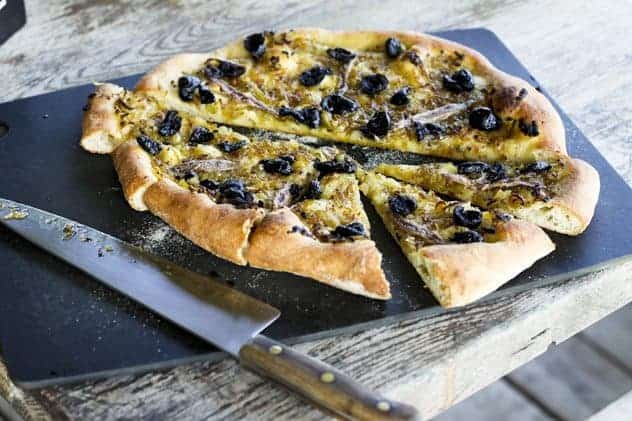 Pissaladière is the ultimate in French street food; crispy crust, caramelized onions, anchovies and salty olives. Because it is wonderful served both warm and at room temperature, it makes perfect picnic fare.
La bonne vie is sitting on a blanket with a slice of Pissaladière and a glass of chilled, crisp white wine. Heck, it's even good at a table or on a couch.
Now, I fully understand anchovies are not for everyone. Neither are olives, for that matter. But for those of us who do love both anchovies and olives, our affection runs deep, true, and maybe a little to the point of obsession.
Pissaladière is the ultimate food for these people.
It is universally agreed that France is a food mecca. Pissaladière is at its heart a seminal French dish. It is, in a nutshell, French pizza.
It is a flatbread that is a little breadier than Italian pizza, it's covered with a scandalously thick layer of caramelized onions, and topped with olives and anchovy fillets. This is a dish that encapsulates one of the reasons I love France so much. They don't shy away from stinky food when it tastes great.
French Pissaladière
First, let's clear up how to pronounce pissaladière. You're going to be just fine if you say PEE-sah-lah-dee-air.
If you want to be really French with it, draw out the "aaaaaiiiiiiiiirrr" part of the word. If not, don't sweat it.
French people will understand what you mean and if you say it beseechingly, they may even hand you a slice. French people love people who love food.
And yes, it is widely acknowledged to be a classic French dish, but its origins are in the geographic region surrounding Liguria, Italy. When Nice was annexed into France, it brought this flatbread with it.
The original dish was very similar to what we see today; flatbread covered with meltingly soft, deeply caramelized onions, anchovy filets, and black olives. Most commonly, Niçoise olives are used. See the tie-in to regional cuisine there?
The name itself comes from the Latin for fish; piscis. This, in turn, evolved into pissalat which is the name of the anchovy paste that was originally used in the dish.
Now, pissalat is much harder to get a hold of due both to the process of making it and because it is made from the fry of sardines and anchovies. Because fishing for the fry of anchovies and sardines (young fish just beginning to show scales) is highly regulated, this is a tougher, old-school condiment to lay your hands on.
The French committee which hands out such designations allows that Pissaladière made with anchovy fillets in place of the pissalat can still be considered authentic Nice cuisine or Cuisine Nissarde. I don't know about you, but I'd eat it whether it was authentic or not.
What are Anchovies?
They are small, common, saltwater forage fish that are classified as an oily fish. They're generally preserved by first gutting, then by brining, aging, and packing in salt or oil.
This process gives the anchovies that strong, characteristic fishy flavour that anchovy aficionados love so dearly.
Canned Anchovies
Domestically, you'll usually anchovy fillets packed flat in small tins with oil, but you may also see them wrapped around capers packed in oil. If you're lucky, you may also see anchovies pickled in vinegar in the Spanish style.
If you find these boquerones en vinagre, snap them up! They're a far more delicate -and delicately pretty!- anchovy that is a real treat. These are a lovely soft white colour instead of the usual grey and are much milder in flavour.
And if you think you don't anchovies, I have some information that might surprise you. These little fishies -or the essence thereof- find their way into a surprising number of foods you may eat regularly.
Are Anchovies Healthy?
Caesar salad, Worcestershire sauce, fish sauce, some pasta sauces, and Gentlemen's Relish all contain anchovies in some form. This is great news, because anchovies are ever so good for you.
Anchovies, much like sardines, are an excellent source of easily digested and metabolized protein, calcium, iron, selenium, and Vitamins D, B3, B6, and B12, among other things. If you're averse to the texture of anchovies, you can simply mash them thoroughly with a fork and cook them into sauces. They "melt" right into whatever they're simmered with.
Niçoise Olives
Another traditional component of a Pissaladière is olives; specifically, Niçoise olives. These intensely savoury, brine-cured little beauties are darlings of French cuisine and are grown in the French riviera.
They are often preserved or marinated with herbs and are a wonderful base for tapenade or in Garlic Roasted Olives. Pitting them before adding to a Pissaladière is optional.
In France, olives are often served with pits and it's understood that you use caution in biting down on anything that contains olives while n the US, not so much. If you use un-pitted olives, be sure to warn anyone who is about to chomp into your Pissaladière to avoid chipped teeth.
If you cannot find Niçoise olives, you can substitute kalamata olives for a similar taste and texture.
Anchovy Pizza
While Pissaladière is not strictly anchovy pizza, it could be argued that it is close enough to be considered a Provençal pizza. Both it's Italian origins and the construction are points in favour of the argument.
You have a flatbread or crust topped with sauce. In this case, the sauce is onions that are slowly caramelized until they are so tender they almost resemble a puree. These velvety, fragrant onions are piled on the crust with reckless abandon and then topped with as many (or as few) anchovy fillets as your heart desires.
A classic anchovy pizza is the crust topped with red sauce, cheese, and anchovy fillets. They're both delicious, but Pissaladière is just out of the ordinary enough to make it feel more refined, despite the humble origins.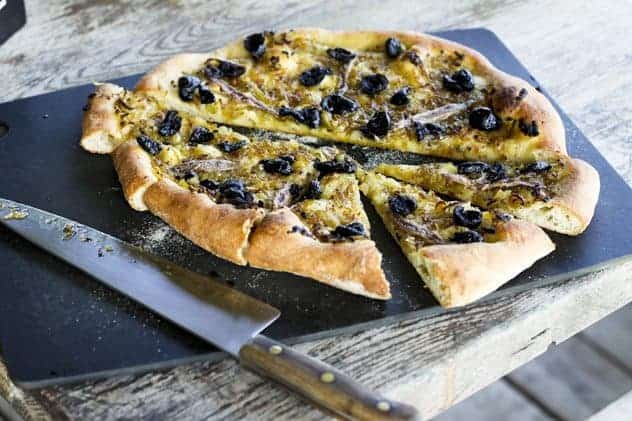 Pissaladière is the ultimate in French street food; crispy crust, caramelized onions, anchovies and salty, oil-cured olives. Because it is wonderful served both warm and at room temperature, it makes perfect picnic fare. La bonne vie is sitting on a blanket with a slice of Pissaladière and a glass of chilled, crisp white wine.
Ingredients
1

pound

pizza dough

3

pounds

onions

peeled, halved and cut into thin half-moon shapes then roughly chopped

1/4

cup

olive oil

1/4

teaspoon

dried thyme or 1/2 teaspoon fresh thyme

3

garlic cloves

peeled and sliced

1/2

teaspoon

kosher salt

black pepper to taste

8-10

oil packed flat anchovy fillets

patted dry, or more to taste. See notes.

16

Niçoise olives

pitted and halved (You don't need to be fancy about it. Pop the pit out with your fingers and tear the olives in half.) Or more, to taste.
Optional but tasty:
1

roasted red bell pepper

stem and seeds removed, thinly sliced into strips
Instructions
Preheat your oven and a pizza stone to 500°F (or up to 550°F if your oven can go higher.)

While the oven preheats, gently heat the olive oil in a heavy-bottomed skillet. Add the onions, thyme, bay leaf, garlic, salt and pepper, stirring to evenly coat with oil, and cook gently over medium low to low heat (lowering if necessary to prevent over-browning) for about 20 minutes, until the onions are softened and just lightly browning around the edges. Do not caramelize the onions completely or they will scorch in the oven giving a burned taste to the final product. Remove the bay leaf from the caramelized onions.

Dust your work surface with flour and gently stretch your pizza dough into a circle. Use a floured rolling pin to stretch the dough out until it is about 1/8-inch thick. Generously cover a pizza peel with semolina or cornmeal.

Spread the onion mixture (including the oil) to within 1/4-inch of the edges of the crust. Arrange the anchovies and olive halves over the top of the onions. If you're using the red bell pepper strips, arrange those artfully among the anchovies. Give the peel a gentle shake to be sure the dough isn't sticking. If it is, carefully lift that area and sprinkle more semolina or cornmeal underneath to fix it.

Slide the dressed dough onto the hot stone and bake for between 8 and 15 minutes, depending on the heat of your oven, or until it is evenly browned and crisp underneath. Use the peel to transfer the Pissaladière to a cutting board.

Cool for five minutes, cut into wedges and serve warm or at room temperature.
Notes
If you find anchovies to be unpalatably salty, you can soak them in a little cool water for about 30 minutes to remove some of the salt prior to use. Just be sure to pat them well dry before adding to your Pissaladière.
Nutrition
Calories:
287
kcal
Carbohydrates:
44
g
Protein:
7
g
Fat:
10
g
Saturated Fat:
2
g
Polyunsaturated Fat:
1
g
Monounsaturated Fat:
6
g
Cholesterol:
2
mg
Sodium:
755
mg
Potassium:
279
mg
Fiber:
4
g
Sugar:
11
g
Vitamin A:
64
IU
Vitamin C:
15
mg
Calcium:
54
mg
Iron:
2
mg
Nutritional information is an estimate and provided to you as a courtesy. You should calculate the nutritional information with the actual ingredients used in your recipe using your preferred nutrition calculator.
This post was sponsored by Frigidaire.