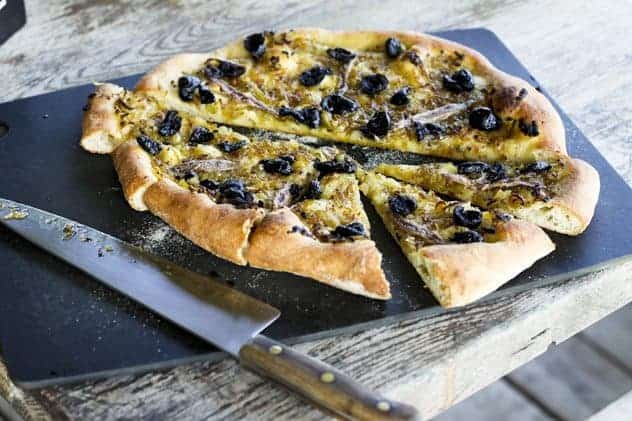 I spent my senior year of high school as an exchange student in the Alsasce region of France. How my parents managed to pull that off in the middle of a divorce on a church salary and as a full time student I have no idea, but I am eternally grateful. I took full advantage of the opportunity they gave me and studied (the boys. Sorry, Dad.) at a French high school, traveled through France, Germany, Switzerland and even a wee bit of Italy, drank up the culture, admired the architecture, consumed my weight in pastry, read their literature, attended sporting events, hiked the countryside, walked the city streets (only the safe ones, ish. Sorry, Mom.), made lifelong friends, and -in retrospect- did everything I could have wanted to do.
Except for one thing.
You see, the year I spent in France was smack dab down the middle of my seven year stint as a vegetarian. Sigh. That's right. I spent a school year in the sausage capital of the world. As in the region of France that is best known for its charcuterie and specialty hams and oh man. (That sound is me smacking my head on the desk repeatedly.) I want a do-over on the meat portion of the trip.
To be fair, I must assert I did not do without good food, lack of ham notwithstanding. France is a food mecca no matter how you eat. I had cheese and pastry and vegetable tartines and more cheese and more cheese and yet more cheese. I put a great deal of French cheese under my belt. Given that I was not partaking in the local meats (weep, gnash, moan), the hospitable folks of the area pushed many cheeses my way. And if you think I ran out of cheeses to try whilst in La Belle France, you're sorely mistaken.
With all the multitudinous fromages I munched, you might think think it's a cinch that cheese was my favourite food in France. That distinction, however, belongs to a food that will always reign supreme in my heart as the ultimate in French food. It's not a high-falutin', fancy-pants, five-days-prep food either. It's that good, solid, favourite-of-the-citizens selection: Pissaladière.
Pissaladière is not technically an Alsatian dish (Whimper, see lack of ham tirade above.) but it is at its heart a seminal French dish. It is, in a nutshell, French pizza. The crust is a little breadier than Italian pizza, it's covered with a thick layer of caramelized onions, and topped with salty, oil cured olives and anchovy fillets. This is a dish that encapsulates why -among other reasons- I love France so much. They don't shy away from stinky food when it tastes great.
Some day, I'll get back to France. I'll tour the places where I spent some of the most defining time of my youth. I'll once again eat my weight in cheese and pastry, tour the countryside and admire the architecture. But this time, I'll take my own cute guy with me, and I'll try that ham and sausage, dangit.
…and I will most certainly have a pissaladière. Or three.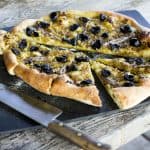 Print
Pissaladière (French Pizza)
Pissaladière is the ultimate in French street food; crispy crust, caramelized onions, anchovies and salty, oil-cured olives. Because it is wonderful served both warm and at room temperature, it makes perfect picnic fare. La bonne vie is sitting on a blanket with a slice of Pissaladière and a glass of chilled, crisp white wine.
Ingredients
1

pound

pizza dough preferably this

3

medium onions

peeled, halved and cut into thin half-moon shapes then roughly chopped

3-4

tablespoons

olive oil

1/4

teaspoon

dried thyme or 1/2 teaspoon fresh thyme

1/2

a bay leaf

3

garlic cloves

peeled and sliced

1/2

teaspoon

kosher salt

black pepper to taste

8-10

oil packed flat anchovy fillets

patted dry

16

oil cured olives

pitted and halved (You don't need to be fancy about it. Pop the pit out with your fingers and tear the olives in half.)
Instructions
Preheat your oven and a pizza stone to 500°F (or up to 550°F if your oven can go higher.)

While the oven preheats, gently heat the olive oil in a heavy-bottomed skillet. Add the onions, thyme, bay leaf, garlic, salt and pepper, stirring to evenly coat with oil, and cook gently over medium low to low heat (lowering if necessary to prevent over-browning) for about 20 minutes, until the onions are softened and just lightly browning around the edges. Do not caramelize the onions completely or they will scorch in the oven giving a burned taste to the final product. Remove the bay leaf from the caramelized onions.

Dust your work surface with flour and gently stretch your pizza dough into a circle. Use a floured rolling pin to stretch the dough out until it is about 1/8-inch thick. Generously cover a pizza peel with semolina or cornmeal.

Spread the onion mixture (including the oil) to within 1/4-inch of the edges of the crust. Arrange the anchovies and olive halves over the top of the onions. Give the peel a gentle shake to be sure the dough isn't sticking. If it is, carefully lift that area and sprinkle more semolina or cornmeal underneath to fix it.

Slide the dressed dough onto the hot stone and bake for between 8 and 15 minutes, depending on the heat of your oven, or until it is evenly browned and crisp underneath. Use the peel to transfer the Pissaladière to a cutting board.

Cool for five minutes, cut into wedges and serve warm or at room temperature.
This post was sponsored by Frigidaire. When you share your own do-over moment at Facebook.com/Frigidaire, Frigidaire will donate $1 to Save the Children's U.S. programs. Plus, Frigidaire will help cover the costs for one lucky visitor to win the ultimate do-over.