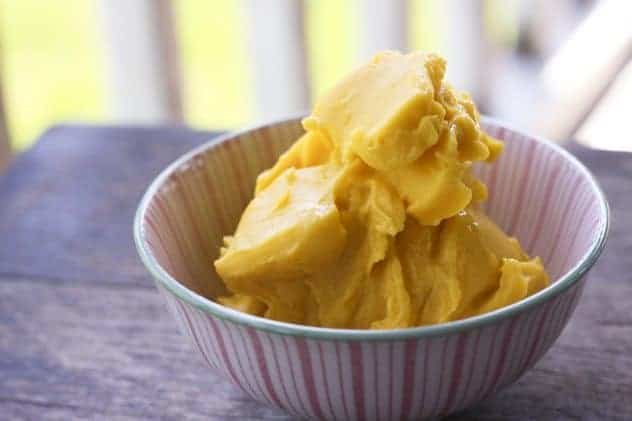 Around a decade ago, my stepmom, Val,  and my dad gave us a seriously burly juicer as a gift. For those of you well-versed in juicers, I'll name drop for a second here; it's a Champion. That thing is jet-engine powerful. And I used that jet engine to make juice. Lots of juice. Juice is good for kids, right?* But there's only so much juice a gal and her crew can consume.
*Well, as long as it's real juice and not a sugar bomb. I know…
Then one day, while we were hovering around Val's kitchen looking hungry (because if you're smart, that is the way you'll arrange your face in her kitchen so you can taste her food), she offered to whip up a treat for us. She fished some frozen mango strips and bananas from the freezer. She assembled her own juicer and stuffed the frozen fruit into it. The motor whirred and out of the end of the juicer came… what?… seriously???… It was ice cream. Or at least it looked it.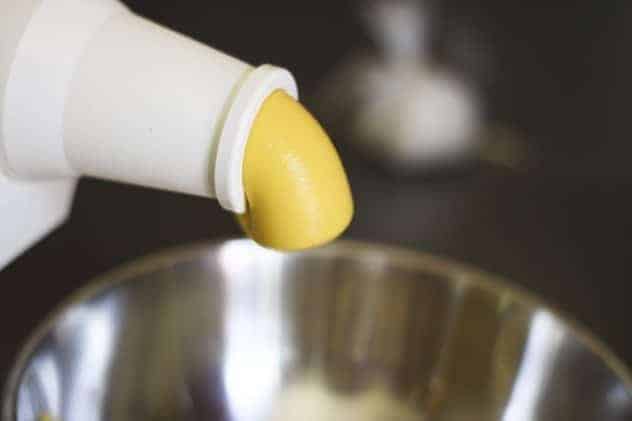 And oh-my-sweet-heavens it tasted like it. It tasted like the most glorious, indulgent ice cream I had ever eaten. I didn't even wait until it made it to my own personal bowl. My spoon kept going back to the bowl sitting under the juicer. The Evil Genius's spoon was even faster than mine. Superlatives were used folks.
That was a day that will live in our memories forever, because it was the day we discovered (I can't believe I'm about to say this, but my kids are standing over me insisting I tell you what they call it) Fruit Poop. If I wasn't so desensitized by being the mother of five boys, I might have died just now putting that in print for all you to read, but that's what the kids (including the big, adult one to whom I'm married) like to call it. This name came about while watching the juicer extrude the fruit. Okay, boys. I told them. Can I go back to calling it ice cream now?
All summer long, this is our go-to dessert. And for years, I've kept my mango strips, bananas, and whatever other frozen fruit I wanted to use in plastic containers in the freezer. The only problem was that the lids on those dad-burned containers always shattered on me when I tried to pry them off. I tried switching to freezer bags, but those would slip down in and among rock-hard venison loins, bags of peas and corn, and white paper packages containing that half-a-pig we ordered. It drove me batty.
I recently discovered the joy that is Glad Freezerware. It's made to go into the freezer! (Duh, right?) It's tough stuff. It's made to go from freezer to microwave to whatever and is dishwasher safe. SCORE. I'm still trying to figure out a way to make my kids dishwasher safe. That would so simply my life. Glad… can you get on that? Please?
Here's how I use it for the One-Ingredient Ice Cream. Cut a large amount of ripe mangoes and bananas into strips or one-inch thick chunks. Believe me. You're going to want this often. Lay them out -not touching- on a parchment lined baking sheet and stash them in the freezer until frozen solid all the way through. The point in freezing them like this is so you don't have one giant lump of frozen fruit. No matter HOW burly your juicer or food processor, you cannot make something good out of lump-o-fruit.
Do your level best not to snitch them at this point. Yes, I know they're tasty, but they're MAGICAL when they're frozen and turned into fruit poop, er, one-ingredient ice cream.
For best results, transfer the frozen fruit into Glad Freezerware containers, then store in the freezer until ready to use. You're going to be grateful those lids don't shatter when you take them off, because you'll be taking the lids off all. the. time. to make this ice cream.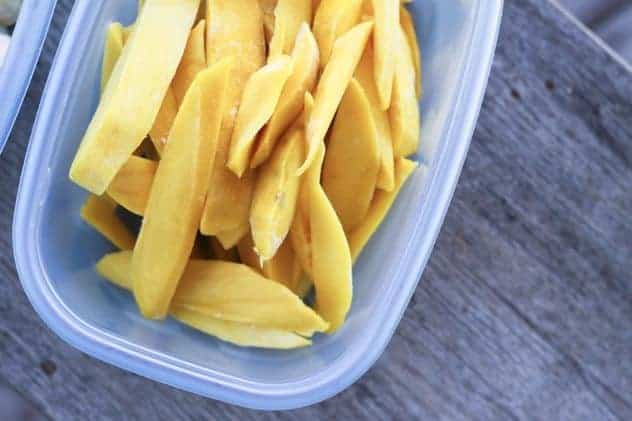 The lid, the lid, the lid didn't shatter!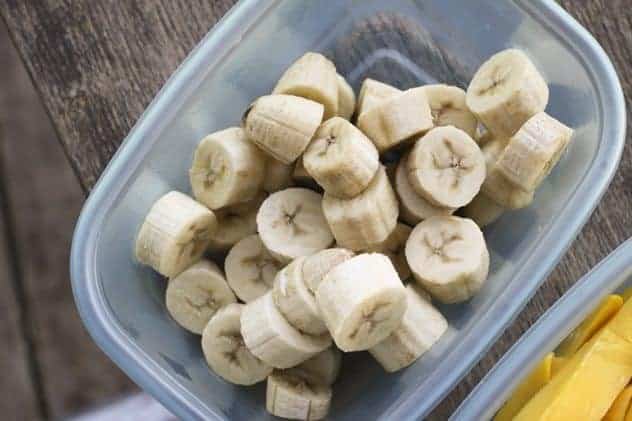 Again, no snitching! I had to smack a hand away from these containers. Alright. I smacked my own hand away, but the point is that you want what's coming next!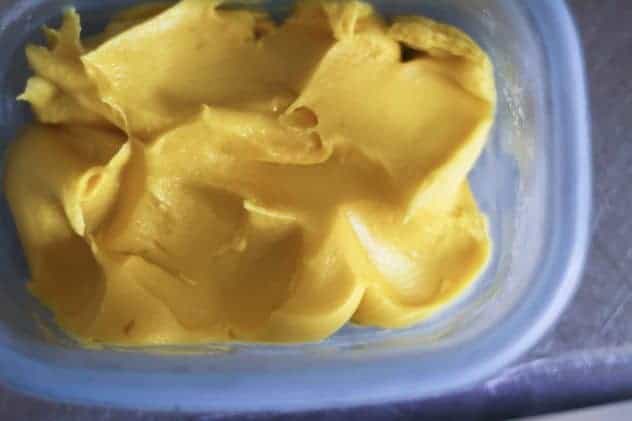 I am not engaging in hyperbole when I tell you this is some of the best tasting stuff I have ever eaten. And look at the banana "ice cream".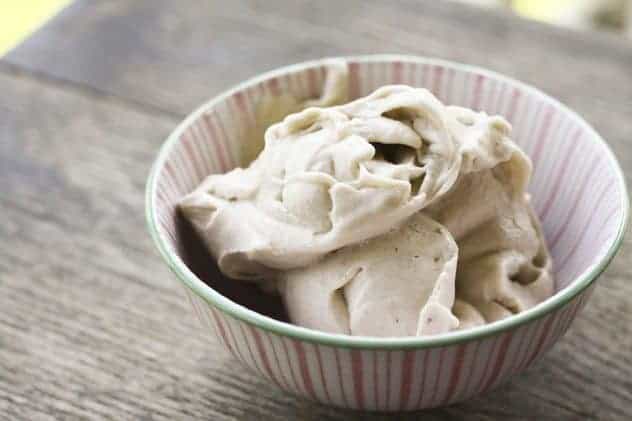 I do so love this plain. I adore it. But if I was to accidentally trip and drizzle a little chocolate syrup on top, I would love it that way, too. Ahem.
We also love blends. Mango/Banana? Two thumbs up. Blueberry/Banana? Big yes! Have fun with it. You have to taste this to believe it. It tastes like soft-serve frozen custard, but it's good for you. Holy cow. It's really good for you. It's FRUIT!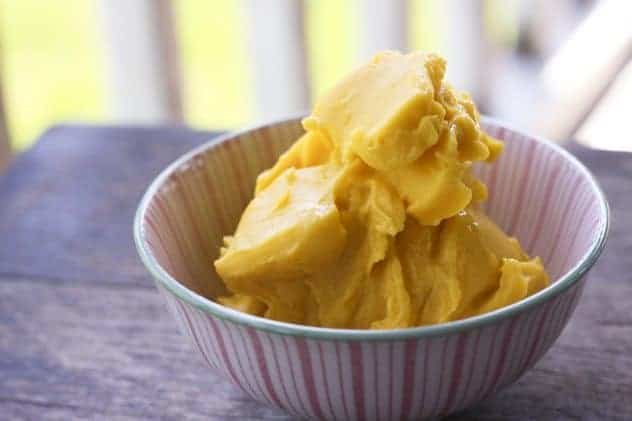 You'll have to taste it to believe it, but this super-creamy, luscious ice cream is made from just one ingredient! Whether you choose mango or banana or another fruit entirely, you'll be blown away by how decadent frozen fruit can taste when blitzed in a food processor or a juicer with a blank plate. Summer heat doesn't stand a chance when you have this recipe under your belt!
Ingredients
For Mango 'Ice Cream':
Strips or small chunks of frozen mango

The equivalent of 1 to 1 1/2 mangos yields one very generous or two medium servings.
For Banana 'Ice Cream' (Taste like vanilla ice cream):
Strips or small chunks of frozen banana

1 1/2 bananas are about equal to one very generous or two smaller servings
Instructions
For Either Flavour of 'Ice Cream' Using a Juicer:
Put the blank plate on your juicer (the one that allows you to make 'whole juice' vs. strained juice.) Add the chunks of frozen fruit to the hopper and press down gently until all the fruit has been extruded.

Either eat immediately for soft-serve texture, or pack gently into a freezerware container, cover and put in the freezer until solid. This is best served the day it is made, but can be stored longer and softened slightly at room temperature before serving later.
For Either Flavour of 'Ice Cream' Using a Food Processor:
Put the chunks of frozen fruit into a food processor work bowl that has been fitted with a metal blade. Put the lid in place and process until it is a soft-serve consistency. You may find you need to stop the food processor to scrape down the sides occasionally.

Serve immediately like soft-serve, or pack into freezerware containers, cover and put into the freezer until solid. This is best served the day it is made, but can be stored longer and softened slightly at room temperature before serving later.
Nutritional information is an estimate and provided to you as a courtesy. You should calculate the nutritional information with the actual ingredients used in your recipe using your preferred nutrition calculator.
As part of the Foodbuzz Tastemaker Program, I received Glad Freezerware but the opinions contained in the post are entirely my own. I really do love these containers. For more information on the new Glad Freezerware containers, visit their Facebook page.