If you're an olive lover, you are in luck today, my friends. I have for you the ne plus ultra of olive dishes: Garlic Roasted Olives. That's right… we're talking about a pan full of gorgeous, colourful olives roasted with garlic, paper thin slices of lemon and jalapeño pepper, fresh thyme, salty little capers, tiny little cubes of feta cheese, and a little -what else?- rich olive oil until you hear sizzling when you open the oven door to peek. You will want to peek, you know. The aroma that will waft from your oven will be so overwhelmingly tempting, you won't be able to help yourself… you will be compelled to look.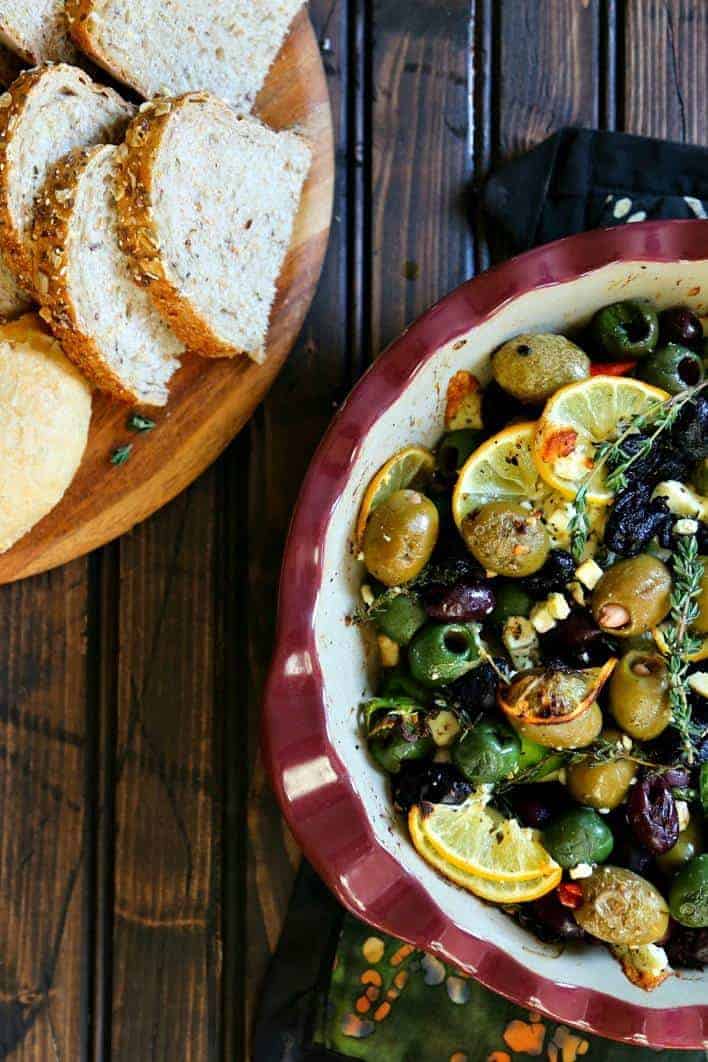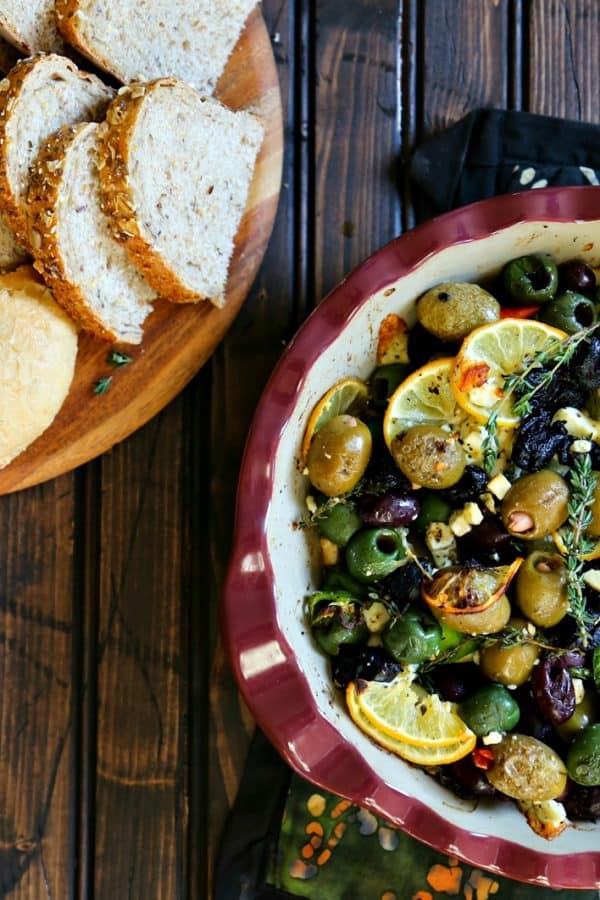 The magic of Garlic Roasted Olives comes from combining a variety of different good olives -oil cured, brine cured, marinated, small, gigantic, and stuffed with almonds or hot peppers- tossing them with other aromatic ingredients, and baking them until sizzling hot. This intensifies all of the characteristics of the various olives, whether they be fruity, mellow, briney, smoky, nutty, citrusy, herbal or slightly bitter. Adding garlic and feta to the mix might make you think this will be far too strongly flavoured, but that alchemy that occurs when you cook beautiful things together happens here, and the heat smooths out the edges on the garlic and mellows the feta resulting in a dish that keeps you coming back for "just a couple more bites".
Garlic Roasted Olives are undoubtedly an indulgent dish when it comes to the grocery budget, but the wow factor that it delivers on a holiday or party table is pretty close to incomparable. Served with a rustic, crusty bread, Garlic Roasted Olives can either be the appetizer to end all appetizers, a hearty vegetarian main dish, or a rich side dish for any of a number of grilled, broiled, baked, or seared fish, chicken, or pork dishes.
Sitting down in front of a platter of Garlic Roasted Olives and crusty bread reminds me of the French, Italian, and Greek way of eating and entertaining: use simple ingredients -good ones-, do very little to them, and allow them to shine. This is perfection.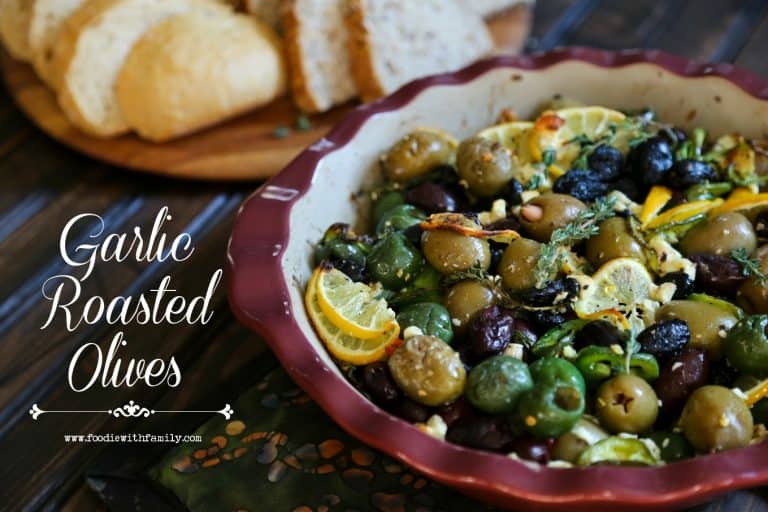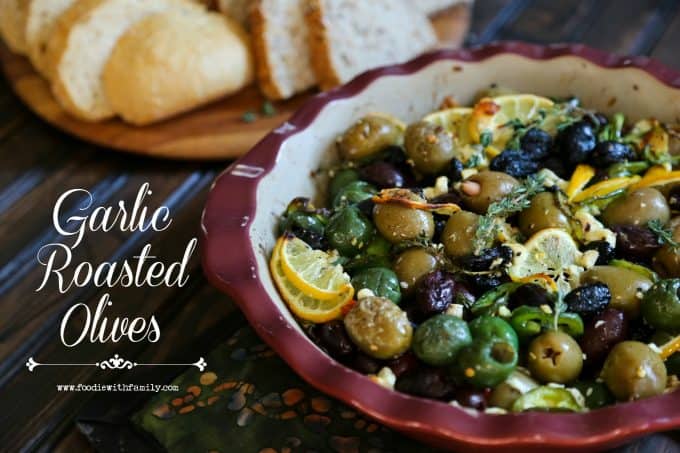 Cook's Notes
When you select your olives, try to include a variety of sizes, types, and colours. I advise sticking with all pitted olives, if at all possible, to make the eating more enjoyable and keep your guests from having to find a place to spit pits. If you DO opt for pit-in olives (because those are delicious, too), try to keep all of your olives pit-in. Consistency will make it a nicer eating experience.
Another word on choosing your olives: I prefer to use a ratio of about 1 cup each kalamata and oil cured olives, then make up the remaining 1 3/4 cups with a selection of whatever looks good at the olive bar. Usually, I pick large and small green olives, some stuffed with almonds, and some stuffed with piri piri peppers or jalapeños. A multi-hued baking dish full of Garlic Roasted Olives is a feast for the eyes!
If you can, buy a block of feta and cut it into 1/4-inch cubes. I love the way the cubes near the top of the baking dish of Garlic Roasted Olives get toasted and brown. If you can't find a block of feta, please substitute about 3/4 of a cup of feta crumbles and sprinkle them over the top rather than stirring them into the mix. This will keep it from disintegrating in the bubbling olive oil and lemon juice.
Speaking of lemon juice, there is a reason for adding the thin slices of lemon vs simply squeezing the lemon over the olives. I love roasted lemons. They also mellow and sweeten in the roasting process, and nibbling on the paper thin slices of roasted lemon cuts some of the richness of the olives. I do remove seeds from the lemons as I slice them for the same reason that I usually opt for pitted olives: it just makes eating the Garlic Roasted Olives nicer.
I slice the jalapeño thinly and toss it in without removing the seeds or membranes, because we like that little punch of heat. If you are sensitive to heat, but would still like to make the dish, just stab the jalapeño pepper with a knife a few times and plunk it into the center of the baking dish. This will lend the fruitiness of the pepper to the olives without imparting much (if any) heat.
Please note there is no added salt in Garlic Roasted Olives. Nearly everything that is in here is salty or brined, so added salt would throw off the balance and take the focus off of the beautiful flavours and plump textures.
Garlic Roasted Olives are at their very best when served hot or warm but are also delicious at room temperature.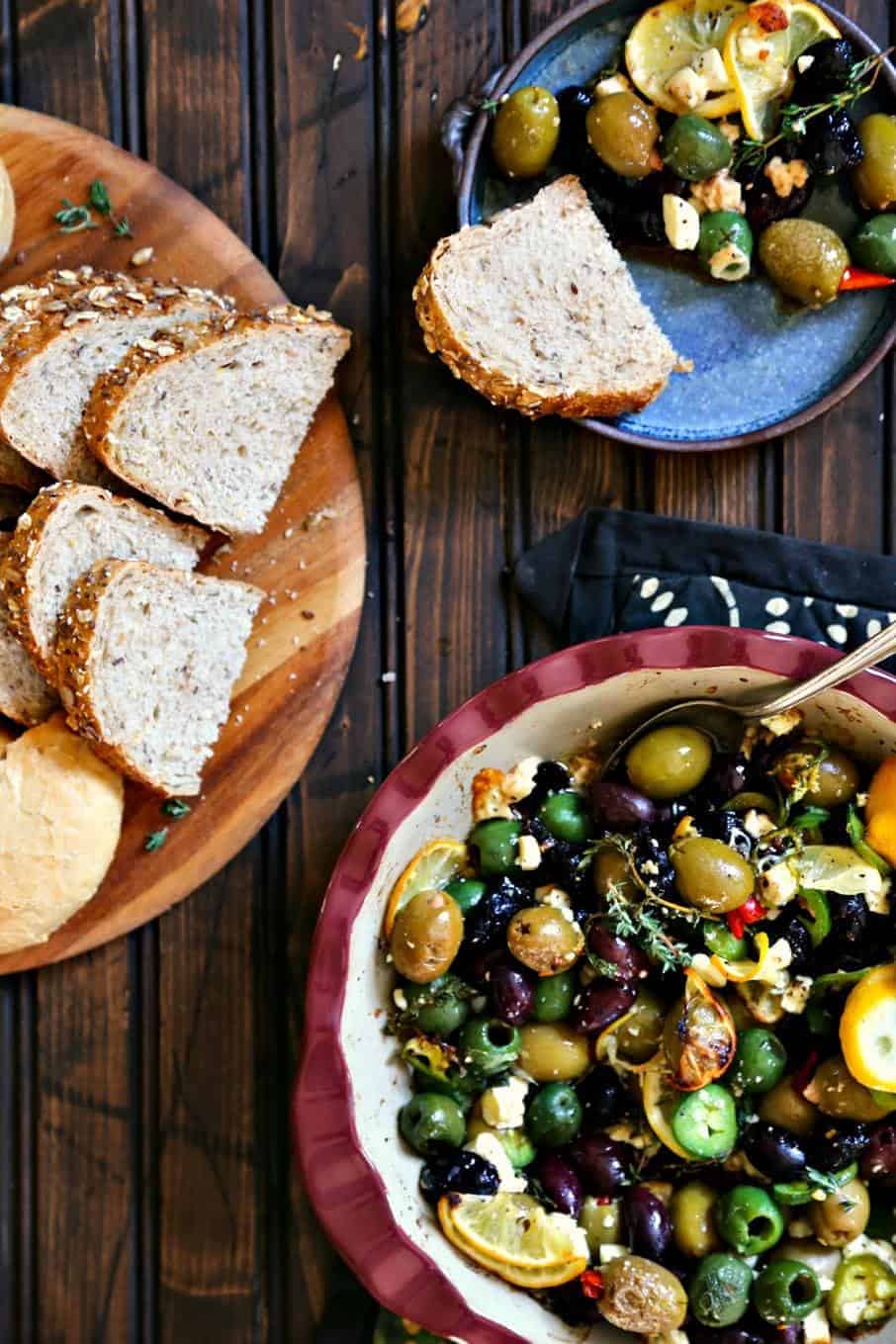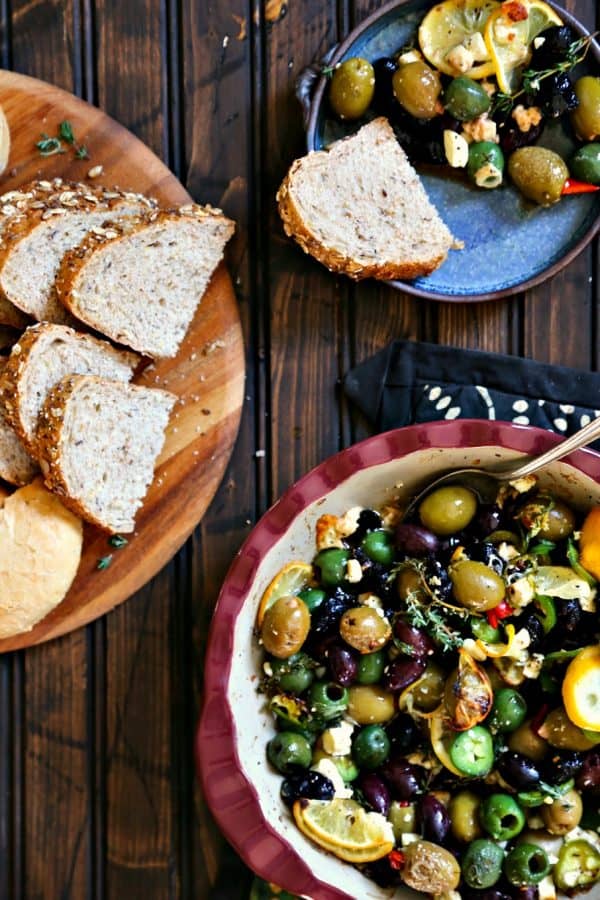 Connect with Foodie with Family
facebook | pinterest | instagram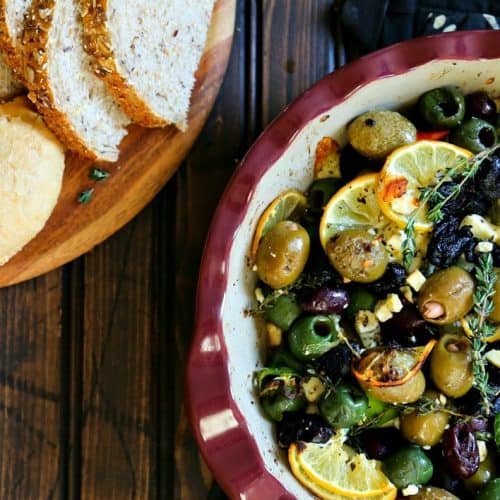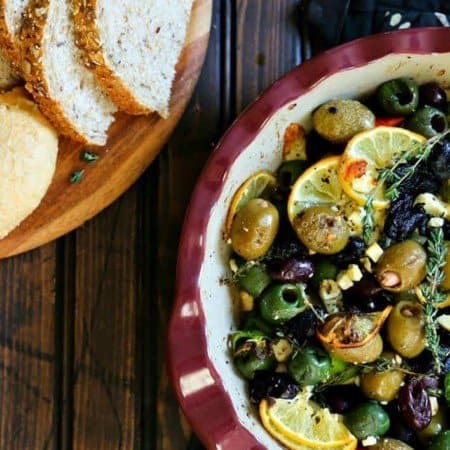 Ingredients
3 3/4

cups

assorted good olives

preferably pitted

1

whole lemon

seeds removed, thinly sliced

1

fresh jalapeno pepper

or, for lower spice levels, pierced several times and left whole, stem removed, thinly sliced

1

cup

1/4-inch cubes of feta cheese

4

cloves

garlic

peeled and minced or pressed through a garlic press

6

sprigs fresh thyme

plus extra for garnish

1

tablespoon

capers

drained and rinsed

3

tablespoons

extra virgin olive oil

freshly ground black pepper to taste
Instructions
Preheat the oven to 400°F. Toss all of the ingredients together in a deep baking dish or pie plate. Bake for 20 to 25 minutes, or until you hear sizzling in the baking dish and some of the feta cheese around the edges and on top has golden brown toasted areas. Some of the lemons may also have caramelized bits on them. Garnish with some fresh thyme leaves and serve immediately with crusty bread.
Nutritional information is an estimate and provided to you as a courtesy. You should calculate the nutritional information with the actual ingredients used in your recipe using your preferred nutrition calculator.