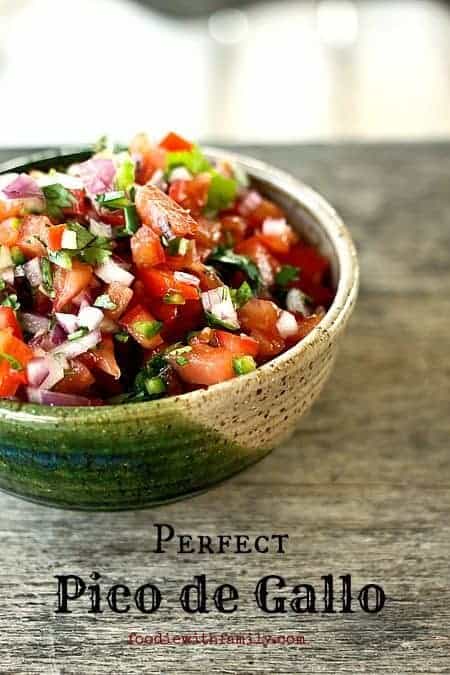 Thor (our mean old rooster) died of natural causes last weekend. Natural causes is not -shockingly- a euphemism for me removing his head. While he was a royal pain and menaced everyone for much of his life, it was sad to see him displaced and picked on by his sons. Animals are mean. I can't say I'd wish him back but he was a pretty jerk to look at. Sayonara Thor.
Thor was as big as a turkey and that is a LOT of heft for something so mean. When our chickens were still confined to a big chicken run, I wouldn't let the kids go into the coop without taking someone carrying a big stick as backup. He would strut around and crow AT you and you just knew he would peck your eyes out given the chance. I wanted him gone. My husband was certain that Thor was protecting our 'girls' though so he got to keep his mean head firmly attached to his big body.
A couple of years ago, we got a fresh batch of hens. These girls had wanderlust and figured out how to fly up and out of the chicken run. We carried on keeping the rest of the birds in the run and letting the jailbreaking hens back in at night until one day we saw all the escapee hens panicking and trying to get back in to the coop to get away from a red-tailed hawk. We're suckers. We decided to throw open the gate every morning and let them free range. This meant the rooster was also free-range and thus began Thor's reign of terror.
That rotten rooster would appear out of nowhere and start chasing you with murder in his eyes. Going out to the car? SURPRISE! Attack rooster was waiting in the shadows! Even my husband wouldn't walk in the yard without a stick in hand to knock the spur-wielding jerk backward. I didn't want to be caught alone anywhere near the beastly old thing.
Unlike Thor, I WOULD like to be alone with a bowl of Pico de gallo and a bag of tortilla chips. What's that have to do with a nasty old rooster? Rooster's beak is what pico de gallo means when translated. It's a funny name for something so divine.
Perfect pico de gallo is a deceptively simple dish. Because there really aren't that many ingredients in it, and because it's fresh, the quality of the end result relies on your knife skills and ratios.
Tips for Perfect Pico de gallo:
Simply put, don't use tomatoes you wouldn't eat by themselves. Use vine-ripened tomatoes for best results.
Don't skip removing the seeds and 'guts' of the tomatoes. If you do, you'll have tomatoes with stuff in a puddle of juice, not pico de gallo.
Take the time to cut the ingredients neatly. Because this never sees any cooking time, it's worth the effort to make it look pretty.
Only make as much as you can eat in one day. It doesn't hold over well because tomatoes lose some of their flavourful oomph when refrigerated.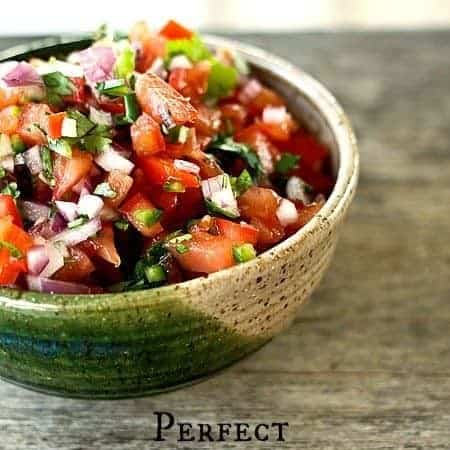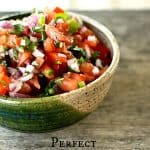 Print
Pico de Gallo
Fresh, fresh, fresh! This classic uncooked salsa brings a punch of flavour to anything it touches whether it's simply served with tortilla chips or alongside grilled, roasted, or pan-fried fish, pork, chicken, or beef. Spicy, garlicky, and a little acidic, it's the perfect blend.
Ingredients
3

vine ripened tomatoes

1/2

of a purple or sweet onion

trimmed of both ends and peeled

1/2-1

whole fresh jalapeno pepper

1

handful fresh cilantro or parsley

roughly chopped.

1

large clove of garlic

peeled and minced

the juice of one lime

kosher salt to taste
Instructions
Cut the tomatoes into wedges and hold upside down over a bowl. Use your fingers to remove all the seeds and liquidy centers of the tomato. Cut the tomatoes into thin strips and then turn the strips and cut crosswise into 1/8 to 1/4-inch cubes. Add these to a small mixing bowl.

Cut the onion into thin strips, then turn and cut crosswise into 1/8 to 1/4-inch cubes. Add these to the tomatoes.

Remove the stem end of the jalapeno pepper and use a spoon to scrape out the seeds and membranes. Cut the jalapeno into thin strips, then turn crosswise and cut into the smallest cubes possible. Add these to the tomatoes and onions along with the remaining ingredients and toss to evenly distribute everything.

Serve immediately.
Nutrition
Calories:
16
kcal
|
Carbohydrates:
3
g
|
Sodium:
3
mg
|
Potassium:
159
mg
|
Sugar:
2
g
|
Vitamin A:
545
IU
|
Vitamin C:
11.3
mg
|
Calcium:
8
mg
|
Iron:
0.2
mg
P.S. THIS is what you want to tuck into your Neato Frito Over-Stuffed Burritos.