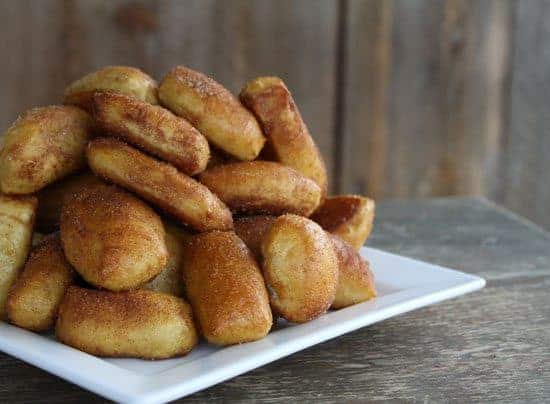 You might have noticed I have a real thing for soft pretzels. Usually, I whip up the savoury variety (here or here) but my kids are partial to the ones you see up above. Chewy little two-bite pretzels tossed with butter and cinnamon and sugar.
I know I've mentioned how popular other varieties of soft pretzels are around my house. But these? These are the big guns. These are the ones that make my kids gaze at me with eyes aglow.
My kids know I'm making these before I even tell them. They love them so much that my second born recognizes the smell of the dough. He comes drifting into the kitchen led by his nose much like Bugs Bunny sniffing out a world-class carrot. He assumes a dreamy expression and he breathes, "Cinnamon Sugar Soft Pretzels. Oh Mom!" The inevitable follow up is a little mini-Riverdance routine accompanied by, "When will they be done? Oh, when will they be done?" An answer and the sound of sprinting feet and a bellowed "MOM'S MAKING CINNAMON SUGAR SOFT PRETZELS!" later, all five boys come barreling through the door with expectant faces.
This snack is the way to my boys' hearts. Take note, all ye who wish to woo them later. They are exceptionally handsome young men and the competition will be thick. You'll want to remember this recipe.
While my kids like a long, tall glass of icy cold milk with theirs and my husband prefers a hot cuppa coffee I say the only real requirement is a big stack of napkins.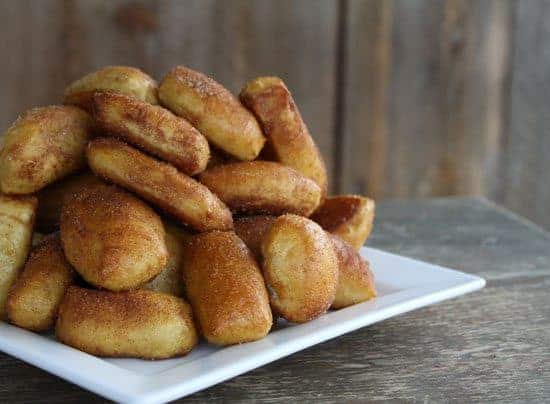 These sweet, soft, cinnamon sugar two-bite pretzels are a great after school or late night snack.
Ingredients
Ingredients for dough:
4

cups

bread flour

1 pound 1 ounce, by weight

1

tablespoon

non-diastatic malt powder or sugar

preferably

1 1/4

teaspoons

kosher salt

1

cup

whole milk

1/2

cup

hot tap water

2

teaspoons

SAF or instant yeast
Ingredients for pretzel boil:
2

quarts

water

2

tablespoons

baking soda
Ingredients for topping:
1

stick butter

4 ounces by weight, melted

1/2

cup

granulated sugar

2

teaspoons

ground cinnamon
Instructions
To Make the Dough by Hand:
In a large mixing bowl, whisk together the flour, salt, malt powder or sugar and yeast. Set the whisk aside and switch to a sturdy wooden spoon. Stir in the milk and tap water until a soft dough forms. Turn onto a generously floured surface and knead, adding small amounts of flour as needed to keep the dough from adhering to the counter. You do not want a firm dough… it should be fairly slack, a little tacky and soft, yet smooth. Place dough in a clean bowl, cover with a damp tea towel and set aside to rise in a warm, draft-free place until nearly doubled in bulk and puffy, about an hour or so.
To Make the Dough by Stand Mixer:
In the work-bowl of a stand mixer fitted with a dough hook, combine the flour, salt, malt powder or sugar and yeast. Mix on low just to combine dry ingredients. With mixer still on low, carefully pour in the milk and water. Continue mixing on low until you have a smooth, soft, slightly tacky dough. Remove bowl from the mixer, cover with a damp tea towel and set aside to rise in a warm, draft-free place until nearly doubled in bulk and puffy, about an hour or so.
To Make the Dough by Bread Machine:
Add the milk, water, flour, malt powder or sugar, and yeast to the pan of your bread machine in the order recommended by the manufacturer. Select the "Dough" or "Dough Only" cycle and hit start. Allow the cycle to complete.
To Form Pretzel Bites:
Line two 11×13-inch baking sheets with silicone or teflon pan liners. Set next to your work area.

Turn the dough out onto a very lightly floured surface. Use a bench knife to cut the dough into four pieces. Keep three pieces covered with a tea towel while working with the first. Roll the piece like play-dough until you have a snake of dough about the circumference of two thumbs squashed together. Use your bench knife to cut 1-inch pieces from the dough snake. Transfer the dough pieces onto the lined baking sheets, being sure to leave generous amounts of room between pieces and rows. They will expand both as they rise and again as they boil and bake. When you have dealt with all the dough, cover the pans with tea towels and let them rise in a warm, draft-free place until puffy looking, about 20 minutes.
To Cook the Pretzels:
Preheat oven to 400°F.

Bring 2 quarts of water to a boil in a stainless steel or other non-reactive pan (enameled cast-iron, tempered glass, etc…) When water boils, add the baking soda. Gently lift the pretzel dough pieces one at a time into the boiling water. (You can boil more than one at a time, but be sure not to crowd the the pan as they will expand as they boil. Let simmer for about 45 seconds, flip the pieces and simmer for another 45 seconds-1 minute. Use a slotted spoon to drain and return each piece to its place on the pan. Continue until all pieces have been boiled and returned to the pan.

Place pans in oven and bake at least until golden brown (at least 15 minutes), but you can bake until they are deep brown. It's up to you!

Use a fork to combine sugar and cinnamon in a small mixing bowl. Set aside.

Remove the pans from the oven and transfer the hot pretzels to a large mixing bowl, drizzle the melted butter over the top and sprinkle with desired amount of cinnamon sugar. Toss until evenly coated with butter and cinnamon sugar (Do in batches if necessary).

Serve warm or room temperature.
Notes
Serve with an ice cold cup of milk or a hot cup of tea or coffee, but don't forget the napkins!
Nutrition
Calories:
310
kcal
Carbohydrates:
62
g
Protein:
9
g
Fat:
2
g
Cholesterol:
3
mg
Sodium:
1212
mg
Potassium:
131
mg
Fiber:
2
g
Sugar:
15
g
Vitamin A:
50
IU
Calcium:
56
mg
Iron:
0.7
mg
Nutritional information is an estimate and provided to you as a courtesy. You should calculate the nutritional information with the actual ingredients used in your recipe using your preferred nutrition calculator.