What makes Party Hummus so wonderful? I'm going to tell you straight up, it's the best hummus I've ever had and -people?- I've eaten my weight in hummus many, many, many times over. It is the silkiest, richest, most indulgent hummus, not only because of the amount of tahini (hint: it's generous) but also because of the drizzle of extra virgin olive oil, the toasted pine nuts, the dusting of za'atar, and the handful of chopped parsley. But there's more. It's served warm or room temperature -never cold- which wakes up the flavours of hummus AND maintains the velvety texture. If all the hummus you've ever eaten has been cold, you are in for such a treat with Party Hummus!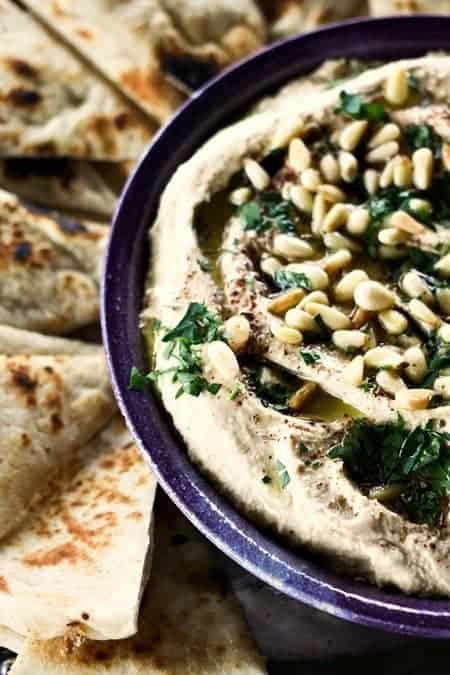 I feel obliged to tell you something. Unless you grew up in an Israeli or Middle Eastern household (which I didn't), there's a pretty good chance you've been eating hummus that wasn't as good as it could be for most of your life. I'm sure you've had good smooth hummus; I don't doubt that. But what you've been missing all this time is the true hummus experience: the way it's eaten all over the Middle East. Freshly made, silky smooth, and warm. TRUTH: you haven't eaten great hummus unless you've had it warm or -at coolest- room temperature.
It's a fact that you taste foods better when they're warm. The heat releases volatile oils in spices and herbs, making them more fragrant. When it hits your tongue, it's not a shock- your taste buds don't shiver and contract, dulling the flavours of the food. In fact, there are thermosensitive neurons on our tongue. Did you know that? Is that too weird? I'm sorry. It's that homeschooling mom in me. There's science? I'll share it even if it means discussing taste buds.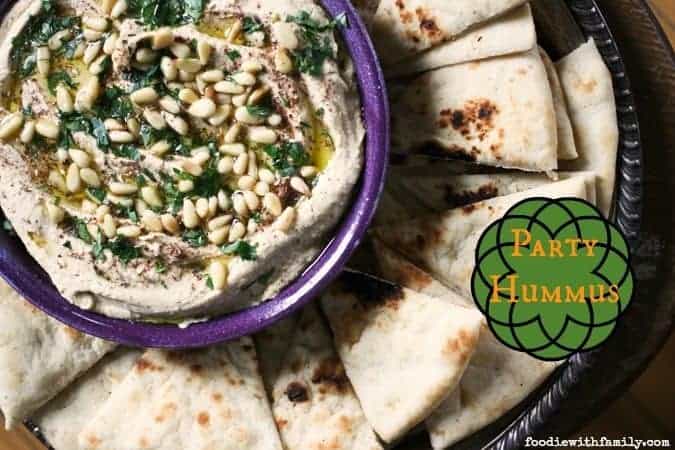 There's more than just the question of flavour, though, believe it or not;warm or room temperature hummus is almost unbelievably velvety smooth. When it's chilled, even the best hummus is a little stodgy by comparison. The tahini -that gorgeous sesame paste that gives such richness and nuttiness to the warm hummus- is the culprit here. It gets thicker to the point of firmness when it's refrigerated in its jar, so it stands to reason that it'll thicken in any mixture it graces. There's no leaving it out, though. Oh, heck no. My solution? If you can't eat all your hummus in one sitting, at LEAST let it come to room temp before eating it or (*GASP*) nuke it in the microwave a bit to warm it through. I've been known to do this. It's magical warm, friends. I can't emphasize this strongly enough. Just. Do. It.
Now we're going to need to address toppings because it isn't party hummus without some toppings. At the very least, you're going to want to drizzle extra virgin olive oil over the top. Warm hummus + extra virgin olive oil equals silky bliss. It's mandatory. But if you want to go to that next level -or turn it up to 11- you're going to want to hit it with a handful of toasted pine nuts, a fistful of chopped fresh parsley, and a generous sprinkling of za'atar; that ubiquitous Middle Eastern spice blend of sesame seeds, oregano, marjoram, thyme, salt, and ground sumac. The za'atar adds a little citrusy, herbal burst of flavour to the top of your hummus, and I think we'd all agree that's a party in our mouths, right?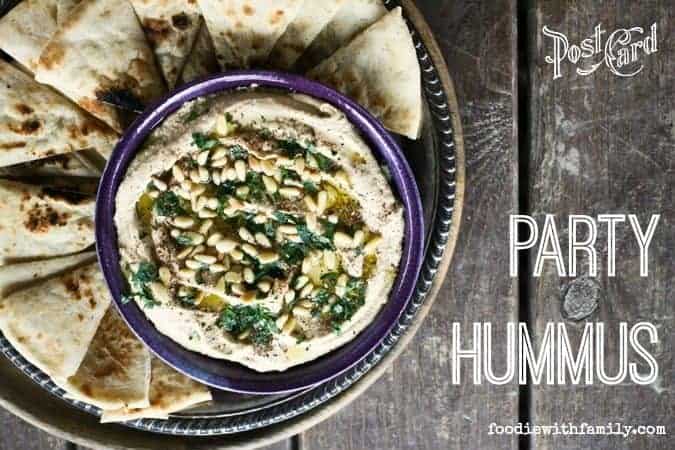 Cook's Notes
You can start with home cooked chick peas OR with canned ones here. I'm not judging. I make it both ways.
Either way (canned or homemade) you're going to want to rinse them well before using them. I like to cover them in water, plunge my hands in and scrub them gently then scoop off any skins that float to the top. I'm not surgical about it, but I get as many as I can this way before draining.
There's no getting around it; for the best hummus you absolutely need a food processor or burly blender. I prefer my food processor for this job. Whichever you choose, you're going to need to be able to let 'er rip for at least 5 minutes.
If you can't eat your whole batch of hummus in one sitting (SLACKER) you can cover it with plastic wrap and store it in the refrigerator. I do HIGHLY advise you let it come back to room temperature or warm it slightly before serving the leftovers.
What to serve with your hummus? Anything, in short, but the long version is pita bread, carrot sticks, celery, crackers, regular bread, chips, pretzels, cauliflower or broccoli florets, lettuce leaves, or radishes. You can even use it as the ultimate sandwich spread, the 'sauce' on a Mediterranean Hummus vegetable pizza, or on a spoon. PARTY HUMMUS FOREVER!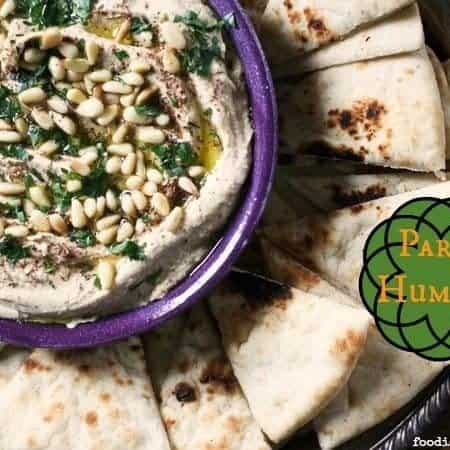 Ingredients
2

cans chick peas drained and rinsed and picked over to remove any loose skins

or 3 cups home cooked tender chick peas

3

cloves

garlic

peeled and minced or pressed through a garlic press

1/4

cup

freshly squeezed lemon juice

1

cup

tahini

1/4

cup

plus 2 tablespoons cool water

plus more if needed

1

teaspoon

kosher salt
For Garnish:
extra virgin olive oil

toasted pine nuts

chopped fresh parlsey

za'atar
Instructions
Add the chick peas, minced or pressed garlic, and lemon juice to the bowl of a food processor fitted with a metal blade. Fix the lid in place and process until a thick paste is formed. With the food processor still running, drizzle in the tahini. Stop the machine to scrape down the sides, fix the lid back in place and begin processing again, drizzling in the water. If it is moving freely, you have enough water. If it is still thick, you may wish to add a little more water to reach your desired consistency. Let it continue to process for 5 minutes. When the 5 minutes are up, it should be warm and quite silky. Scrape into a serving bowl or dish and drizzle with olive oil, generously sprinkle with za'atar, and scatter with fresh chopped parsley and toasted pine nuts.
Nutritional information is an estimate and provided to you as a courtesy. You should calculate the nutritional information with the actual ingredients used in your recipe using your preferred nutrition calculator.
Don't feel like making your own za'atar or sourcing the ingredients for it? You can buy it ready made from a local Middle Eastern market or from Amazon.com if you prefer. (Affiliate link)