Cheese. It wouldn't be too far a stretch to say I live for it. In fact, I'm spending today on the road driving to Maine to hang out with some of my favourite bloggers and some of the excellent people at Cabot Cheese Cooperative. Cheese plus bread plus fruit plus a little good sausage equals a perfectly satisfying and good summer meal in my book; I've mentioned it before. This post isn't about that, though, it's about how to put together a great cheese tray with all of those elements. Oh, and there's a giveaway for a Kitchen Aid Artisan Stand Mixer, but first… CHEESE!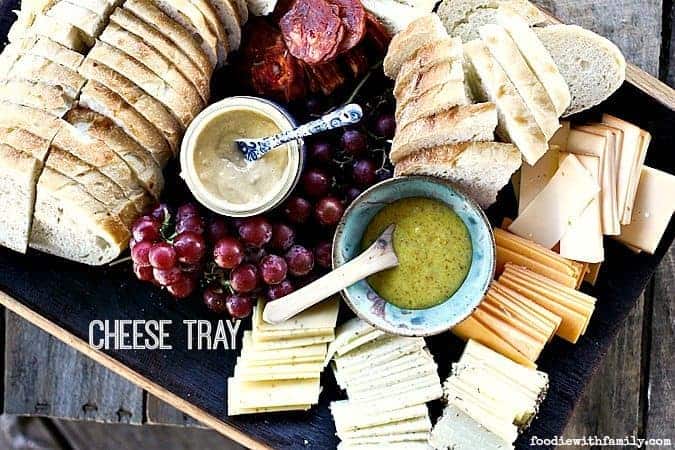 I've already mentioned our well-loved Garlic and Herb Dipping Oil and bread summer staple meal but I want to talk about one that we bust out for really special occasions: the Cheese Tray. This one makes my kids whoop with delight. In short, it's cheese, fruit, bread, and sausage on a tray… or a platter… or a plate… Heck. Sometimes we just keep it all on the cutting board we used to cut it up. When we have bread, it goes on there, too. If we don't have bread, we use crackers. It's another one of those conversation starter meals. You eat, you talk about life, you combine things, you chat about your combinations.
There's a little more art to the meal than just slapping a bunch of fromage on a tray, though. It's not difficult if you keep three things in mind:
1: The strength of the cheese.
2: The flavours of the cheese.
3: Give me your cheese
Okay, I guess it's just two things you really need to keep in mind. That third one is just for show. You know, unless I'm there, then -really- give me your cheese. The strength of the cheese has to do with how -duh- STRONG the cheese is. Do you favour mild cheese? Super strong cheeses? You'll probably want to keep the cheeses you choose for the tray in the same strength family. If you pick a mild Cheddar and combine it with a wicked strong bleu or funky French cheese, the stronger cheese will blow out your palate and that'll be all you taste when you try the milder one.
As for the flavours, you probably don't want to do a habanero Jack cheese with a honey goat cheese… Those are both very distinctive and strong. On the other hand, a habanero Jack with a smoked Gouda, or a honey goat cheese with a cranberry Stilton might be nice. Of course, everyone has different taste buds… just think about the flavours you're putting together. If it sounds like you'd like those ingredients together in a salad or on a sandwich, go for it!
While contemplating fruits and meats, you can go with anything that flicks your Bic. Some fruits that are classically paired with cheese are grapes, apples, pears, figs, and cherries. Cured meats are usually The Thing to go with fruit and cheese: thinly sliced ham, salami, Spanish style chorizo, smoked turkey, or prosciutto.
We love to put a variety of mustards out with our cheese trays because they bring a little punch to the party and seem to cut the richness of the cheese somewhat. We usually do a sweeter mustard (like this Nunda Mustard's Grainy Raspberry Mustard) and a spicier one (like this Nunda Mustard Horseradish Mustard).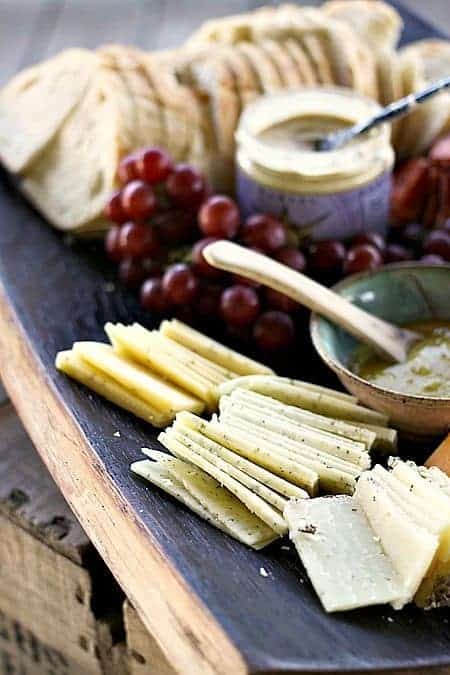 What you see on our tray above is those two mustards, smoked Cheddar, extra sharp Cheddar, rosemary crusted sheep's milk cheese, garlic and herb Cheddar, cumin-seed studded Leydon cheese, red grapes, Spanish style chorizo, and sliced bread. This plus a salad and our beverages-of-choice made our meal, and such a wonderful meal it was!
The Giveaway!
So. You probably want to know about the giveaway, right? A grand group of my favourite bloggers and I got together to sponsor -from our very own moolah- a giveaway to put a brand new Kitchen Aid Artisan Stand Mixer into the hands of one of our loyal readers. The winner gets to choose their favourite colour! And for the first time I can remember, it's open not just to our US readers, but to our Canadian ones, too!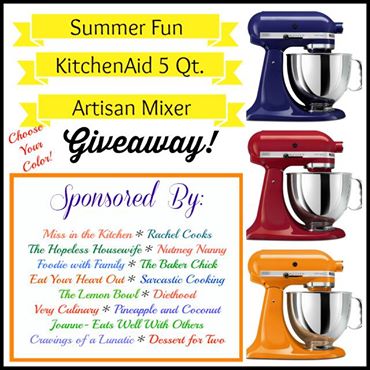 WOOHOO! Follow the instructions on the widget below and please visit my fellow bloggers who are in on this giveaway. You're going to LOVE their blogs!
a Rafflecopter giveaway

Miss in the Kitchen
Rachel Cooks
Nutmeg Nanny
The Hopeless Housewife
Diethood
Very Culinary
Cravings of a Lunatic
Dessert for Two
Joanne – Eats Well With Others
Eat Your Heart Out
Sarcastic Cooking
Pineapple and Coconut
The Lemon Bowl
The Baker Chick