When it's steamy hot out, I don't want to spend time in front of the stove unless I have to. And if it's over 85°F I don't want to fire up the stove at all. This is our fall-back plan, our fail-safe, our go-to for a fast meal that is still company ready. We make Garlic Herb Dipping Oil and serve it with a crusty loaf of bread that we either slice or tear, some fruit, and some cheese.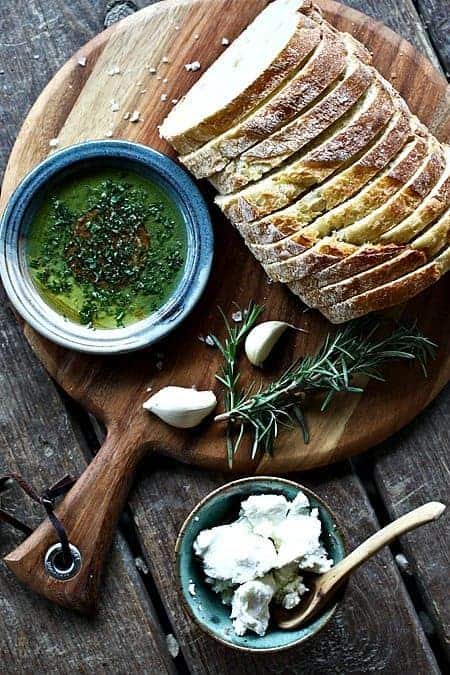 This hardly counts as a recipe. Really. It's more of a reminder, really. It's a call to action. Or inaction, as the case may be. It's hot here now. It took long enough to warm up, but once it did, it almost instantly became both hot AND humid. I've got plenty of "must do" cooking in the summer; jams, jellies, preserves, pickles, etc… Those are non-negotiable. Those line my shelves for the winter months and we count on them being there.
At the end of the day, when I've put in my hours of canning and preserving, I am not even CLOSE to feeling like scrubbing the kitchen and starting another project in front of the stove. In those moments, I call on things like what I'm sharing today. Garlic and Herb Dipping Oil. This is the linchpin of many of our hot weather meals. We add a crusty loaf of bread that we either slice -when we're feeling civilized- or tear into hunks -when we've run out of patience and want to eat NOW- along with some soft cheese, some fruit, and we're done. That's it. That's our meal. We take our time with it. There's something a little magical about this meal.
This dish has played host to many of our all time best meal conversations. Love, laughter, deep thoughts, and silliness abound over Garlic Herb Dipping Oil. Maybe it's because I'm so relaxed when I sit down to it? Who can say? All I know is this meal never fails to bring lingering smiles.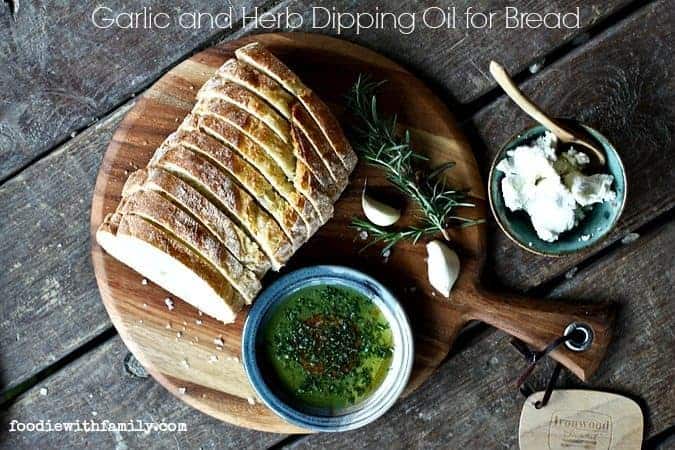 Cook's Notes:
I have a dish that is designed for this job. It has a little rough patch in the center on which to rub garlic and a rim around the edge to hold in the oil. If you don't have such a dish, any rough bottomed, relatively shallow bowl will work. No rough bottomed bowl? No problem. Use a fine grater, microplane, or garlic press to pulverize about 1/4 of a peeled clove of garlic.
Any fresh herbs that you like will do, but I refer to add a combination of parsley and rosemary. Because rosemary is a little pungent, I soft-pedal on it and do mostly parsley.
I use my favourite salt here –Maldon Sea Salt Flakes– because I love the coarse, super salty flakes. If you don't have it, don't sweat it. Use any sea salt flake or coarse kosher salt. Better to start with too little and work your way up.
Use as good a quality of Extra Virgin Olive Oil as you can. It really shines in this dish and is worth a little extra if you can afford it.
This is like a bottomless bowl of goodies. You can continue to top off the oil and salt as it is dunked onto bread. So long as you still have herbs in the bowl, it's good to go!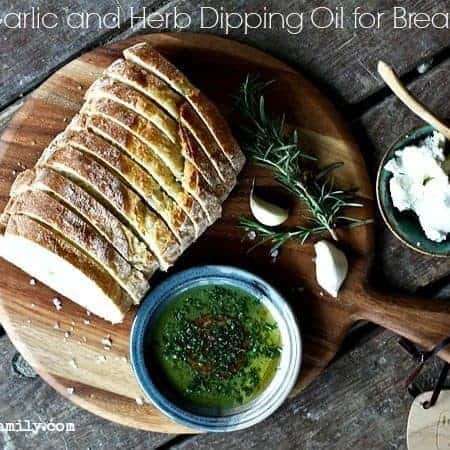 Ingredients
1

clove

of garlic

peeled, but left whole

About 2 tablespoons of fresh herbs

whichever you like best. We prefer chives, rosemary, parsley, or oregano for this.

Extra virgin olive oil

Coarse Kosher or sea salt flakes

Freshly ground black pepper
Instructions
If you have a bowl or raised edge plate with a rough texture, you can rub the garlic clove directly on the surface of the bowl. If you don't have that, grate a little of the garlic onto your rimmed plate or bowl with the fine section of your box grater or a microplane. Pour a generous amount of extra virgin olive oil over the garlic, at least ¼ cup, and then tear the fresh herbs into the oil. Sprinkle a couple of generous pinches of the salt flakes over the herbs and then grind fresh pepper over the oil. Serve with sliced or torn fresh, crusty bread. You can keep replenishing the olive oil and salt as it is depleted.
Nutritional information is an estimate and provided to you as a courtesy. You should calculate the nutritional information with the actual ingredients used in your recipe using your preferred nutrition calculator.
Save