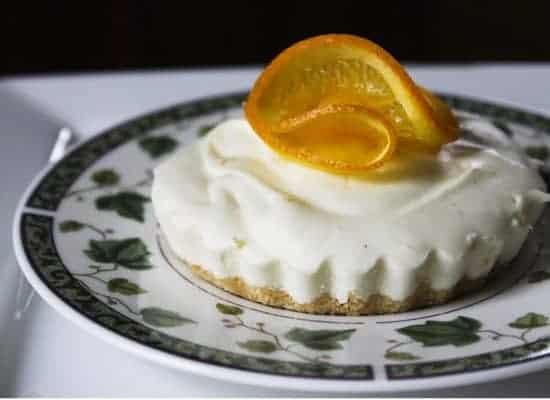 My childhood tasted great. It tasted like homemade pizza, tacos, lumpia, big green salads, sourdough pretzels, Jell-o Pudding Pops (swirl was my favorite), sun tea, grilled hamburgers, Necco wafers and cookies. It tasted like summer.
Raised on the grounds of the summer camp and retreat center that my father managed, summer was a blur of colors, a whirl of voices and faces, a perfect blend of the chaos of hundreds of new children arriving and leaving each week and the moments spent laying in the tall grass of the meadow looking up at the white cotton ball clouds in the sky that was as blue as the crystal lake across the dirt road.
Summer also meant endless trips -sanctioned or otherwise- into the camp's walk-in freezer to raid the cases upon cases of quiescently frozen treats, cans of juice concentrate, frozen whipped topping and bins of pepperoni. Life is pretty sweet when you are a twelve year old eating a bowl of frozen pepperoni slices followed by a can of just-beginning-to-thaw orange juice concentrate with your feet dangling off the end of a long aluminum dock into the lake.
My youth was a symphony played in the key of iced treats. From my walk-in raids to my first job outside the camp at Worley's Whippy Dip ice cream stand, I munched my happy, chilly way through childhood into adulthood. Of all the flavours of ice cream and popsicles and frozen goodies that ever were, one screams summer more than all the others combined: the orange and vanilla of  Creamsicles and push-pops and a bowl with one scoop each of orange sherbet and vanilla ice cream.
That is the thing I think of when I eat these adorable no-bake mini cheesecakes straight from the freezer*. They smell like summer. They taste like summer. Maybe, just maybe, if we eat enough of them right now, and hold our breath just a little we can hasten summer's arrival.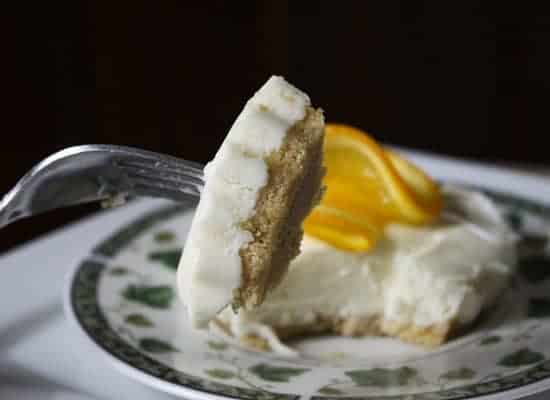 *Of course, you're welcome to thaw them completely. When frozen, they taste more like ice cream. When thawed, more like a creamy, mousse-y no-bake cheesecake. However you slice it, they're delicious.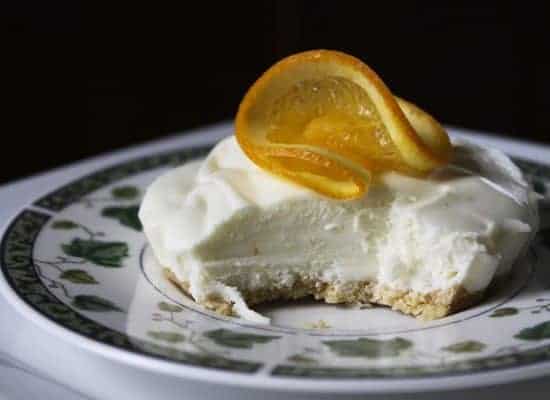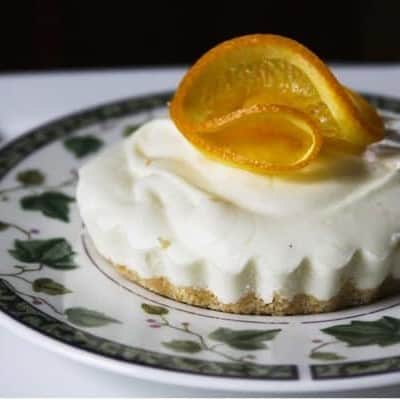 Orange Vanilla Creamsicle No Bake Cheesecakes
Rate Recipe
These creamy, mini no-bake cheesecakes are a grown-up version of those favorite summer orange and vanilla ice-pop treats. They're freezer friendly so they make a great last minute dessert!
Ingredients
20

cream filled vanilla wafer cookies

Think Golden Oreos or Newman's Own

4

ounces

by weight butter

1 stick, melted

2

packages Neufchatel Cream Cheese

8 ounce, Commonly labeled 1/3 less fat., softened to room temperature

the zest and juice of one orange

1

cup

heavy cream

whipping cream

1 1/2

tablespoons

real vanilla extract

1/2

teaspoon

orange extract

3/4

cup

granulated sugar

Optional: Paper thin slices of orange for garnish
Instructions
In a food processor fitted with a blade, pulse the cookies until they are pulverized to fine crumbs. Add the melted butter and pulse until evenly combined. (If you do not have a food processor, put the cookies in a zip-top bag and beat the tar out of them with a rubber mallet, heavy pan or rolling pin, then empty into a bowl and toss the butter in with a fork.)

Arrange 9 removable bottom tart pans or mini springform pans on a platter or pan with an edge and spray with non-stick cooking spray. Add 2 packed tablespoons of the cookie crumb mixture to each pan and use your fingers to distribute the crumbs and pack them firmly and evenly against the bottom of the pan. (If using one large pie pan, add enough to cover the bottom of the pan and pack down firmly.) Put the crusts in the refrigerator to firm up while you work on the filling.

Use an electric or stand-mixer to blend the cream cheese on HIGH until smooth and creamy. Turn off the mixer, scrape down the sides of the bowl, add the orange juice and zest and mix again, on HIGH, until even and smooth.

Add the heavy cream, blending on HIGH until slightly thickened.

Turn off the mixer, scrape down the sides, add the sugar, vanilla and orange extracts and mix on HIGH until quite thick.

Divide the filling evenly between the pans, slightly mounding the filling in the pans.

Freeze for at least 2 hours prior to serving.

You can either serve them or freeze them once chilled.

Garnish, if desired, with thin slices of orange.
Notes
These beautiful little cheesecakes are rich! One mini cheesecake can easily be split in half for those who prefer a lighter dessert. Of course, if you prefer to eat the whole thing, like me, I won't tell! They can be served chilled or directly from frozen for a more ice-cream like dessert. Either way is delicious. If you'd prefer them thawed, just set out on the counter-top for 10-30 minutes before serving.
Nutritional information is an estimate and provided to you as a courtesy. You should calculate the nutritional information with the actual ingredients used in your recipe using your preferred nutrition calculator.