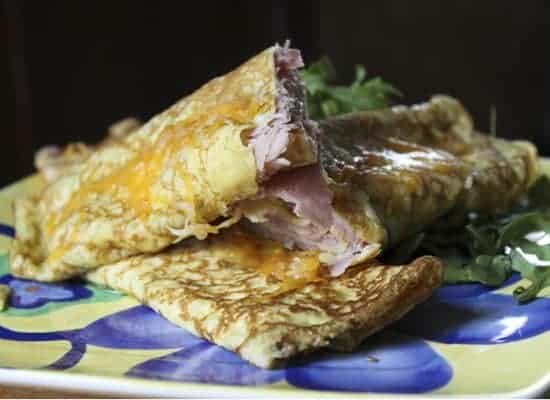 France exports many fine culinary things; cheese, chocolate, bread and the like, but none is as well loved at our home as the merveilleuse crêpe. Crêpes are most often served sweet and dessert-like here in the States. (Think Crêpes Suzette and whatnot…) I'm on a mission, though, to bring their savoury counterpart some well-deserved attention and devotion.
Thin, eggy, and faster than fast to make, savoury crêpes are an easy and elegant way to stretch out odds and ends in the refrigerator. But poor crêpes… There's such a mystique surrounding their preparation that many folks have never even attempted this French classic. I want to assure you, it doesn't get much easier than this. Although I might make many a French chef* blanch at the thought, I toss all the ingredients for my batter straight into the blender. A lid and a "HIGH" button and a few seconds later, I have perfect crêpe batter that only requires a half hour (bare minimum) or more (to a maximum of 24 hours) of resting before it's ready to jump into the frying pan. And once it's there? Hey ho butter brush plus one minute (give or take) over a middle flame gives you a perfect golden brown crêpe. You don't need a sexy accent or years in a professional kitchen to master these. It really IS that simple. To prove it, I put together a little video showing just how easy the whole process is. If I can do this with my five sons hollering in the next room,  you can certainly pull it off for dinner!
*That is, in the unlikely event that there are a multitude of French chefs reading this silly blog.
[youtube]http://www.youtube.com/watch?v=a2vMHitvF2Y[/youtube]
See how simple that was? And did you hear my children? My eldest son sounds like a man. Excuse me while I go breathe into a paper bag for a minute or nine.
Back to the food.
Punched up with a little parsley and onion flavour, these are spread with a Dijon mayonnaise, layered with salty, paper-thin ham and Swiss cheese slices, rolled, topped with yet more cheese and baked until everything is hot and the cheese is melted through and through. I like to accompany mine with a simple salad of baby arugula dressed with oil, vinegar, a sprinkle of salt and a few grinds of pepper.
Try these for dinner soon. You will be so happy you did!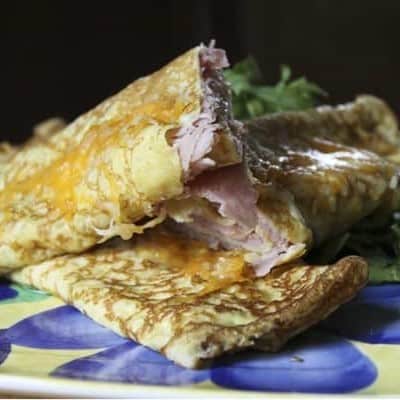 Ham and Cheese Stuffed Crepes | How to Make Crepes
Rate Recipe
Wonderfully thin, savoury crepes spread with Dijon mayonnaise, stuffed with paper thin, salty ham and Swiss cheese slices, topped with more cheese and baked through.
Ingredients
Ingredients for Savoury Crepes:
16

ounces

eggs

about 8 large

16

ounces

whole milk

2 cups by volume

8

ounces

all-purpose flour

1 3/4 cups to 2 cups by volume

2

tablespoons

minced fresh parsley

or 2 teaspoons dried

2

tablespoons

minced fresh onion

or 1 teaspoon dried granulated onion

hearty pinch of salt

also needed for cooking crepes: melted butter
Additional ingredients for stuffing crepes:
36

paper thin slices deli ham

12

thin slices of Swiss cheese

1/2

cup

mayonnaise

2

tablespoons

Dijon mustard

1/2

cup

or more of finely shredded melting cheese

Cheddar, Monterey Jack, etc...
Instructions
Add all ingredients to the work carafe of a blender, add the lid, and blend on HIGH for about 20 seconds. Stop the blender, scrape down the sides, replace the lid and pulse three more times. Put the blender carafe in the refrigerator and let rest for 30 minutes to 24 hours before proceeding.
To Cook Crepes:
Place a heavy-bottomed non-stick skillet, crepe pan or well-seasoned cast-iron pan over medium heat. Use a heat-proof pastry brush to lightly brush the pan with melted butter, taking care to get the edges of the bottom of the pan as that is where batter tends to stick.

Pour about 2-4 ounces of batter into the center of the pan and immediately tilt and swirl the pan so that the batter covers the entire bottom of the pan.

Set the pan back over the heat and let it cook until the crepe has no visible wet areas on top.

Use a semi-flexible spatula to run around the edges of the crepe before lifting and turning the crepe. Cook the second side for about 10 seconds only. The goal is just to lightly color that side.

Transfer the finished crepe to a cooling rack. Repeat until you have used all the crepe batter.
To stuff crepes:
Preheat oven to 350°F.

Butter a 9" x 13" baking pan.

Spread about 2 teaspoons of the Dijon mayonnaise one one crepe. Arrange 3 pieces of deli ham and 1 slice of Swiss cheese over the top. You may wish to rip the Swiss cheese into pieces to better distribute it. Roll the crepe up and arrange in the buttered baking dish.

Repeat until twelve crepes have been stuffed and arranged in the baking dish.

Sprinkle the melting cheese evenly over the top.

Bake the stuffed crepes for 20 minutes, or until the cheese on top of and inside the rolls has melted completely and they are hot through.

Serve hot.
Notes
You will likely have extra crepes left unstuffed. To store leftovers, stack crepes between sheets of parchment or waxed paper before putting the stack into a resealable zipper top bag and freezing. These store frozen quite well for up to a month. Thaw in the refrigerator overnight or for several hours prior to serving. (Or you can speed it up and microwave thaw them!)
Nutritional information is an estimate and provided to you as a courtesy. You should calculate the nutritional information with the actual ingredients used in your recipe using your preferred nutrition calculator.