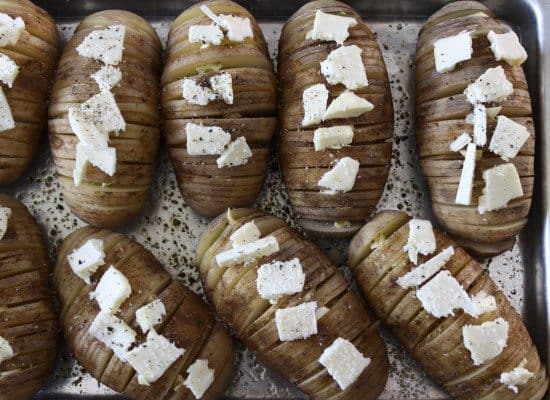 The other day I received an email from a PR company that read:
Dear Rebecca Lindamood,

Are you ready to show that [name brand stuffing mix] "tops" the
potato?

[name brand stuffing mix] is challenging families to escape the
same old, boring potato routine through a contest held by (blankety blank) to win a (blankety blank) gift card!

What We Want You to Write About

We're inviting the blogosphere to participate in a contest to create humorous posts about how potatoes are a boring alternative to [name brand stuffing mix]. By providing creative, funny and memorable
content that takes a jab at potatoes as "boring," we want to encourage
families to consider [name brand stuffing mix] as an everyday and
easy-to-make side dish alternative to instant potatoes. [name brand stuffing mix] is so "un-boring" it's the "un-potato!"

With its everyday meal appeal, delicious taste and easy prep, [name brand stuffing mix] is the perfect side dish solution that complements meat and vegetables alike. Each serving from the
convenient [name brand stuffing mix] flex canister takes just
two minutes to prepare in the microwave no extra pots or dishes to
wash. The [name brand stuffing mix] canister is re-sealable, so
you can make as little or as much as you need, as quickly as you need
it.

Examples:

– An image and story of talk show host potato that has put its guests
to sleep

– An image and story of a potato totally underdressed in it's plain
old skin for an event

– Showcase kids talking about how boring potatoes are and how they
love [name brand stuffing mix]

– Showcase how potatoes don't cut it – they're so worthless to eat –
doorstoppers, brick-fixes (spoof on home entertainment show sponsored
by [name brand stuffing mix])

Seriously, the more creative your posts and images are (as well as
appropriate and non-offensive) the better! If it helps, think of the
type of humor found in The Onion (http://www.theonion.com) and
incorporate that style of comedy into your story.

All you need is your sense of humor (and we know bloggers have the
best sense of humor in the world)!

Post Requirements For Contest

– At least 200 words with your "story" about the [name brand stuffing mix]
Mix being the "HERO" over th BORING POTATO.

– At least one image and/or video about your BORING POTATO or [name brand stuffing mix].

(And so on and so forth…)
Now I pose you this question. You all have been with me a while now. Does this strike you as me? At all? Even in an alternate universe? Because frankly, it annoyed me big time. Hard core. Spuds to the wall.
No one -and I mean no one- disses my potatoes. The food of my people. Not in my house. Potatoes are quite possibly the most perfect food in all of the world (except maybe for bacon, with which they -not entirely coincidentally- pair beautifully.) They're a nutritious, mineral packed, inexpensive, simple to prepare food. They're versatile. They store well. They make people happy. And they are most emphatically NOT boring.
And so… because I am quite firmly a member of the "don't whine unless you're going to do something about it camp" I am presenting for your unboring cooking pleasure a round-up of the greatest potato hits here on Foodie With Family. And as a bonus? A homemade *gaspshriekfaintthud* stuffing recipe. That doesn't involve anything at all from a box. And it doesn't have any unpronounceable or unidentifiable ingredients*. BONUS!
*Unless you have a problem with the following words; cornbread, bread, buttermilk, chicken stock, onion, celery, sage. I know. Sage can be tricky. But under perfectly controlled lab environments with a herb guide book, sage is known to be safe and identifiable. Don't worry. I'll be right there with you.
My grand dreams for this round-up come in two parts. Part I (today's part) wherein I plaster images of all the potato recipes from here on FWF, and Part II (next week's part) where I publish a round-up of all YOUR favorite spud-centric recipes. The recipes can come from your blog, or link to another blog, or just be your Great Aunt Sally's famous recipe.
So, pretty please, when you're done reading this, leave me a comment or shoot me an email with a link to your mouthwatering potato recipe. If you don't have a blog, please leave the recipe in the comment area or send it to me in an email. I may even get prizes involved. (Pssst. Maybe a jar of candied jalapenos to the recipe my family likes the best? What do you all think? Candied jalapenos are THE BOMB on baked potatoes. See? It all goes together!)
Let's begin our celebration of the potato with dishes that are made either entirely or mostly from the humble and amazing tater.
Potatoes are the star…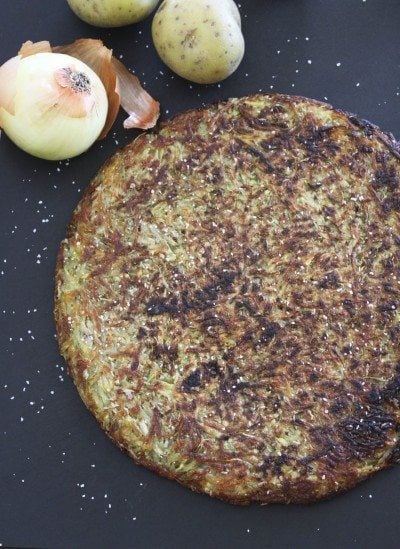 All hail the perfect potato dish. Crispy on the outside, creamy on the inside. This makes it onto our table to accompany many, many main dishes, but it's not just regulated to meal time. I make this dish for late night snacks for The Evil Genius and myself. I'm not a doctor or a fertility expert, but let me just say this. It's one of our favorite snacks and we have five kids. Draw your own conclusions.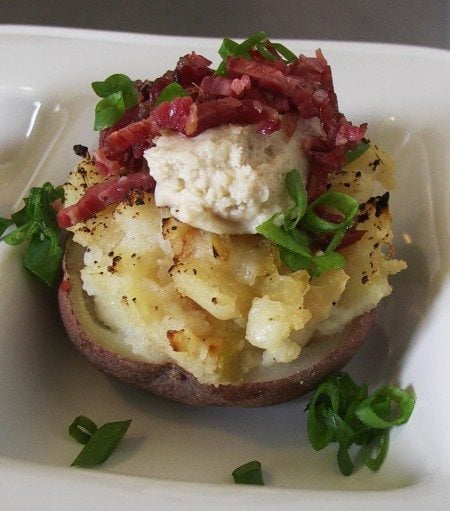 I mentioned that potatoes are the food of my people, right? As in the Irish people? This is Irish on Irish (which sounds bad, but is really quite tasty. Stop it.) Cabbage and onion studded mashed potatoes stuffed back into a baked potato shell, topped with Guinness and cheddar potted cheese, baked once more for good measure and crowned with glazed corned beef and more onions. Phew. I got happy just typing that.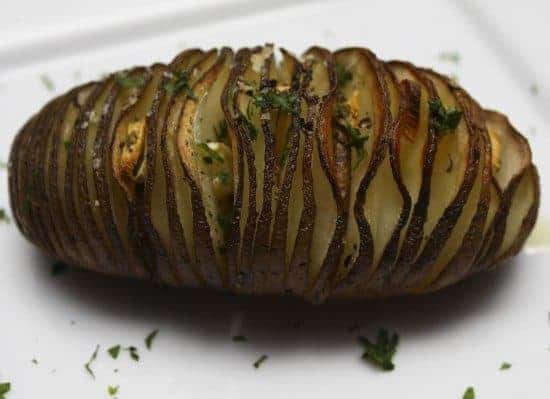 Pure posh potatoes. These elegant, intriguing potatoes are much simpler to turn out than you would ever think. Crispy on top and bottom, creamy and garlicky on the interior and making ample use of blessed butter, these would never, ever be mistaken as boring.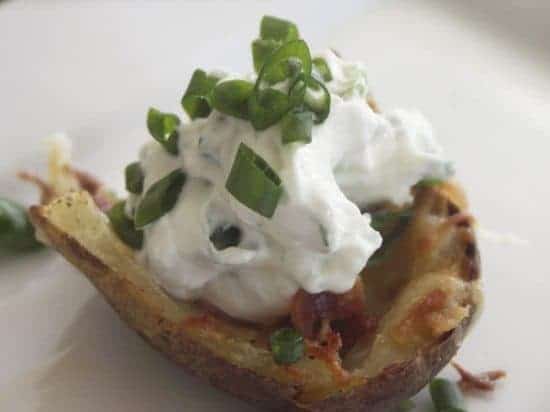 Oh my yes. And a big Amen. Potatoes, skins, bacon, cheese, creamy good stuff and green onions. Are you bored? I'm sure as heck not.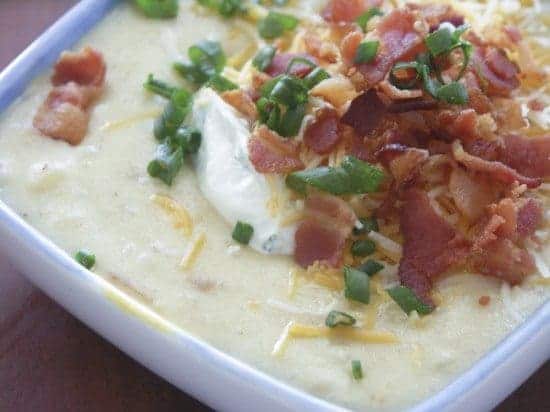 This is the glorious companion recipe to the Loaded Baked Potato Skins. You want this and you want it ba-a-ad. Creamy, thick potato soup made from baked potatoes and topped with all your favorite toppers for baked potatoes. Make this the night before or after you have the Loaded Baked Potato Skins. Or, dear ones? If life is treating you wrong, make them both on one night. The grey skies WILL clear up. That's a guarantee.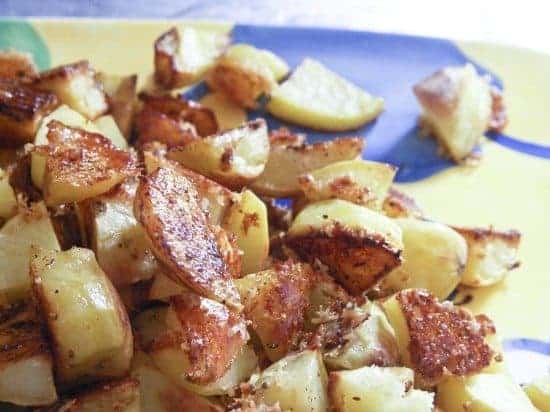 I think the name pretty well explains this but I'll break it down a bit. First, let me say this is my Grandma's recipe which is pretty much all you need to know. Grandmas + potatoes= amazingcomfortfoodglorioushappiness. Am I right? But I digress. You cut up potatoes into bite sized pieces, put them on a baking pan with a full stick of butter (Oh merciful Father in heaven, you DO love us.) and a seriously dangerous amount of grated parmesan cheese. Ta da!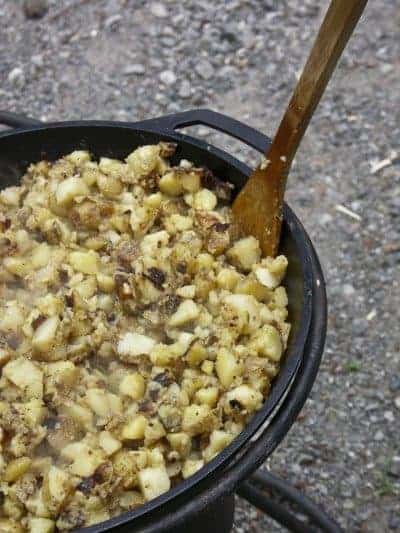 Being away from home is NO excuse to skip the potatoes. A little advance preparation can give you some of the best homefries of all time under the sky and canopy of trees. If I skipped the Campfire Homefries on our annual camping trip the minions would revolt.
Potatoes have a supporting role…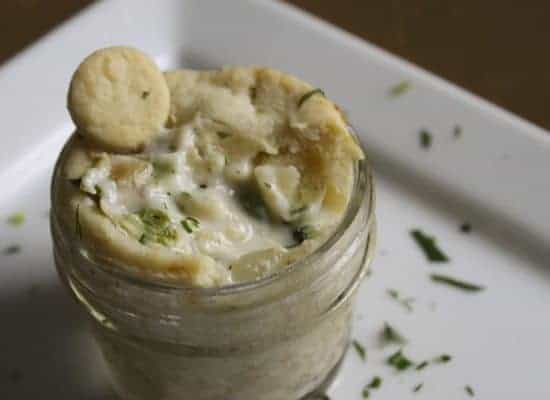 Much like Natalie Portman's dance body double in The Black Swan, potatoes don't appear in the credits here, but they're CRUCIAL to the overall finished product. No potatoes? No pot pie. No pot pies? Tears. And lots of them.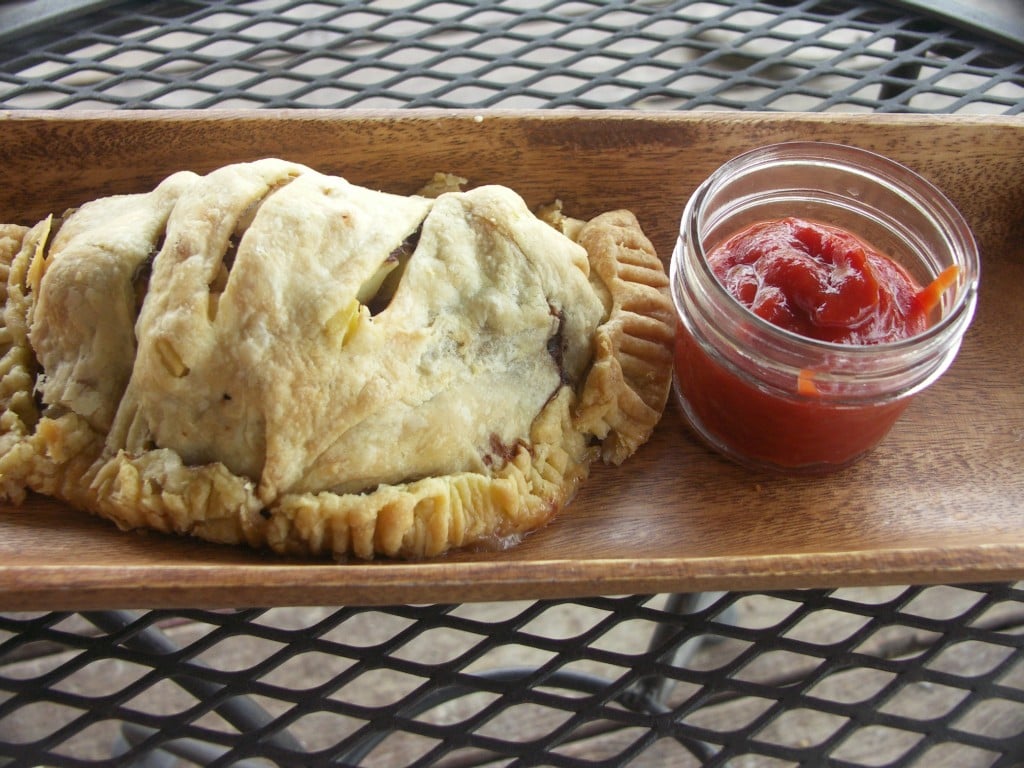 As a self-respecting Yooper-born gal, I was acquainted very early on in life with the wonders of potatoes. A Yooper Pasty without potatoes is, well, like a pasty without rutabagas. It just ain't done, people. You might as well leave off the ketchup. (Now sit back down. We'll get into the ketchup vs. gravy debate another time. Right now we're rallying behind the long suffering potato.)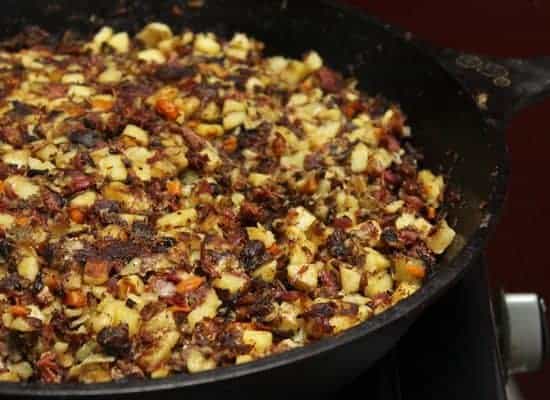 Here's the thing you need to know about this dish. You can never make enough. It's true. I made an 18-inch cast-iron skillet brimming with it. I counted on a couple days of leftovers. There. were. none. Sad doesn't begin to cover it. The moral of the story? Make way more than you might ever think you could possibly consume. Not to put too fine a point on it…
Oh, stuffing. We love you, too. Just not from a box…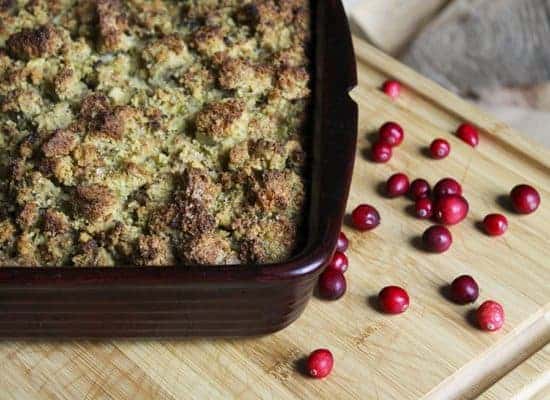 This is also not boring. And this is also not the aforementioned brand of stuffing. This is the best stuffing you will ever stuff in your face. Trust me. You're going to stuff it in your face. Or you might stuff your face in the stuffing. It's very stuffable. And it will stuff you. In a good way. With all pronounceable and identifiable ingredients. And it's another one of my Grandma's recipes. 'Nuff said?
Here's where you come in…
Please, Please, pretty please with potatoes on top send me your favorite potato recipes, either by links or full recipes down in the comments or by email. It is our privilege and our duty to protect and defend the ever wondrous potato's reputation. Here are a couple fabulous ones from good blogger buddies for inspiration:
Hubba hubba. Smoked salmon AND dill AND crispy potato latkes? Amy, you temptress. I could eat approximately fifty bajillion of these  little gems. I might need some help standing up later, but I'd go happy.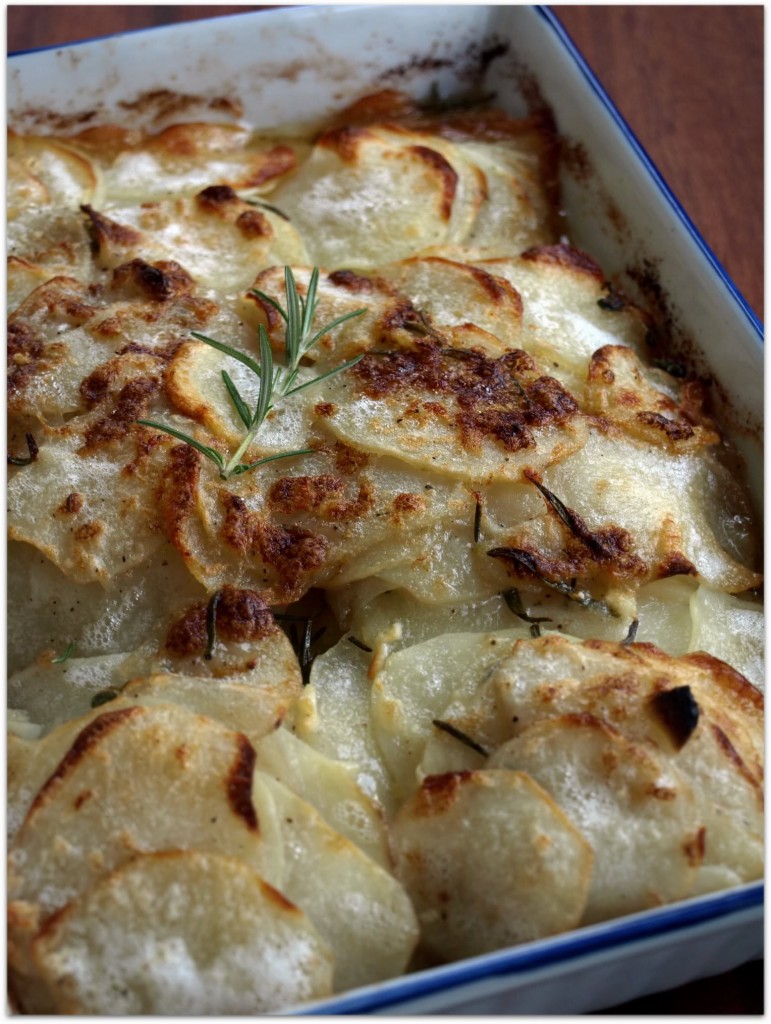 Speaking of going happy, Evil Chef Mom discusses last meals and potatoes with her Potatoes Antico Modo. I believe Antico Modo is translated loosely as "Heavenly thing to do to potatoes with butter and cream." I'm pretty sure about that. Because look at these. Sigh.
WHU-POW! That was the sound of my head exploding thinking about these Yukon Gold potatoes with Shallot Butter from Melissa at Alosha's Kitchen. And all God's people said? (Here is where you say "Amen!") First, you have my favorite variety of potato. Second, you're bathing them in shallot butter. Oh yes, she did. And you should, too.
If you're going to tell me that you can resist these accurately named, duck fat roasted, crispy potato rounds from Saint Tigerlily, I'm going to call you a liar. A big, sad, liar. Because no one can resist these. Unless they have no tastebuds in which case, we should feel pity. No. Never mind. Even those without tastebuds couldn't resist these because of the otherwordly texture. So we're back to people who say they can resist this being liars. So there.
One quick note. Pictures, while not necessary to participate in the round-up, are certainly appreciated. If you send them to me, pretty please size them to about 550 x 400 or at least 400 x 400. Give me a shout if you need help with that!
One last question. Were you bored by these recipes?