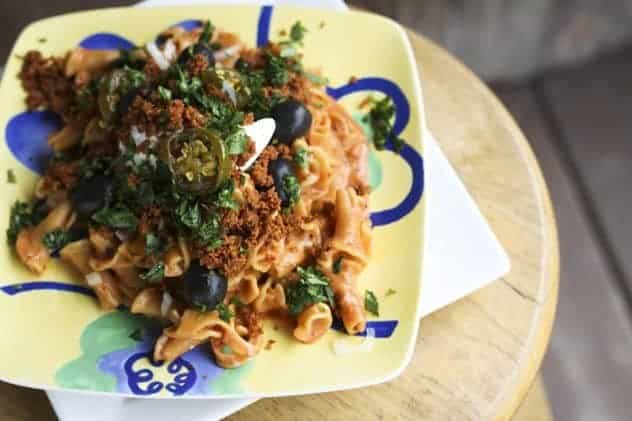 Yesterday, I banged the drum for playing with your food and above is my proof of why that is a virtuous kitchen activity. You are looking at a creamy tomato pasta with chorizo, black olives, cilantro, sour cream and candied jalapenos. …And scene.
No. It doesn't really end there, although since we are two days away from Thanksgiving, I will keep this short and sweet.
If no one ever played with their food there would be no such things as Buffalo wings, nachos, baked potatoes, lentil soup, pickles, jam or olives (among other things.) Seriously. Have you ever tasted an unbrined olive? Big, fat, alum-laden ew. The point is, someone did it.
Someone has to do it.
You don't have to go whole hog and start developing recipes from the ground up. Just tinker. Substitute one herb for another, try shallots instead of onions or vice versa, use Greek yogurt in place of sour cream… Look at what's similar. What makes it similar? Is it texture, flavour, smell? Think of cooking as a puzzle where you're fitting different things together in the best possible way. But here's where it's better than a puzzle. A puzzle can only be put together in one way. Foods have a nearly limitless number of combinations. Isn't that a great thought? There is a perfect dish out there for everyone. It's just up to us to find it!
This dish was borne of playing with the dish I posted yesterday. If you make them both you'll see that while they are two dishes that use the same method and have textural similarities, that they are two completely different meals!
… Now before I share this with you and scoot off to make pies and whatnot I want to lay a little homegrown truth on you. I appreciate each and every one of you who visits here on a daily, weekly, monthly, yearly basis. Your presence and feedback makes Foodie With Family such a rewarding project for me that I can't imagine what I'd do without you all. For each of you, I am grateful. Thank you for making this so fun for me. May your Thanksgiving Day be as wonderful as you hope!
With love,
Rebecca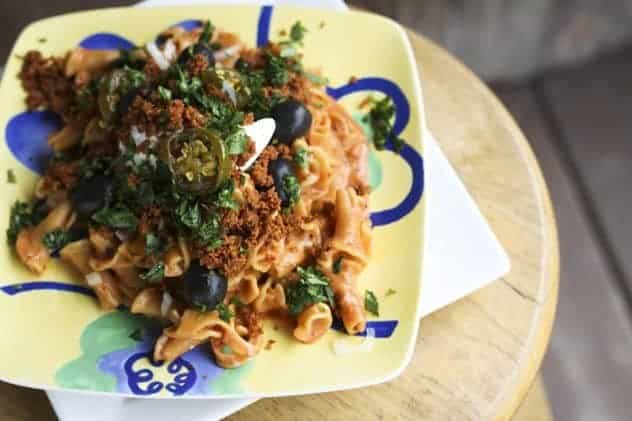 Ingredients
1

pound

Mexican style chorizo

1

onion

peeled and diced

5

cloves

of garlic

peeled and diced or pressed

1

dried arbol chili pepper

whole

1

can

14-ish ounces tomatoes (You can use diced, crushed or puree.) ~or~ 1 1/2 cups chopped, diced or crushed tomatoes

1

cilantro stem

whole

1

teaspoon

Mexican oregano

1/2

teaspoon

ground cumin

5

cups

chicken stock

1

pound

uncooked dry shaped pasta

I used Campanelle. Other good choices would be small shells, cellentani, fiori and rotini, or any other pasta with hollows to hold sauce and meat.

1/4

cup

grated Monterey Jack cheese

4

ounces

half of an 8 ounce brick cream cheese or neufchatel cheese, cut into squares

Optional for garnish:

Minced fresh cilantro

halved or chopped black olives

chopped sweet onions

sour cream

candied jalapenos
Instructions
Break up the chorizo into a stockpot over medium heat, stirring and breaking up further with a sturdy spoon. Cook until chorizo is cooked through (browning is not necessary... just cook it through!), then use a slotted spoon to move the chorizo to a plate. If you are using a homemade, lean chorizo, you will need a little additional fat for the next step. If you are using a fattier chorizo, you can use the drippings in the next step.

Drain all but about 1 tablespoon of the drippings from the pan (if using lean chorizo, add 1 tablespoon of peanut oil or canola oil) and return the pan to the heat, dropping the temperature to low. Add the onion and garlic and whole arbol chili and cook, stirring frequently, for about 5 minutes, or until the onions are translucent and soft.

Pour in the chicken stock and tomatoes then raise heat to medium high, bringing the mixture to a boil. When it is fully boiling, stir well, then add in the noodles and half of the reserved chorizo and the cilantro stem, oregano and cumin, using tongs to toss it until the noodles soften enough to be submerged. Add the lid, drop the heat to low again, cover tightly, and simmer for about 10-12 minutes, stirring occasionally, or until the noodles are al dente (cooked mostly through with just some resistance in the center when bit.) Remove the pan from the heat.

Stir in the grated cheese and the cubed cream or neufchatel cheese, cover again and let stand for 5 minutes. When the 5 minutes are up, toss the noodles in the sauce until the cream cheese is melted and the sauce is thickened.

Serve the noodles garnished with the remaining chorizo, and chopped fresh cilantro, black olives, sweet onions, sour cream and candied jalapenos, if desired.
Nutritional information is an estimate and provided to you as a courtesy. You should calculate the nutritional information with the actual ingredients used in your recipe using your preferred nutrition calculator.