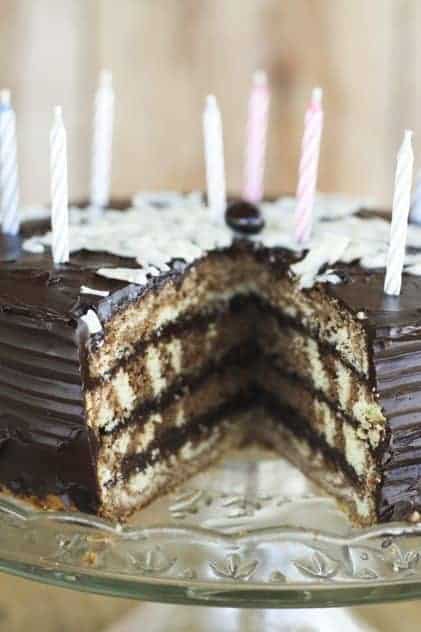 It's birthday season around here, as I may have already mentioned once (or twice)… With the exception of the one child who requested shepherd's pie for his birthday dessert until I informed him he could have it for dinner AND have a proper cake or pie, everyone has asked for something spectacular. Last week was no different, but the pressure was amped up a bit. My eldest and youngest were born on the same day, eight years apart. Birthday feasts and desserts take on a special level of crazy when two people are egging each other on in the brainstorming process.
Mercifully, the eldest wanted fried chicken and the youngest wanted fried chicken nuggets. (Bless you child. Your nuggets were boneless, skinless chicken thighs dredged in the same coating as your elder brother's fried chicken. And it was good.) The youngest deigned to allow the eldest to have a fruit salad even though, as he has repeatedly informed us he does not "wike fwoot." And then came the negotiations on the cake.
Cake, for crying out loud.
How complicated does it need to be*? The answer to that, evidently, is extremely complicated. Eldest wanted a vanilla cake with strawberry layers. Youngest, again, informed us he doesn't "wike fwoot". Youngest wanted chocolate. Eldest didn't want plain chocolate. Eldest suggested combining chocolate and mint. Youngest now decided he didn't "wike mint". Eldest suggested I make two cakes. Youngest agreed. And then one of them, can't quite remember which since my head was spinning on its axis, said, "Why don't you just make a huge chocolate and vanilla swirl cake? Then you can put ganache** over the whole thing!"
*This is a question I should be past asking considering one year they wanted a realistically shaped/decorated globe cake, another year someone wanted a 3-D Tardis, and so on and so forth. But I am an optimist. Some day someone will ask me for a sheet cake with nothing on it. Then I'll probably cry.
**Because my children do say things like, "Put ganache over the whole thing!" I suppose this means I've spoiled them.
Phew. It's the lead-up to the cake request that stresses me out the most. Swirls I can do. Swirls I have done. But my previous swirly cakes were a bit more on the dry side (intentionally) since they were to be layered with ice cream. This cake was to be a moist, stand-alone (if you count being smothered with ganache as standing alone) birthday beauty. Enter butter… and quite a bit of it.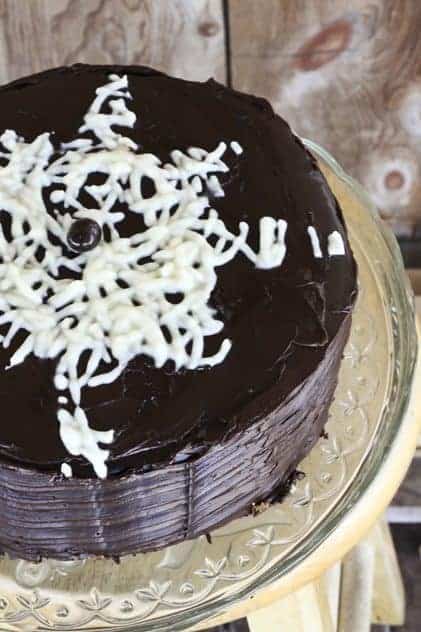 Let's talk about ganache just for a moment. If you're not familiar with it I'll break it down for you. Ganache is equal parts heavy cream and chocolate, melted together and gently stirred until it magically turns into a thick, glossy, chocolate spread. And oh, what a chocolate spread. When refrigerated, it is thick enough to roll into balls  to nibble,  drop into hot milk for hot chocolate, or coat with cocoa powder or chopped nuts or more melted chocolate for homemade truffles, or, or, or… to frost or sandwich between cookies, or CAKES.
So, to recap, we have a big layer cake made with lots of butter covered with dark chocolate and heavy cream. Very diet friendly. But diets have no place in a home with five sons. This is my justification and I'm sticking with it. Would anyone else like to join me here on Delusional Island? We have cake. And ganache.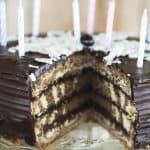 Print
Chocolate Vanilla Swirl Layer Cake with Ganache
Birthdays (or any occasions, for that matter) get a delicious boost when you serve this moist Chocolate Vanilla Swirl Layer Cake frosted with dark chocolate ganache.
Ingredients
For the Cake:
1 1/2

cups

all purpose flour plus 2 tablespoons

separated

1 1/2

cups

cake flour

1

tablespoon

baking powder

1/2

teaspoon

salt

2

sticks butter

softened to room temperature

1 3/4

cups

fine or superfine sugar

4

large eggs

room temperature

1

tablespoon

pure vanilla extract

1 1/4

cups

whole milk

warmed to room temperature plus 4 tablespoons, separated

2

level tablespoons dark cocoa powder
For the ganache:
16

ounces

2 cups heavy cream

16

ounces

chopped dark chocolate or bittersweet chocolate

Optional for garnish:

Melted white chocolate for drizzling
Instructions
To Bake the Cake:
Preheat oven to 325°F.

Butter and flour two 8- or 9-inch round cake pans.

In a mixing bowl, whisk together the flours, baking powder, and salt. Set aside.

Cream together the butter and sugar until fluffy and pale in colour.

Beat the eggs in one at a time, fully incorporating each egg and scraping down the bowl between each addition. Beat in the vanilla.

Add about 1/3 of the milk, beat to incorporate, then 1/3 of the flour, again beating to incorporate.

Repeat this process, scraping down the bowl as necessary, until all of the milk and flour are added and mixed in evenly.

Divide the batter equally between two mixing bowls. In one, add 2 tablespoons of milk and the additional 2 tablespoons of all-purpose flour. Whisk until smooth.

In the other bowl, whisk in the cocoa powder and remaining 2 tablespoons of milk until smooth.

To create the swirls, scoop 1/3 of a cup of the white batter into the center of each prepared pan. Follow this with 1/3 of a cup of the chocolate batter directly into the center of the white batter in each pan. Repeat the process -white batter, chocolate batter, white batter, chocolate batter- each time, pouring the batter directly into the center of the contrasting batter. This will form concentric circles (and when baked, the stripey swirls) of contrasting colour. Repeat until you run out of batter.

Bake, rotating midway through, for about 35 minutes or until the cake tests done.

Let the cakes cool in the pan on a rack for 5 minutes before turning out onto the racks to finish cooling.
To Make the Ganache:
Heat heavy cream in a heavy-bottomed saucepan just until it is about to boil. Pour immediately over the chopped chocolate in a heat-proof bowl and let stand undisturbed for 5 minutes. Using a wire whisk, gently stir in one direction until the ganache becomes glossy and evenly dark. Let stand at room temperature, stirring occasionally, until thick.
To Assemble and Frost the Cake:
Level out your completely, 100% cooled cakes and cut each into two even layers.

Place one layer on a cake plate then add a layer of ganache, spreading to the edges and evening out as you go. Repeat with the remaining layers.

Frost the top and sides of the cake with the remaining ganache. If you have uneven areas, you can put the cake into the refrigerator for 10 minutes or so, then use ganache to fill in the spaces.

If desired, drizzle melted white chocolate over the top of the cake to garnish.

Cover and refrigerate for at least an hour before slicing.

Store leftovers tightly covered in the refrigerator.
Happy Birthday to my sweet bookends.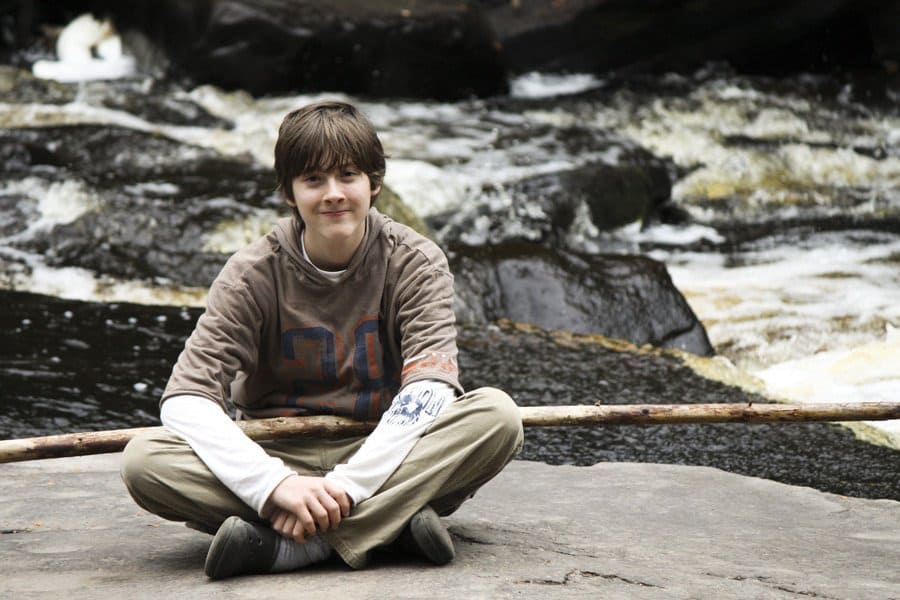 My Chocolate and my Vanilla…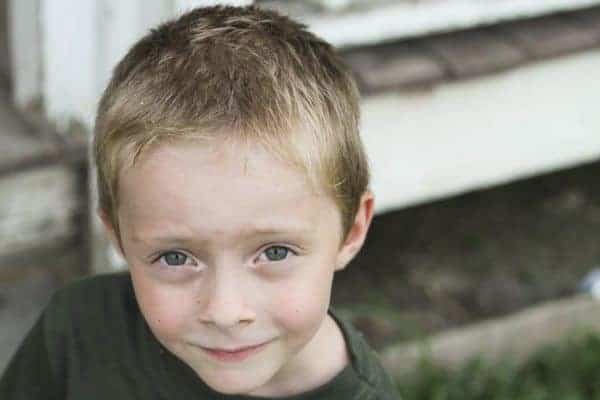 Am I the luckiest mom in the world or what?