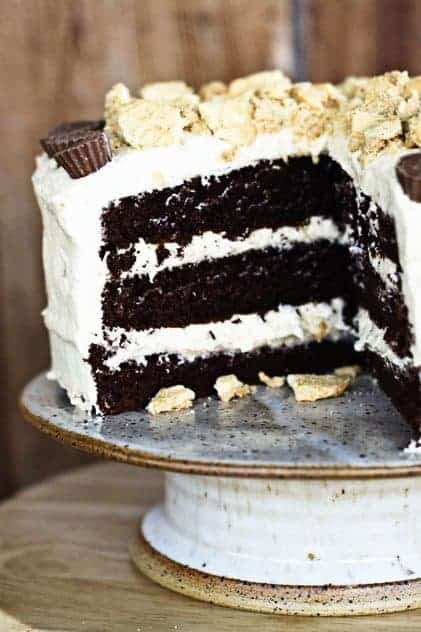 For years I had that thin, "shatterproof" tableware because I thought it was easier to care for, cheaper, and whatnot. Over the years, I realized -with the help of my built in high stress advanced material test laboratory that I call my five sons- that those things weren't shatterproof. Or break proof. Or even remotely capable of standing up to five very energetic and twitchy little boys. Not only were they not sturdy, but they seemed to be built to explode into a million pieces like a Mission Impossible assignment when giving up the ghost.
I carried on, though, because they were dishwasher safe and I already had them on hand. Well-meant gifts of the stuff from people who were weeding it out of their own cabinets kept me going for years although I was becoming disillusioned after cleaning up a bajillion shards of soup/yogurt/spaghetti sauce/ice cream coated, microscopic, razor sharp daggers of shatterproof dishes. Because honestly? Those things never broke when empty and dry. They almost invariably had the messiest most splashy contents to enrobe the little beastly foot jabby bits of glass. I told you we were an advanced materials testing lab.
Yeah. Traumatized? Noooo. Not me. (She says while cradling her poor scarred feet and rocking back and forth.)
A couple of years ago, I slowly but surely started pitching the other tableware: aided by the fact that they kept exploding in the most not-delightful way and replacing them with something ANYTHING other than what I'd had. Salvation Army stores became my haunting grounds. I didn't care if NOTHING on my table matched… It was better than what I'd had before.
Then, oh mercy, I discovered the joys of pottery. What was mere admiration has grown into a full-fledged fixation that is nudged along by my friendship with a honest-to-goodness potter: Staci Curry of Firefly Pottery in Angelica, New York. Her stuff is beautiful, whimsical, colourful, STURDY, pretty, oven, microwave and dishwasher safe. Did I mention sturdy? Oh Staci… You're my hero. I want to live in the show room of the store she shares as part of the Three Clay Sisters (including Mud Puddle Pottery and Creek Bed Pottery).
Staci recently made a guh-huh-huh-huh-hooooorgeous cake plate for me. Naturally, I had to make a cake worthy of being on that fabulous cake plate to break (ohdearmedon'tbreak. DON'T BREAK.) it in properly. It had to be an epic cake for an epic cake plate. Enter the Chocolate Nutter Butter Cake… inspired by my perty new cake plate.
Super moist chocolate cake layered and topped with a truly majestic amount of… wait for it… PEANUT BUTTER CREAM CHEESE BUTTERCREAM. It combines crunchy peanut butter (for texture and flavour) AND cream cheese AND butter AND heavy cream. Mmmmmm. It's so indulgent I almost kind of sort of feel like I should apologize. But then I take a little fingerful (or a paw full) of the frosting and that little spark of worry that was showing disappears in a eye-rolling-to-the-back-of-my-head, fluffy, creamy, sugar rush…
Whether you have a fabulous cake plate or not, though, I want you to make this cake. Nay, I INSIST you make this cake if you have one ounce of cake love in your body. I might go so far as to say it's the best cake I've ever made in my life.
Seriously.
I think I did this cake plate proud.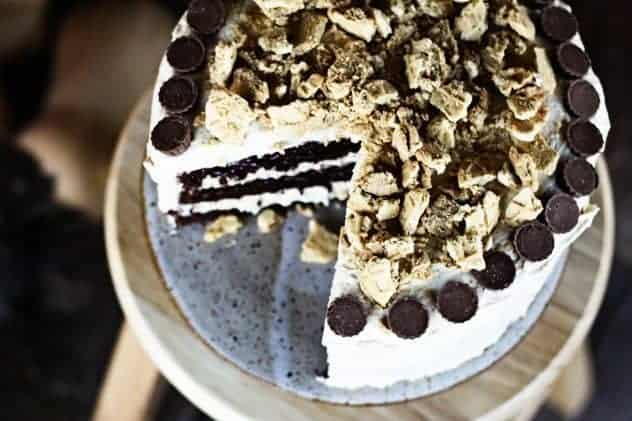 Super moist chocolate cake layered and topped with a truly majestic amount of... wait for it... PEANUT BUTTER CREAM CHEESE BUTTERCREAM. It combines crunchy peanut butter (for texture and flavour) AND cream cheese AND butter AND heavy cream. Mmmmmm. It's so indulgent I almost kind of sort of feel like I should apologize. I would, but my mouth is full of frosting.
Ingredients
For the Chocolate Cake:
1 1/2

sticks

12 tablespoons butter, softened to room temperature

1 3/4

cups

granulated sugar

1/2

teaspoon

salt

1 1/2

teaspoons

baking soda

2

teaspoons

real vanilla extract

2

cups

all purpose flour

3/4

cup

dutch process cocoa powder

4

large eggs

1 1/2

cups

evaporated milk

can substitute whole milk if necessary
For the Frosting:
8

ounces

cream cheese

softened to room temperature

1

stick butter

8 tablespoons, softened to room temperature

3/4

cup

crunchy peanut butter

if you want super smooth frosting, use creamy peanut butter

1

tablespoon

real vanilla extract

1 1/2 to 2

pounds

6 to 8 cups powdered sugar

2-4

tablespoons

heavy cream
For Garnish:
15

Nutter Butter Cookies

crushed

1

package Reese's Miniature Peanut Butter Cups
Instructions
To Make and Bake the Cake:
Preheat oven to 350°F.

Grease and flour three 8- inch round cake pans.

In the bowl of a stand mixer fitted with a batter blade, or with a hand mixer in a large mixing bowl, beat together the butter, sugar, salt, baking soda, and vanilla until it is fluffy, about 5 minutes. Scrape down the sides of the bowl. Add the eggs one at a time, stopping the mixer and scraping down the sides after each addition.

In a separate bowl, whisk together the all-purpose flour and cocoa powder until no lumps remain. If you can't whisk out the lumps, push it through a sieve or sift it.

Add about 1/3 of the flour mixture to the contents of the mixing bowl. Beat it in on medium low until no dry pockets remain. Add 1/3 of the milk and beat until combined. Scrape down the sides of the bowl and continue adding the flour and milk alternately, mixing until combined and scraping down the sides of the bowl each time. The last addition should be milk. Mix just until evenly combined.

Divide the cake batter evenly between the three pans. Smooth the tops of the batter and bake for 25-35 minutes, or until the cake pulls away from the edges of the pan a bit and a skewer or toothpick inserted in the center comes out clean.

Let the cakes rest in the pans for 5 minutes before turning out onto a wire rack to cool completely before frosting.
To Make the Peanut Butter Cream Cheese Buttercream:
In a stand mixer fitted with the whisk attachment, or in a mixing bowl with a hand mixer, beat the cream cheese, butter, peanut butter and vanilla extract on HIGH until very light and fluffy, about 5 minutes.

Add the powdered sugar to the mixture and combine, starting the mixer on low and stopping it a couple of times until most of the sugar is moistened to prevent a big pouf of sugar. Again, beat on HIGH until smooth and combined. Turn off the mixer and add 2 tablespoons of the heavy cream. Beat on high until smooth. If you want thinner frosting, add more cream, 1 teaspoon at a time.
To Frost the Cake:
Lay 1 of your cakes on a cake plate or large platter (make a square of 4 pieces of parchment paper to lay your cake on to keep the plate clean while frosting if you want.) Add about 3/4 to 1 cup of frosting to the middle of the cake and spread to the edges. Lay another cake on top and repeat with the frosting. Lay the final cake on top and go to town with the rest of the frosting. Spread it thickly over the top and sides. Rim the cake top with mini-Reese's peanut butter cups then sprinkle the crushed Nutter Butters into the center.

Remove the parchment, if you used it, and refrigerate for an hour or so before slicing.

Enjoy!
Nutritional information is an estimate and provided to you as a courtesy. You should calculate the nutritional information with the actual ingredients used in your recipe using your preferred nutrition calculator.