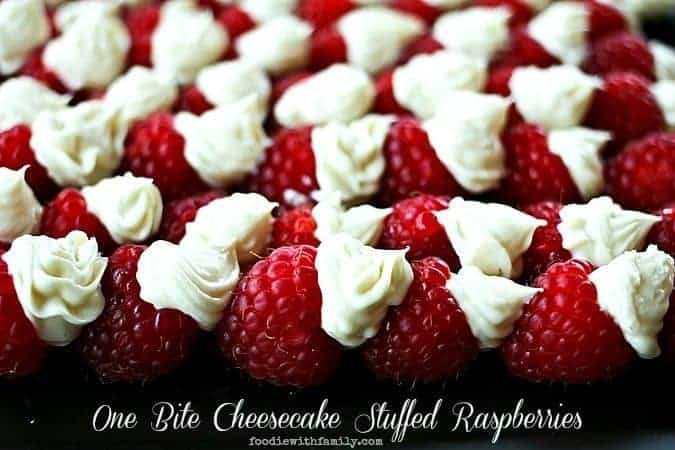 My husband tells me that when he was a little boy, he loved to 'eat fancy'. Fancy for him was little foods: individual bites. He would arrange cherry tomatoes on a plate, sit down with his plate of fancy cherry tomatoes and a salt shaker, and take tiny, thoughtful bites that were dusted with salt from a flick of his little wrists. To see him pantomime how he ate -eyes cast up to the side, pinkies up- is at once hilarious and sweet.
His mania for little bites continues. When we went to the Opening Reception, Chocolate and Wine Pairing seminar, and Grand Tasting at the Martha's Vineyard Food and Wine Festival last October, he was in his glory. He was able to go from table to table sampling the fanciest one-and-two bite offerings from some of the best chefs in the area. Every time I looked at him it was like the cartoon or "Sky High" effect where a grown-up gets shot with a shrink ray and you see a baby swimming in adult clothing. Except with him, I'd look at him nibbling the bite with a rapturous expression, turn to look at something else, and then look back to see that little boy who used to look at the back of his feet when he ran to see if he was giving off puffs of smoke just oozing pure joy.
So when occasions arise where I want to make something special for my Evil Genius, to celebrate something auspicious or just to make him feel the love, I go to small bites. Am I sentimental? You betcha. I can't help it. It's how I'm built.
I knew he'd been having a tough time out moving our piles and piles of snow, so when he plopped down in his chair in front of the woodstove, rubbing his hands together to warm them up, I retreated to the kitchen. Into the stand mixer went a brick of softened neufchatel (1/3 less fat) cream cheese with confectioner's sugar and some Chambord. I whipped it until it was creamy and smooth, scraped it into a pastry bag with a small star tip, and piped the cream cheese filling into raspberries I had picked up on my previous day's grocery shopping extravaganza.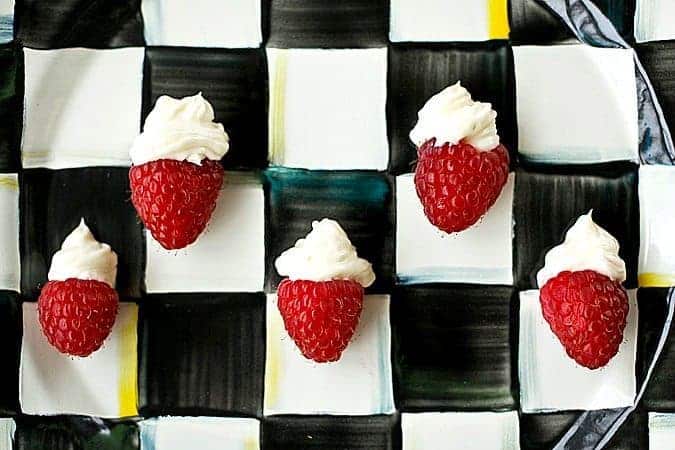 I arranged just a handful on a plate, pulled the piano bench over next to his chair, and deposited the plate there with a little glass of Chambord. BAM. Tension and years melted off like the clumps of snow from his boots.
He savoured them one at a time and declared them to be the ultimate in cheesecake. This is high praise from the man who always complains that the cheese portion of cheesecake always dwarfs the fruit part which reigns supreme in his world. Then he looked up at me, "Are there any more? Do you have more?"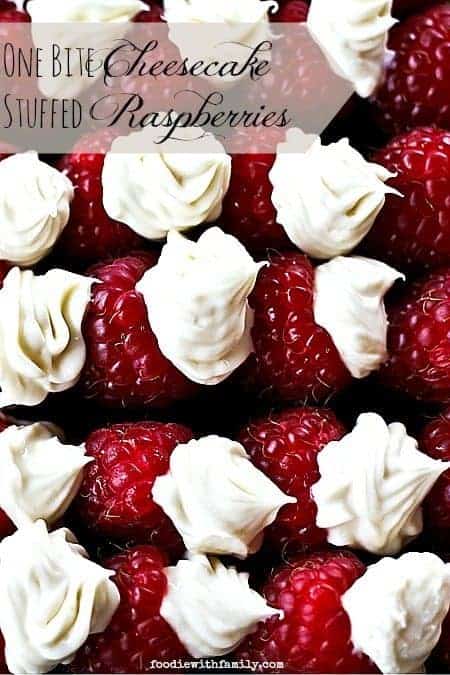 …"Of course I do." Love that man.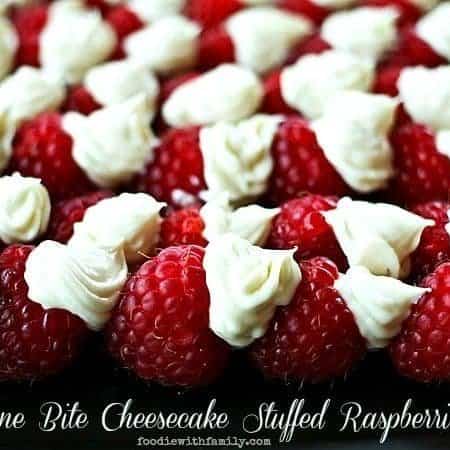 Juicy raspberries stuffed with a lightly sweetened, Chambord laced creamy cheesecake filling. Perfection in one bite.
Ingredients
2

pints

fresh raspberries

1

package 1/3 less fat cream cheese

8 ounce, Neufchatel cheese, softened to room temperature

1/2

cup

confectioner's sugar

1

tablespoon

Chambord

or other raspberry liqueur
Instructions
In a stand mixer fitted with a whisk, or a mixing bowl with a hand mixer, beat together the cream cheese, sugar, and Chambord on high speed until smooth and creamy. Scrape into a pastry bag fitted with a small star tip (or into a zipper top gallon bag, then snipping off a small corner.) Insert the decorating tip into the raspberry as far as you can without breaking the raspberry up. Squeeze the cheesecake filling into each raspberry, pulling out the tip as you squeeze, leaving a little cap of cheesecake filling on top of each raspberry. Arrange on a plate and serve immediately or refrigerate for up to 2 hours before serving. These are best served within 3 hours of being made, as they tend to give off juices if kept longer.
Nutritional information is an estimate and provided to you as a courtesy. You should calculate the nutritional information with the actual ingredients used in your recipe using your preferred nutrition calculator.
So. Aren't you glad this is time limited, this me-soliciting-votes-thing? I'm awfully happy to be finalist in the running for TheKitchn's The Homies awards. If you have a minute, would you consider voting for me? I'd be so grateful!