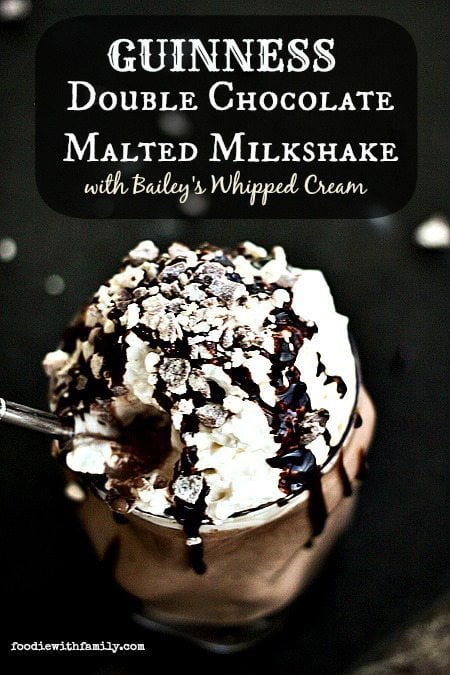 Please allow me to introduce you to my new favourite milkshake: the Guinness Double Chocolate Malted Milkshake.
"Wait!" you say, "Guinness? Like the beer? Beer milkshake?" Don't even run away screaming. And please, even if you're not a beer lover, stick with me for a minute. This is a more natural pairing than you might think.
Guinness by itself is full of caramel and chocolate notes and is super malty. When I shoved one of these in my husband's hand, he took a slurp and said, "What's in here?" He scrunched his face up and thought hard and said, "This is the best malt I've ever had. It's so good. What's in it? Honestly. Tell me what's in it."He couldn't tell there was beer in it. Even when I TOLD him there was Guinness in it, he said, "Are you SURE?" Are you relaxing your shoulders a bit yet? It doesn't taste like BEER in ICE CREAM. It tastes like a super chocolatey malted milkshake with hints of caramel. You KNOW that can't be bad, right?
So why put the beer in if you can't taste it? Because Guinness delivers a serious hit of malt and that you cannot get without dumping SCADS of malt powder in the milkshake thus rendering it  gritty. And the caramel notes that come with the Guinness? You can't get those without adding a dark caramel syrup. One bottle of Guinness vs. loads of malt powder and a hard-to-find syrup? I'm going with the beer. Deep chocolate, dark caramel, assertive malt; this is a milkshake for people with sophisticated tastes. Oh my gawsh. Did I just imply that I have sophisticated tastes?
How misleading. I'm only sophisticated when it suits me, which is pretty much when I'm talking about why you should trust me and combine beer and ice cream in a blender. Otherwise, it's all yoga pants and Andy Capp's Hot Fries all the time, people. Don't knock on the door without calling ahead or chances are my hair won't be brushed either. *scratch scratch*
I'm sorry. Am I ruining this? You can dress me up but you can't take me out.
If you, unlike me, are sophisticated 24/7 and have classy oozing out of your eyeballs, this milkshake is a perfect choice for entertaining (especially for a St. Patrick's Day party) because it is awfully nice to look at in addition to being rich, sweet, smooth, and decadent. On the other hand, if you're a hick-at-heart like me, it's also perfect for entertaining because it takes just a couple minutes to blend up (provided you fix your blender lid firmly in place so the carbonation from the beer doesn't fly out of the top of the blender and splatter the walls thus degenerating your attempt at entertaining into a manic ceiling/counter/blender/floor cleanup effort) so you and  your friends or loved ones can get back to sitting on the couch, sipping milkshakes and laughing raucously. And if it's just you? Shoot, you get to drink the whole blender full of this luscious, indulgent milkshake, you lucky duck! (If you can't drink the whole thing in one sitting, freeze the remains of the milkshake in ice cube trays then blitz briefly in the blender before serving the leftovers. As good as new! Hooray!)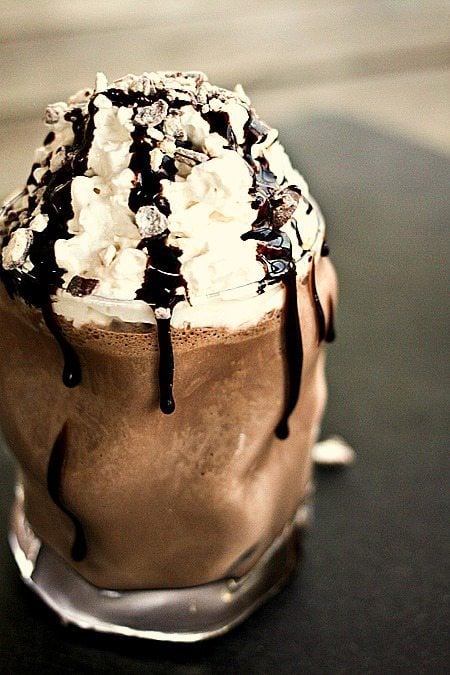 What do you think? Will you brave the beer/ice cream combo to try this amazing milkshake?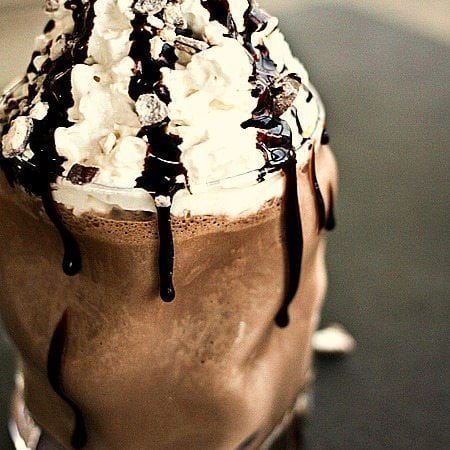 Ingredients
For the Guinness Double Chocolate Malted Milkshake:
1

bottle of Guinness draught style stout beer

11.9 ounce, slightly chilled

1

pint

good quality chocolate ice cream

2

tablespoons

chocolate syrup

chocolate syrup

Bailey's Whipped Cream

see below

crushed Whoppers Malted Milk Ball candies
For the Bailey's Whipped Cream:
1/2

pint

whipping cream

1 cup

1

ounce

Bailey's Irish Cream

1

tablespoon

sucanat or brown sugar
Instructions
To Make the Bailey's Whipped Cream:
Gently stir together the whipping cream, Bailey's, and sugar until the sugar is dissolved. Add to the canister of a whipped cream dispenser and charge according to manufacturer's instructions OR whip with a stand mixer or hand mixer (or by hand, you machine!) until you reach firm peaks. If not using a whipped cream dispenser, cover the bowl tightly with plastic wrap and refrigerate for up to 3 days.
To Make the Guinness Double Chocolate Malted Milkshake:
Add the Guinness, chocolate ice cream, and chocolate syrup to the carafe of a blender. Fix the lid tightly in place. (If using a Blendtec, begin the milkshake/frozen drink cycle.) Be aware that it will DEFINITELY slosh up and around because of the carbonation in the beer. If your lid isn't really tight, it may splash out. Blend on HIGH until smooth.

Divide the malted milkshake between two glasses, leaving about half an inch to an inch of space to accommodate whipped cream. Add a THICK cap of Bailey's whipped cream to the top of the glass. Drizzle chocolate syrup over the top and garnish with crushed Whoppers candies. Serve immediately with a straw and a spoon!
Nutritional information is an estimate and provided to you as a courtesy. You should calculate the nutritional information with the actual ingredients used in your recipe using your preferred nutrition calculator.
Looking for a whipped cream dispenser or some re-usable straws? These are the versions we own and love in our home. These are Amazon affiliate links which means that if you click on the items and purchase them, I receive a small commission which in no way effects the price of the item for you:
This Isi Easy Whip makes and keeps whipped cream ready for 10 days. How 'bout that. Whipped cream at the touch of a button with no funky stabilizers or preservatives? That's my kind of gadget.


And these extra large stainless steel straws are what my kids use for their daily smoothies, milkshakes, juice, malted milk, and whatever else they decide to sip. They're dishwasher safe and re-usable almost to the end of time. They don't change the flavour of what you sip through them and they don't leach any creepy chemicals. WIN!