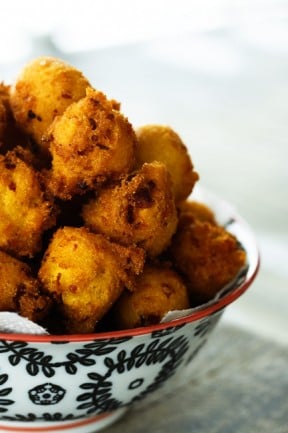 I interrupt today's previously scheduled dish to bring you the best hush puppies I've ever made. Polish Hush Puppies. Say whuh? No really. They're Polish by virtue of the beef kielbasa, sauerkraut, onion and cheese I that I used to stuff them.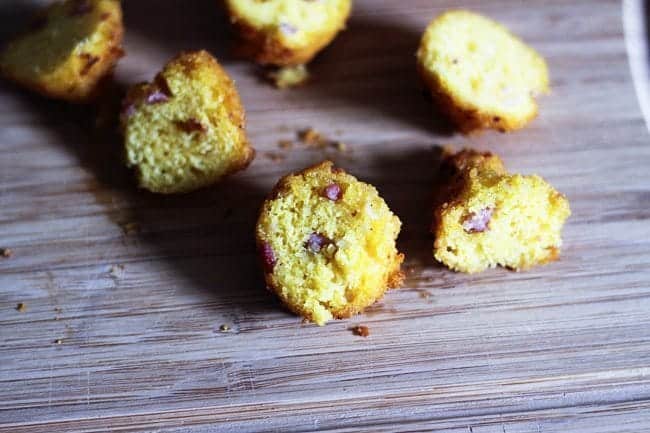 Can we just process that for a moment?
Deep fried cornbread bits filled with tiny little morsels of juicy, garlicky Polish sausage, shredded extra sharp Cheddar, micro-minced sauerkraut and onion are what I mean. If you're so inclined, those craggy, super crisp hush puppies are just about the most perfect thing ever to dredge through and scoop up significant amounts of gravy, ketchup, Ranch dressing, honey mustard or horseradish sauce. Yeah, that last one? That's the one you really, REALLY want here if you're being honest with yourself.
I have some serious southern roots, folks, which accounts for my introduction to hush puppies, but the love of these little deep fried, crunchy, golden morsels is just pure, unadulterated food obsession. Raise your hands if you are head-over-heels for hush puppies!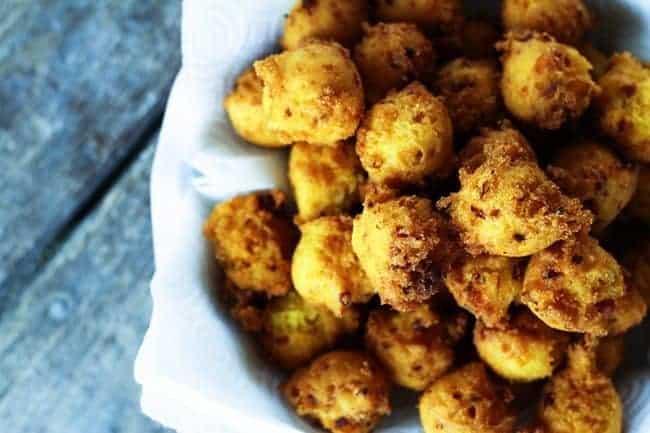 Polish Hush Puppies | Kielbasa, Sauerkraut, Onion and Cheddar Fried Cornbread
Rate Recipe
These crispy, perfect hush puppies take a tour of Polish eateries by virtue of being stuffed with garlicky kielbasa sausage, sauerkraut, minced onion and shredded cheese. Eat them as a stand alone snack or appetizer, or serve alongside stews, soups, salads or chilis.
Ingredients
2

inches

of canola

or an electric deep fryer, peanut or vegetable oil, or lard in a high-sided, heavy-bottomed pot or skillet

1 1/4

cups

cornmeal

3/4

cup

all purpose flour

1

tablespoon

sugar

1/2

teaspoon

salt

1/2

teaspoon

baking soda

1/4

teaspoon

ground black pepper

1/8

teaspoon

cayenne pepper

2

tablespoons

butter

melted

1

cup

plain yogurt or buttermilk

1

large egg

6

ounces

fully cooked Kielbasa sausage

1/2 of a package

1

cup

sauerkraut

squeezed completely dry in a towel

1

cup

shredded extra sharp Cheddar cheese

1/2

a small onion
Instructions
Place the oil-filled pot over medium high heat and bring the oil to 375°F. Line a bowl or baking pan with paper towels and set aside.

Finely chop (or cut into 1/8-inch cubes) the kielbasa then transfer it to a small mixing bowl. Super finely mince the sauerkraut and onions then add those along with the Cheddar cheese to the mixing bowl with the kielbasa. Toss to evenly distribute and set aside.

In a large mixing bowl, combine the corn meal, flour, salt, sugar, baking soda, black and cayenne pepper with a whisk. In a separate bowl, use the same whisk to thoroughly combine the butter, yogurt or buttermilk and egg. Pour that directly into the flour mixture, add the kielbasa mixture, and use a spatula to stir everything together gently, just until no more dry pockets remain and it is combined evenly.

Use a 1 1/2 teaspoon scoop (or simply mound the batter on a teaspoon) to drop the batter into the hot oil. Fry only as many as can comfortably fit into the pan while leaving room for them to move around and expand as they cook. Don't overcrowd that pan! Fry the hush puppies for 2-3 minutes per batch, flipping them about halfway through the cooking. Use tongs or a slotted spoon to transfer the finished hush puppies to the paper towel lined bowl or pan and let drain briefly before serving.

These are best when served hot, but are still great warm or room temperature. You can store leftover hush puppies in a paper towel lined, tightly covered container in the refrigerator and reheat them for just a few minutes in a hot oven to re-crisp them.
Nutritional information is an estimate and provided to you as a courtesy. You should calculate the nutritional information with the actual ingredients used in your recipe using your preferred nutrition calculator.