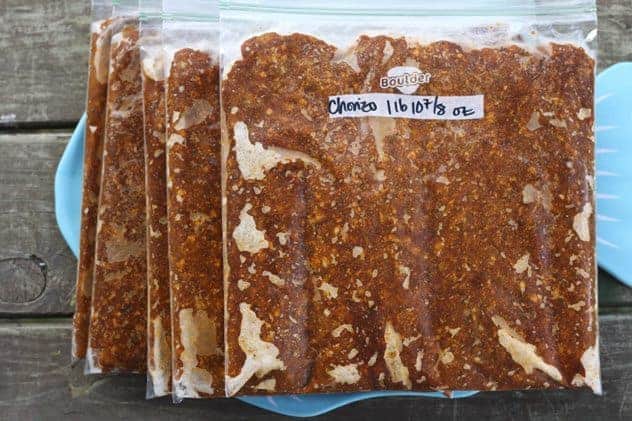 Sausage is the pork product that fills in the holes in my heart.
And no, I do not want to hear about how true that probably is.
Sausage is just superior. What could be wrong with it? We're talking about pork (win #1) that is ground (win #2) and combined with heavy spices and herbs (win #3) then fried in patties, rounds or broken up into tiny crisped bits (wins #4, 5, and 6).
I love nearly all sausage, but chorizo, oh chorizo holds a very special lobe in my heart. It is even spicer, even porkier, even more full of personality than other sausages courtesy of a mega flavour packed paste made from dried chili peppers, onions and garlic soaked in vinegar then pumped up with cumin, oregano, cinnamon (?!? Cinnamon? What? Yes*!), salt and pepper.
*You may remember cinnamon in such savoury dishes as this, this, this and this. I'm not talking about Cinnabon Sausage. I'm talking about lending that subtle something, that indefinable taste that makes the difference between a pretty good dish and an outstanding one. Try me.
Yes, chorizo. I mean Mexican style chorizo. There's nothing wrong (in fact there's quite a bit right) about Spanish style chorizo, but they're two different beasties all together. Spanish chorizo is -by and large- a dried, cured, smoked sausage and Mexican chorizo is most emphatically not. It is fresh, quick cooking and the stuff of queso fundido (A name that has always made me cringe. I mean honestly, for something that tastes so good it sounds awfully communicable.), huevos con chorizo, killer taco pizza and many other comfort food goodies. I've spent my time cooking bright red nondescript meat paste packaged in inedible plastic casings called chorizo by indiscriminate bargain grocers, but I knew there was something better. Far better.
And I was so right.
The answer, as it is so often, was to make it myself. And while I've mentioned before that I have about as much claim to authenticity in TexMex/Texican/Mexican cooking as any girl raised in the snowy climes of Northern Michigan (in other words, I have none), I know what I like to eat and I know what tastes go well together. After reading the versions by the wonderful Homesick Texan and Girlichef and trying their recipes on for size, I took the advice proffered by both of them and swung out on my own to find my own perfect chorizo.
It's tough work, eating batch after batch of sausage, but I'm willing to put in the time for the cause. I have to say that I've finally gone and done it. I have my favourite batch of chorizo: the batch I'll attempt to replicate time and again.
So what do I do now that I've made the ultimate (to my mind) version of chorizo? I make mega batches of it. By mega batches, I mean I start with three pounds of ground pork (ground by yours truly, but that's strictly optional), mix up a bunch, divide it out into one-meal-portions, freeze in flat packages*, and call it money in the bank. When you have pounds of chorizo in the freezer you have a jump start on fast and satisfying meals. How could you use it? Brown and break up a pound or so of chorizo and…
Add to some scrambled eggs for the classic huevos con chorizo. Serve on tortillas with cheese.
Stir into a couple cans or cups of black beans or refried beans and serve on tortillas or as a dip.
Mix with indecent quantities of cheese for queso fundido. Okay. Can we call it something else? Chorizo cheese dip anyone?
Pop on a pizza shell, dot with tomato sauce, top with a blend of grated Monterey Jack (or Pepper Jack) and Cheddar and bake. Top with shredded lettuce, tomatoes, chopped sweet onions and guac. Hello Taco Pizza.
Put on tortilla chips and top with grated cheese. Those are some serious nachos, Jefe**.
Treat it like bacon, but spicier. Brown it up, get some crisp on it, and use any leftover fat to make some unbelievable home fries.
*Squoosh it out flat in zipper top bags. It takes up less space in the freezer and thaws faster when you need it.
**All the Spanish I ever learned I got from Sesame Street, Dora the Explorer and The Three Amigos. I apologize. I am, however, fluent in Yooper.
So what about you? What is your favourite use of chorizo? If you haven't had it, do you think you might give it a go?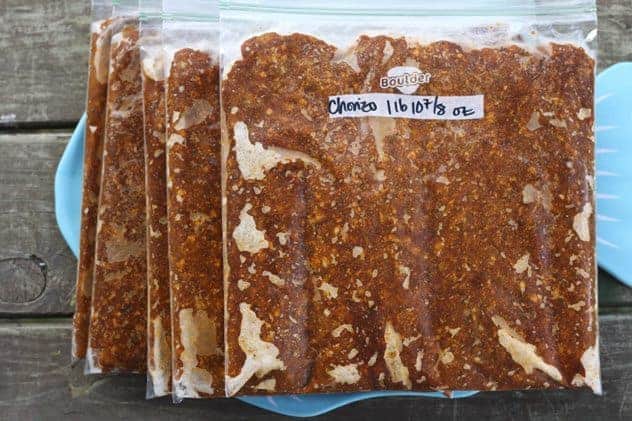 Fresh Mexican style chorizo is as easy as mixing a simple, flavourful paste of chilis, vinegar, onion, garlic, herbs and spices into already ground pork. It's simple to stock your freezer and simpler yet to make a wonderful meal from your stockpile! Add to burritos, tacos, scrambled eggs, taco pizzas, breakfast burritos, nachos and more. Inspired by and with thanks to: Homesick Texan and GirliChef
Ingredients
10

dried guajillo chili peppers

stem and seeds removed

7

dried arbol chili peppers

stem and seeds removed

4

dried New Mexico chili peppers

stem and seeds removed

2

onions

peeled and chopped

5

cloves

garlic

peeled and coarsely chopped

1 1/2

cups

cider vinegar

2

tablespoons

ground cumin

2

tablespoons

Mexican oregano

can't find Mexican oregano? No prob. Sub in Mediterranean Oregano

2

tablespoons

kosher salt

3/4

teaspoon

ground cinnamon

1

tablespoon

freshly ground black pepper

or 2 teaspoons pre-ground black pepper

3

pounds

ground pork
Instructions
Use a damp paper towel to wipe down the dried chili peppers. Toast the stemmed and seeded chili peppers until pliable (about 1 minute on each side) in a hot pan. Transfer them to a large non-reactive bowl (stainless steel, glass, or plastic), layer the chopped onion and garlic on top. Heat the vinegar (either in the microwave or on a stove top) until very warm to the touch. Pour over the chili peppers, onions, and garlic and lay a plate on top to weigh them down. Cover the bowl tightly with plastic wrap and let set at room temperature for an hour.

Transfer all of the peppers, onions, garlic, vinegar, cumin, oregano, salt, cinnamon and black pepper to a blender and process until you have a smooth, thick paste. If necessary, add another splash of vinegar to help things move along. Let cool completely.

When the chili paste is completely cool, mix thoroughly into the ground pork with the remaining ingredients using your hands until everything is a uniform colour.

Divide into one-meal portions and put each portion into an appropriately sized zipper top bag (For portions up to 3/4 of a pound, use a quart freezer bag. For portions up to 2 pounds in size, use a gallon freezer bag.) Squeeze as much air out as you can, seal the bag, and squash the bags as flat as you can. This will help them to freeze easily, take up less precious freezer space, and thaw more quickly when needed.
Nutritional information is an estimate and provided to you as a courtesy. You should calculate the nutritional information with the actual ingredients used in your recipe using your preferred nutrition calculator.