There's no denying the convenience of frozen patties for grilling hamburgers, but they're often made of sub-par meat or have questionable additives. Solve the problem by using home-ground beef or ground beef from a butcher or a store you trust and make your OWN frozen patties for grilling hamburgers! Bonus: You can take advantage of meat sales to save money!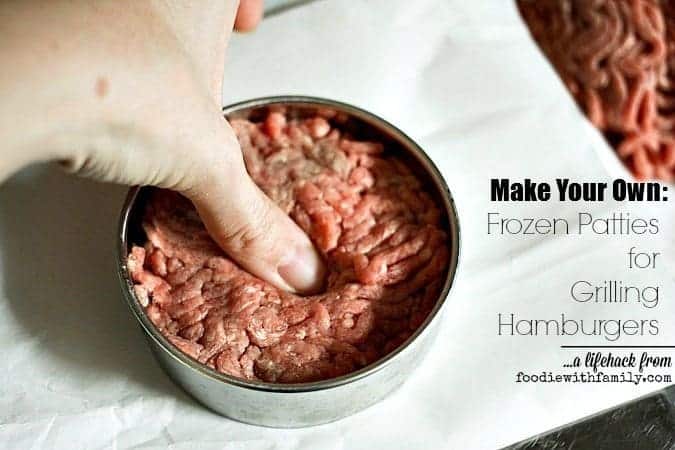 I love the convenience of frozen patties for grilling hamburgers. I seldom like the texture or flavour, though, of commercially purchased patties… they're all a little like old boot if we're being honest. Part of the issue at hand is user error: we don't always finesse frozen patties for grilling the way we do handmade ones. The bigger parts of the problem, however, are the quality of the beef used in the ones that are sitting in your grocer's freezer and the way the beef is handled that goes INTO the patties.
It's the meatball phenomenon. It's hard to love taking the time to hand form a bajillion meatballs, but the ones made by hand are always superior in texture to the little floor hockey pucks sold in the freezer section. It's the light touch that makes a difference. That's why I often make a double or triple batch of meatballs to freezer for later meals.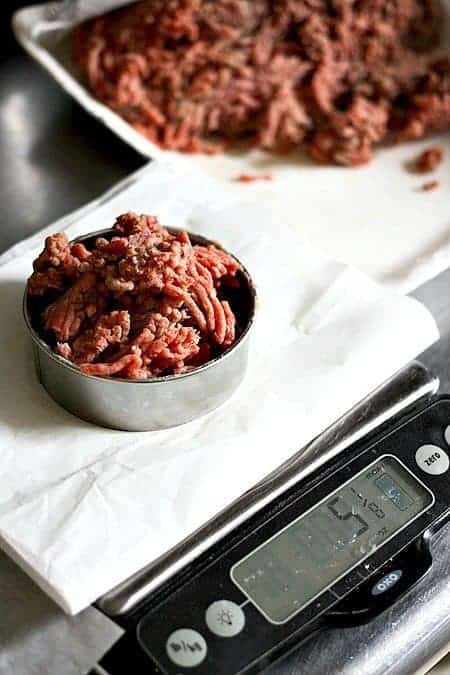 This same logic applies to making your own frozen patties for grilling hamburgers. Are you prepping burgers to grill? It's not much extra effort to make a double batch of patties and freeze half for a fast meal further on down the road. Simple, right?
Aaaaaaaand, AND, and… You can take advantage of sales on ground beef or primal cuts of beef (i.e. a nice big chuck roast) and stockpile some frozen patties for grilling hamburgers later saving yourself money on down the road! Save money and eat better in the process? Who doesn't want that?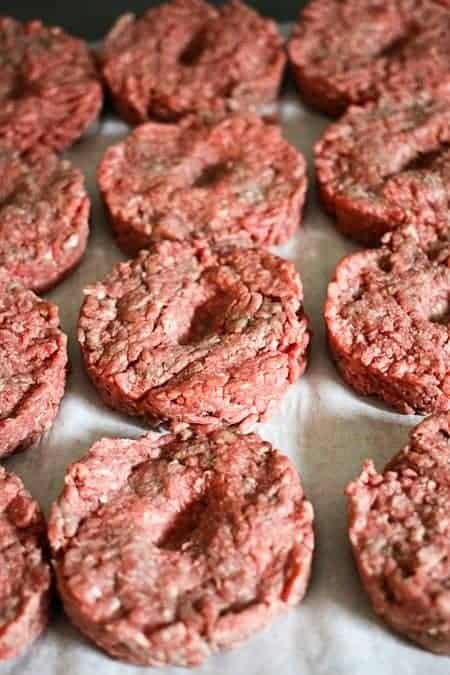 Tips for Making Perfect Patties for Grilling Hamburgers:
Make them uniform in size and shape. This way every burger you cook is done at the same time.
To keep them all the same shape, use an open-topped round cookie cutter. I use the largest cutter from this Plain Round Cutter Set (affiliate link). It's my fave.
To keep them all the same size, you can use a kitchen scale (affiliate link) like I do, or eyeball it and try to fill it to the same place every time on the cookie cutter. I prefer the precision of the scale. Obsessive? Yeah, but my burgers kind of rock.
Don't handle the meat too much. Using too much pressure or taking too long to shape it yields a tough burger. Besides that, the heat of your hands can actually make the final burger tougher, too. That's another reason the cookie cutter works so brilliantly. You get a perfect shape every time without mangling and over-handling the meat.
The thumb print is non-negotiable in my house. Making that indentation in the burger prevents doming while it cooks. I'm sure you've seen perfectly flat burgers become curved or fat in the middle on the grill. It's not just aesthetic, though… When they pouf up in the center, the edges become crispy and overdone before the center can cook through. Banish wonky burgers and get an evenly grilled burger every time with the simple addition of pushing your thumb 1/3 of the way down into the shaped burger before removing it from the cookie cutter mold.
Freeze them good and solid before attempting to move them to a bag. This helps them keep the shape you made them.
Stack them with squares of parchment in between so they don't stick before putting them in a resealable zipper top freezer bag. Be sure to get as much air out of the bag as possible when sealing it to help prevent freezer burn.
If you're really concerned about freezer burn, you can help prevent it a little more by tightly rolling those filled freezer bags in sturdy paper bags or freezer paper.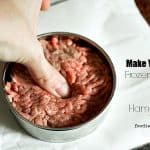 Make your Own Frozen Patties for Grilling Hamburgers
Ingredients
5

pounds

of 80/20 or 85/15 ground beef OR home ground beef with about a 15% fat content

parchment paper

resealable gallon size zipper top freezer bags

4-

inch

round

open topped biscuit cutter

kitchen scale that measures in ounces
Instructions
Lay a sheet of parchment paper on a cookie sheet. Cover your kitchen scale with a layer of plastic wrap to keep it clean. Lay the round biscuit cutter on top of the scale. Turn on and tare your scale.

Measure 5 ounces of ground beef into the round cutter. Gently press it down so that it is evenly distributed in the mold. Use your thumb to press an indentation that goes about 1/3 of the way into the patty. This indentation will help keep the burger from doming when it cooks. Lift the biscuit cutter. The patty will be likely to stay in the cutter at this point. That's fine! Move the cutter over to the parchment lined cookie sheet and push the patty out onto the parchment. Return the cutter to the scale and repeat with the rest of the meat. If you fill the sheet, you can lay another piece of parchment on top of it and continue on until you've used all the meat.

You should end up with 16 patties.

Transfer the tray to the freezer overnight, or until the patties are frozen solid. Cut the parchment in a grid so that each patty has its own square. Stack each patty with its square into a resealable gallon size zipper top freezer bag. Label each bag with the type of beef used and the date. Freeze for up to and use within 3 months for best quality.

To Grill or Pan-Fry:

Season the desired number of frozen patties with salt and pepper on both sides. Preheat grill or frying pan to medium high. Lay the patties down over direct heat and don't mess with them! After 6 minutes or so (each grill and stove is different, so watch for the visual cues), you'll begin to see juices starting to pool on top of your burger. Flip them gently and leave them alone again. At about 3 minutes, your burger should be medium, but do yourself a favour and use an instant read thermometer to check!
Burger Doneness Temperatures:
Rare: 120° to 125°F

Medium Rare: 130° to 135°F

Medium: 140° to 145°F

Medium Well: 150° to 155°F

Well: 160° to 165°F
These are the cutter set and kitchen scale that I own and use at least three times a week. These are both Amazon affiliate links.