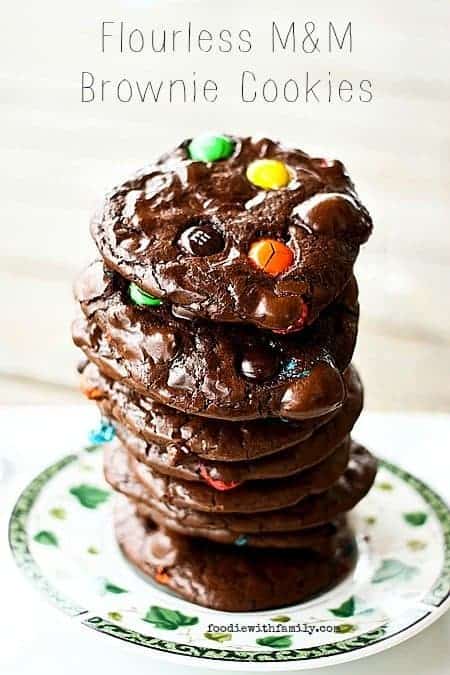 Do you read Jew Hungry? Whitney is one of my favourite bloggers. She's fashionable, hilarious, and has the most adorable baby girl. Not that I stalk her on Instagram or anything…
When she posted her Flourless Chunky Monkey Brownie Cookies last month, I knew I had to make them. I also know I was going to make them with peanut M&Ms and dark chocolate chunks because if I made them with walnuts, I'd have to eat them all by myself and my yoga pants couldn't handle the strain.
My moment came when I uncharacteristically ran out of all-purpose flour and absolutely, positively NEEDED a cookie or I was going to die. (Mainly die of immaturity, but you get my point.) I was tearing through my cabinets trying to find some hidden flour somewhere when I remembered:
FLOURLESS BROWNIE COOKIES, PEOPLE!
I was saved. It took less than five minutes for me to put the batter together (because it's more of a batter than a dough in keeping with the brownie theme.) I baked them and cooled as directed and then we ate.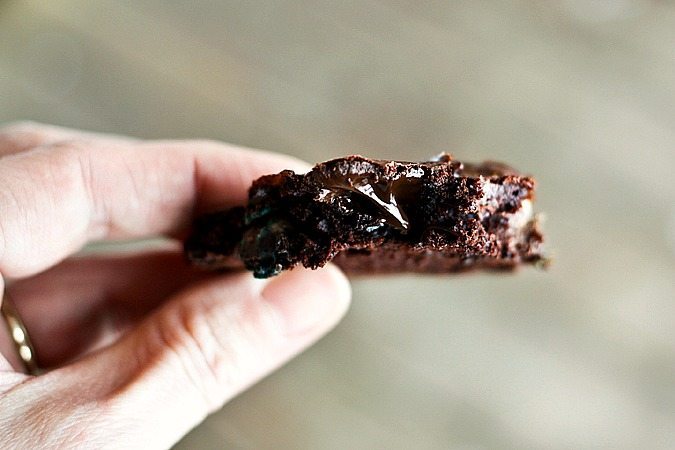 It's hard to explain just how amazing these are. You may look at them and think, "No way is that going to work. It's sugar, cocoa powder, eggs, salt, and stir-ins." But it works. Oh, it works like a charm. And because it has no flour, it's 100% gluten free! (Because peanut and plain M&Ms are gluten free!*)  There's more, though…
*This is my source for the claim that M&Ms are gluten-free.
It's just plain delicious. The edges get crispy and the inside is chewy like any proper brownie should be. The texture is obviously a little different than a cookie that has flour, but it is not a textural difference that makes you feel like you're missing anything. In fact, it reminds me a bit of macarons with the moist inside and crispy outside. You could possibly argue that these are slightly better for you because they have a higher protein content than most cookies, but honestly, we're talking cookies, so I think that might be silly talk. I think the grand advantages of these cookies are a) flavour, b) texture, c) how few ingredients they require, and d) that they're so easy to pull together it's almost unbelievable.
These cookies were so fast to make and it was a good thing because my guys and I gobbled them up at the speed of light. Before I knew what was happening, I was midway into making my second batch.
Recipe Notes:
I recommend cooking these on silpats or silicone baking mats if you have them. If you don't, I highly advise you lightly grease your parchment because the cookies really, REALLY want to stick to where you've placed them. Unless you feel like chiseling cookies from a baking sheet, I don't recommend making them sans parchment or silpats.
The brownie cookie batter WILL spread. It will start out where you put it and then look like puddles on the pan. This is okay.
If you want M&Ms to peek out, drop a couple extras on the puddles of batter just before popping the pan into the oven. Otherwise, the ones you've stirred in will be hidden surprises for when you bite into the cookies. In my word, this is not a problem. I just wanted to let you know!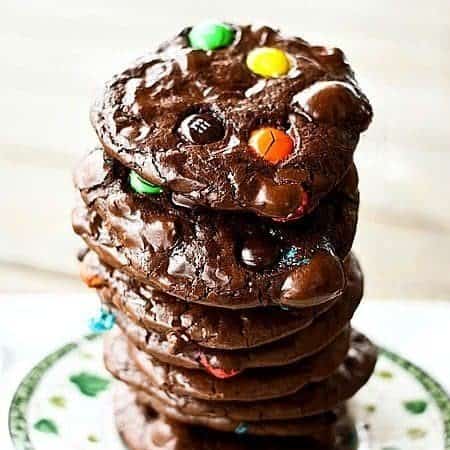 You'd never believe these crispy edged, chewy, M&M and chocolate chunk studded brownie cookies are flourless if you hadn't made them yourself! Adapted gently from and with thanks to
Jew Hungry.
Ingredients
6

cups

confectioner's sugar

1 pound 8 ounces by weight

1 1/2

cups

unsweetened cocoa powder

4 1/2 ounces by weight

2

teaspoons

kosher salt

4

large egg whites

2

large eggs

1 1/2

cups

peanut or plain M&Ms

3/4

cup

dark chocolate chunks or semi-sweet chocolate chips
Instructions
Preheat the oven to 350°F. Line two baking sheets with silpats or lightly greased parchment paper. Set aside.

Use a stand mixer fitted with a whisk attachment (or a large mixing bowl and a whisk) to quickly whisk together the confectioner's sugar, cocoa powder, and kosher salt until no more clumps remain. Beat in the egg whites and the eggs until there are no dry pockets and the mixture is glossy and smooth. It is easier with a stand mixer because it gets a bit gluey, but it can be done by hand, too!

Stir in the M&Ms and chocolate chunks or chocolate chips. Using a cookie scoop (disher) or a tablespoon, spoon the cookie batter onto the prepared pans, leaving at least 2-inches between each mound of batter as it will spread quite a bit.

Bake for 14-16 minutes, rotating the pans halfway through baking, or until the edges are set up and firm and the tops have a dull sheen and crackly surface. Remove the pans from the oven and let the cookies set up and cool completely on the pans. It's easiest to get them off of the silpats or parchment using a spatula.

Store in an airtight container at room temperature for up to 3 days.
Nutrition
Calories:
175
kcal
Carbohydrates:
33
g
Protein:
2
g
Fat:
4
g
Saturated Fat:
2
g
Cholesterol:
11
mg
Sodium:
163
mg
Potassium:
95
mg
Fiber:
1
g
Sugar:
29
g
Vitamin A:
40
IU
Vitamin C:
0.1
mg
Calcium:
21
mg
Iron:
1
mg
Nutritional information is an estimate and provided to you as a courtesy. You should calculate the nutritional information with the actual ingredients used in your recipe using your preferred nutrition calculator.