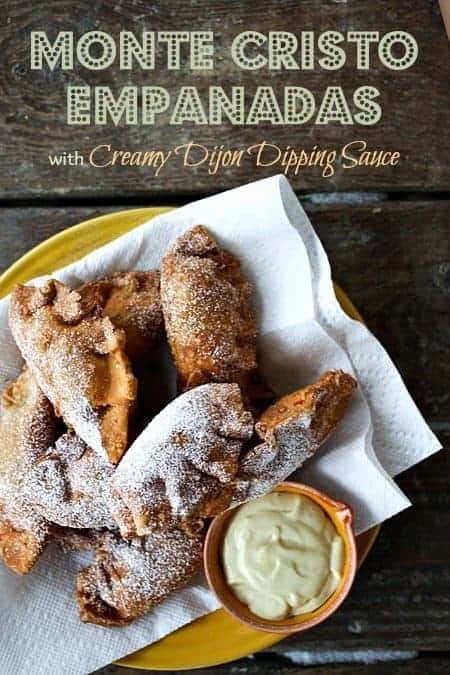 Welcome to the week leading up to the Super Bowl. I'm not going to say that I couldn't possibly care less about football because it is possible for me to care less. How? If the food angle of the Super Bowl disappeared into the ether one day, it is likely that I'd rather have a root canal or major surgery rather than watch the biggest football game of the year. As it is, I'm pretty excited to have a chance to flex my snack food muscles on the biggest Dude Food event of the year. I'm going to hit you with not one, not two, not three, but FOUR massively snackable dishes on Monday, Tuesday, Wednesday, Thursday, and Saturday and one big old Super Bowl round-up on Friday.
Let's kick off Dude Food Week with a doozy, shall we? Monte Cristo Empanadas with a Creamy Dijon Dipping Sauce. Hoooooooyeah. Wait. What? You don't know what a Monte Cristo is? (There were quite a few "huh?" answers when I polled the Foodie with Family facebook community, so maybe I'd better explain. A Monte Cristo is, in short, a cross between French toast and a toasted ham-and-cheese sandwich. It's a variation on the French Croque-Monsieur sandwich. Where the Croque-Monsieur is generally a pan-fried ham-and-Gruyere sandwich served with a fried egg on top, a Monte Cristo is a ham-and-Swiss-and-sometimes-turkey sandwich dipped in beaten egg (like French toast) then fried on a well-greased pan or griddle. Most often, the sandwiches are dusted with just wee bit of confectioner's sugar to mimic the French toast effect and magnify the salty ham. In short, they're the stuff on which dreams are made.
What about these Monte Cristo empanadas? They're chopped baked ham and roast turkey, grated Swiss, and a little bit of Dijon and mayonnaise to bind it all together, wrapped up in empanada wrappers, brushed with beaten egg, and deep fried OR baked. Believe it or not, even when deep-fried these are lighter than a traditional Monte Cristo! And yes, I still dust them with confectioner's sugar. That's optional, I guess, but I wouldn't want a Monte Cristo without them. There's just something about the way it makes the ham taste even hammy-er. That's a technical cooking term. You're welcome to borrow it in case you need to explain to someone why you've just dusted their Ham, Turkey, and Swiss empanadas with confectioner's sugar. Just don't expect them to understand until they bite into it. Then they'll be fine. Trust me.
For the record, Mr. Evil Genius is the brains behind this idea. When I made the Ham and Swiss Empanadas last week, he said, "I'd LOVE Monte Cristo empanada." And since I LOVE him, and he is my ultimate barometer of Dude Food's worth, made them I did and happy we all were!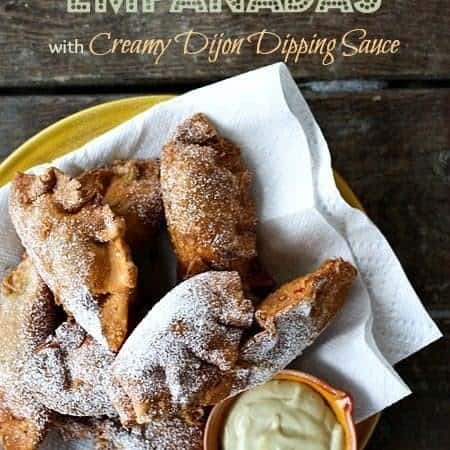 Monte Cristo Empanadas with Creamy Dijon Dipping Sauce
Rate Recipe
Classic Monte Cristos get a lightened up, finger-food makeover in the form of ham, turkey, and Swiss cheese stuffed empanadas served with a light dusting of confectioner's sugar and a Creamy Dijon Dipping Sauce.
Ingredients
For the Monte Cristo Empanadas:
1

cup

well chopped or diced baked ham

deli ham can be substituted

1

cup

well chopped roast turkey

deli turkey can be substituted

3/4

cup

shredded Swiss cheese

1

tablespoon

Dijon mustard

1

tablespoon

mayonnaise

15-20

frozen empanada wrappers

thawed

1

egg

beaten

2

inches

of peanut

*See Notes for baking instructions., canola, or vegetable oil in a high-sided, heavy-bottomed skillet

confectioner's sugar for dusting the finished empanadas
For the Creamy Dijon Dipping Sauce:
3

tablespoons

mayonnaise

1

tablespoon

Dijon mustard
Instructions
To Make the Monte Cristo Empanadas:
In a mixing bowl, stir together the ham, turkey, Swiss cheese, Dijon mustard, and mayonnaise until everything is evenly combined. (The filling can be made several hours ahead of assembly and cooking time if desired.

Place the skillet containing the oil over medium high heat.

Scoop about 1 tablespoon into the center of an empanada wrapper and pull the sides up together around the filling, crimping the edges to seal. If desired, you can fold them decoratively. Repeat with the remaining filling and wrappers.

Brush both sides of the empanadas with the beaten egg. When the oil bubbles vigorously around an empanada when it is lowered carefully into the oil, it is ready. Fry only as many as you can easily fit in the oil still leaving them room to move around. After they have cooked for 2 minutes, flip the empanadas over and cook the second side for 2 more minutes. Transfer to a paper towel lined plate to drain. Fry the remaining empanadas as directed.
To Make the Creamy Dijon Dipping Sauce:
Stir together the mayonnaise and Dijon mustard until even in colour. Refrigerate until ready to serve, up to 24 hours.
To Serve:
Lightly dust the warm Monte Cristo Empanadas with confectioner's sugar and serve with the Creamy Dijon Dipping Sauce.
Notes
*You can ABSOLUTELY bake these empanadas if frying freaks you out. Simply preheat the oven to 375°F and place the empanadas that have been brushed with egg on both sides on a parchment lined baking sheet. Bake for 24-28 minutes, or until the empanadas have become puffy and golden brown. TADA! Still serve with the Creamy Dijon Dipping Sauce and a dusting of confectioner's sugar.
Nutritional information is an estimate and provided to you as a courtesy. You should calculate the nutritional information with the actual ingredients used in your recipe using your preferred nutrition calculator.