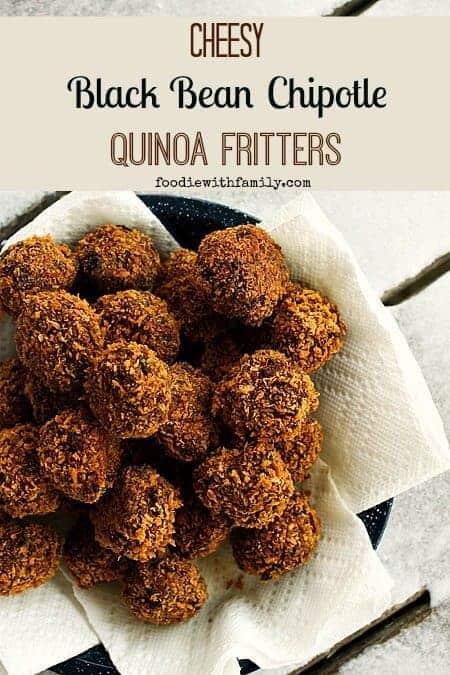 Today in the second installment of Dude Food Week in the lead up to the"Big Game", I am going to please both the vegetarians and the non-vegetarians with a recipe that is SERIOUSLY indulgent and utterly meat-free. Don't even balk, meat eaters. My house full of carnivores inhaled these things. I promise you that if you pop these little beauties down at a game day party buffet and tell everyone they're Cheesy Black Bean Chipotle Fritters that they'll disappear with lightning speed.
BECAUSE THEY ARE AWESOME.
So awesome, in fact, that ALL of my kids (all of whom actively dislike quinoa) ate these without even questioning what was in them. Not only that, but my southern sweetheart proclaimed that he liked these better than hushpuppies!
The brilliant idea behind these is not originally mine. Lauren Keating of Healthy. Delicious. posted her luscious, elegant version of these made with chickpeas. I decided to make a few changes to suit my menfolk -only two of whom like chickpeas- and went for a black bean fritter instead because my guys will devour anything with black beans.
There's more to these than just black beans, though; they're full of quinoa, green onions, garlic, CHEDDAR CHEESE and a lot of it, and a super sneaky goodly dose of caulifower. That's right, hidden in plain sight is a bunch of super nutritious cauliflower. It's magical how this works. You cook the quinoa until most of the liquid is absorbed then add in the finely chopped cauliflower, green onion, and garlic and cook until all the liquid is absorbed and the cauliflower is tender. Other stuff is stirred in, then you smash the beans INTO the soft quinoa and cauliflower, breaking up everything in the process. What it does it disguise the quinoa enough that it's not noticeable unless you look for it. There is NOBODY in the world who would spot the cauliflower when it's broken down with the food processor before cooking.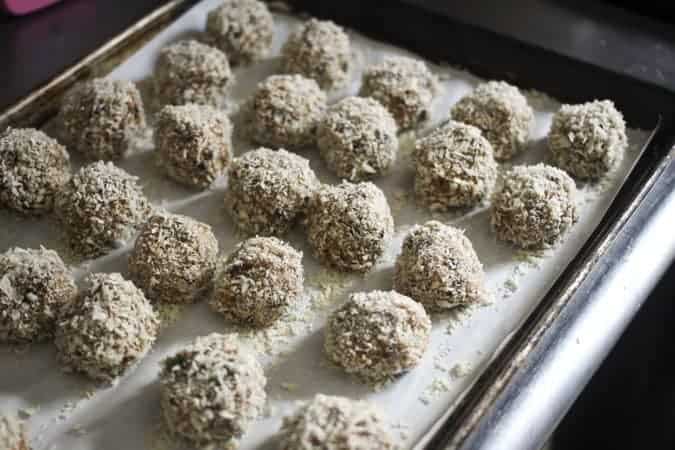 The other major change I made was to make the balls of the filling, roll them in the panko, then place them on a parchment lined cookie sheet in the freezer until frozen solid. This does three things:
It makes it recipe a make-ahead wonder. You can prepare the balls as I described, then -when frozen- transfer them to a resealable freezer bag and store them up to three months, then fry only as many as you'd like. Hooray!
It prevents disintegration of the fritters in the hot oil. You know what stinks? Fishing a dissolved bean fritter out of boiling oil. Ask me how I know this.
It makes the crispy outer coating just that much crispier and a wee bit thicker while at the same time making the insides like a lighter, fluffier version of refried beans. This is a very desirable thing.
Do yourself a favour; make the filling, roll the balls, and freeze them today. Test fry a couple tomorrow, just for quality control, ya know. Then Sunday, break them out and fry up a bunch. Impress your friends and family. Heck,  if it's just you, impress yourself!
 Cooking Notes:
Do use white quinoa if you're trying to sell a non-quinoa crowd on it. It's far milder in taste and doesn't stand out so much visually when blended with the other ingredients.
Use the food processor fitted with a blade to finely pulverize the cauliflower if you're making these for anyone who would balk at vegetables peeking out at them from a fritter.
You can EASILY turn these fritters gluten-free by substituting gluten-free panko crumbs for the standard ones specified in the recipe.
I served these with my long-time favourite dipping/drizzling sauce: Smoked Paprika and Chipotle Sauce. The chipotle in the sauce echos the chipotle in the fritters making the two a perfect match.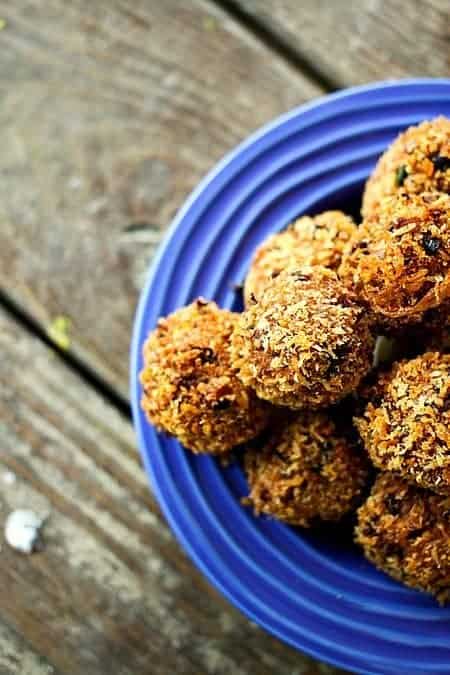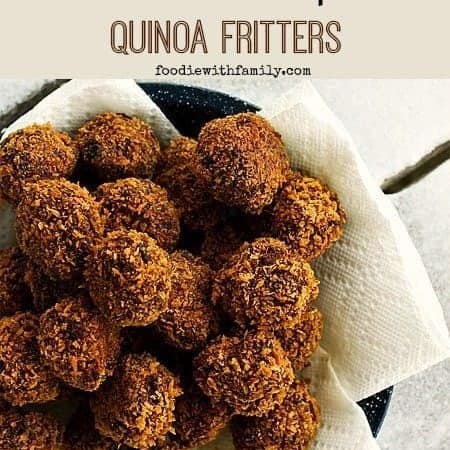 Crunchy, panko coated Cheesy Black Bean Chipotle Quinoa Fritters show no compromise. They're delicious, enticing addition to any party. No one will ever guess how loaded with protein and fiber they are! Adapted from -and with thanks to-
Lauren Keating, Healthy. Delicious.
Ingredients
1

cup

quinoa

rinsed and drained

2

cups

water

¾

cup

finely chopped cauliflower

*See Notes

2

cloves

garlic

pressed through a garlic press

4

green onions

trimmed of the root ends and minced

½

cup

shredded Cheddar cheese

2

chipotles in adobo

finely minced

1/2

teaspoon

kosher salt

3

cups

cooked black beans

15-ounce, drained and rinsed, or 2 cans black beans, drained and rinsed

1

egg

beaten

1/4

cup

roughly chopped fresh cilantro or parsley leaves

2-3

cups

Panko bread crumbs

peanut

canola, or vegetable oil for frying

Optional

for serving: Smoked Paprika and Chipotle Sauce
Instructions
Combine the quinoa and water in a 2-3 quart saucepan over medium-high heat. Bring to a boil, lower to medium low heat, and simmer for 10 minutes, stirring occasionally. Stir in the cauliflower, garlic, and green onions, and simmer another 5 minutes or until the cauliflower is tender and the liquid is absorbed. You may need to add another tablespoon or two of water if the all of the liquid evaporates before the cauliflower is softened. When the cauliflower is quite soft, turn the mixture into a mixing bowl and stir in the Cheddar cheese, minced chipotles, and salt. Stir until the cheese is fully melted and everything is evenly combined. Add in the black beans and egg and use a potato masher to squash the mixture together until the beans are mostly broken up but a few whole beans are still peaking out at you. Stir in the cilantro or parsley, cover with plastic wrap and refrigerate for an hour, or until cool and thickened.

Spread the Panko crumbs in a pie plate. Set next to a cookie sheet lined with parchment.

Use a medium cookie disher to measure out roughly 2 tablespoons of filling into your hand. Roll it into a ball, then roll it in the panko crumbs, pressing lightly to help crumbs adhere. Place the breaded ball onto the parchment lined pan, and repeat until all the filling has bee rolled. Place the pan in the freezer until the balls are frozen through, then transfer to a resealable zipper top freezer bag. These can be stored thusly for up to 3 months before frying.
To Fry:
Preheat 2 inches of oil to 350°F in a high-sided pan or a deep-fryer. When the oil is ready, carefully add several of the frozen balls, taking care not to overcrowd the pan. Fry them for 9 minutes, turning over halfway through the cooking time if they are not fully submerged. Transfer to a paper towel lined plate to drain. Serve hot, warm, or room temperature with the

Smoked Paprika and Chipotle Sauce.
Nutritional information is an estimate and provided to you as a courtesy. You should calculate the nutritional information with the actual ingredients used in your recipe using your preferred nutrition calculator.