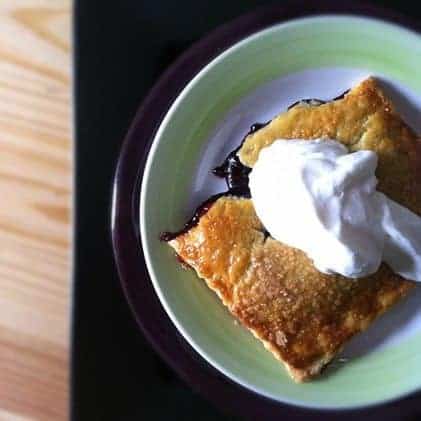 You had to know this was coming.
I made it through three whole Make Ahead Mondays without even so much as a mention of dessert. I'd say that's pretty close to a record for me. With all those make ahead meals in your freezer, you need a make ahead dessert, right? RIGHT? Besides, this is still February, after all, and February is National Snack Food Month. After soft pretzels, what's snackier than pretty little pies? Nothing, I tell you!!! Absolutely nothing!*
*If you could read the preceeding two sentences in the voice of the "Wheel of Fish" host, I'd be greatly obliged.
It's little food, friends. I die. This is off the fun charts, cute charts, and convenience charts!
Wait.
Pie off the convenience charts?
Yes, indeedy!
This is one of those occasions where front-loading the work -getting it all done ahead of time- really does make all the difference. It's kind of like childbirth. You forget the pain. Well, okay. Bad example. I never did understand folks who say they forgot it. I remember it. It hurt a lot.
Never mind.
We were talking about pie which is a far more relaxing subject than breathing through contractions, which reminds me… who can do that? Not this girl.
Pie.
Yes.
The point is that you get all the work done on the pies, stick them in the freezer (a la Make Ahead Mondays) and then forget about it until you want a pie. Then 'hey, Presto!' you pull out the frozen pie, brush it with egg and sprinkle it with sugar, then bake it. Ta da! How do you like that? Nearly Instant Pie.
Don't even think this is in the same category as those twenty-five cent thingies that get stashed in lunch boxes all over the country. These are unbelievably good. Crunchy sugar coating on a buttery, crumbly crust wrapped around real fruit filling is good enough all by itself, but if you serve it warm with a scoop of ice cream or freshly whipped cream on top, you're heading into nirvana territory.
I start with a good, old-fashioned butter tart crust.
Please don't panic at the homemade pie crust (I say this because homemade pie crust panics my mother, and being the good daughter that I am, I asked for homemade blueberry pie for nearly every birthday. I'm sorry, Mom.) This butter tart crust recipe I give you doesn't require any special pie crust handling skills (it's made in the food processor) and it's nearly impossible to overwork. If the idea of making a pie crust still gives you the pip, feel free to substitute in your favourite purchased pie crust. I'll be here for you when you're ready to cross that bridge. In the meantime, make these pies and freeze them. Pie in the freezer is always a good thing. And hey, with a stash of this in the freezer you'll be ready for all those last minute wild March 14th Pi/Pie Day celebrations you're planning.
You are planning them, right?
I can't be the only one.
Someone?
Anyone?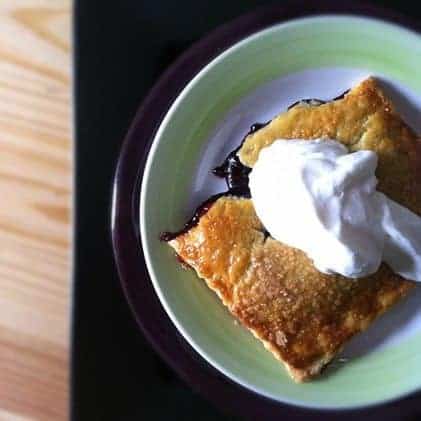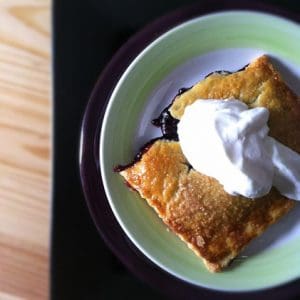 Crunchy sugar coating on a buttery, crumbly crust wrapped around real fruit filling is good enough all by itself, but if you serve it warm with a scoop of ice cream or freshly whipped cream on top, you're heading into nirvana territory. You can simplify this recipe further by using purchased pie crusts and pie filling. It goes without saying that homemade filling and crust will make it taste that much better, but all pie is good pie!
Ingredients
For the Crust (Can substitute 2 purchased pie crust rounds):
2

cup

flour

1/2

teaspoon

salt

1/2

pound

2 sticks cold butter, in small pieces

2

egg yolks

4

tablespoons

ice water
For the Pies:
4

cups

pie filling

whichever flavour you prefer, I like to use a variety of homemade pie fillings.
Also needed to bake the pies:
1

egg

beaten

1

teaspoon

raw sugar

can substitute granulated sugar per pie
Instructions
To Make the Crust:
Pulse the flour and salt together in the bowl of a food processor fitted with a metal blade. Open the food processor and add in the butter. Replace the lid and pulse until the butter and flour resemble small peas. Pour the ice water and egg yolks in through the feed tube and process until a coarse dough forms. Turn the shaggy dough out onto a lightly floured surface and press together with your hands until it holds together well. Divide into two equal pieces and form into 1/2-inch thick rectangles. Wrap each rectangle in plastic wrap and chill for at least twenty minutes (but up to 2 days) before rolling.
To Make the Pies:
Line one or two baking sheets with parchment paper and set aside.

Lightly flour your work surface and place an unwrapped rectangle of pie crust dough on the counter. Sprinkle a little flour on top of the dough.

Roll it into a larger rectangle that is about 12-inches by 10-inches. Use a bench knife, pastry wheel or pizza cutter to divide the dough in half vertically. Score the dough lengthwise also, dividing the dough into 4 smaller rectangles, to help you visualize where to put the pie filling.

Spoon about half a cup of pie filling near either side of the split on the dough.

Fold the outside edges (using a bench knife to help lift the dough, if needed) toward the center and drape it over the pie filling, pressing down and crimping the seams to keep the filling from leaking.

Use your bench knife or cutter to split between the pies again (just to be sure nothing is sticking!). Use a spatula or bench knife to transfer the pies to the parchment lined pans. Don't worry about leaving too much space between them, because you'll be freezing them.

Repeat with remaining pie dough and filling. Cover the pans lightly with plastic wrap and place in the freezer until frozen solid, about 4 hours.

When firm, carefully transfer the frozen pies to a resealable freezer bag and keep frozen for up to 3 months.
To Bake Pies:
Place desired amount of pies 2-3 inches apart on a rimmed parchment lined pan. Preheat oven to 425°F. Brush the tops of the pies with the beaten egg and sprinkle each pie with a teaspoon of raw sugar. Cut two small vent holes in the tops of the pies.

Bake for 15 minutes, lower the heat to 350°F, and bake for another 10-15 minutes, or until pies are deep golden brown and filling is bubbly.

Let cool on the pans for 10 minutes before transferring to a cooling rack to finish cooling. Serve warm or room temperature. Leftovers can be stored, tightly wrapped, at room temperature for up to three days.
Nutritional information is an estimate and provided to you as a courtesy. You should calculate the nutritional information with the actual ingredients used in your recipe using your preferred nutrition calculator.