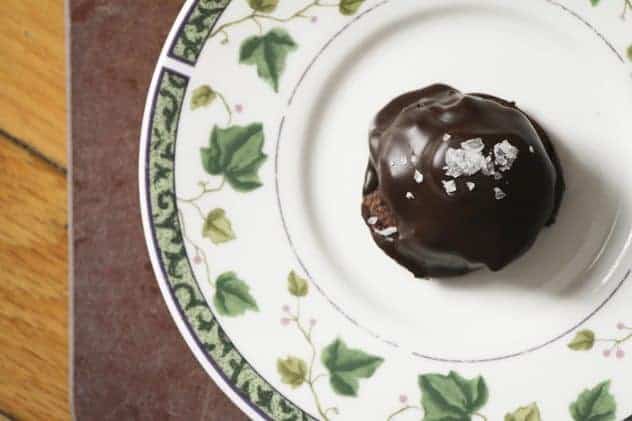 By a show of hands, who out there is going to be angry with me if I post two dessert recipes in one week? Anyone? No? We're good? Good. Because this one? Phew. This cookie recipe is the ne plus ultra of cookies.
This is like a combination of a Twix bar with an Almond Joy or Mounds bar. The anatomy of the cookie is thus:
Crispy chocolate butter cookie base. It is what it sounds to be. It's a little shortbready and carries a little snap to it. It's the perfect place to put your…
Honey caramel coconut chew. Yes. Just yes. Have you had honey coconut caramels? Maybe not. It's an old one (and I blush to see the photo of it, but ever onward, right?) And if you've parked a honey caramel coconut chew on top of a crispy chocolate cookie, you might as well add a…
Big, fat toasted almond. Sigh. There are very few things I like better than a handful of still warm aromatic, toasted almonds. Well, maybe there's one thing I like better than that. It's when I cover them with…
Melted dark chocolate. This doesn't require a whole lot of explanation, but I'll do it anyway because I add a little coconut oil (you could sub in butter if coconut oil is hard to find where you live) to the melted chocolate for added flavour and to make it a little softer once it's set up. All this would be plenty fine, but if you're going to the trouble you might as well gild the lily, right? Top the whole thing off with a sprinkle of…
Flaked sea salt. Have you had sea salt with dark chocolate? When you add just a touch of sea salt to chocolate you taste chocolate like you never have before. The salt actually performs in this role. It suppresses some of the bitter flavours and amplifies the sweet and sour flavours.
Can you use regular old table salt here? Negatory. Table salt has iodine added to it which is great if you have goiter issues, but not so great taste wise. You know those bitter flavours you were suppressing with the salt? Yep. The iodine adds it right back in along with a pronounced metallic taste. Don't go there. If you can't get my favourite Maldon Sea Salt*, use a nice coarse sea salt or kosher salt (church of the last resort, but still acceptable.)
*I collect different salts. Crazy salts are my impulse buy weakness. Maldon Sea Salt is one of my all time favourites, though. It is harvested in Great Britain and is sold in the most impossibly beautiful irregular flakes. Some of them are pyramid like, some are flat and clear, some of them look like tiny gemstones. You usually grind them together in your fingers while sprinkling over food (or your tongue) and it's generally used as a finishing salt rather than one you cook into foods.
The cookies, despite all their components, are deceptively simple to make. The dough can be made and frozen ahead of time. In fact, freezing the dough is necessary, so make it up to three months ahead of when you'd like to make it if you feel like it! The honey caramel coconut chew takes only one and a half minutes to make then five minutes to cool before scooping onto the cookie bases. Toasting almonds is a piece of cake and then you melt chocolate and coconut oil together for dunking. It doesn't get much easier than that. And cookies can't taste much better than this.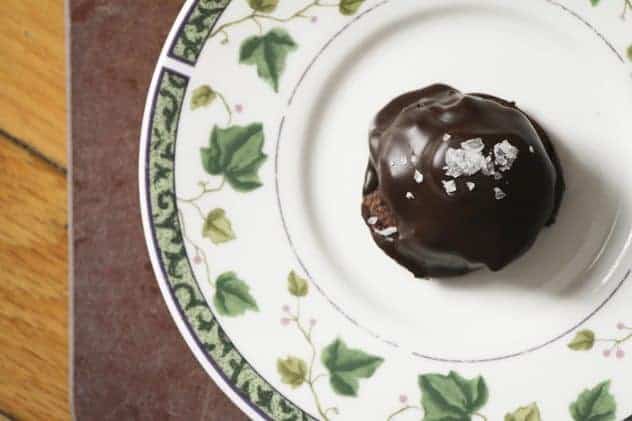 These dreamy crispy chocolate butter cookies topped with honey coconut caramel chew and a toasted almond are enrobed in a subtly coconut flavoured dark chocolate. To make these into Mounds rather than Almond Joy cookies, simply omit the toasted almonds.
Ingredients
For the Cookie Base:
2 1/4

cups

all-purpose flour

1/4

cup

cornstarch or rice flour

6

tablespoons

unsweetened cocoa powder

1/2

teaspoon

salt

1

cup

granulated sugar

1/2

cup

butter

softened to room temperature

1/3

cup

milk

1

teaspoon

vanilla extract
For the Honey Coconut Caramel Chews:
1

cup

pure honey

1/2

cup

raw sugar or granulated sugar

2 1/2

cups

unsweetened medium flake coconut

1/4

teaspoon

salt
Also needed:
24-30

whole almonds

toasted (If you can only find raw almonds, see instructions below the recipe to learn how to toast almonds.)

2

cups

dark chocolate chunks

or chopped chocolate

3

tablespoons

extra virgin coconut oil or butter

flakey sea salt or kosher salt
Instructions
To Make the Cookie Dough:
Whisk together the flour, cornstarch (or rice flour), cocoa powder and salt in a bowl. Set aside. In the bowl of a stand mixer fitted with a paddle or using a hand mixer, beat together the butter and granulated sugar until smooth and fluffy. Scrape the sides of the bowl, add in the milk and vanilla extract and beat on low speed until combined. (It will not look smooth, but that is okay.) Add the flour to the butter mixture about 1/3 at a time, beating after each addition to combine. When all the flour mixture has been incorporated, turn the dough out onto a clean work surface and split into two equal amounts. Form the dough into logs and wrap tightly with plastic wrap. Place cookie dough logs in the freezer until ready to bake.
To Bake the Cookies:
Preheat oven to 375°F and line cookie sheets with parchment or silpats.

Slice 24 rounds of frozen cookie dough no thicker than 1/4 of an inch.

Arrange the dough rounds on the lined cookie sheets. These cookies do not spread much while baking, so you don't have to worry about leaving more than 1/2 of an inch between them.

Bake for 13 to 15 minutes or until the cookies are firm all the way around on the edges. You can cool the cookies on the sheets on which they were baked.

While the cookies cool, make the honey coconut caramel chews.
To Make the Honey Coconut Caramel Chews:
In a medium sized, heavy bottomed saucepan, bring the honey and sugar to a boil over medium high heat. Boil hard for exactly 1 minute then turn off the heat. Immediately stir in the coconut and salt. Remove from the burner and let cool 5 minutes before portioning onto the cookie bases.

To Make the Chocolate Coating:

In a microwave safe bowl, combine the chocolate chunks (or chopped chocolate) and coconut oil or butter. Microwave on high for 45 seconds, stir, and continue microwaving in 15 second increments, stirring well after each burst, until the chocolate is smooth and glossy and completely melted.
To Assemble the Cookies:
Scoop generous tablespoons full of the honey caramel coconut chew mixture on top of each cookie base. Gently press 1 toasted almond onto the coconut chews.

Let the mixture cool completely. Stir the chocolate mixture, which by this time should have thickened just slightly. Lift a cookie by the base, invert it and dunk the coconut/almond part of the mixture into the melted chocolate. When you lift it and turn it back right side up, swirl it around a bit to get the chocolate to coat the coconut and drizzle onto the cookie base. Set the cookie back on the pan and repeat with the remaining cookies.

Sprinkle the tops of the cookies with salt to taste. Let stand until the chocolate has cooled completely.

Store leftover cookies in a tightly covered container at room temperature.
To Toast Almonds:
Stir almonds in a heavy, ungreased skillet over medium heat until golden brown. Turn them out of the pan immediately when they reach this stage or they will scorch.
Notes
To Toast Almonds: Stir almonds in a heavy, ungreased skillet over medium heat until golden brown. Turn them out of the pan immediately when they reach this stage or they will scorch.
Nutritional information is an estimate and provided to you as a courtesy. You should calculate the nutritional information with the actual ingredients used in your recipe using your preferred nutrition calculator.
P.S. If you run out of coconut to make the honey coconut caramel chews (like I did), you can make something remarkably similar to a Thin Mint by adding a little peppermint extract or oil to the same chocolate coating and dunking plain old (HA! Plain old chocolate cookies. I should be thrashed with a wet noodle for saying that!) into it with the remaining cookies.