Check out all of our wonderful Sweet Potato Recipes here!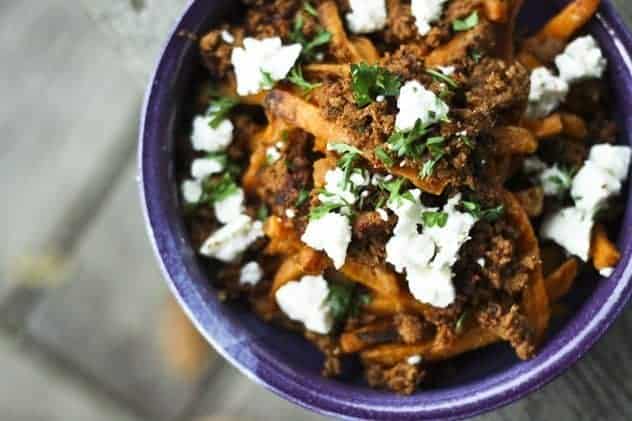 You know those nights when you walk into the kitchen and feel like the last thing you want to do is put spatula to pan and do anything? I had a serious case of kitchen funk a couple weeks ago. The good thing (or bad thing, depending on your perspective-du-jour) about having kids is that I don't have the option to sit out a meal. For a couple reasons -all equally valid- that just is not going to happen.
My kids don't skip meals (or mid-morning, mid-afternoon, mid-anytime snacks) lightly. There is much moaning, weeping, gnashing of teeth and rending of hair if we even approach missing one of their fifteen daily repasts.
I have such an acutely developed sense of maternal guilt that I can't short shrift them on any food. From the time that my eldest child was born, my pediatrician has given me the  business about every one of my kids being underweight at every visit. I started getting a complex that she thought I wasn't feeding them.
I'm a hungry person. Even if the kids weren't here, I get downright surly if I don't get at least two decent meals a day. Oh sure, at nearly forty years old, it's starting to catch up with me, but I can eat just about everyone I know under the table. Feeeeeeed me!
All those reasons are explanations of why I don't skip meals, but that doesn't prevent me from phoning it in from time to time, and I don't mean takeout. Living as far out from civilization as I do, any takeout beyond a sub or sub-par pizza isn't a reality. Besides, even when I'm feeling at my laziest, that little frugal angel on my shoulder thwaps me upside the head and says, "Are you kidding? For the price of ONE of those subs, you could buy the deli meat and rolls for two sandwiches each and a bag of chips to boot."
So when I walked into the kitchen last week and drew a blank, the well-stocked freezer and pantry that I cultivate in my finer moments came to the rescue. I grabbed a bag of homemade chorizo from the freezer, blankly shoved it in the microwave to defrost a bit, because when all else fails, chorizo wins the day. Then I stood staring into my pantry. Nuttin'. I had no idea. In a moment of pique, I whined to myself, "What I wouldn't give for a plate full of poutine." At that moment the proverbial lightbulb went off in my head. I didn't have the goods or the fortitude to make a real poutine -with fresh fries, gravy and melty cheese curds- but I did have the stuff to make a riff on it.
With renewed enthusiasm, I broke up the chorizo in a hot pan and started browning it. While that browned, I tossed the innards of a bag of good frozen sweet potato fries onto a sheet pan and into the oven. I fetched a jar of my favourite salsa from my basement shelves and a brick of queso blanco from the refrigerator.
When the fries came out of the oven, I piled them in a bowl and threw obnoxious amounts of crispy chorizo and queso blanco on top, hit it with a few well-aimed dollops of salsa and a shower of chopped cilantro and sat down to congratulate myself on making my doldrums pay dividends. Don't ever let anyone tell you nothing good can come of self-pity and laziness.
Just please do me a favour, don't tell my kids I said that.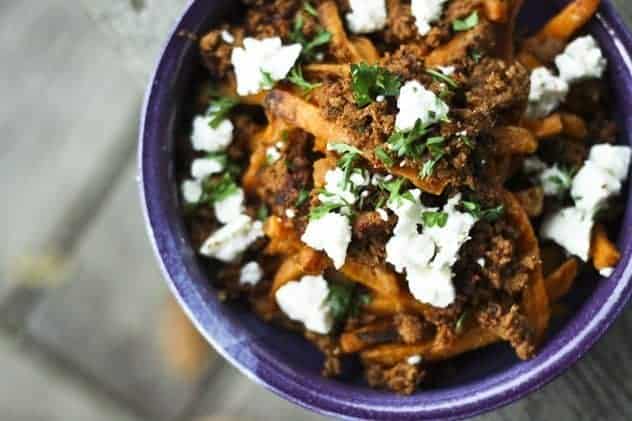 Mexican Poutine | Sweet Potato Fries with Chorizo and Queso Fresco
Rate Recipe
Ingredients
1

bag

frozen good quality sweet potato fries

or a large batch Homemade Guaranteed Crispy Baked Sweet Potato Fries

1

pound

chorizo

preferably homemade

1/2 to 3/4

cup

crumbled Queso Fresco or Queso Blanco

or shredded Cheddar or Monterey Jack cheese if either of those is unavailable

Optional: salsa and chopped cilantro, to taste
Instructions
Bake the frozen sweet potato fries according to package directions. While they bake, break up the chorizo in a hot skillet over medium to medium high heat. Stir while cooking and continue breaking it up with a spoon.

Fry the chorizo, stirring frequently, until it is fully cooked and has taken on some deep brown, crispy areas.

As soon as the fries come out of the oven, use tongs to transfer them to a serving plate, use a spoon (use a slotted one if your chorizo is very greasy) to pile the hot chorizo on top of the fries. Scatter the crumbled cheese over the top. If using the salsa and cilantro, add immediately before serving.

Dig in!
Nutritional information is an estimate and provided to you as a courtesy. You should calculate the nutritional information with the actual ingredients used in your recipe using your preferred nutrition calculator.
Save
Save
Save