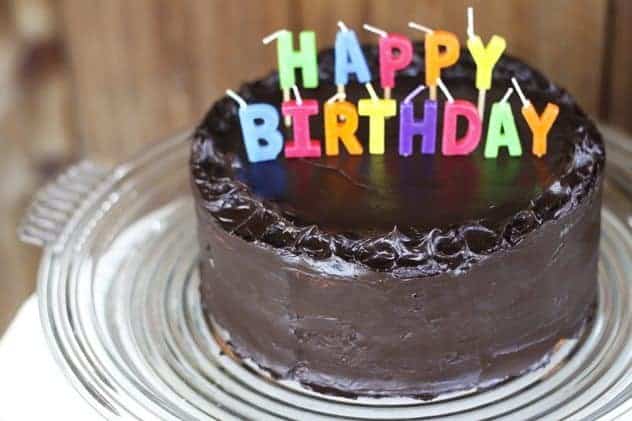 I'm not sure where the time went, but my fourth born just turned nine a couple of weeks ago. I'm a little freaked out by it, honestly. Seemingly overnight, he went from a teensy little bundle of squirmy boy to this: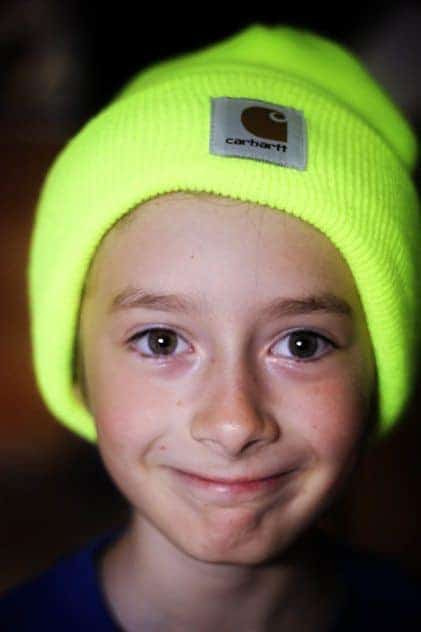 WHAT?!? Are you kidding me? This little guy -or big guy, I should say- of mine is as easy on the heart as he is on the eyes. Sweet, kind, considerate and slow to anger is my boy. Don't get me wrong; he's plenty spunky. He's a total stinkpot. This is the boy who in one day sat on the couch crying a little because he loves dogs so much and "kind of wants to be one" and wanted five more dogs (in addition to the three we already have) then five minutes later gave his baby brother an impromptu and unasked for haircut.
He's my little drummer boy. He's a wild man. He doesn't walk; he bounces. One time my little sister said, "Can you imagine what great shape we'd all be in if we acted like Leif all the time?" She then tried for five minutes before giving up exhausted.
Remember Leif Ericson, the Viking? Do you also remember his nickname was Lucky Leif? Maybe it's something about the name… This Leif of mine is THE four-leaf clover finding champion. As in, every time he goes out into our yard and there's no snow cover, he finds at least five or six of them. There's been a time or two that he's found them even when there WAS snow. He finds them in other people's yards. This is my Lucky Leif.
I like him.
I'll keep him.
When asked what he wanted as his birthday cake, he exclaimed, "STRAWBERRY CAKE! With that chocolate shiney stuff!" Yes, sir. I'd do anything for you, you sweet little wild child. Well, except get another dog. That's out. Sorry. The cake though? No problem.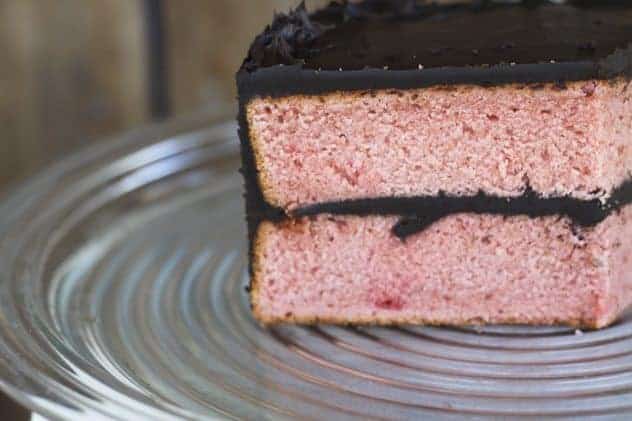 Happy Birthday, Sweet Lucky Leif.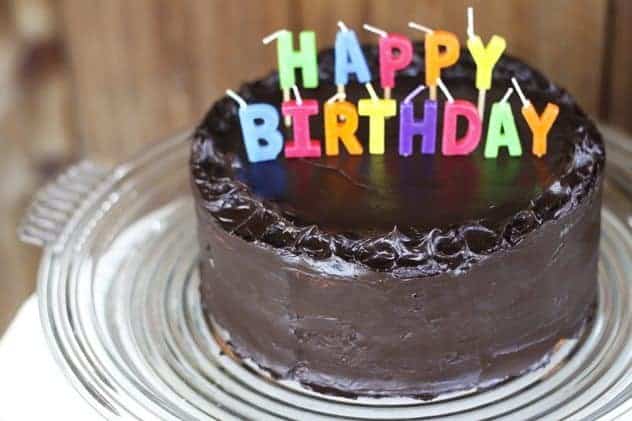 This festive, fun, moist strawberry cake is covered in rich dark chocolate ganache. It's like a chocolate covered strawberry truffle!
Ingredients
2

cups

granulated sugar

1

3 ounce package of strawberry flavoured gelatin mix

1

cup

butter

softened to room temperature

4

eggs

room temperature

2 3/4

cups

cake flour

2 1/2

teaspoons

baking powder

1/2

cup

whole milk

room temperature

1

cup

strawberry puree made from frozen and thawed strawberries

1

tablespoon

vanilla extract

butter and flour for the pan
For the Ganache:
1

pound

dark chocolate chunks

or chopped dark chocolate

2

cups

heavy cream
Instructions
To Bake the Cake:
Preheat the oven to 350°F. Generously butter and flour two 8-inch or 9-inch cake pans. Set aside.

Cream together the butter, sugar and dry strawberry gelatin until light and fluffy using a stand mixer or hand mixer. Add the eggs one at a time, beating well after each addition. Combine the flour and baking powder in a mixing bowl with a whisk. In a measuring cup, blend together the strawberry puree, milk and vanilla extract.

Add about 1/3 of the flour blend to the butter and beat in, scraping down the sides after mixing it in. Add about 1/3 of the strawberry mixture and mix in. Repeat with the flour then strawberry mixtures until done. Divide the batter evenly between the prepared pans.

Bake for 25 to 30 minutes or until a toothpick or skewer inserted in the center of the cake comes out clean.. Cool the cakes in the pan on a wire rack for 10 minutes. Gently turn the cakes out onto the wire rack to finish cooling completely before icing with the ganache.
To Make the Ganache:
Put the chocolate chunks or chopped chocolate into a heatproof bowl. Pour the heavy cream into a small saucepan over medium to medium high heat until bubbles form around the edges. Pour the cream over the chocolate and let sit, undisturbed, for 5 minutes. Use a whisk to stir gently in one direction until thick and glossy. Remove the whisk and place the bowl, uncovered, in the refrigerator for about 20 minutes, stirring and scraping the edges every couple minutes, just until thickened enough to spread instead of pour.
To Assemble the Cake:
If necessary, level the cakes by trimming off any domed top.

Place one cake round on a cake plate. Scoop about 3/4 cup of the chocolate ganache into the center of the cake. Spread gently over the cake to the edges. Center the second cake over the first one. Spread the remaining ganache over the top and sides of the cake.

Let stand long enough for the ganache to firm up. This can be sped up by placing the cake in the refrigerator.

Store uneaten cake in an airtight container in the refrigerator for up to a week. It tastes best if served at room temperature.
Nutritional information is an estimate and provided to you as a courtesy. You should calculate the nutritional information with the actual ingredients used in your recipe using your preferred nutrition calculator.