Take advantage of summer's bountiful produce with this refreshing, delicious, and simple appetizer of cucumber rounds topped with herbed cream cheese.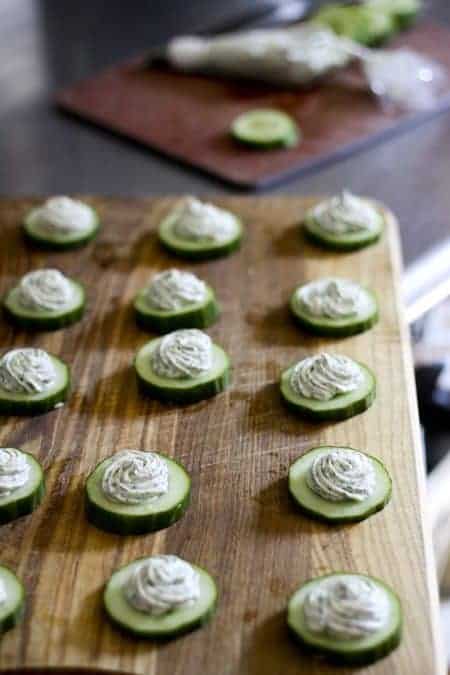 This post is part of my continuing series as one of the Kraft 2013 Tastemakers Team and was sponsored by Kraft. All opinions are my own!

There's something about summer that fires up my kitchen creativity. It's some combination of the abundance of fresh vegetables, fruits, and herbs at every corner and the weather that makes it so exciting to cook. I'm willing to bet that during these hot months, I'm not alone in wanting to get out of the kitchen relatively quickly, though…
Mercifully, because there are so many wonderful fresh vegetables, there is very little effort involved in turning something wondrous out of the kitchen and onto your table whether it's just you, your family, or a multitude of friends pulling up chairs. A quick stop at a road-side produce stand or the local farmer's market will have you most of the way to a deliciously satisfying, seasonal meal.
One of our favourite ways to start a meal –whether for just us or for company- is cucumber rounds topped with a fast, herbed cream cheese. Cucumbers are so refreshing all by themselves, but when a little Philadelphia Cream Cheese that's been whipped with a handful of chopped fresh dill, some garlic and onion, and a splash of pickle juice is piped on top, they transform into a tasty and classic summer treat. It takes about ten minutes from start to finish (including unwrapping the cream cheese) and you can do about seven minutes worth of that work a day or so in advance! In fact, I've been known to whip up the cream cheese and load it straight into a pastry bag fitted with a tip, twist tie the end closed, and wrap a little piece of plastic wrap around the tip before stashing it in the refrigerator for a party the next day. All that remains to be done when my guests walk in the door is to slice my cucumbers, arrange them on a plate (or even on the cutting board I used for the cukes) and pipe on the good stuff.
If that doesn't sound just about perfect for summer entertaining, then I don't know what would!
Preparation and Serving Notes:
You can use whichever variety of Philadephia Cream Cheese you like, but I prefer Philadephia 1/3 Less Fat Plain Cream Cheese.
If you prefer, you can spread the cream cheese rather than pipe it, but I find that it's faster to fill a disposable pastry bag fitted with a tip and use that to top the cucumbers. If you don't have a pastry bag, you can simply load the cream cheese into a zipper top bag, seal it, then snip the corner off. Voila! Instant and disposable pastry bag!
Don't pipe the cream cheese onto the cucumber rounds more than a few minutes before serving. The cucumber will start weeping and the cheese will want to slide off. This is a good thing if it's near your mouth, but otherwise is very sad.
If other herbs are abundant where you live, feel free to chop them and add them into the mix. I love dill, so I usually stick with it, but I've had happiness with fresh parsley and chervil in this dish, too!
This makes great picnic fare, too! If you want to pack this in your picnic basket, put pre-sliced cucumbers in a zipper top bag, then store those and the cream cheese mixture in another zipper top bag in your cooler, snip the edge off of the bag when you serve your meal, and squeeze directly onto sliced cucumbers.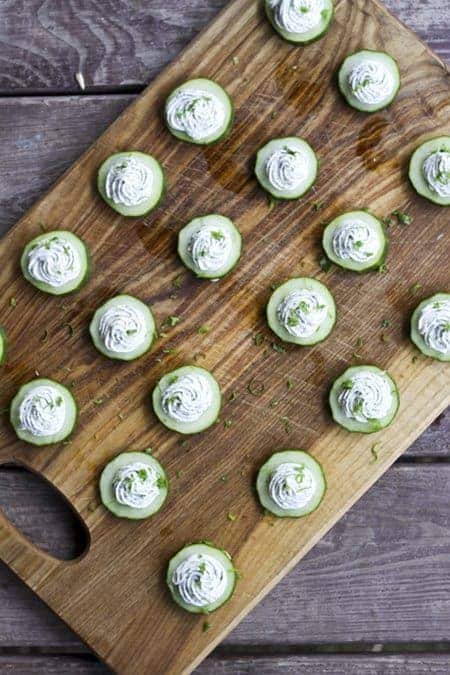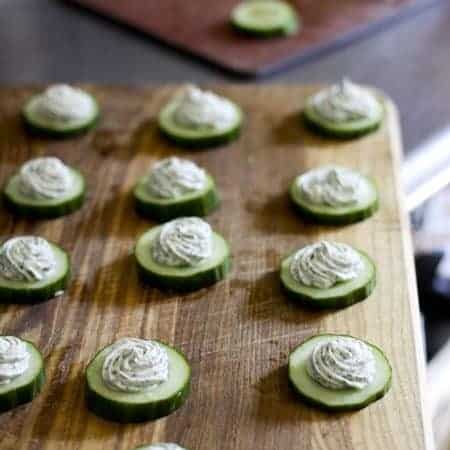 Great summer appetizers don't have to be complicated and don't necessarily need the stove These crisp, refreshing cucumber rounds topped with a savoury herbed cream cheese come together in mere moments and disappear just as quickly!
Ingredients
1

English cucumber

seedless, well chilled

1

brick Philadelphia Cream Cheese

8 oz, any variety, softened to room temperature

¼

cup

minced fresh dill weed

or a combination, parsley, or chervil ~or~ 1 ½ tablespoons dried dill weed or parsley

2

tablespoons

dill pickle juice

¾

teaspoon

granulated onion or onion powder

½

teaspoon

granulated garlic or garlic powder

Freshly ground black pepper to taste

1

green onion

green part only, minced
Instructions
Add the softened cream cheese, dill weed, dill pickle juice, granulated onion or onion powder, granulated garlic or garlic powder, and freshly ground black pepper to the bowl of a stand mixer, a large bowl with a hand mixer, or a bowl with a sturdy spoon. Mix on high (or mix aggressively by hand) until the cream cheese is soft, smooth, and all other ingredients are evenly distributed. Scrape into a pastry bag fitted with whichever tip you prefer, a zipper top bag, or a bowl which is then covered with plastic wrap and refrigerate for at least an hour before serving.
To serve:
Slice the chilled cucumber into ¼-inch thick rounds. Pipe, squeeze, or spread the herbed cream cheese mixture into the center of each round. Serve immediately.

The leftover herbed cream cheese mixture is good for about a week when tightly wrapped and refrigerated.
Nutrition
Calories:
53
kcal
Carbohydrates:
1
g
Protein:
1
g
Fat:
4
g
Saturated Fat:
2
g
Cholesterol:
15
mg
Sodium:
46
mg
Potassium:
66
mg
Vitamin A:
285
IU
Vitamin C:
1.6
mg
Calcium:
20
mg
Iron:
0.2
mg
Nutritional information is an estimate and provided to you as a courtesy. You should calculate the nutritional information with the actual ingredients used in your recipe using your preferred nutrition calculator.
Are you looking for more great picnic recipes? Visit Recipes by Kraft Foods!
Disclosure: This is part of my continuing series as a member of the 2013 Kraft Tastemakers team. All recipes, opinions and cucumbers are my own.