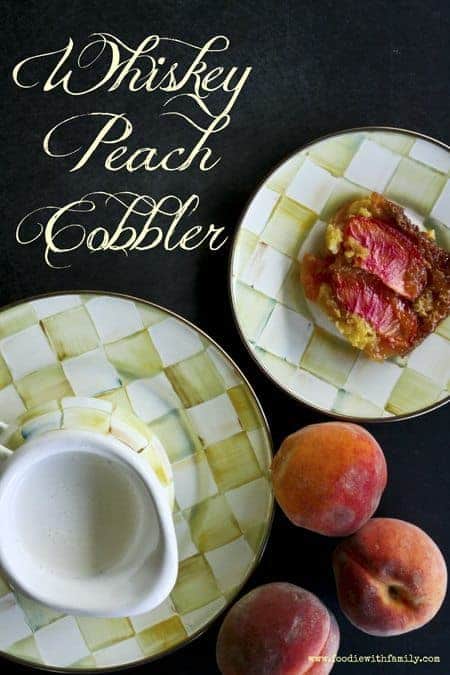 Up here in rural New York, we are diving head-first into peach season. I have a half bushel sitting on my counter staring at me right now, and I'm tucking peaches into just about every jar, mouth, and dish that I can.
Whiskey and peaches are a match made in heaven. Sweet, perfumed, juicy peaches just seem to get along beautifully with the smoky, woody whiskey. When they're paired with a soft buttery cake and a quick caramel syrup that bubbles up and forms a sticky crust around the corners, you are pretty much guaranteed some bliss.
Done in under an hour and designed to be served warm, you still have time to pop this in the oven and revel in the heady, magnificent aroma while you're having tonight's dinner. The cobbler yields nine two-by-two inch pieces, so unless you have a small regiment or have foregone dinner in favour of an entire pan of this, you very well may have a couple of pieces left for breakfast, and let me tell you what…
…If this is wrapped up and waiting for you, you may find yourself rolling out of bed on a Saturday morning pre-dawn just so you can make absolutely certain no one nabs it out from under your snoozing nose.
So says the jaded, sorrowful, hungry-for-peach-cobbler-that-someone-else-ate voice of experience.
Now, I'm not going to keep you, because you should not waste one single moment here when you could be whipping together this dreamland cobbler. I do believe your Friday night just got a little sweeter.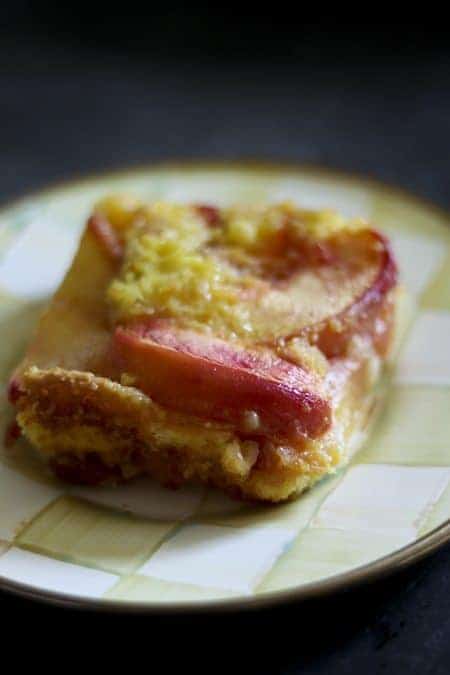 …Oh! I must share one serious piece of advice! If you make the cobbler, and you put a still warm piece on your plate, and you happen to drizzle a little cold cream over the top, you may want to sit down before taking a bite because swooning will be imminent.
Is there alcohol in the finished dessert?
If you're concerned about serving this to your kids, you needn't be! The amount of whiskey included in the recipe is enough to lend it's distinctive flavour, but it is first boiled in the syrup, then baked in the cake, and there is a negligible amount -if any- of alcohol left in the final product. Of course, if you'd LIKE there to be alcohol in it and up the boozy quotient, you're welcome to accidentally sprinkle a smidge of whiskey over each slice before serving!
Fresh, juicy, sweet, perfumed, summer peaches pair with warm, woody, smoky whiskey in this unparalleled Peach Whiskey Cobbler. You'll want this time and again! It's fast enough for last minute desserts and nice enough for company!
Ingredients
1

cup

all-purpose flour

1

teaspoon

baking powder

1/2

teaspoon

salt

2

large eggs

1 1/2

cups

sugar

divided

2

tablespoons

soft butter

plus extra for the pan

1/4

cup

milk

1/4

cup

whiskey

1

tablespoon

lemon juice

1

tablespoon

vanilla extract

4

large

perfectly ripe peaches, washed and dried gently
Instructions
Preheat the oven to 375°F. Butter a square baking pan (8-inch by 8-inch or 9-inch by 9-inch.)

Whisk together the flour, baking powder, and salt in a mixing bowl and set aside. In a separate bowl, whisk together the eggs and 1 cup of the sugar. To that, add the butter and milk and whisk until mostly even with some small chunks of butter still visible. Pour that into the flour mixture and stir just until there are no dry pockets of flour anywhere. Scrape the batter into the buttered baking pan.

Cut the peaches in half, remove the pits but leave the peels on, and slice into 1/8-inch to 1/4-inch thick slices. Set aside.

In a medium, heavy-bottomed saucepan over medium-high heat, stir together the remaining sugar, whiskey lemon juice, and vanilla extract and bring to a hard boil. Boil for 3 minutes, remove the pan from the heat, add the sliced peaches, and toss gently with a rubber spatula or spoon to coat the fruit with the caramel syrup. Spoon the fruit and syrup evenly over the cobbler batter in the buttered pan.

Bake for 30 minutes, or until the edges are caramelized with bubbled syrup and the inside is fully set, but still moist. Let cool for 10 minutes before scooping from the pan, or cool for 30 minutes before cutting into 9 squares and serving. Serve with a drizzle of cold, heavy cream, whipped cream, or ice cream!
Nutritional information is an estimate and provided to you as a courtesy. You should calculate the nutritional information with the actual ingredients used in your recipe using your preferred nutrition calculator.