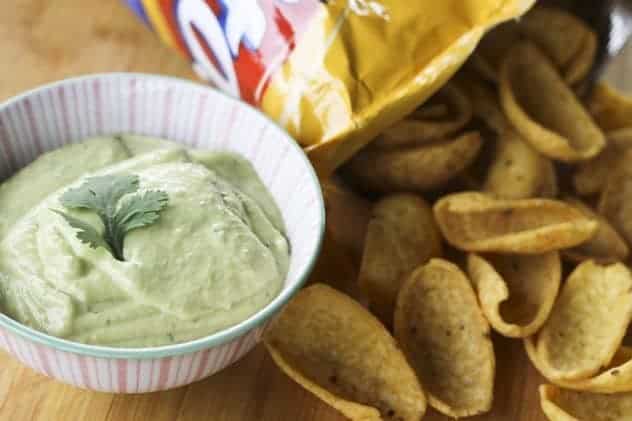 Full disclosure: I've spent some time in Houston but I've never been to Ninfa's. I'm not even sure I'm pronouncing the name properly. Is it NIN-fahz? NEEN-fahz? neen-FAHZ? However you say it, though, I now want to eat there desperately because if this sauce is a sign of what they have to offer… Well, let's just say that it's all bound to be spectacular.
The truth is, I had neither heard of the aforementioned place, however it's pronounced, nor the recipe I'm about to give you until I saw this post by Lisa Fain of Homesick Texan, whose blog I have loved for a very long time. This is one of those recipes where -while reading it- you know exactly how it will taste and you know you want it. Badly. Now.
And so, after seeing this recipe a little over two years ago, I made it a mere year and a half later for the first time. Sigh. It's really hard to source certain ingredients around here. Avocados, cilantro, sour cream, jalapenos? Oh sure. Easy peasy. It's those green tomatoes that gave me fits. First of all, when I had green tomatoes on the vine this summer I was so busy I didn't know whether I was coming or going and forgot ALL ABOUT THE DADBURNED RECIPE. Pardon me while I go bang my head on the wall for a minute or two. Secondly, when I remembered the recipe there were no green tomatoes (or yellow as the recipes suggests substituting) anywhere within a two hour drive.
Well, shoot.
I'm resourceful? Why was I letting this lack of green tomatoes stop me? (Because I wasn't thinking, that's why.) I had an entire shelf full of green tomato salsa verde I had made over the summer staring me in the face. Big, fat duh! I hacked the recipe. While the original called for 3 green tomatoes, I simply substituted 2 cups of homemade green tomato salsa verde* and a splash of water, then proceeded as directed with the rest of the recipe. Well, except for that whole Greek yogurt vs. sour cream thing… but I'll get there momentarily.
*You can't find green or yellow tomatoes and don't have homemade green tomato salsa verde on the shelf? No problemo. Use an equivalent amount of store bought salsa verde in its place. Yes, most commercially available salsa verde is made with tomatillos, but that's certainly not going to hurt the overall affect here! Live boldly! Substitute!
Speaking of substitutes, I decided to sub in a cup and a half of the zero fat Greek yogurt I had snapped up on clearance at Aldi last week. I'm not a no-fat/low-fat proponent by any means, but cheap is cheap and this stuff is good anyway with no weird preservatives or flavour improvers. Heck yes. Go Team Frugal! It worked like a charm! I mean, why wouldn't it? What took me so long to think of the recipe hack? Yeesh.
This sauce. Let me tell you. It is smooth. It's so smooth it's smoove. It's velvety, it's rich (thank you, avocados), it's spicy, it's creamy, it's garlicky. I ate it on tacos, Fritos, on a spoon, on my finger… So darned good. Mama. I considered rubbing it on the pulse points as perfume. Hubba hubba. I know my husband would approve.
Here's another bonus. You know avocado's distressing tendency to brown after being cut/smashed/whatevered? It doesn't in this sauce or at least it does it at a far slower rate. My amateur food scientist theory is that the happy bacteria in the Greek yogurt (and I'd imagine the same could be said for sour cream) and the acid in the tomatillos/green tomatoes keep it from oxidizing. But that's just a theory. And who cares? The sauce is good. And pretty. And pretty good. Geez. It's better than good. It's great. It's habit forming.
Now what are you waiting for? You need this sauce. You need it tonight. You need it for the weekend! Go forth and create green sauce!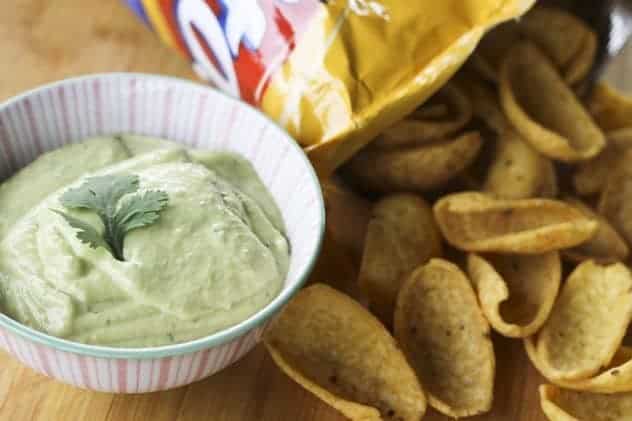 This creamy, dreamy, spicy, garlicky, smooth-as-silk avocado salsa is simply magical. Use as a sauce or dunk to your heart's content. Recipe originally from the Houston Chronicle via Homesick Texan and recipe hack by yours truly!
Ingredients
3

medium green or yellow tomatoes

coarsely chopped (Or 2 cups green tomato salsa verde or commercially available salsa verde with about 1/2 cup of water.)

4 to

matillos

peeled of the paper husk, rinsed and coarsely chopped

1 to 2

jalapenos

stemmed and chopped (if using the salsa verde, also remove the jalapeno seeds.)

3

cloves

of garlic

peeled and coarsely chopped

3

ripe avocados

halved, pitted, and scooped from the shells with a spoon

4

stems worth of cilantro

1

tsp.

of salt

1 1/2

cups

of sour cream

or Greek yogurt, which is my preference.
Instructions
Add the green or yellow tomatoes (or the salsa verde and water) to a heavy-bottomed saucepan along with the tomatillos, jalapenos, and garlic. Bring to a boil, then lower heat and simmer for 10 to 15 minutes, or until the tomatillos are tender. Remove the pan from the burner and let the mixture cool for about 15 minutes.

Transfer the contents of the pan into a food processor or blender with a metal blade. Add the avocados, cilantro and salt and blend until completely smooth. Use a rubber or silicone spatula to scrape the sauce from the food processor or blender into a mixing bowl and whisk in the sour cream or Greek yogurt until evenly coloured. Serve immediately or store in a jar or other container with a tightly fitting lid for up to a 4 days.
Nutritional information is an estimate and provided to you as a courtesy. You should calculate the nutritional information with the actual ingredients used in your recipe using your preferred nutrition calculator.