BACON BUNS! Seriously. You do a simple basket weave of the bacon (instructions are included) and bake until crispy before cutting into four squares.
Stack a crispy bacon wafer with beautiful leaf lettuce, juicy tomatoes, sweet onions, a perfectly grilled burger with melted Swiss cheese, a smear of pungent Dijon mustard, and top the whole thing off with another crisp bacon wafer. Low carb doesn't have to mean boring!

I am proud to have been sponsored by Sugardale Foods to develop today's tempting recipe for Low Carb Bacon Bun Swiss Burgers.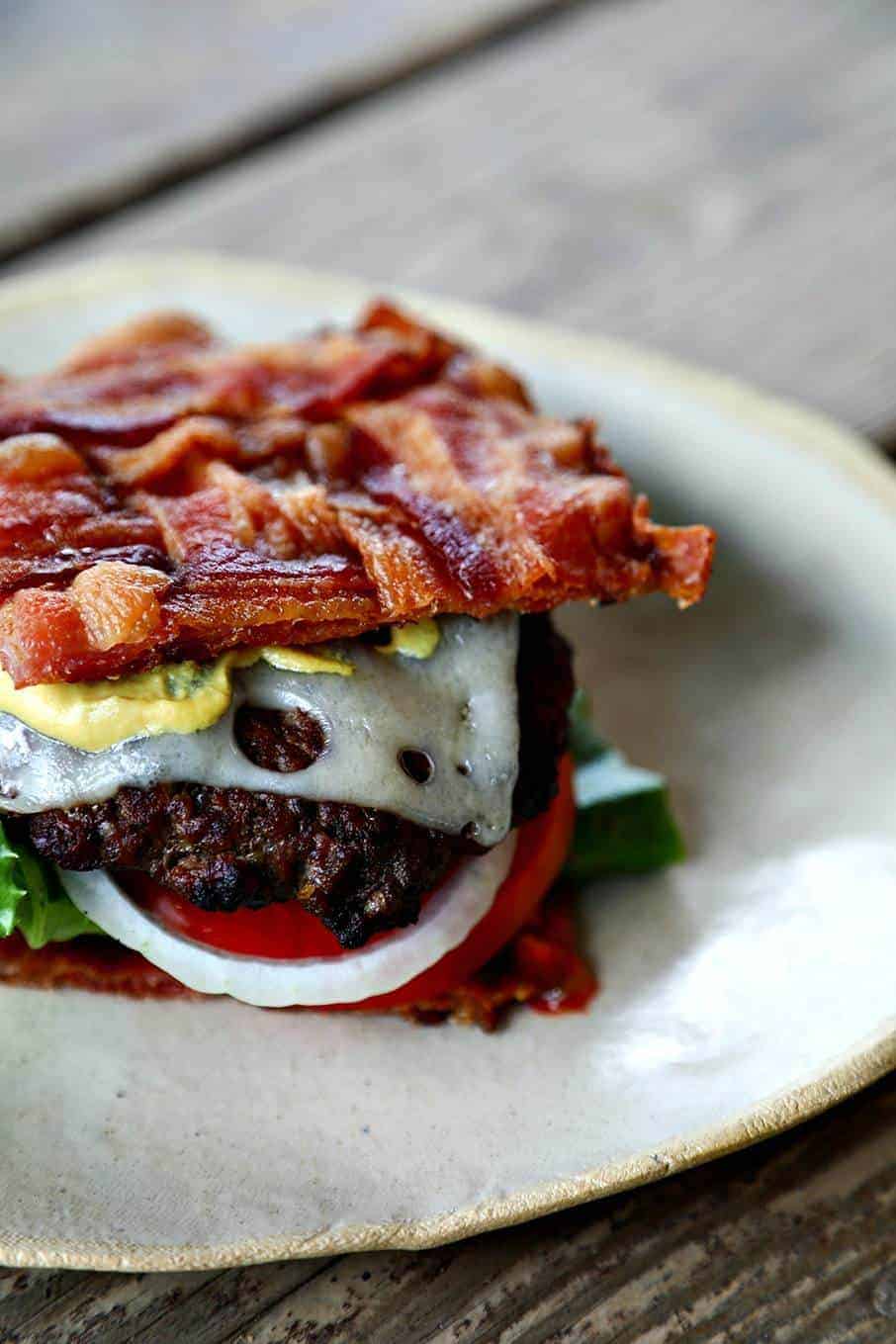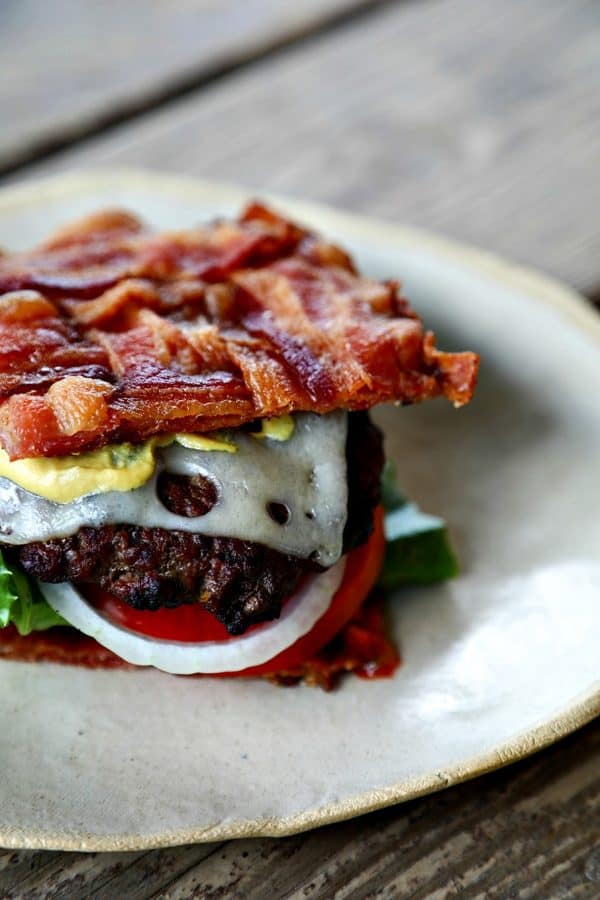 So. Bacon buns. Hamburger lovers rejoice! It had to happen, right? This just might be one of the most crave-worthy things to come out of my kitchen ever.
We are talking about the ne plus ultra of bacon cheeseburgers. And -for whatever my opinion is worth- it's one of the best ways I've ever seen to make a burger low-carb friendly.
Don't get me wrong, I love bread, but man-oh-Friday; a burger ON crispy bacon? Heaven.
My husband wasn't sure what he thought about the whole idea (bacon lover though he is) while I was weaving my bacon; this is admittedly not something I do every day. He changed his mind completely with his first bite of Low Carb Bacon Bun Swiss Burgers.
He wasn't just sold on it, he was making indecent sounds while eating it. His eyes rolled back a bit. He was hooked.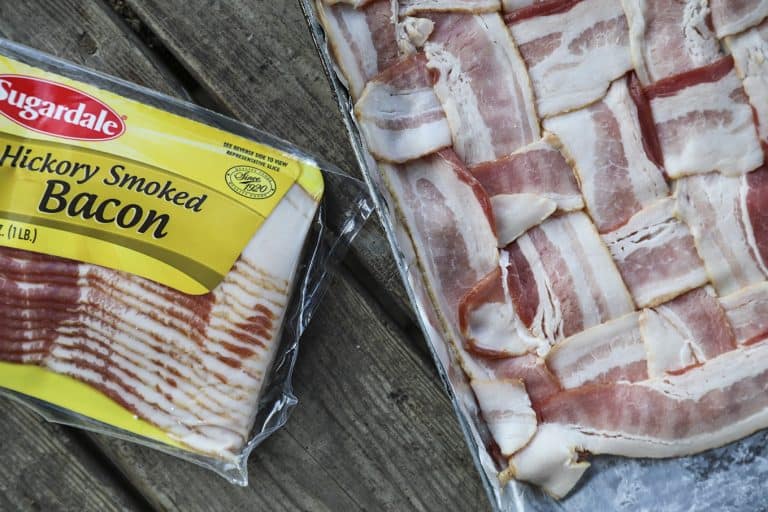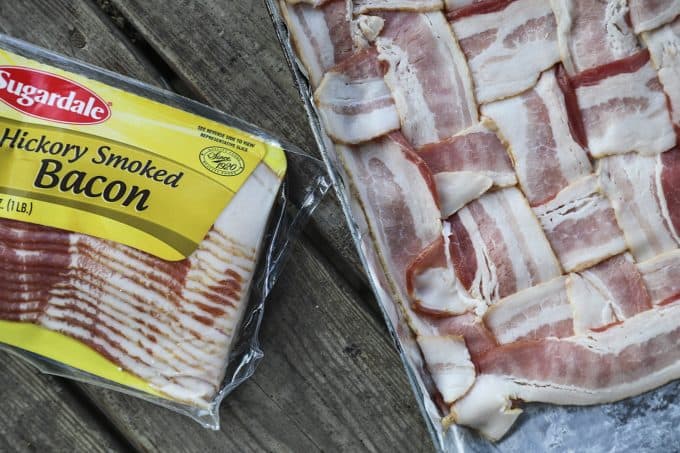 How Do I Weave Bacon?
It's pretty easy, you just want to be sure to start with a bacon you love like Sugardale Hickory Smoked Bacon which can be found at Walmart, Save A Lot, and many other retailers. Use their store locator to find the closest retailer to where you live!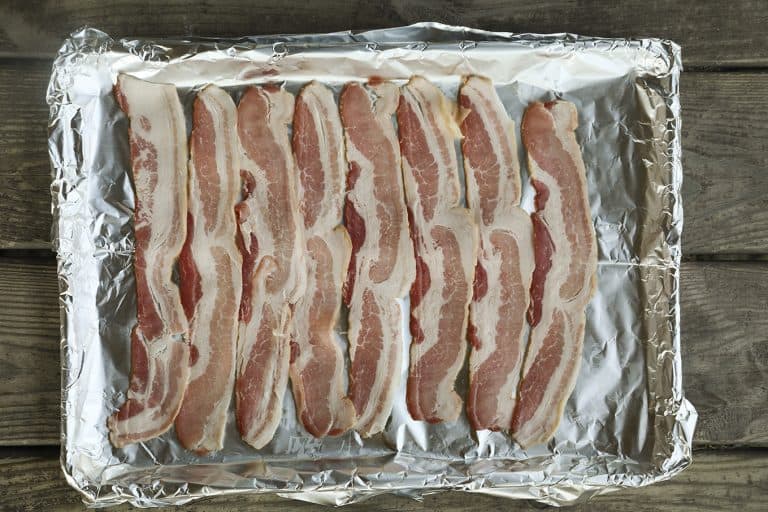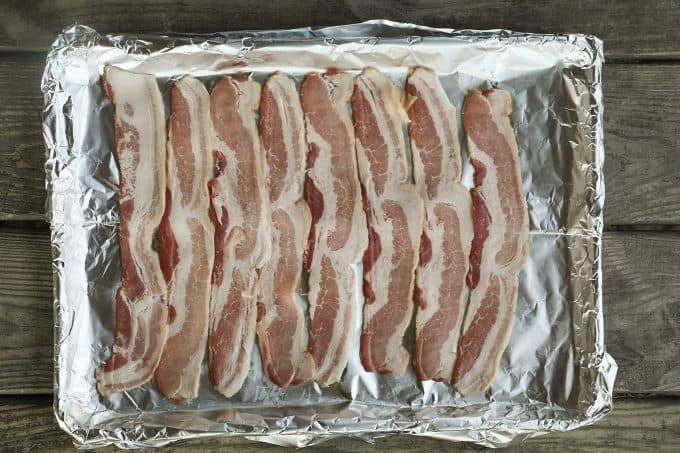 You lay out 8 slices of bacon side by side on a foil covered half sheet pan or baking sheet. (See giveaway for your chance to win a set of the best!)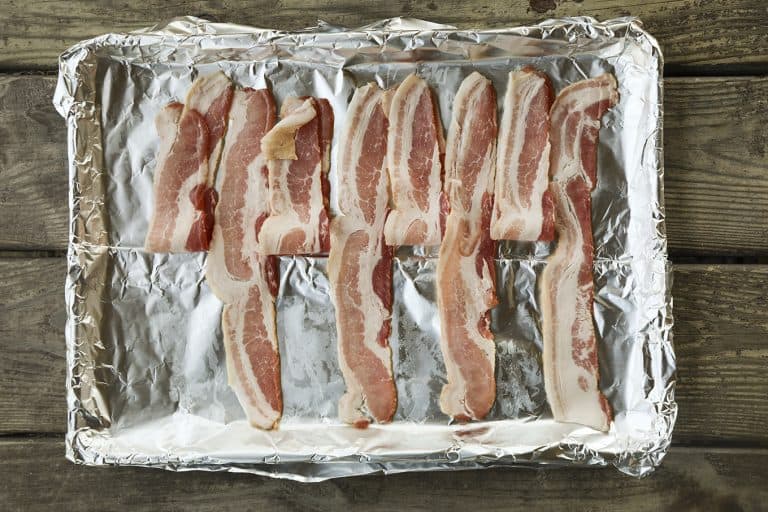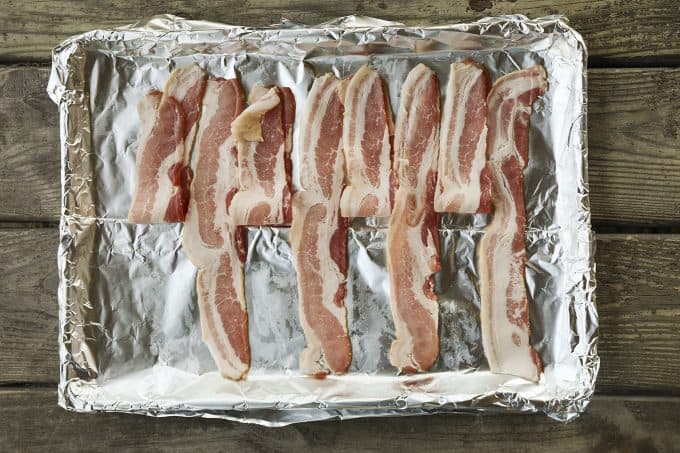 Fold slices 1, 3, 5, and 7 back halfway on themselves to look like this.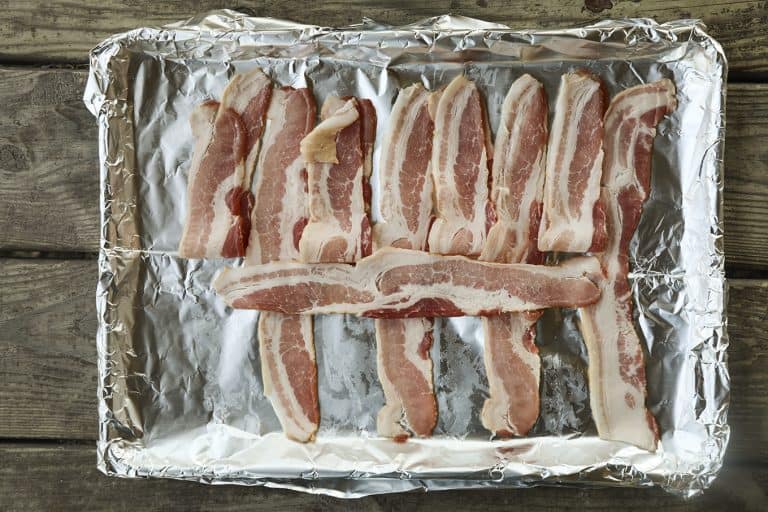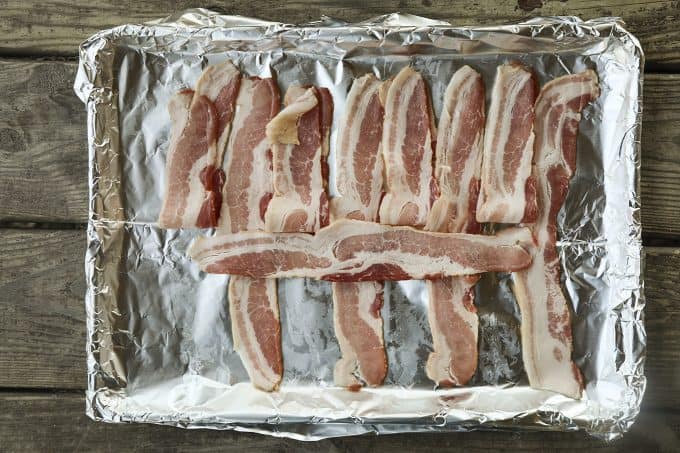 Lay one slice perpendicularly across them to look like this…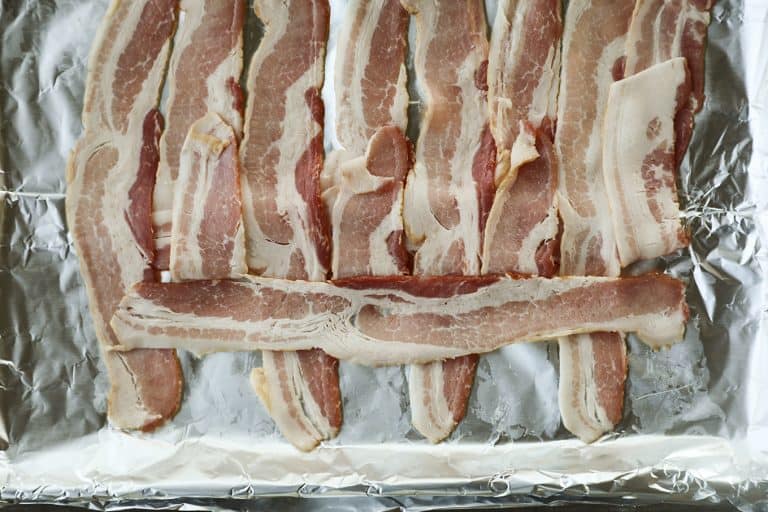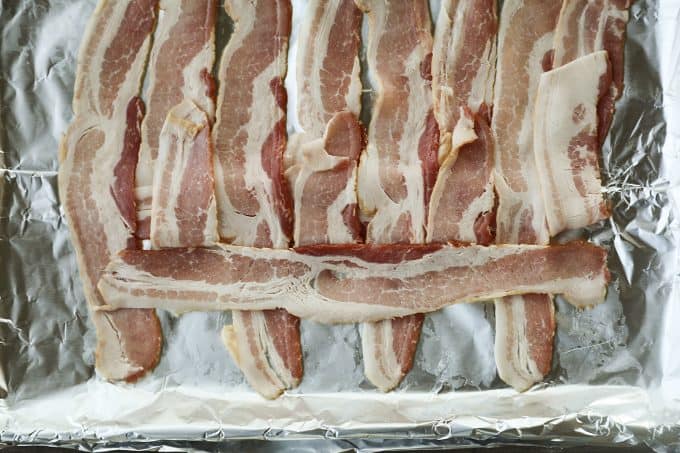 Fold 1, 3, 5, and 7 back down over the cross-wise slice of bacon, then fold up slices 2, 4, 6, and 8 the same way.
Lay another slice of bacon cross-wise before folding down 2, 4, 5, and 8.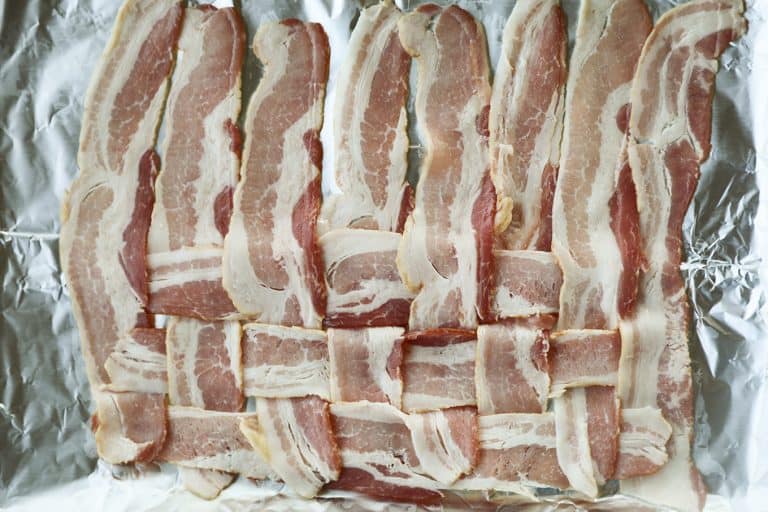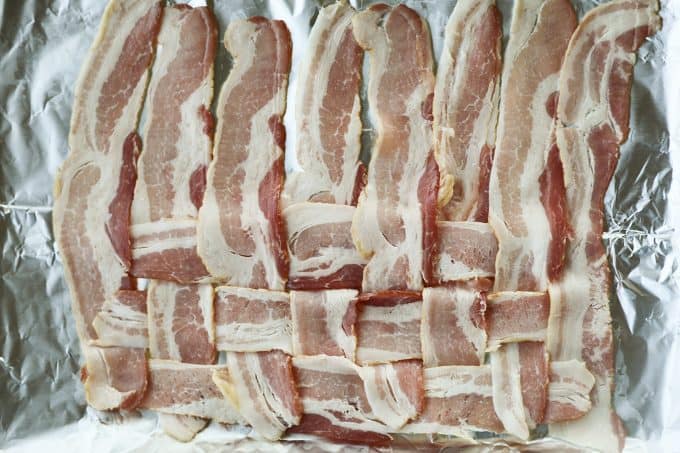 Repeat until you reach the end of the bacon slices. Turn the pan 180 degrees and complete the other side. If you have extra slices of bacon left from your package, lay over the edges of the square to make it look neater.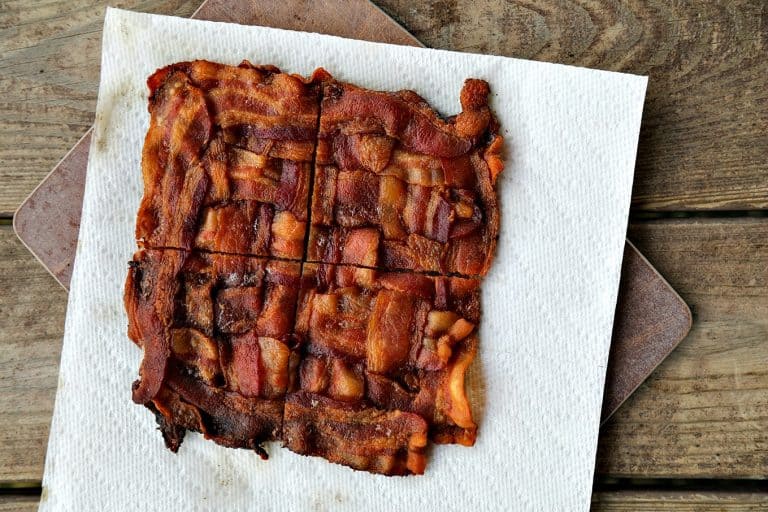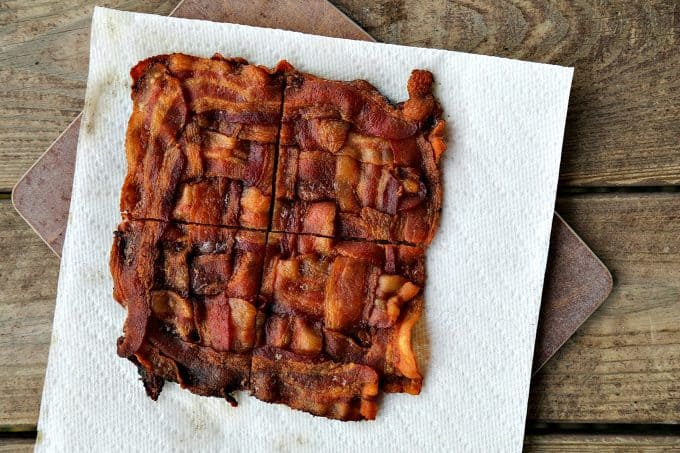 Bacon Bun Swiss Burger
Don't worry about whether your bacon basket weaving technique is perfect. As long as you have the general idea and have a rough square, it'll hold together in baking and when you cut it into quarters.
Yes, I realize you use an entire pound of bacon for two sandwich's worth of buns. If you're concerned, you can make them open-faced with just one "bacon bun" and it will yield 4 open-faced burger's worth.
Be sure your bacon bun is done baking before you grill your burgers. That gives you time to let it cool and set up somewhat while you grill your burgers. Slice the bacon weave into quarters after your burgers come off of the grill.
You don't need the cheese to be on the burger very long, a minute on top of the burgers before removing them from the grill will be sufficient to melt it.
Don't skip the Dijon mustard! It has the natural kick that helps cut some of the richness of the bacon buns and beefy burgers.
Speaking of the burger, I recommend using a good ground chuck or other 80/20 beef for your patties. That will yield a juicy, succulent burger.
Are you looking for more delicious and economical ground beef recipes? Try out our Ground Beef Fried Rice a.k.a. Cheeseburger Fried Rice as well as our 15 Minute Korean Style Beef and Cheater Sesame Beef.
Connect with Foodie with Family
facebook| pinterest| instagram | twitter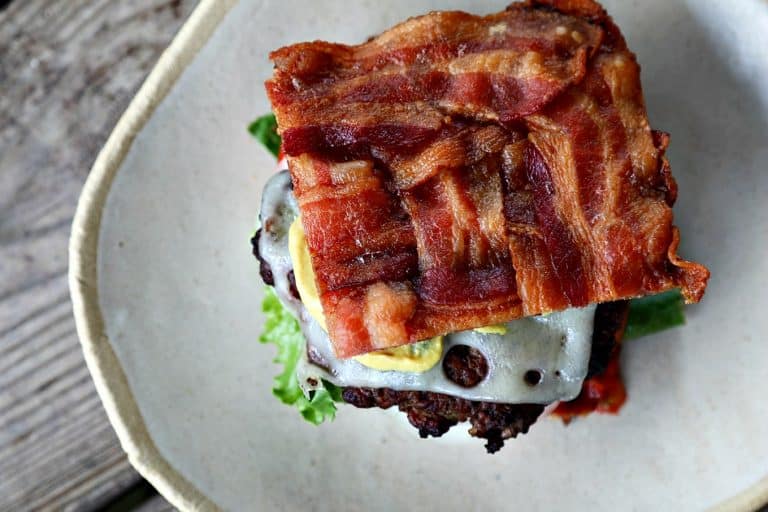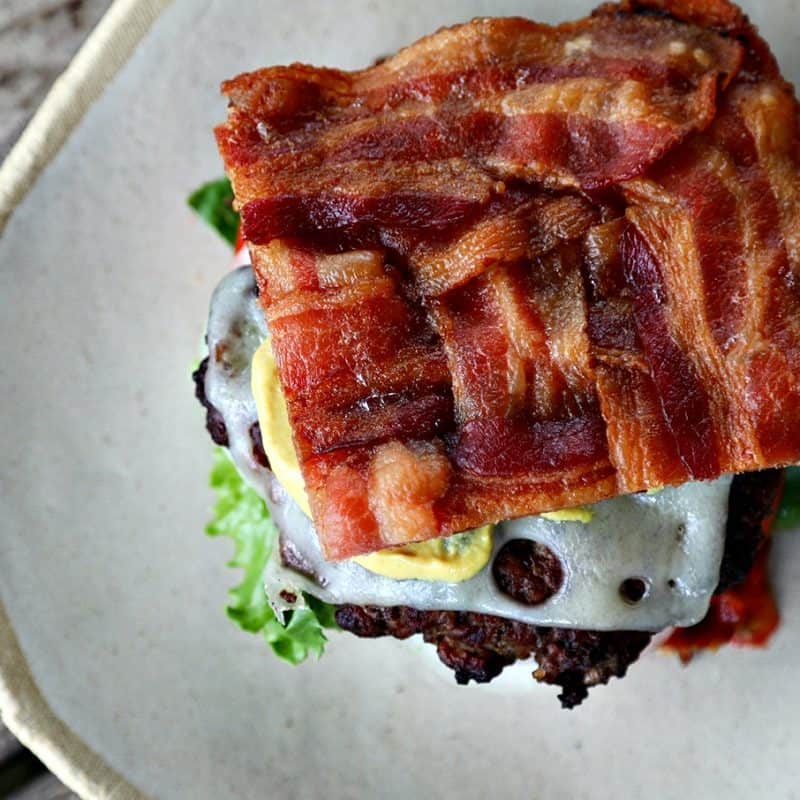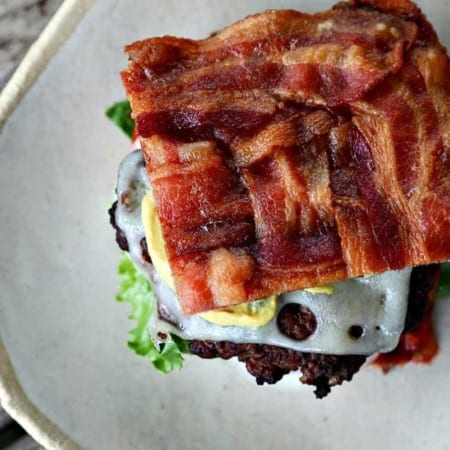 Ingredients
1

pound

Sugardale Hickory Smoked Bacon

1

pound

ground chuck or 80/20 ground beef

2

teaspoons

Adobo seasoning or 2 teaspoons kosher salt mixed with 1 teaspoon ground black pepper

4

slices

Swiss cheese

4

leaves leaf lettuce

8

slices

fresh tomato

sweet onion slices

2

teaspoons

Dijon mustard
Instructions
Line a half-sheet pan with foil. Weave bacon on prepared pan according to instructions in post. Place the pan on the center rack of a cold oven. Set oven to 325°F. When oven reaches temperature, bake the bacon for 25-30 minutes, or until a mahogany brown and cooked through. Remove the pan, let the bacon sheet rest for 2 minutes before transferring to a paper towel lined plate. Let it rest while you prepare the burgers.

Form 4 roughly equal sized patties and season evenly with adobo or salt and pepper on both sides.
Preheat grill or frying pan to medium high. Lay the patties down over direct heat and don't mess with them! After 3 minutes or so (each grill and stove is different, so watch for the visual cues), you'll begin to see juices starting to pool on top of your burger. Flip them gently and leave them alone again. At about 3 minutes on each side, your burger should be medium rate, but do yourself a favour and use an instant read thermometer to check! Lay a slice of Swiss cheese on each burger about 2 minutes after the first flip to give it time to melt.


Burger Doneness Temperatures:

Rare: 120° to 125°F

Medium Rare: 130° to 135°F

Medium: 140° to 145°F

Medium Well: 150° to 155°F

Well: 160° to 165°F
To Assemble the Bacon Bun Swiss Burgers:
Cut the square bacon sheet into 4 equal smaller squares.
For open faced burgers, arrange 1 bacon bun on a plate, stack a piece of leaf lettuce, two slices of tomato, a couple of pieces of sweet onion, a burger, and a smear of Dijon mustard. Repeat with the remaining bacon buns.
For two-bun burgers, arrange 1 bacon bun each on 2 plates, stack a piece of leaf lettuce, two slices of tomato, a couple of pieces of sweet onion, a burger, and a smear of Dijon mustard. Top each with the remaining bacon buns. Reserve the leftover burgers for another meal.

Nutritional information is an estimate and provided to you as a courtesy. You should calculate the nutritional information with the actual ingredients used in your recipe using your preferred nutrition calculator.


Save
Save
Save
Save
Save
Save
Save
Save
Save