Check out all of our wonderful Sweet Potato Recipes here!
THIS DISH, friends. This one right here. Oh my word. This is the best friend of busy, cash-strapped moms in the cold weather months. I'm talking about Loaded Baked Sweet Potatoes that are roasted in the skin until they're super soft and caramelized in their own jackets, split open, and topped with leftover Slow Cooker Honey Sriracha Barbecue Chicken, black beans, and a fabulously fresh cilantro, onion, lime relish.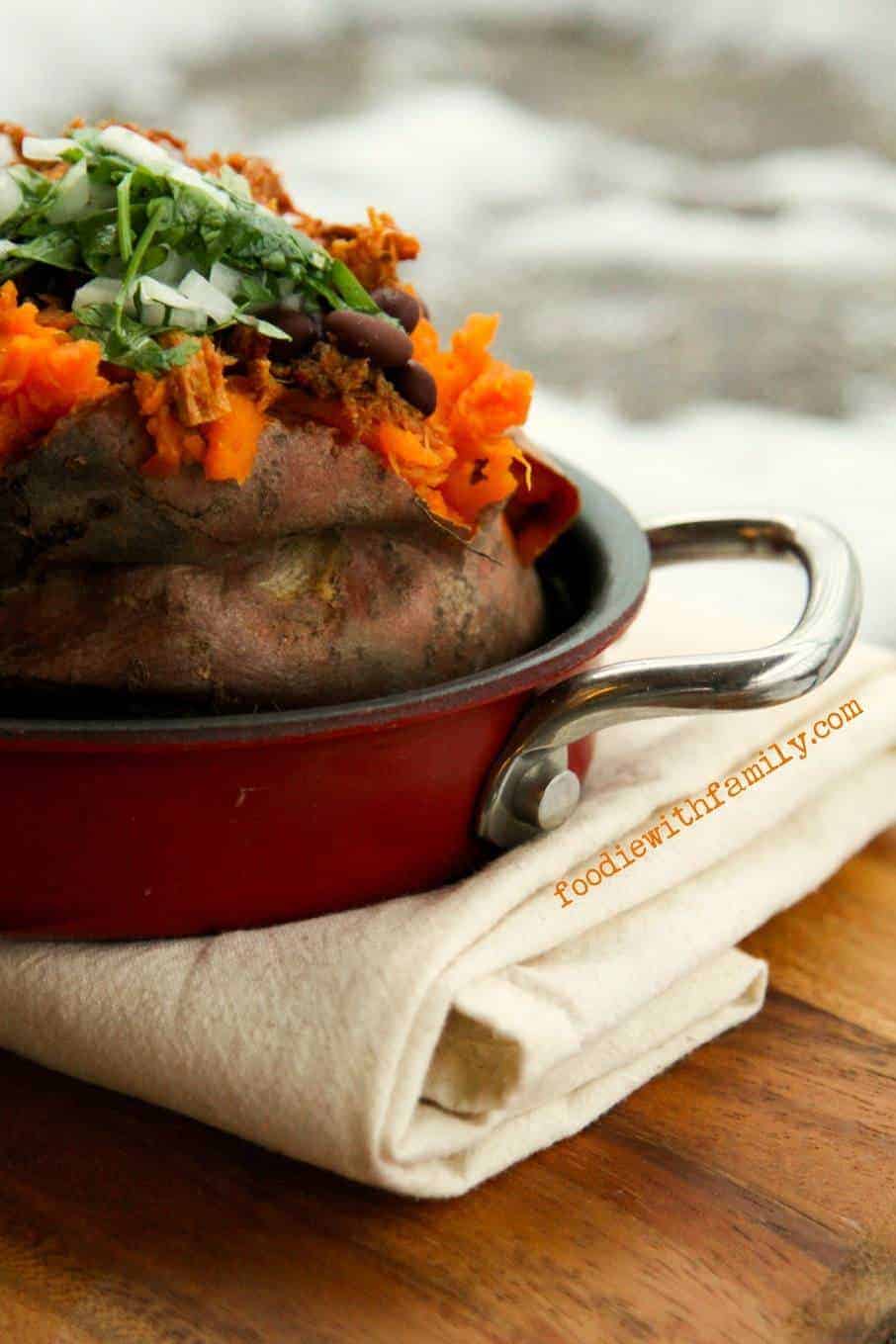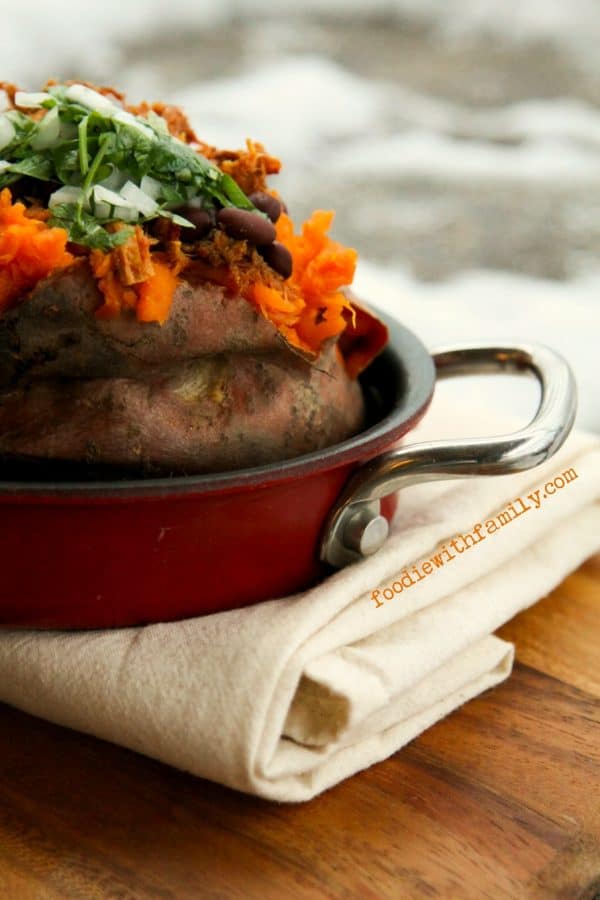 This isn't so much a recipe as it is a formula. The comfort factor in this dish comes from the method used to bake the sweet potatoes; they must be pierced, put on a foil lined pan to catch any bubbling sweet juices that escape from the holes you've poked, and baked until they are soft and sweet and caramelized in their own skins. This is not negotiable. It's that sweet, caramel, hearty base to the shredded chicken -which could just as easily be shredded pork or barbecue beef- tender and mild black beans, and bright, fresh cilantro, onion, and lime relish (swiped from this Mexican Chicken Soup recipe because it compliments the dish so perfectly) that make Loaded Baked Sweet Potatoes.
Truth: I have five kids, four of whom will only eat sweet potatoes when they come in the form of Sweet Potato Dinner Rolls, fries, or chips and one of whom won't touch them under any circumstances. I won't lie… three of the kids ate their compulsory "thank you bites" ( as many bites as years in your age) and were done with the dish, but two of them who wouldn't ordinarily go past the thank you threshold ate full servings with gusto. The others took the toppings and ate them piled up on the plate, but the two big 'uns who ate their Loaded Baked Sweet Potatoes actually bellied up for seconds. My husband and I ate two each, too. We ALL ended up happily rubbing our bellies after dinner time (even the thank you bite contingent) for a very low price tag. I'm calling that a dinner win.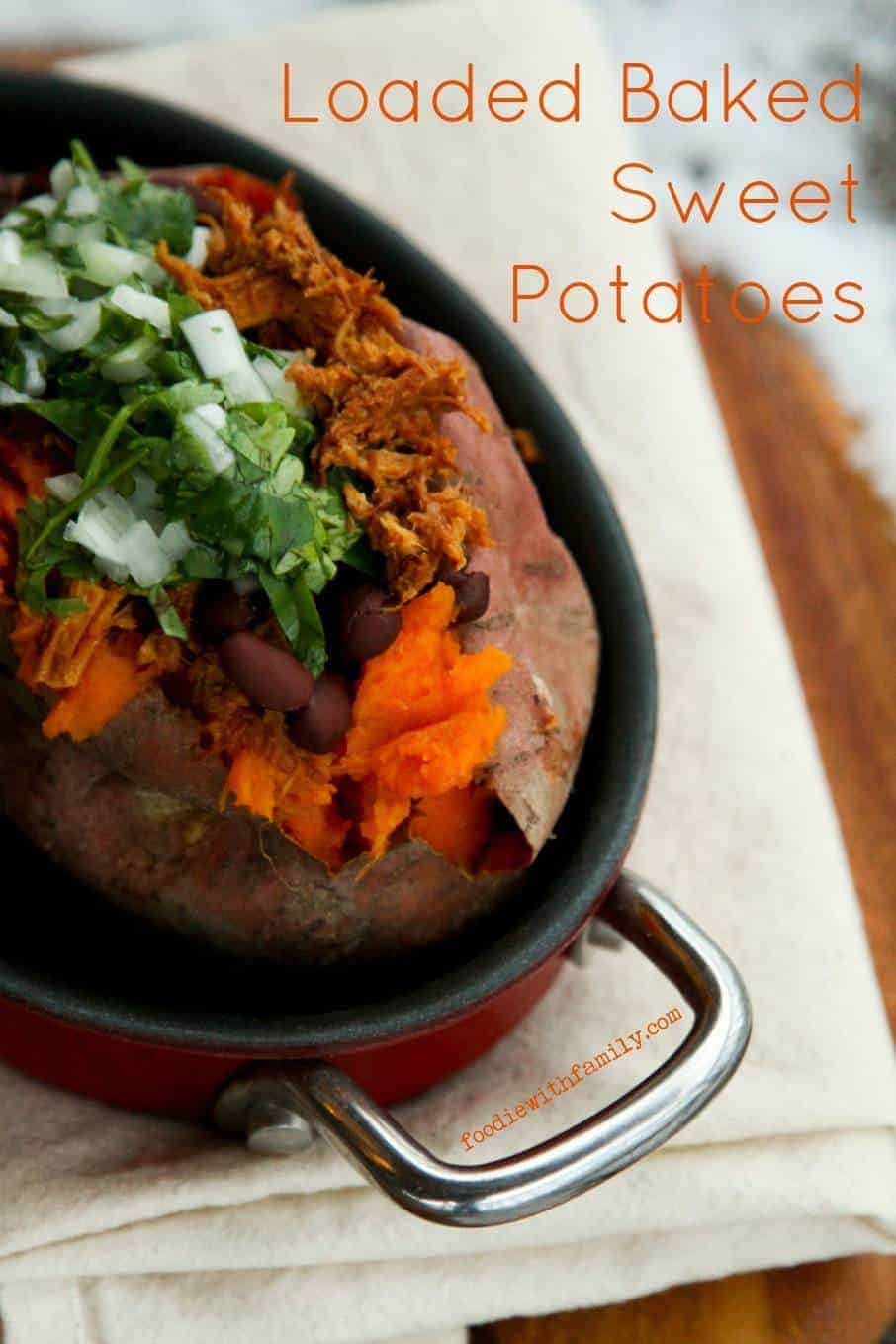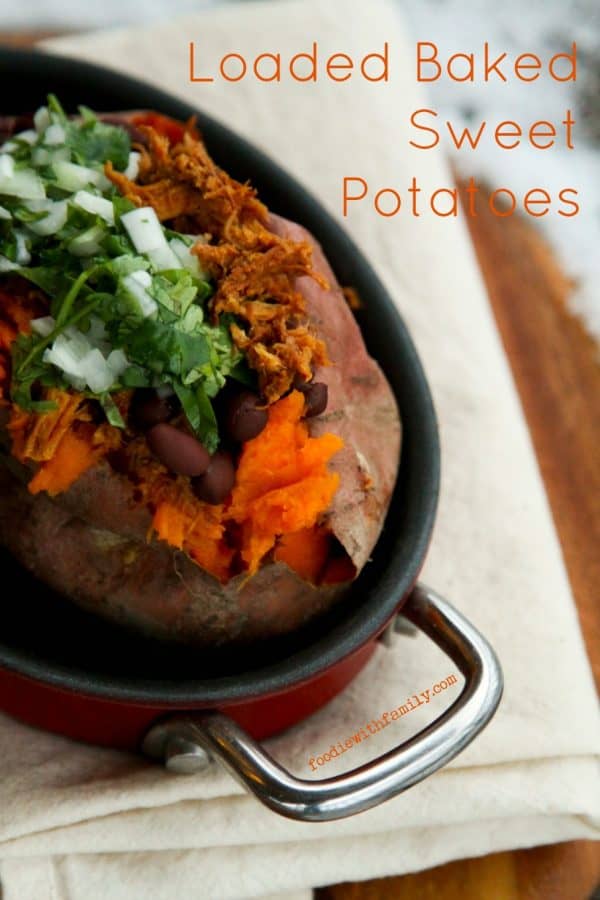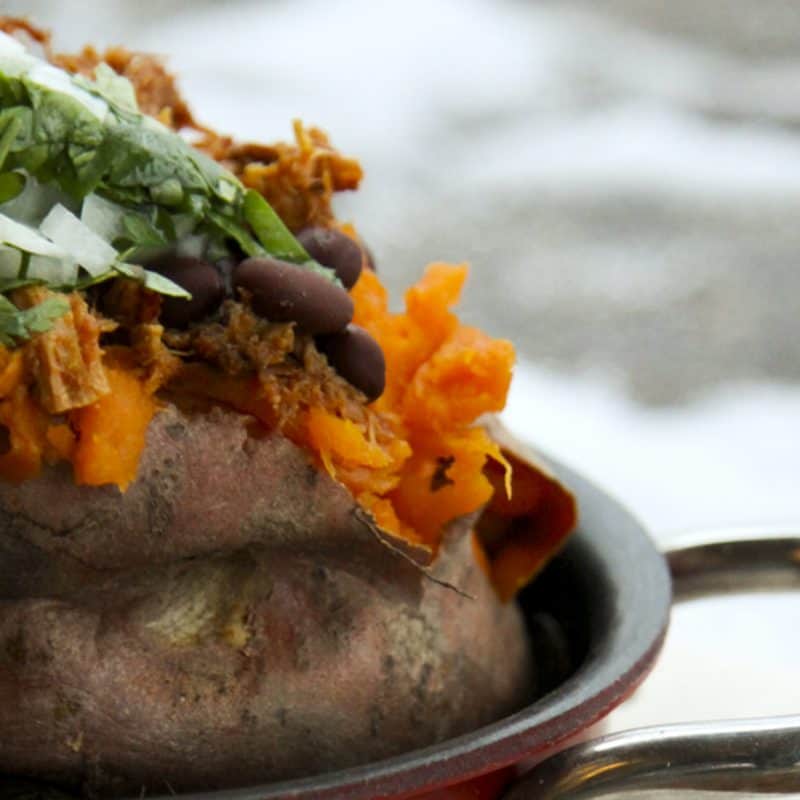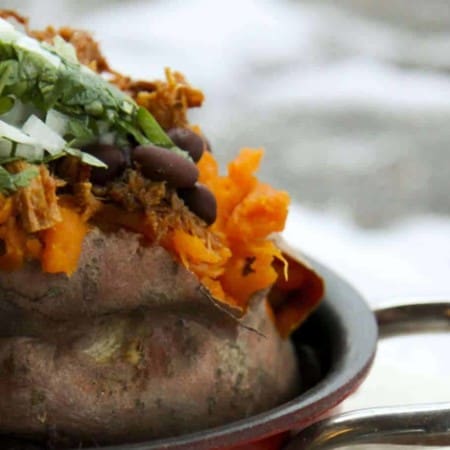 Inspired by my sister-in-law Elvi Jo's photo of her baked sweet potato dinner!
Ingredients
Per Loaded Baked Sweet Potato:
1

large sweet potato

scrubbed and pierced all over with a fork

1/3

cup

shredded fully cooked chicken or pork

reheated

1/3

cup

heated

fully cooked black beans

1

tablespoon

of Cilantro

Onion, and Lime Relish
Instructions
Preheat oven to 400°F. Line a baking sheet with foil, arrange the sweet potatoes on the pan, and roast for 45 minutes. Turn over the potatoes and roast for another 15 minutes, or until the potatoes are soft when you squeeze them, have caramelized juices coming from the perforations left by the fork, and have darker areas of caramelized potato skin.

Jab a fork into the potato and remove, repeat until you've jabbed a line from one end of the potato to another. Turn the potato and jab an "x" across the center line you've already perforated. Put your hands on either end of the potato and squeeze. The potato should fluff up nicely, but if you'd like, you can use a fork to fluff the interior, too. Top with the heated, shredded chicken, black beans, and Cilantro, Onion, and Lime Relish!
Nutritional information is an estimate and provided to you as a courtesy. You should calculate the nutritional information with the actual ingredients used in your recipe using your preferred nutrition calculator.
This is my seventeenth post in my commitment to post every. single. day in November for NaBloPoMo (National Blog Posting Month). Follow the craziness all month as I share recipes, family anecdotes, and throw a couple of giveaways in for good measure! 
Save