Have you ever surprised yourself with how much you ended up liking something? I did just that this past week with Chickpea Tikka Masala. I was putting together a meal for a friend who had gotten smacked upside the head by life that week, and the friend is vegan. It was cold, cold, COLD in our neck of the woods last week, so a comforting, stick-to-your ribs menu was what I wanted to provide. I asked myself what I'd like to eat most of all and the answer was Slow Cooker Chicken Tikka Masala, a decidedly un-vegan dish. As I reviewed my recipe, I realized that it wouldn't take a great deal of work to alter it to be meat and dairy free, and I set to it.
Chickpeas are a lovely, substantial source of protein that hold up well to long cooking and flavourful spices, so chickpeas were in and chicken was out. That simple substitution took care of 1/3 of the meat or dairy in the dish. Using extra virgin olive oil in place of the butter eliminated another 1/3 of the dairy or meat and didn't sacrifice flavour. One last item was on the chopping block: yogurt. The use of full-fat coconut milk in its stead kept the flavours authentic and added the richness that was removed when the extra virgin olive oil stepped in for the butter. The fragrant and perfumed Garam Masala and sautéed garlic and onions did the job and made that Chickpea Tikka Masala every bit as inviting as its meaty, dairy-packed counterpart.
I couldn't resist dipping in a spoon to try the simmering sauce before I transferred the Chickpea Tikka Masala to a container to take it to my friend. Whoa. Just WHOA. It had all the flavour, all the comforting power, and all of the can't-stop-eating-it goodness of the original. I might've ladled a little into a bowl for myself. Okay. I ladled a lot, but the truth is I made a HUGE batch of that because I am incapable of cooking small. Utterly. In fact, two of my children who have a marked bent toward the carnivorous couldn't get enough of the Chickpea Tikka Masala. They even asked if I could make it again soon.
On the plus side, I can absolutely assert that this dish is extremely economical ringing it at about $6.00 for a full sized batch and is sized to feed approximately a regiment. In addition to all its previously named charms, Chickpea Tikka Masala is almost comically easy to make. The most complicated part of the entire process is dicing an onion and a few cloves of garlic. If you can get past that, you can make your own Chickpea Tikka Masala.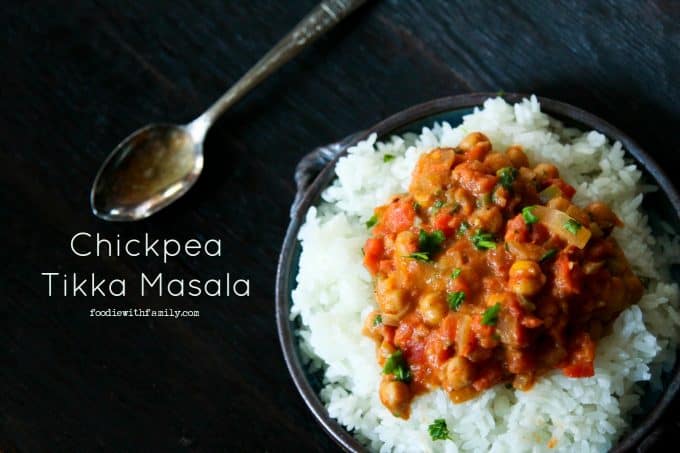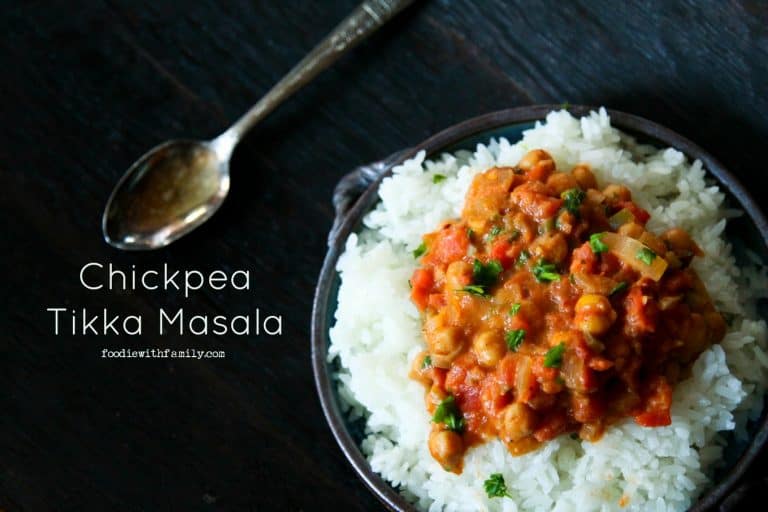 Cook's Notes
Garam Masala is the defining flavour of Chickpea Tikka Masala. It's a fragrant Indian spice combination that usually includes cumin, coriander, cinnamon, black pepper, cardamom, and other goodies. If you can't find it at your grocery store, you can most certainly make your own, or order it from my best beloved Amazon.
I am an unsweetened coconut milk hoarder. I buy cases of this kind and this kind. I absolutely adore it for baking but I dig it big time for making sauces, too. Case in point? This Chickpea Tikka Masala. I prefer THIS variety of coconut milk for this recipe both because I love the flavour of it and because the little tetra pack container is the perfect size for one full sized batch of Chickpea Tikka Masala. Use whichever full fat coconut milk you like best, just be sure it's unsweetened!
Chickpea Tikka Masala reheats beautifully, so don't worry if you have leftovers!
I prefer to serve Chickpea Tikka Masala ladled over a bowl of hot rice, but if you prefer, you can eat it stew style with a spoon or over noodles.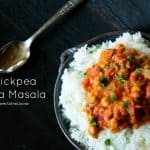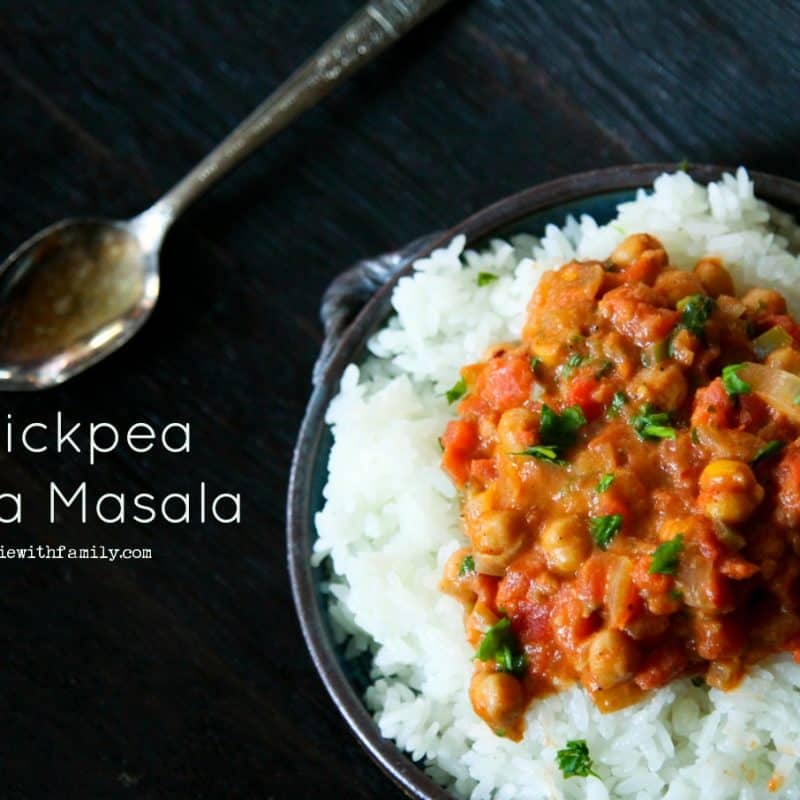 Chickpea Tikka Masala
Ingredients
2

tablespoons

extra virgin olive oil

1

large onion

peeled and diced

4

garlic cloves

peeled and finely minced

1

tablespoon

Garam Masala

2-

inch

piece of fresh ginger

grated

1

fresh jalapeno pepper

stem and seeds removed, finely minced

2

cans chickpeas drained and rinsed in a colander

or 3 1/2 cups cooked chickpeas

2

cans petite diced tomatoes

14.5 ounces each

1

cup

of full-fat coconut milk

1

handful fresh cilantro leaves

coarsely chopped
Optional for serving:
hot cooked rice

additional fresh cilantro for garnish
Instructions
Heat the olive oil in a large saucepan (2 quarts or larger) over medium heat. Add the diced onions and garlic and a pinch of salt and stir. Sautee the onions and garlic until partly translucent and slightly browned around the edges, about 4 minutes. Stir in the Garam Masala, the grated ginger, and the minced jalapeno and cook for another minute, or until very fragrant. Add in the chickpeas and diced tomatoes, bring to a boil, lower the heat and simmer for 15 minutes. Stir in the coconut milk and return to a simmer for 5 minutes. Remove from the heat and stir in the cilantro. Serve like a soup, over hot rice, or noodles, garnished with additional cilantro, if desired.
This is my sixteenth post in my commitment to post every. single. day in November for NaBloPoMo (National Blog Posting Month). Follow the craziness all month as I share recipes, family anecdotes, and throw a couple of giveaways in for good measure!