Can we talk for a second? I feel the need to tell you something. I love you. Really, I do. Let this soup stand as proof. Because, baby, it is cold outside and this soup is going to warm you from your inside out. From your toes on up to your nose. If I could I'd deliver a big old tureen of this right to your door. (Yes. I have a soup tureen. Don't you?)  Alas, I will have to settle for sharing the recipe with you here.
This Loaded Baked Potato Soup has everything a baked potato should have and more. I guess you could say it's all that and a bag of chips- minus the chips. It starts, of course, with a mess of baked potatoes. Why bother? Baked potato soup is to regular potato soup what J. Lo was to the Fly Girls.*  Baked potatoes have an intense potato flavor -an earthiness- that boiled potatoes just cannot achieve. And that intense potato flavor is perfectly complimented by Creamy Onion Topping, crisped bacon, sliced green onions and sharp Cheddar cheese. I dare you to try not to like this soup. It can't be done. I mean, really, look at it…
This soup calls to you whilst it bubbles on the stove top. In fact, it sings. It sings, "Don't. Don't you want me? You know I don't believe it when you say that you don't need me… Don't you want me baby? Don't you want me? Ooooooo-oh!"*
* I'm so sorry. For some reason I'm very much stuck in a 80's/90's pop culture thing today. It's been all Human League, Thompson Twins, In Living Color, and whatnot today. I think it's because I read an article about Milli Vanilli yesterday. Clearly I'm traumatized. And the J.Lo analogy is not as tortured an analogy as it might seem. J.Lo was fine and dandy as a member of the Fly Girls, but she was a star on her own. See? I made it work.
But as if the soup wasn't enough on it's own, there's another great reason to make it. When you make this soup you are more than halfway done with the ultimate finger food for this Sunday (a.k.a. Superbowl Sunday, a.k.a. national holiday in my man-cave of a home.)  Making this soup leaves you in possession of a whole pile of potato skins. So today I'll teach you how to make the soup that'll bring them to their knees and tomorrow I'll show you how to make the potato skins that'll keep them coming back for more! Sneak peak? Why sure. For you I'd do anything…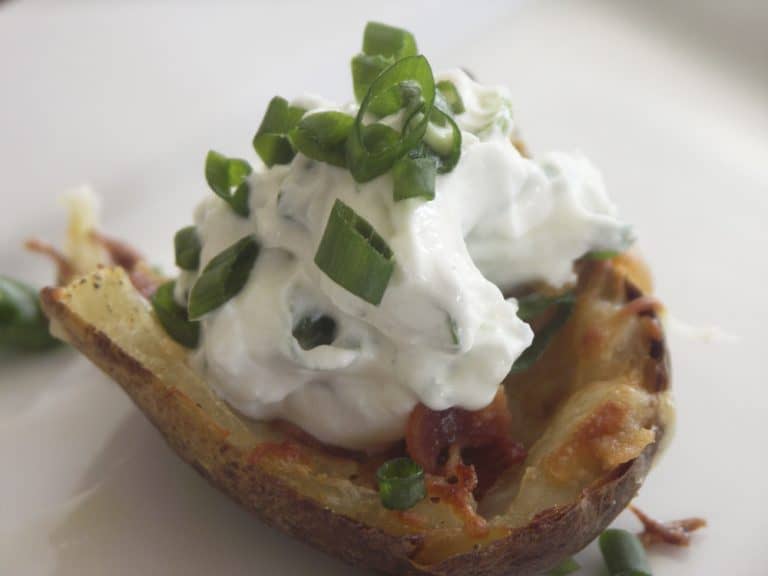 For a printer friendly, photo-free version of this recipe, click here!
Loaded Baked Potato Soup
Soup Ingredients:
1 pound of bacon
6 Tablespoons all-purpose flour
1 onion
12 large baked potatoes, cooled (*see instructions below for directions on how to bake potatoes)
4 cups milk
6 cups chicken broth or stock
2 cups shredded extra sharp Cheddar cheese
salt and pepper to taste
optional: up to one cup of instant mashed potato flakes to thicken soup
Creamy Onion Topping Ingredients:
2 cups Greek yogurt
1 bunch green onions (scallions), cleaned, trimmed of roots and thinly sliced
1 teaspoon Kosher salt
additional shredded cheese
Slice bacon into 1/4-1/2 inch strips.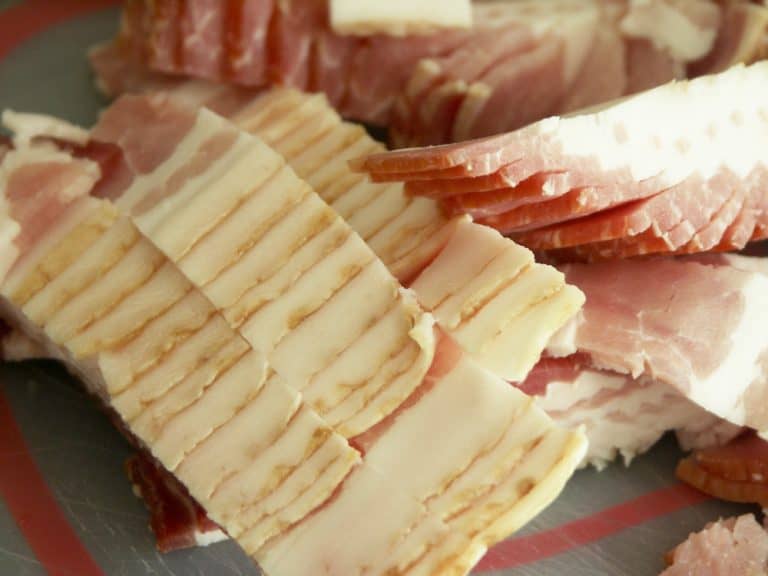 Place bacon slices in a large heavy-bottomed soup pan over medium heat. Cook, stirring frequently, just until bacon begins to crisp. Use a slotted spoon to transfer the bacon to a paper towel lined pan.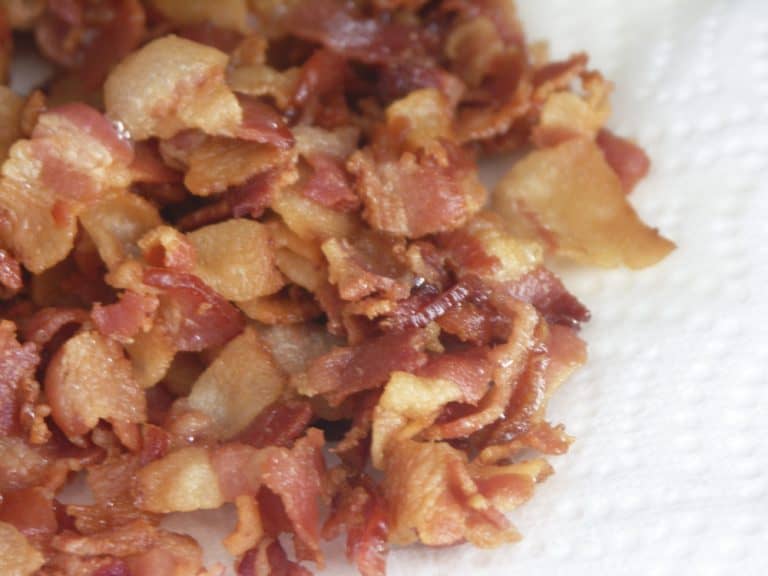 We'll get back to this bacon in a bit. Don't eat it all.
Stir Greek yogurt, sliced onions and Kosher salt together in a bowl.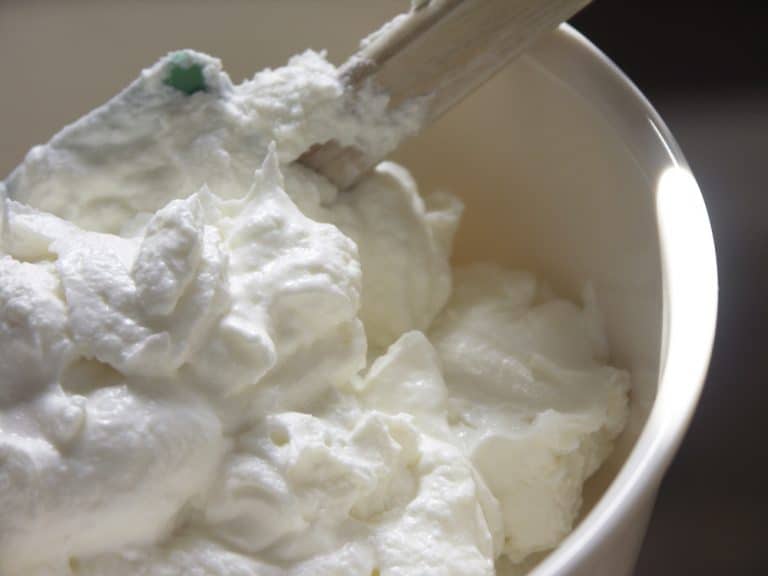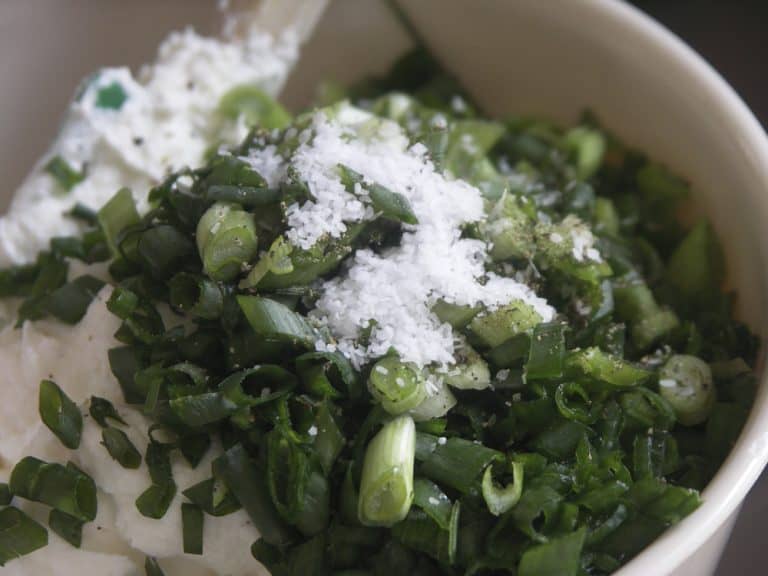 Cover with plastic wrap and refrigerate until serving time. Making it before the soup gives it time for the flavors to blend.Drain all but 6 Tablespoons of the bacon drippings out of the pan. If you've drained the pan right, you'll still have lots of little crispy bits in the pan. Don't you dare wipe those out. Those are little flavor nuggets of pure joy. Leave 'em. Leave 'em, I say.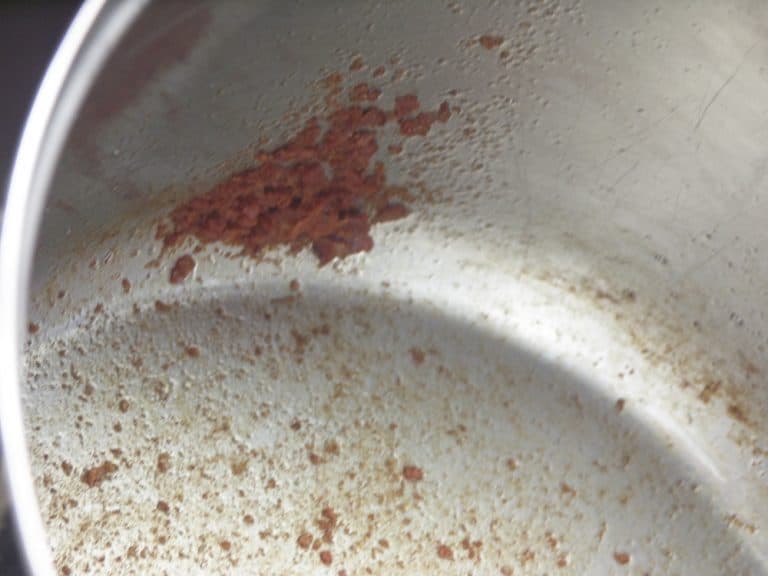 Now, let's dice onions. I'll let the pictures help me describe the process.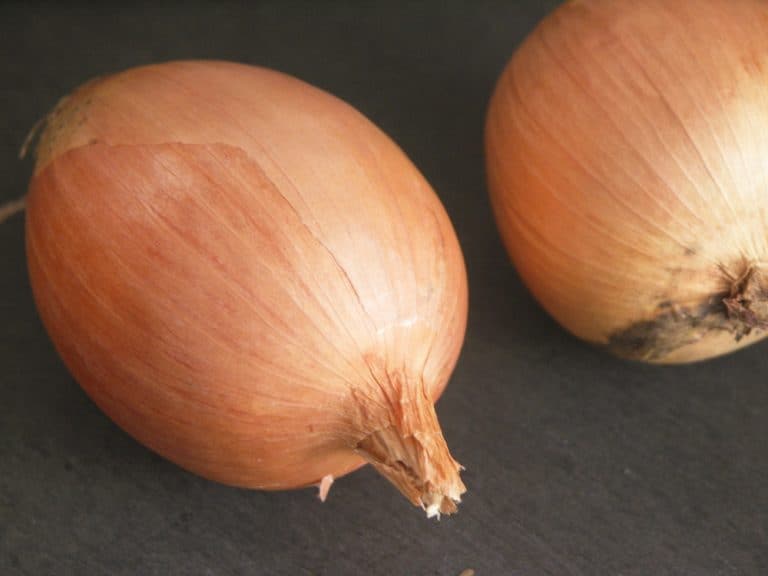 Slice a little wafer off of the stem end of the onion, thusly.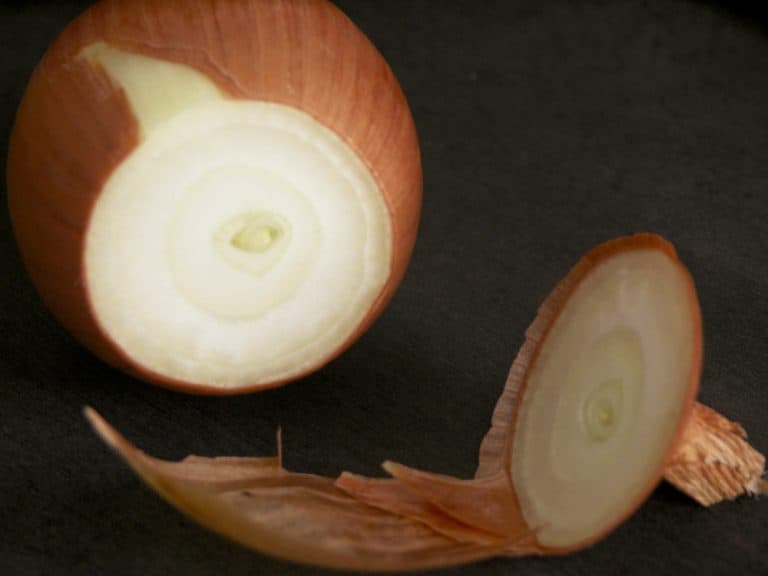 Stand the onion on that nice, stable flat end.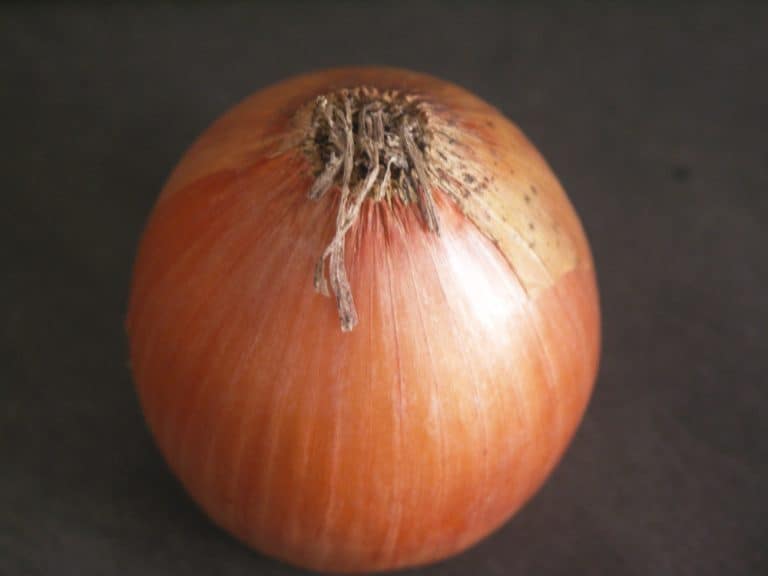 Now cut straight down through the center of the onion from top to bottom.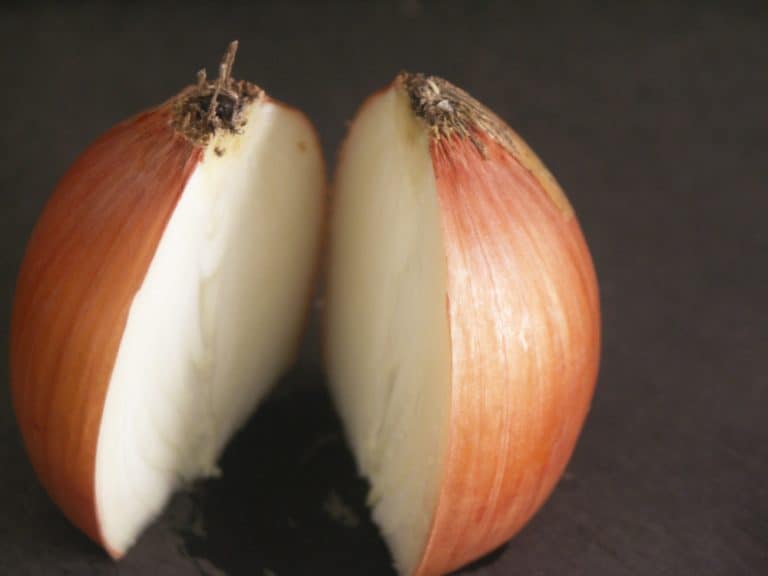 Pull off the peel and lay the halves flat side down.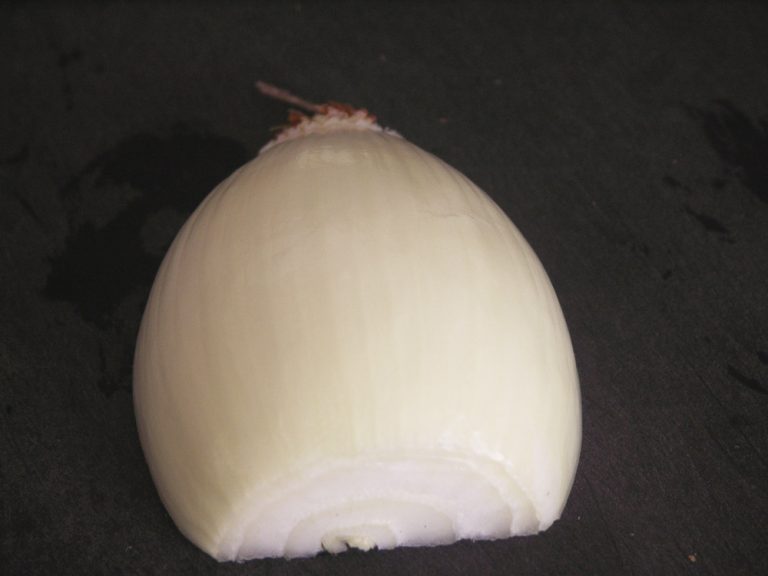 Now make a series of parallel slices all the way through the onion from within about a half an inch of the root end down to the cut end. Like-a this.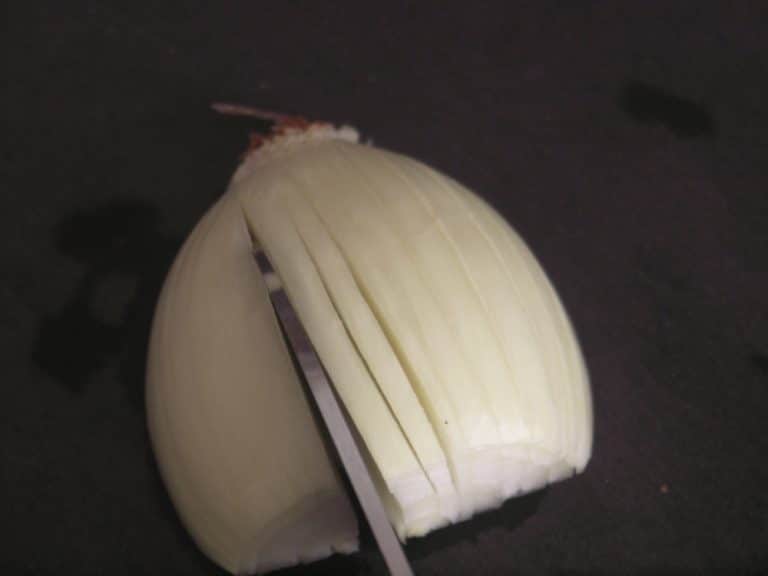 Turn the onion 90 degrees and cut super thin slices across your previous cut marks so that your kids who think they dislike onions will not detect the presence of onion in their soup. Oh, and I'd appreciate it if you'd keep that little secret between just you and me. Thanks.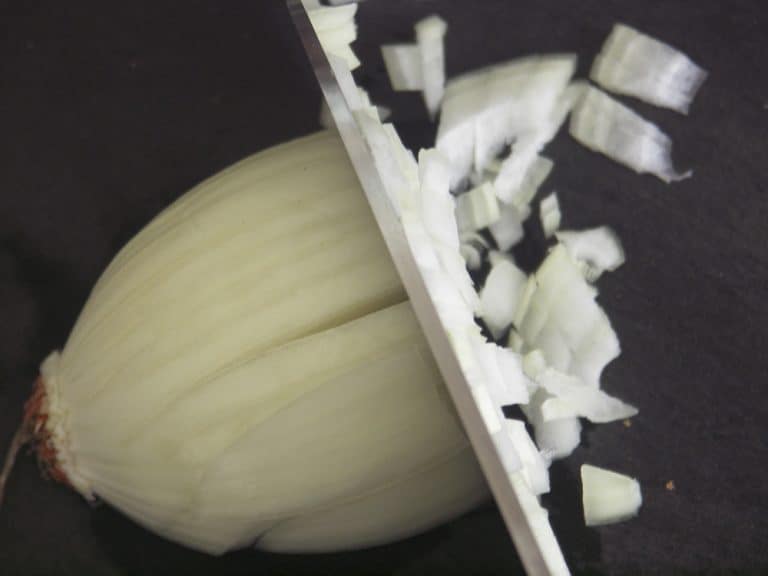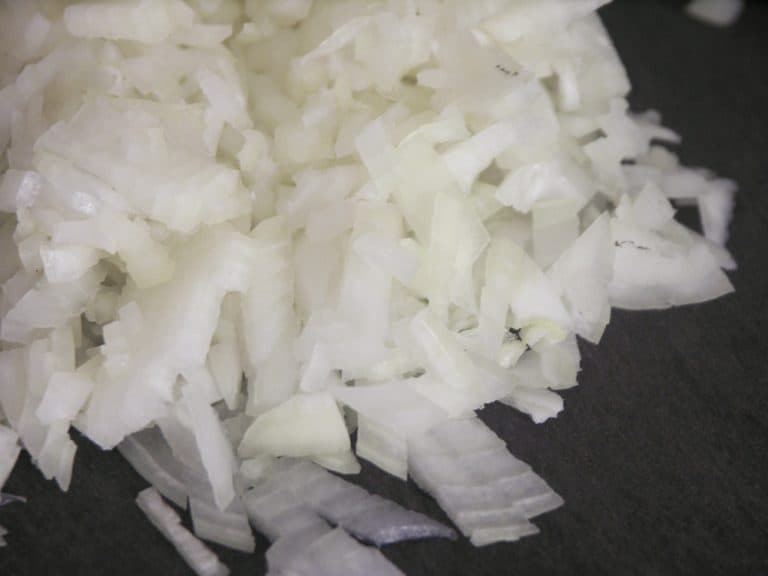 Stir the finely diced onions into the bacon fat that remains in the pan and turn the heat to low. Sweat the onions gently until they're translucent.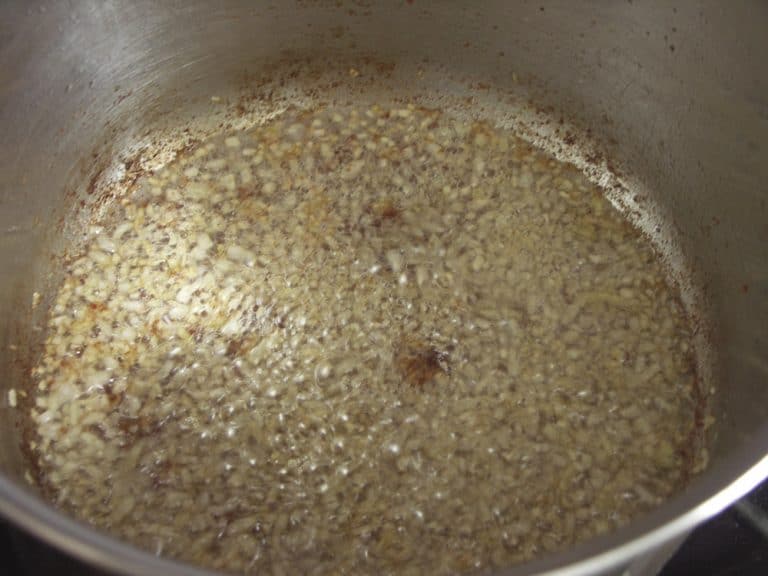 While the onions are sweating, cut each baked potato into quarters, taking care to keep the skin as intact as possible. But don't just cut them willy-nilly. Take  a second to consider your potato. Cut in half first.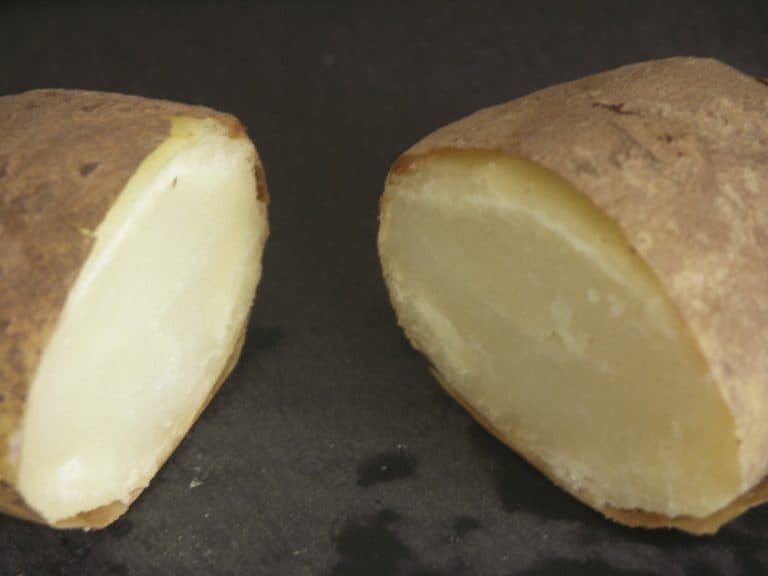 Now look at your halves. See how potatoes are generally oval shaped? You want to cut those halves in half again, but cut them so that you're cutting it through the longest angle of the oval so that your quarters will be relatively stable on the pan when you lay them down. That would be front to back on the left potato half or side to side on the right potato half.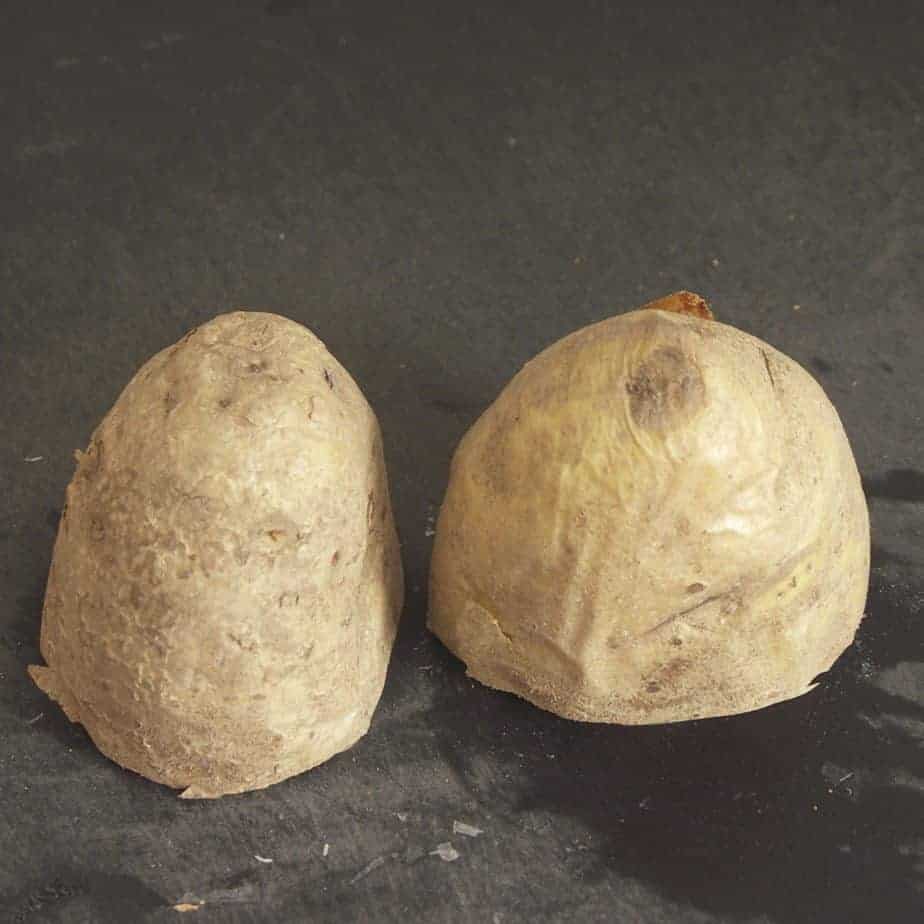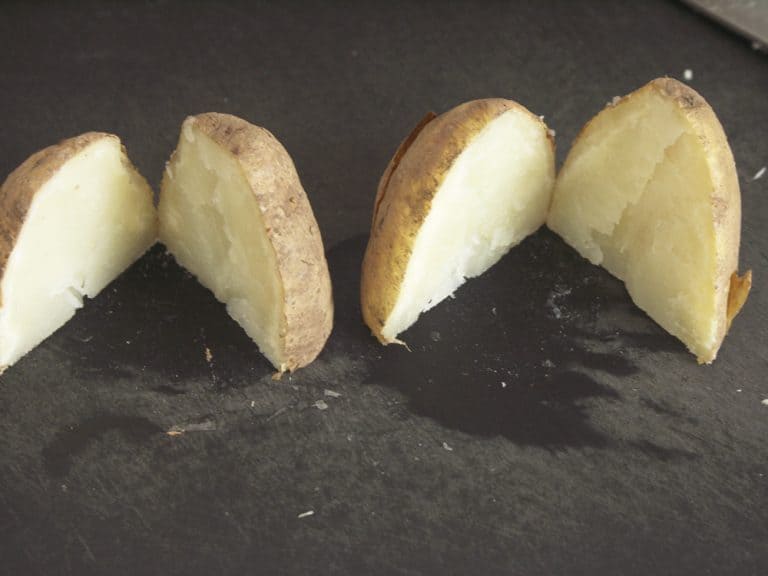 Use a regular soup spoon to carefully scrape most of the insides out of each potato quarter into a large bowl, leaving behind a shell of about 1/4 to 1/2 of an inch.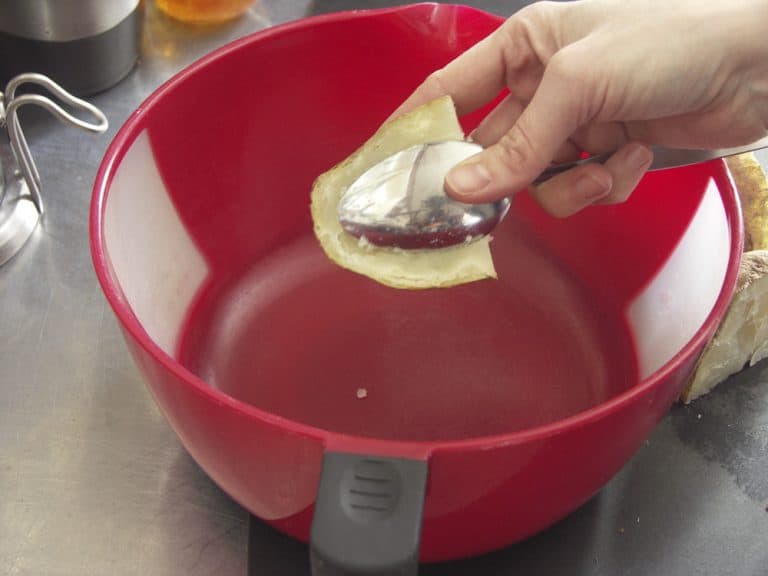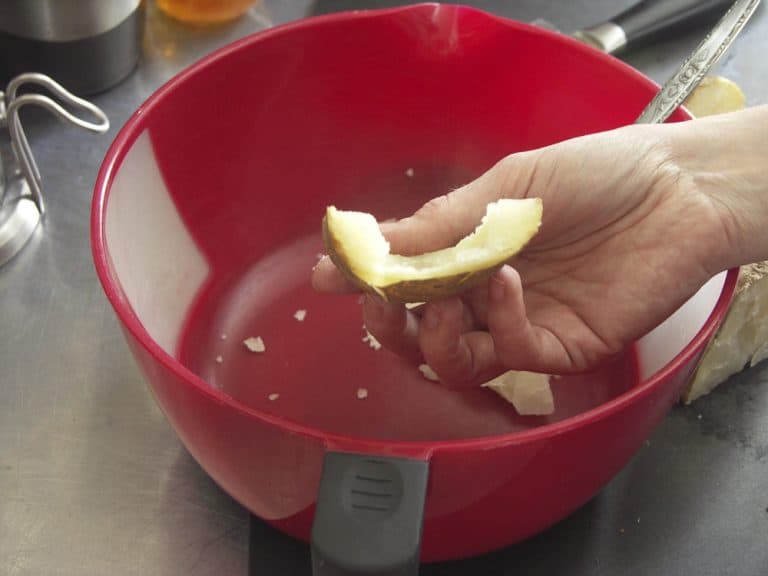 Some people might tell you to take more of the potato out of the shell, but I like my potato skins with a little meat on their bones. Mmmm. Meaty potatoes.
When you have eviscerated all your potatoes line your potato shells up on a baking sheet and cover well with plastic wrap. Refrigerate the shells for later use as potato skins. Use a potato masher to break up the remaining potato pulp.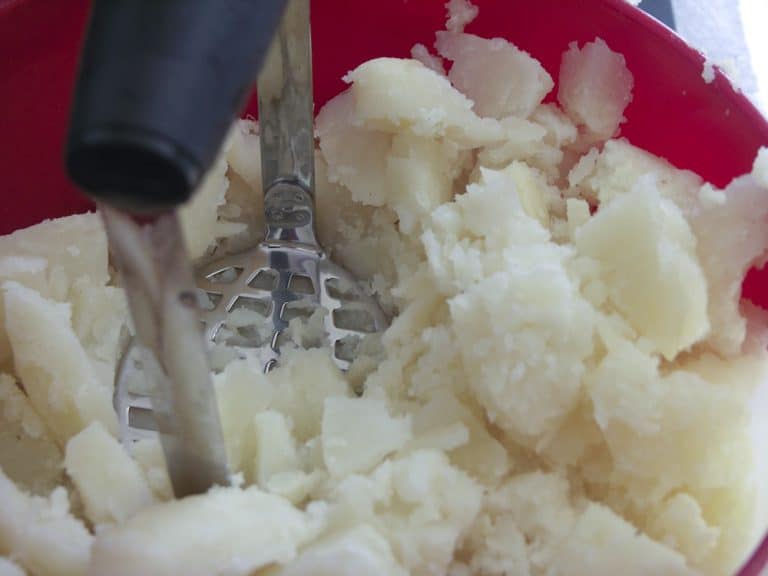 It doesn't need to be 'mashed potato' smooth, just broken into small bits. Some pieces of baked potato are desirable in the finished soup.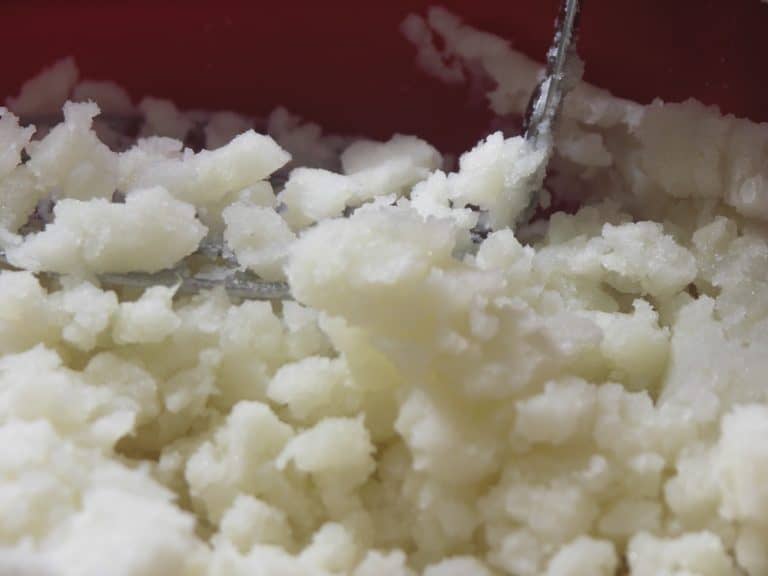 Sprinkle the flour evenly over the translucent onions and whisk until smooth.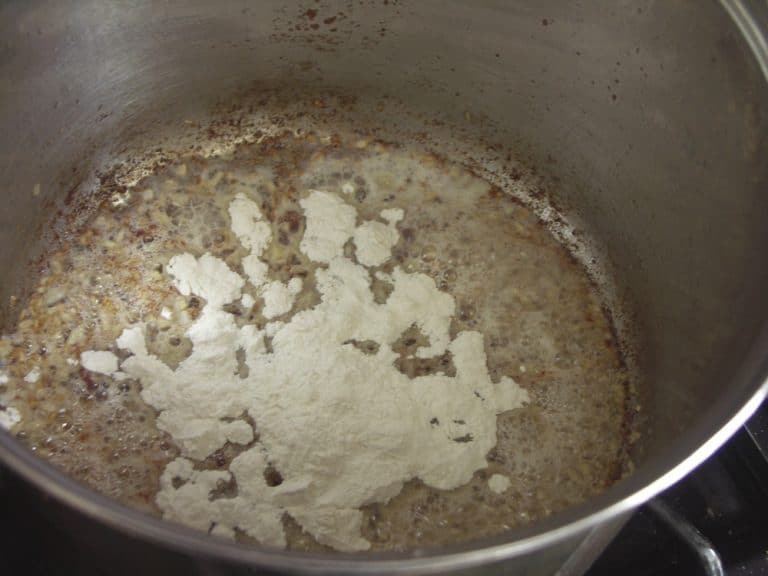 Turn the heat back to medium. Although at first the fat and flour will seem to seize up it will loosen and become liquid again fairly quickly.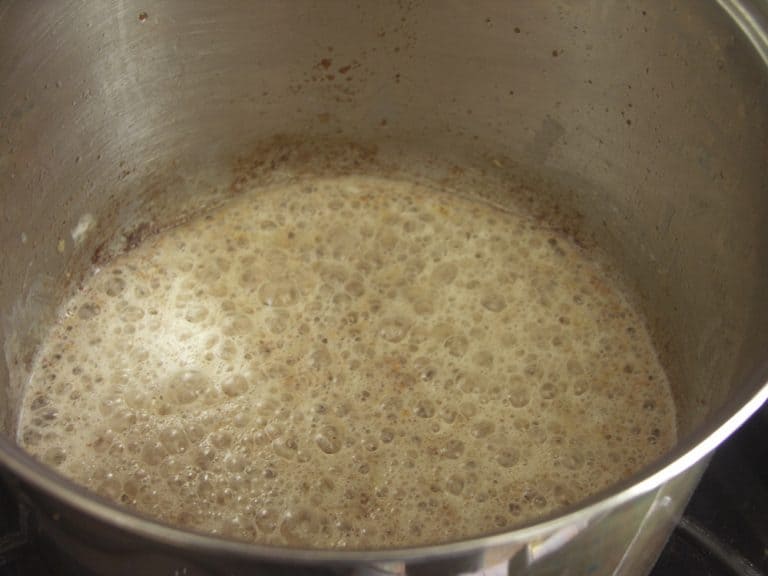 Once it returns to a liquid state and begins bubbling stir constantly and cook for 1 minute. This is your roux, or your thickener, for the soup. Whisk all of the milk into the roux and bring to a simmer. Simmer gently until thickened. To check whether your base has thickened enough dip a soup or wooden spoon into it and remove it.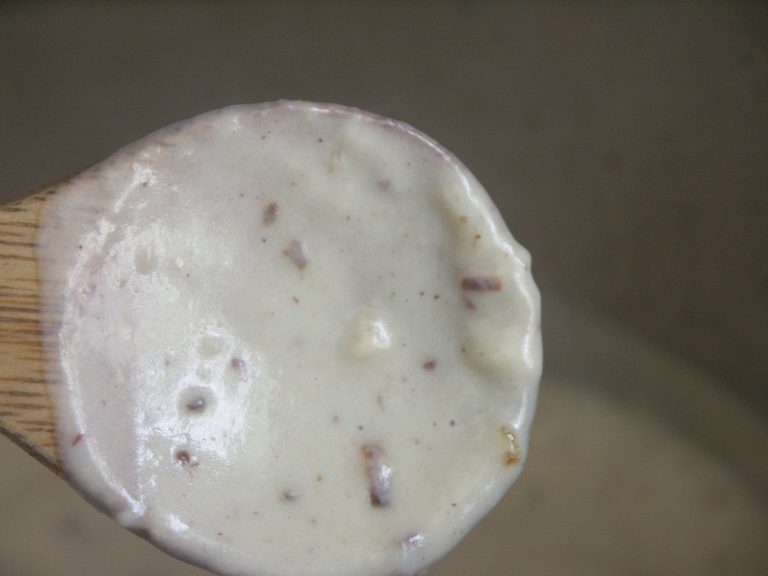 If the sauce clings to the spoon like the picture above, you're good to move on to the next step. If it is still thin, simmer a little while longer or until it does coat a spoon.
Whisk the 6 cups of chicken stock into the thickened milk base and then stir all of the smashed potato innards into the soup. With the pot over medium heat, stir frequently to prevent scorching. You don't need to boil the soup; you just need to get it steaming hot. When it is steaming check the consistency. If it is not thick enough for your liking, sprinkle two tablespoons of instant potato flakes over the top of the soup and stir in quickly. Wait a couple minutes and check the consistency of the soup again. You can continue adding potato flakes until it is as thick as you like it. We like our soup quite thick, so I have added as much as 1 cup of flakes before. Make sure, though, to wait a couple of minutes between additions as it takes a little while for potato flakes to reach full thickening power. Stir in the 2 cups of shredded Cheddar cheese until it is completely melted. Adjust flavors with salt and pepper to taste.
Remove the soup pot from the heat and serve immediately with Creamy Onion Topping, the crispy bacon pieces, sliced green onions and shredded cheese.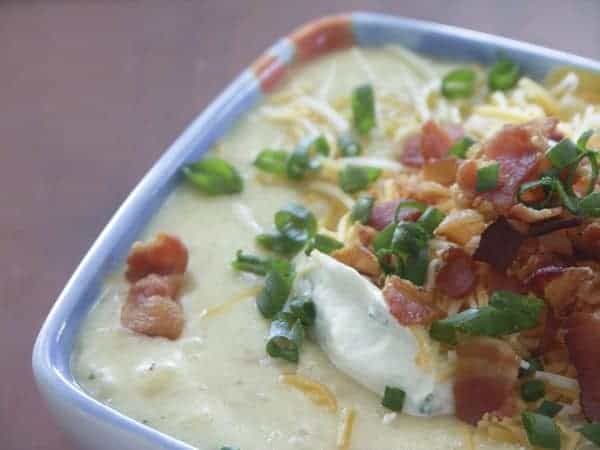 Come on. Sing it with me… Don't you want me baby?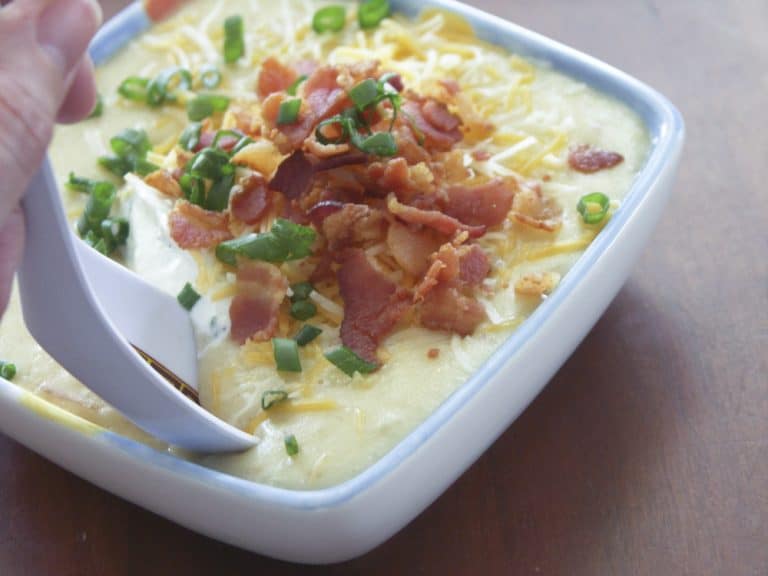 Don't you want me?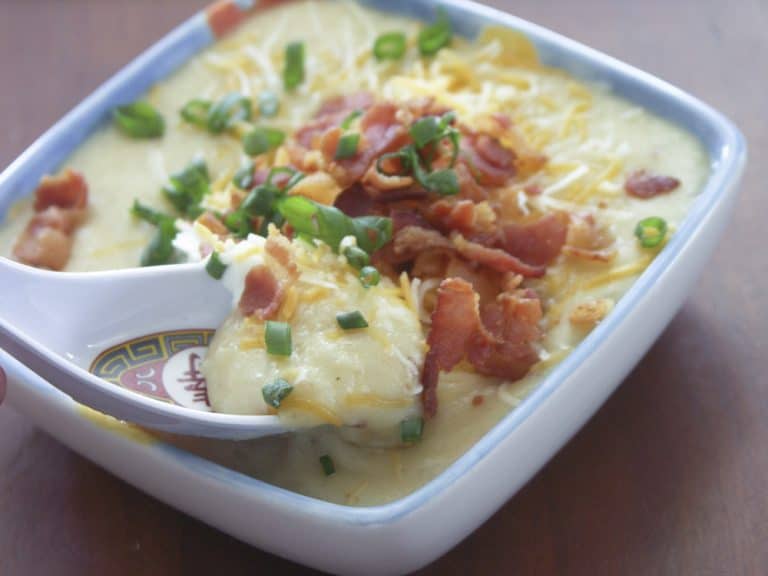 O-ohhhhhhh!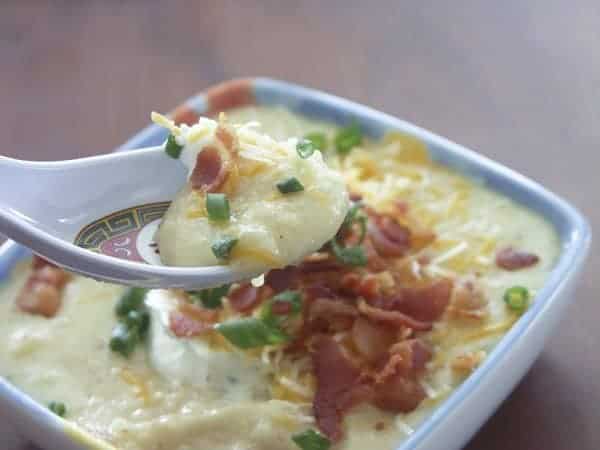 *To Bake Potatoes
Preheat oven to 400°F. Gently scrub potatoes under cool running water to remove any dirt. Pat the potatoes dry and place directly on the middle rack in your oven. Bake for 30-45 minutes, depending on the size of your potatoes. They are done when they yield to gentle pressure when you squeeze them. (Wear an oven mitt when squeezing them! )  When they are done, transfer to a rack on your counter to cool.
Don't forget. Hang on to the extra Creamy Onion Topping because tomorrow we use it  to do this evil thing.