The World Cup is about to start in Brazil. Are you looking for a Brazilian influenced light dish or appetizer to pass at a World Cup party? I have just the thing for you; Carnival Black Bean and Shrimp Puff Pastry Cups will fill you up without weighing you down. These tender, flaky puff pastry shells filled with a mixture of black beans and roasted sweet potatoes simmered with garlic and fresh squeezed orange juice are topped with a tangy, slightly spicy Greek yogurt sauce and shrimp.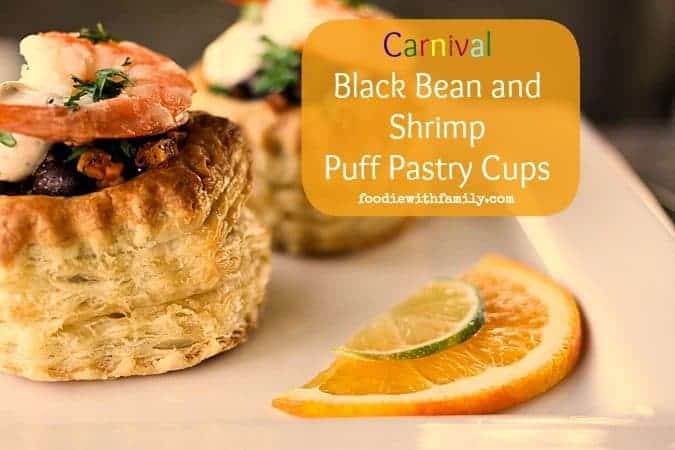 So. I'm not a soccer fan. Let's just get that right out there. I AM, however, a major fan of Brazilian cuisine, and with the World Cup less than three weeks away, I'm pleased as can be to see all the attention Brazilian food is getting. It's so fresh, vibrant, flavourful and it's really pretty healthy overall.
What really draws me in is the combination of bright flavours influenced by, well, THE WORLD. Colonists from Portugal settled in Brazil bringing their language and food with them. Settlers from Italy, Spain, Germany, Poland, and Switzerland brought more European influences with them. Japanese immigrants brought THEIR food. African slaves brought their influence to bear on the food, too, using local crops to forge a cuisine that was unique and robust in flavour.
Root vegetables, fruit, beans, and herbs are widely used in Brazilian dishes, and the dish I'm sharing today -Carnival Black Bean and Shrimp Puff Pastry Cups- pulls them all together in one fabulous appetizer that is wild with Brazilian influences and flavours.
Carnival Black Bean and Shrimp Puff Pastry Cups came about as the result of an Iron-Chef style cooking competition I was part of at Pepperidge Farms Headquarters. My teammates –Sandy of Reluctant Entertainer and Cheri Liefeld of Adventures in the Kitchen– and I were charged with creating a savoury appetizer with Brazilian cuisine touches in thirty minutes or less. We agreed that our goal was to create an appetizer that was low in stress, high in deliciousness, full of bright, inviting colours, and healthy. We were thrilled with the results and even got a "It's like a party in my mouth" compliment from one of the judges. If that isn't Iron Chef-y, I don't know what is!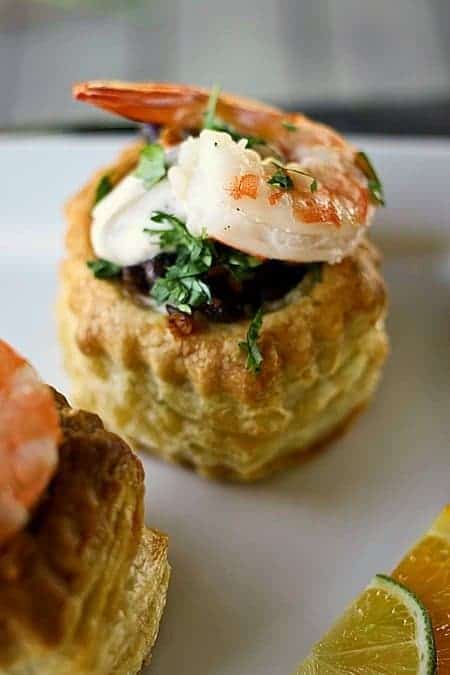 Cook's Notes:
The Pepperidge Farm Puff Pastry Cups I used were a perfect fit for this recipe. If you can't find them, you can cut puff pastry sheets into a similar shape, brush with egg yolk, and stack two or three layers on top of each other. Score (but don't cut) a circle into the top layer leaving a border of at least 1/2-inch all the way around the perimeter. When they're done baking, remove the center where you scored it, leaving a shell intact inside.
I prefer to cook raw shrimp whenever I need it, but you can certainly substitute frozen, fully cooked jumbo shrimp if you need to save time or stress while entertaining. Just thaw according to package directions and toss with a little freshly squeezed lime juice before using.
Zest the orange BEFORE you cut it and squeeze it for the juice. It makes life a little easier on you and who couldn't use that?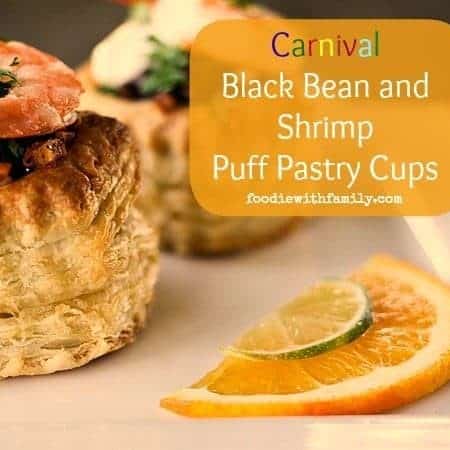 Carnival Black Bean and Shrimp Puff Pastry Cups
Rate Recipe
Ingredients
1

package of Pepperidge Farms Puff Pastry Cups

prepared according to package instructions

1/2

of a large sweet potato

2

tablespoons

plus 2 tablespoons extra virgin olive oil

divided

1/2

teaspoon

plus 1/2 teaspoon kosher salt

divided

1/4

teaspoon

freshly ground black pepper

1

can or 2 cups fully cooked Black Beans

drained and rinsed

3

cloves

garlic

peeled and pressed or finely chopped

2

teaspoons

plus 1/2 teaspoon chili powder

divided

The juice and zest of one large navel orange

juice of one lime

divided

1

bunch fresh cilantro

stems removed and finely chopped

1/4

cup

plain Greek yogurt

6

fully cooked jumbo shrimp tossed with fresh lime juice
Instructions
Preheat oven to 425°F. Line a small roasting pan with foil and set aside.

Cut the 1/2 sweet potato into 1/8 to 1/4 inch thick 'cards'. Stack the cards and cut lengthwise into 1/8 to 1/4 inch thick matchsticks. Rotate the matchsticks 90° and cut across them, yielding 1/8-inch to 1/4-inch thick cubes. Place them on the foil lined roasting pan and toss with 2 tablespoons of olive oil, 1/2 teaspoon of kosher salt, and the freshly ground black pepper. Roast for 8-15 minutes (depending on size) or until they are tender and lightly caramelized in places. Let cool on the pan while you proceed with the rest of the recipe.

Add the extra virgin olive oil to a small frying pan over medium heat. When it is warm, add the garlic along with the remaining 1/2 teaspoon of kosher salt, stirring and cooking just until fragrant. Stir in the black beans, 2 teaspoons of chili powder, orange juice, and all but 1 teaspoon of the lime juice, raising the heat to medium high until the juice starts to boil. Mix in the sweet potato bits and simmer until almost all of the juice has been absorbed by the beans. Remove from the heat and stir all but 1 tablespoon of the cilantro and all but a 1/2 teaspoon of the orange zest.

In a small bowl, use a fork to combine the Greek yogurt, reserved chili powder, and reserved lime juice until even.

Fill the puff pastry cups with the black bean mixture, top with a dollop of the Greek yogurt sauce, lay one shrimp on top of each cup and garnish with the reserved cilantro and orange zest. Serve immediately.
Nutritional information is an estimate and provided to you as a courtesy. You should calculate the nutritional information with the actual ingredients used in your recipe using your preferred nutrition calculator.
Disclosure: This post is NOT sponsored by Pepperidge Farms. As a contest winner, I received a trip to Pepperidge Farm Headquarters, but this is not an advertisement for them nor is it a compensated post. All recipes and opinions remain, as always, my own.