I'm really excited about today's post. Why? It's another one of those things I've been making for years and I'm just getting around to sharing it with you. I always feel a mixture of thrill and guilt when I share these perennial favourites. Thrill because I'm giving you something we love so much and guilt because it took me so darned long to finally give you the recipe.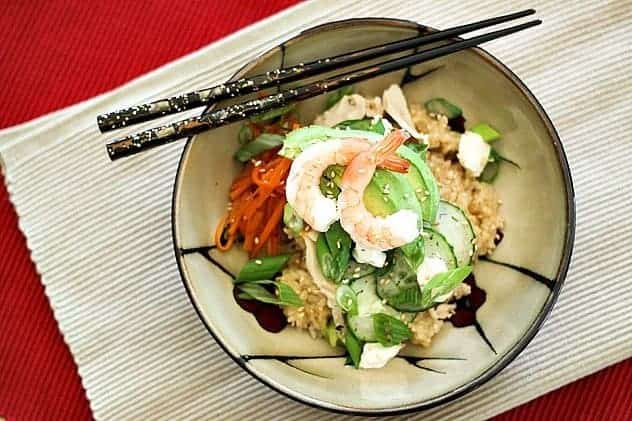 And then there's the fact that this is hardly a recipe at all so much as it is an idea. A formula. A how-to, if you will. It seems like these are always the last things I think to put here because, well, they're so simple it's almost embarrassing. Every now and then I pull up short and have to remind myself that it is just those kinds of things that I should be sharing! Good grief! Get with the program, self!
Without further ado, I present to you Lazy Sushi Bowls (also known as Scattered Sushi). This is a riff on the honest-to-goodness, real-deal Chirashizushi (scattered sushi) that is served in various regions of Japan. Chirashizushi is loose sushi rice (cooked rice tossed with seasoned rice vinegar) in a bowl topped with seafood and garnishes. It's a riff because most of the time, the real thing is served with sashimi (raw fish or seafood) and frankly, I'm way-hay-hay too far from any ocean to feel good about serving any kind of seafood I can buy around here raw. Beyond that, though, is the wacky toppings I prefer on my Lazy Sushi. My method is a very culinarily mixed metaphor. On top of the seasoned sushi rice, I pile Asian Marinated Cucumber Salad (or cubed English cucumbers), Asian Style Pickled Carrots, flaked (canned) Albacore tuna, cubed or sliced ripe avocado, cooked shrimp, sliced green onions, tiny cubes of cream cheese (thanks a million times over to Rebecca's sister, Jennifer, of Ezra Pound Cake for the brilliant homage to a Philadelphia roll for this idea!), torn seasoned nori (or Furikake), pickled ginger (when we have it), soy sauce, wasabi paste, and toasted sesame seeds. Does this mean you need all of that on hand to make this dish? The answer to that is a most emphatic no! We make these with as many or as few of the ingredients as we have or want.
I mix up a big batch of the Sushi Dressing (and really, it only takes seconds), store it in the refrigerator and then have it on hand for whenever we get the craving for Lazy Sushi (which is a pretty common occurrence.) So maybe I'm stretching the Make Ahead Monday theme a bit,  but I've waited so long to share this, I couldn't wait any longer!
Why do I call it Lazy Sushi when there are so many components? Let me break it down. The rice is cooked, tossed with the dressing and set aside to cool to room temperature while you prepare the other ingredients. If you have some leftover Asian Marinated Cucumber Salad, your cucumber portion is ready and waiting. If not? Roughly chop or cube an English cucumber (seedless cucumber). Their skin is tender, so no need to peel 'em. How simple is that? Thaw some fully cooked shrimp and remove the tails. If you have Asian Style Pickled Carrots on the shelf, you need only pop open a jar. If not? Shred a carrot on a box grater or use a vegetable peeler to get thin strips. Open and drain a can of Albacore tuna. Halve, pit and slice an avocado. Tear a sheet of nori or pop open your furikake. Wash and slice a couple green onions. Fish your bottle of soy sauce and your tube of wasabi from the back of the refrigerator. Cut some little cubes from a brick of cream cheese. Give everyone a bowl and you are off the hook. Proverbially and colloquially. Stand back and let everyone assemble their own dinner.
Are you ready for the bonuses? Because there's more. This is good for you! (Especially if you use brown rice.) This makes a killer brown-bag or picnic lunch. Finally, the biggest bonus is that The Evil Genius and I can have bowls piled teeteringly high with every single ingredient our gluttonous little hearts desire while the no veg contingent is content with a bowl of rice topped with a couple shrimp and soy sauce. It's almost endlessly customizable and as all you parents (or spouses) out there know, the ability to make a dish that everyone can love is worth more than its weight in gold. This is another Unicorn Dish in our household.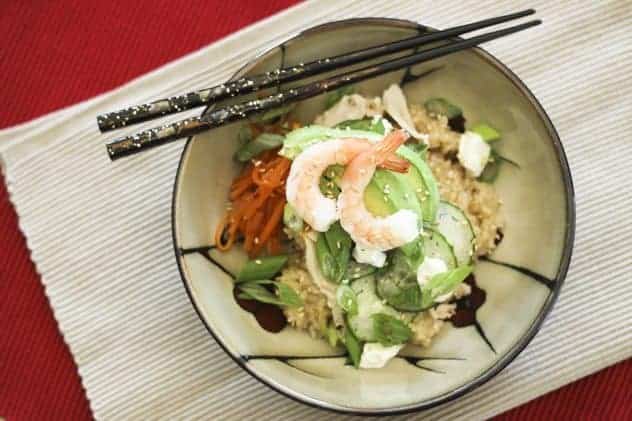 Lazy Sushi -seasoned sushi rice topped with your favourite sushi toppings- is great for fun family dinners, entertaining (because EVERYONE Lazy Sushi Bowls (a.k.a. Scattered Sushi)loves it), movie nights and those hot, steamy summer nights when the mere thought of cooking makes you break into a sweat. These are also great for picnics and brown-bag lunches. Just store the rice outside of the refrigerator (or cooler) and keep the remaining ingredients chilled. Assemble and eat!
Ingredients
For the Sushi Dressing:
1

cup

plain rice vinegar

2

tablespoons

raw sugar or white granulated sugar

1

tablespoon

plus 2 teaspoons kosher or sea salt
For each serving of Lazy Sushi:
1/4-1/2

cup

uncooked short grain rice

preferably sweet brown rice, but short grain white rice is good, too.

1

tablespoon

Sushi Dressing

see above
Optional:
1/4

of a ripe avocado

(peeled, pitted and cubed), tossed with a little rice vinegar to prevent browning

1/4

cup

Sweet and Spicy Asian Style Pickled Carrots or 1/2 of a carrot

grated or peeled into thin strips with a vegetable peeler

1/4

cup

Asian Marinated Cucumber Salad or about 2 tablespoons of finely cubed English or seedless cucumbers

1/2

of the contents of a drained can of Albacore tuna

flaked

2-4

pieces

of fully cooked shrimp

cleaned with the tails removed

3-4

small cubes

about 1/4-inch or so cold cream cheese

thinly sliced green onions

to taste

wasabi

to taste

soy sauce

to taste

torn or cut nori (or furikake

to taste

toasted sesame seeds

to taste
Instructions
To Make the Sushi Dressing:
Combine all of the dressing ingredients in a microwave safe bowl (or in a small saucepan), heat until very warm and stir until the sugar and salt are dissolved. Pour into a canning jar or other heat proof container with a tight fitting lid and store in the refrigerator for up to one month, using as needed.
To Prepare the Lazy Sushi Bowls:
Cook the rice according to package instructions (I prefer to use my rice cooker.) When the rice is done, turn it into a large-ish mixing bowl, fluff it gently and pour the appropriate amount of Sushi Dressing over the top. Fold the dressing in gently, taking care not to smash the rice. Lay damp paper towels over the surface of the rice to prevent it from drying out and let the rice cool to room temperature.

When the rice is cool, divide among serving bowls and let the diners assemble their own Lazy Sushi.
To Pack for Lunch or a Meal Away from Home:
Pack the rice in a container with a tight fitting lid and a great deal of room between the rice and the top of the container. (This is to accommodate the toppings once added.) Pack the toppings in separate containers, combining those items which need refrigeration (such as the fish, cubed avocados with rice vinegar, cream cheese, etc...) Store the rice outside of the refrigerator (preferably in a cool-but-not-cold, dark place) and the remaining ingredients in the refrigerator (or cooler). Assemble just before eating.
Nutritional information is an estimate and provided to you as a courtesy. You should calculate the nutritional information with the actual ingredients used in your recipe using your preferred nutrition calculator.