This Kielbasa and Pierogies Sheet Pan Meal is one of our family's favourite go-to meals in the winter and fall months. We hope you love it as much as we do!
Can I see a show of hands for people who are absolutely mad for pierogies? I don't see how there could be a much more perfect food: mashed potatoes and cheese (or maybe onions) wrapped up in a perfect pasta pocket.
Seriously.
Pierogies almost reduce my linguistic skills to guttural noises. Uhhhhnnnnnn.
For years upon years, I've made pierogies one of two ways: pan-fried with butter and onions (HELLO CHOLESTEROL) or baked. "Baked pierogies?" you ask?
Oh yeah. Big time.
It's the fast, furious, fabulous way to make pierogies… no need to thaw them, just toss them with some oil and spices and throw them onto a sheet pan and into a hot oven. While they heat, they get puffy and turn a gentle golden brown.
Crispy edges around smooth, fluffy mashed potatoes and cheese. Is anyone else drooling?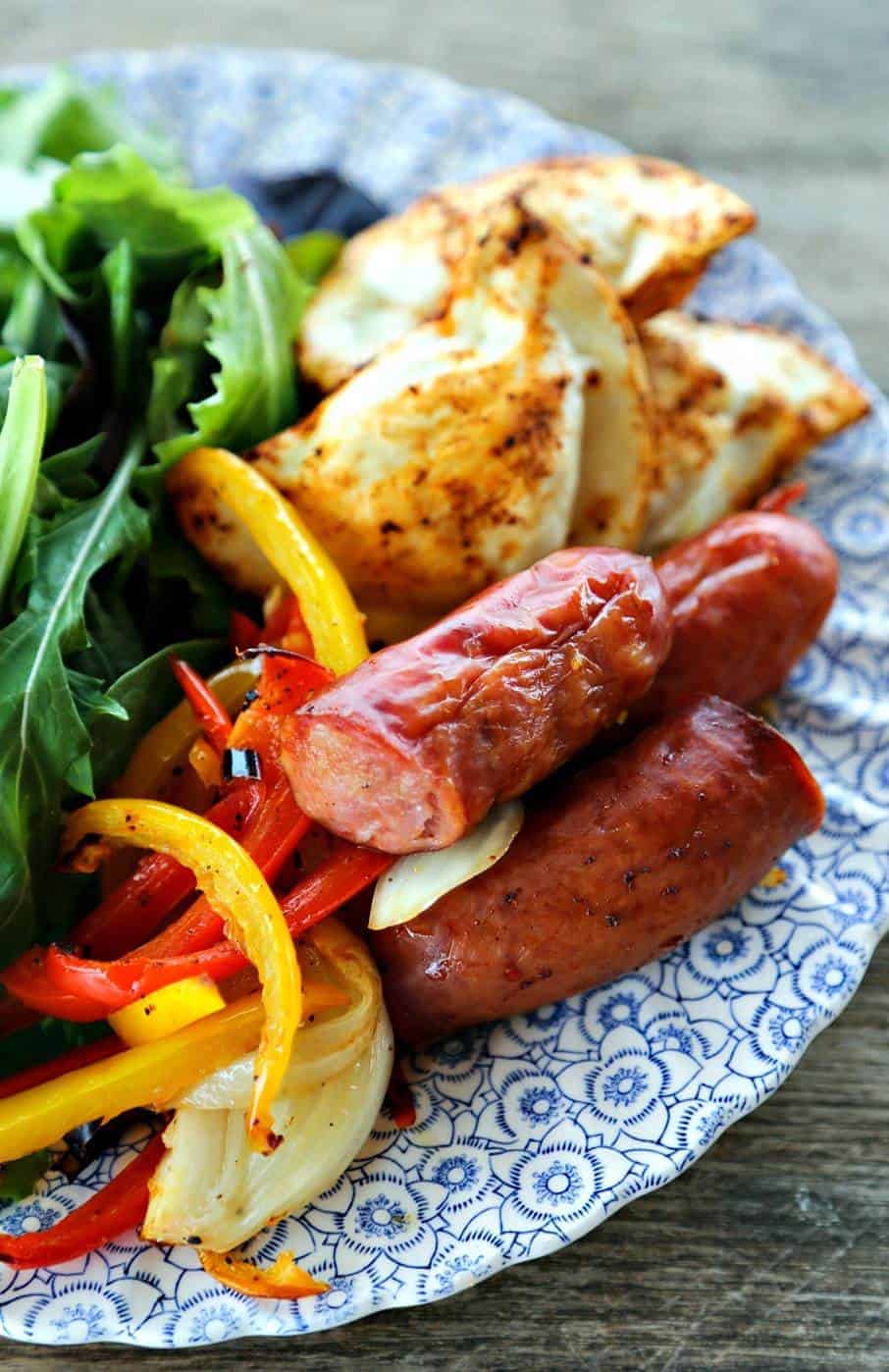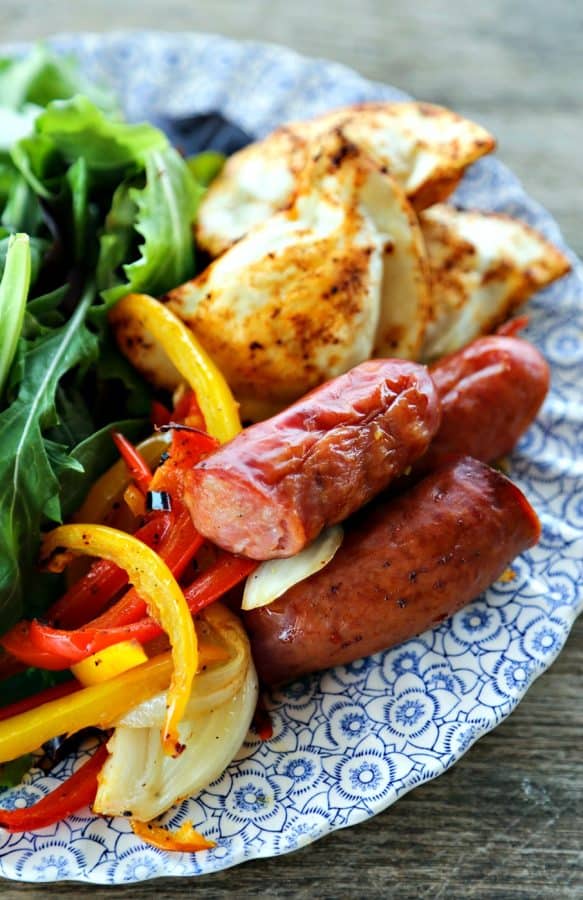 I wouldn't have thought it could get any better than that. Then one night when I was DREADFULLY busy and needed a fast meal to feed my family.
I cut up a couple packages of kielbasa, tossed some halved baby bell peppers and sliced onion with some olive oil and salt. Then I threw all of them around the edges of the sheet pan I had loaded up with pierogies.
I banged that pan into the oven and went off to finish the project that was looming. Within fifteen minutes my house smelled so good I was tempted to gnaw on the ankle of some small passing child or dog.
Within thirty minutes I was taking a tray of plump, juicy, brown kielbasa, puffy pierogies, and lightly charred onions and bell peppers from the oven. The anticipation was killing us.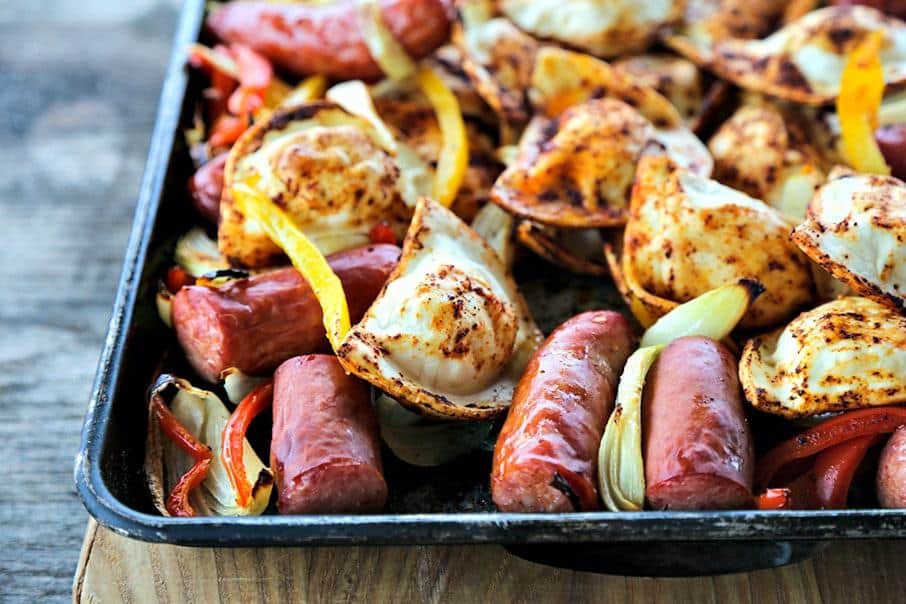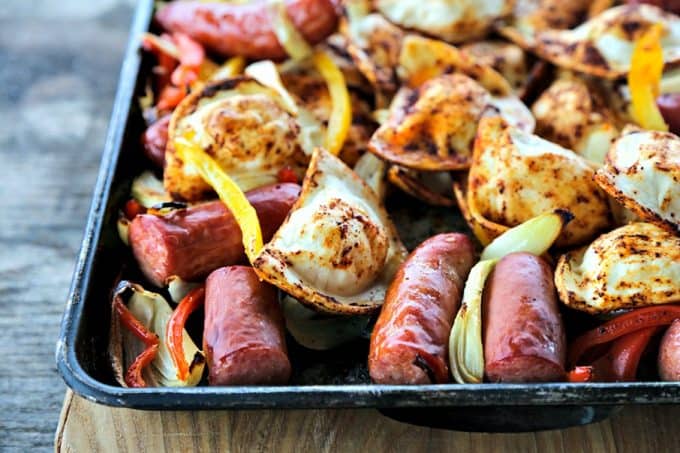 A little bit of everything from the pan made it onto our dinner plates (minus the scary, frightening bell peppers for the anti-veg crew) along with a lovely spoonful of grainy mustard. We added  a salad (which is -inexplicably but still gratefully- okay with the anti-veg contingent) and dinner was served.
Then it was devoured. Then it was requested again and again and again.
Ah, simplicity. You taste so darned good.
What Kind of Sausage for Sheet Pan Meal?
My preference is for fully cooked kielbasa, but you can also use smoked sausages with good results!
If you're using a raw sausage (like Italian sausage), you'll want to proceed just a bit differently. You can see this Italian Sausage Sheet Pan Meal recipe for ideas.
How do I cook pierogies?
Traditionally, pierogies are first boiled in water, then sautéed in butter with onions. That is truly delicious, but that messes up two extra pans!
In our kielbasa and pierogies sheet pan meal, we simply toss the frozen pierogies with a little oil and some seasoning and let the dry heat of the oven do the work. The result is a crisp-edged, fluffy pierogie that's different than a boiled one, but equally delicious.
Can I use homemade pierogies?
In short, I think so, but haven't tried it myself. Homemade pierogies are little bits of heaven, so give it a try and let me know!
Use these to make Kielbasa and Pierogies Sheet Pan Meal:
Connect with Foodie with Family
facebook | pinterest | instagram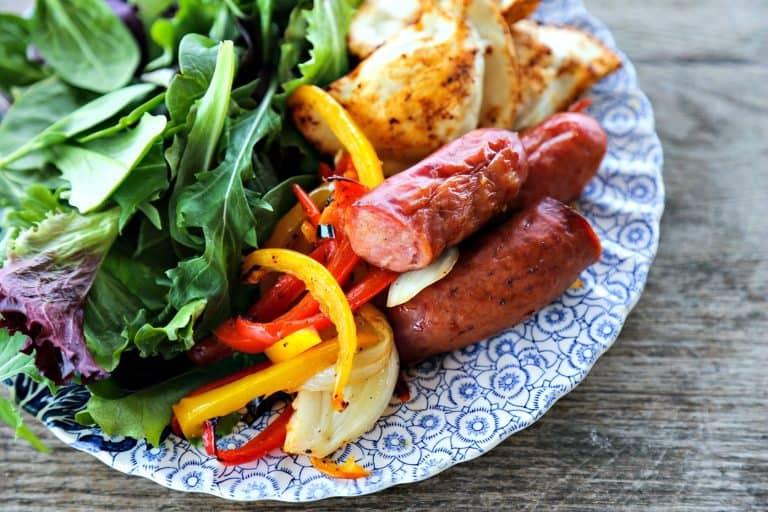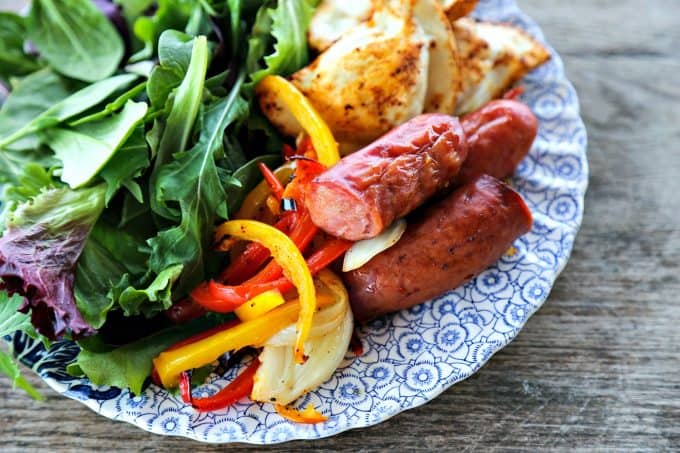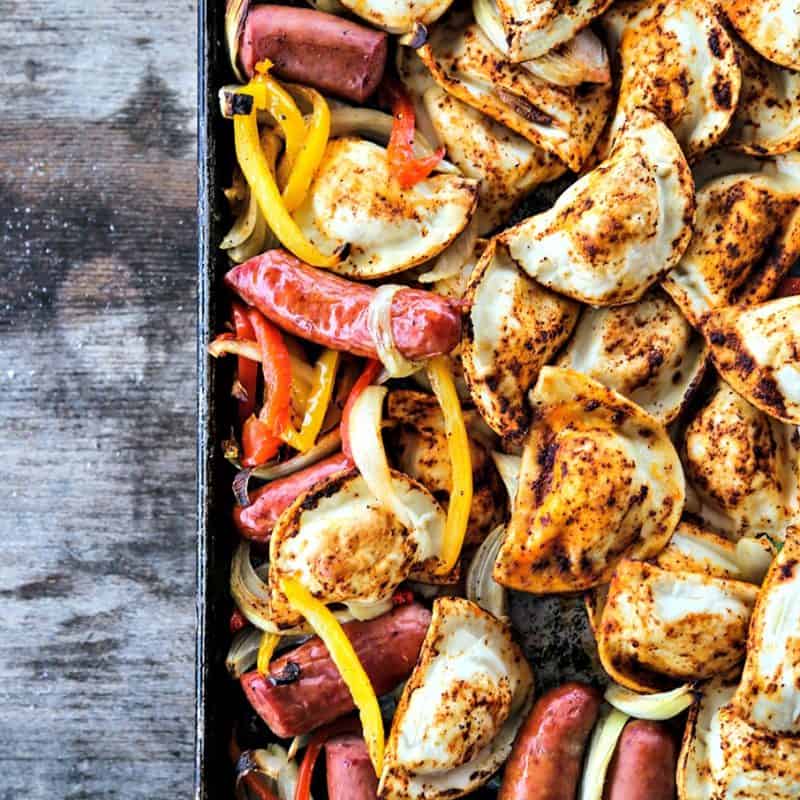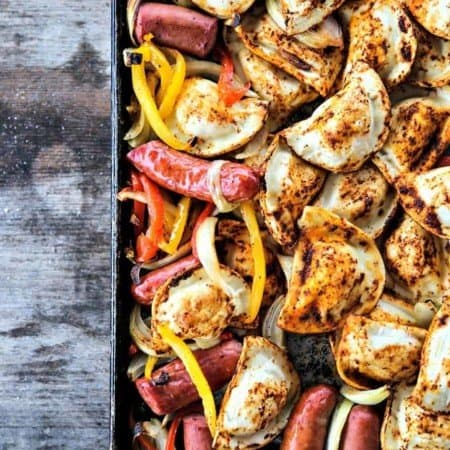 Take a one-pot dinner to the next level with this baked Kielbasa and Pierogies Sheet Pan Meal. It's a delicious and efficient way to get dinner on the table even on the busiest nights.
Ingredients
2, 14

ounce

packages Kielbasa

I like Hillshire Farms brand because it's readily available.

2

medium onions

peeled, halved, and cut into 1/2-inch thick strips

12

baby bell peppers

or 2 large bell peppers, stemmed, seeded and cut into 1/2-inch thick strips

1

tablespoon

olive oil

1/2

teaspoon

plus 1 teaspoon kosher salt

divided

1/2

teaspoon

freshly ground black pepper

24

frozen pierogies

2

tablespoons

canola or peanut oil

1

tablespoon

chili powder

2

teaspoons

Tabasco or preferred hot sauce

1/2

teaspoon

granulated garlic or garlic powder

1/2

teaspoon

granulated onion or onion powder
Optional for serving:
any robust mustard like grainy Dijon

smooth Dijon, spicy brown, etc...
Instructions
Preheat oven to 400°F.

Cut the kielbasa into 4-6 inch lengths and arrange around the outside of the sheet pan. Toss the onions and bell peppers with the olive oil, 1/2 teaspoon of kosher salt, and black pepper in a large mixing bowl then use your hands or tongs to move it to the pan, depositing it between the lengths of kielbasa.

In the same large mixing bowl you used for the peppers and onions, toss the pierogies with the remaining ingredients to coat, then arrange those in the center of the sheet pan. The goal is to get as many pierogies touching the surface of the pan as possible. Try not to have multiple layers of pierogies. Place the pan in the oven. After 15 minutes, try to remember to flip the pierogies over, having any that weren't touching the pan do so now. If you forget, it's not a disaster, but they'll be better if you remember.

Bake an additional 15 minutes, for a total of 30 minutes or until the pierogies are puffy and beginning to show signs of golden brown around the edges, the sausages are plump, and the onions are crisp tender. Serve immediately with a nice salad.
Nutrition
Calories:
887
kcal
Carbohydrates:
90
g
Protein:
37
g
Fat:
42
g
Saturated Fat:
13
g
Trans Fat:
1
g
Cholesterol:
142
mg
Sodium:
1809
mg
Potassium:
231
mg
Fiber:
7
g
Sugar:
7
g
Vitamin A:
1291
IU
Vitamin C:
46
mg
Calcium:
57
mg
Iron:
22
mg
Nutritional information is an estimate and provided to you as a courtesy. You should calculate the nutritional information with the actual ingredients used in your recipe using your preferred nutrition calculator.
This post was originally published Februay 15, 2017 and republished January 2021 with improved notes.