People.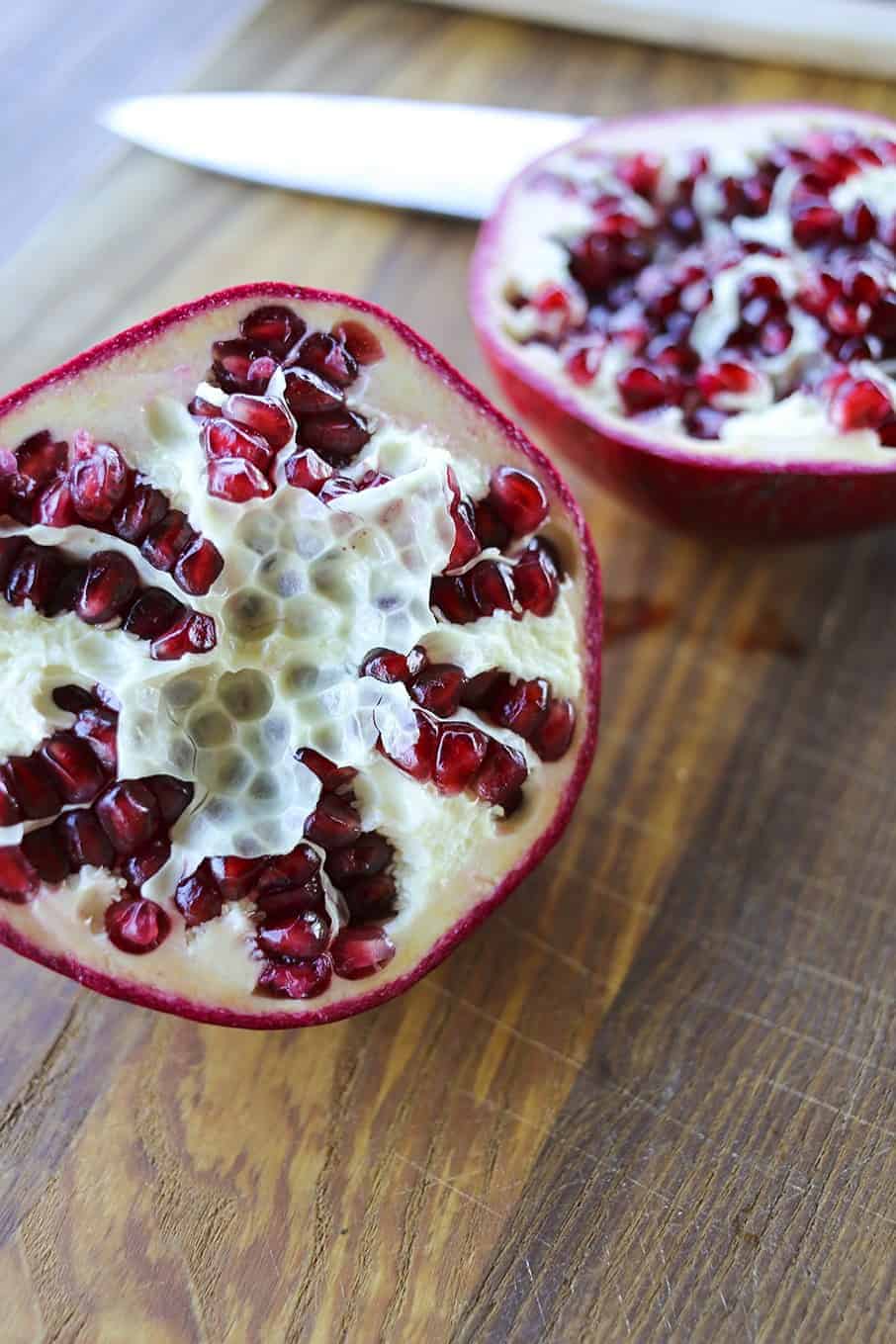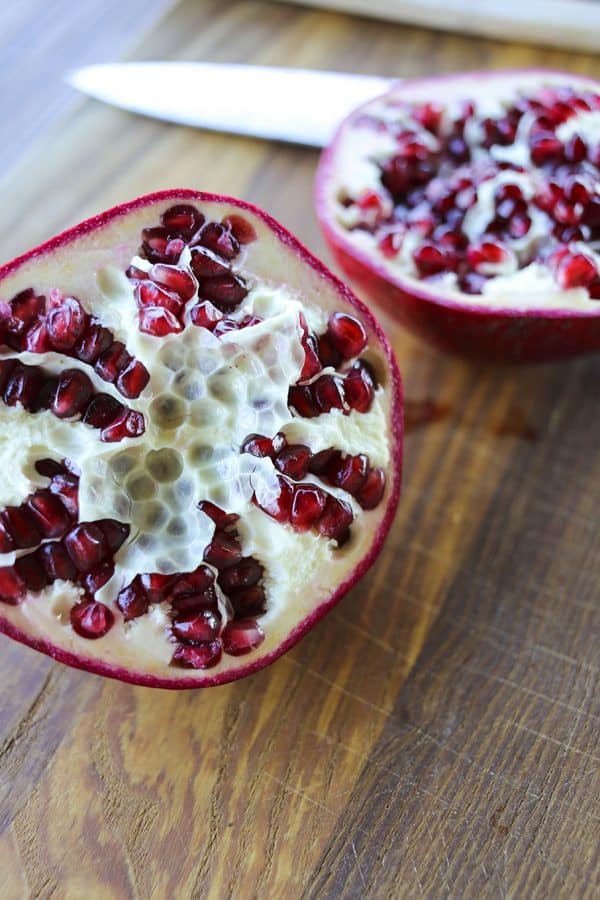 You need more pomegranates in your life. First of all, they're beautiful and we could all use a little more beauty in our lives. Leaving that aside, though -and arguably more importantly- is the fact that pomegranates are a powerhouse of nutrition. The seeds are chock full of dietary fiber, antioxidants, Vitamin C, manganese, B-complex vitamins, Vitamin K, calcium, and potassium and all sorts of other fantastic-for-you-things. So why do so many people avoid buying them or purchase them and let them slowly dehydrate in their refrigerators? Because pomegranates have a bum reputation for being difficult to break down. I've heard methods that involve giant bowls of water and cutting the pomegranates into quarters, but no more, folks. I have the solution. This is an almost mess-free method on how to deseed a pomegranate in 1 minute or less. I'm not even kidding. I even made you a video to show you how unbelievably simple it really is. The worst of it is that a little juice splatters; a quick swipe of the counter with a damp washcloth or paper towel, and you're as good as new!
How to choose a perfect pomegranate:
First, close your eyes. Pomegranates can be pretty un-photogenic even if they're delicious on the inside. You want to use your sense of touch to make your preliminary choice. Choose a pomegranate that is a good size, filling your hand comfortably and possibly bigger than your palm. It should feel heavy for its size. If you don't know what that entails, pick up a few pomegranates that are roughly the same size and pick the one that feels heaviest. The heavy feel indicates a nice, juicy pomegranate. Now you use your eyeballs. The skin should be firm and not puckery. Choose a deep coloured pomegranate. It doesn't matter so much if it is reddish brown or deep red, just don't choose a pale one.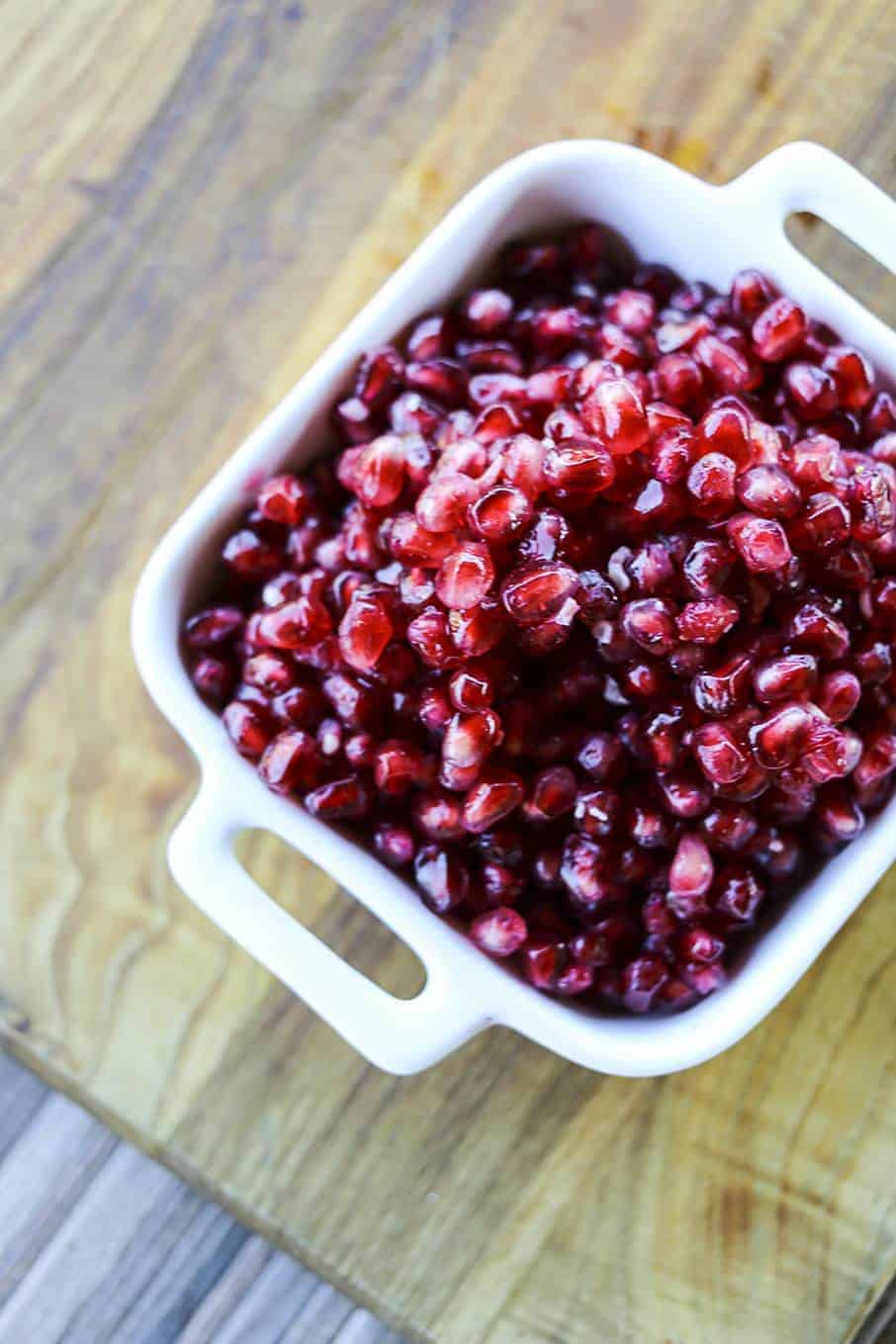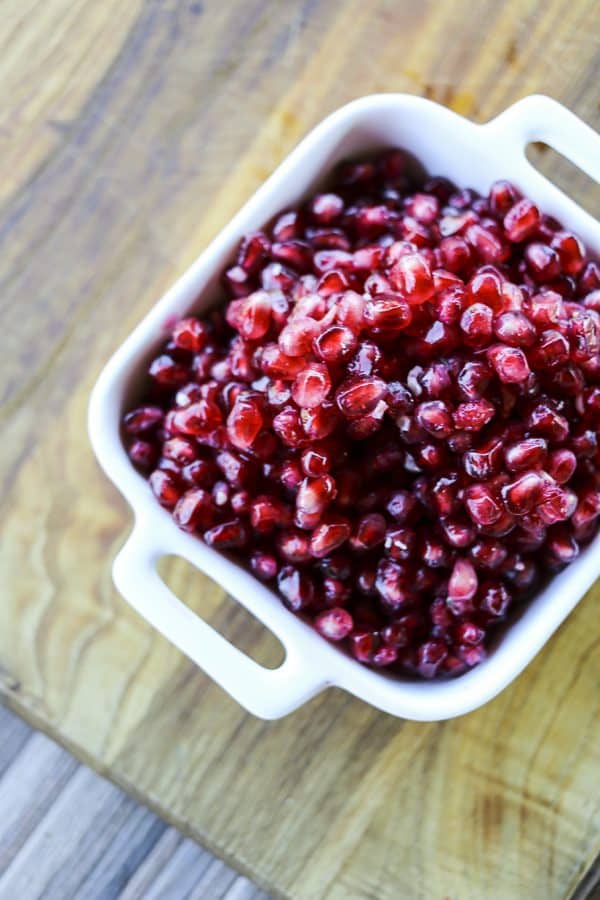 Now that you have a ton of pretty little pomegranate seeds, what do you do with them?
Scatter over tossed salads for a pop of flavour and colour.
Garnish all sorts of dishes for festive holiday flair; take this dish, for example.
Scoop over a bowl of Greek yogurt or oatmeal to add some nutrition and colour to your breakfast.
Eat by the handful. (…Or is that just me?)
Spoon over your bowl of vanilla ice cream. Boom. You just made your ice cream nutritious. Shhh. Don't tsk me.
Now let me break down the method in words for our Reader/Writer learning types out there!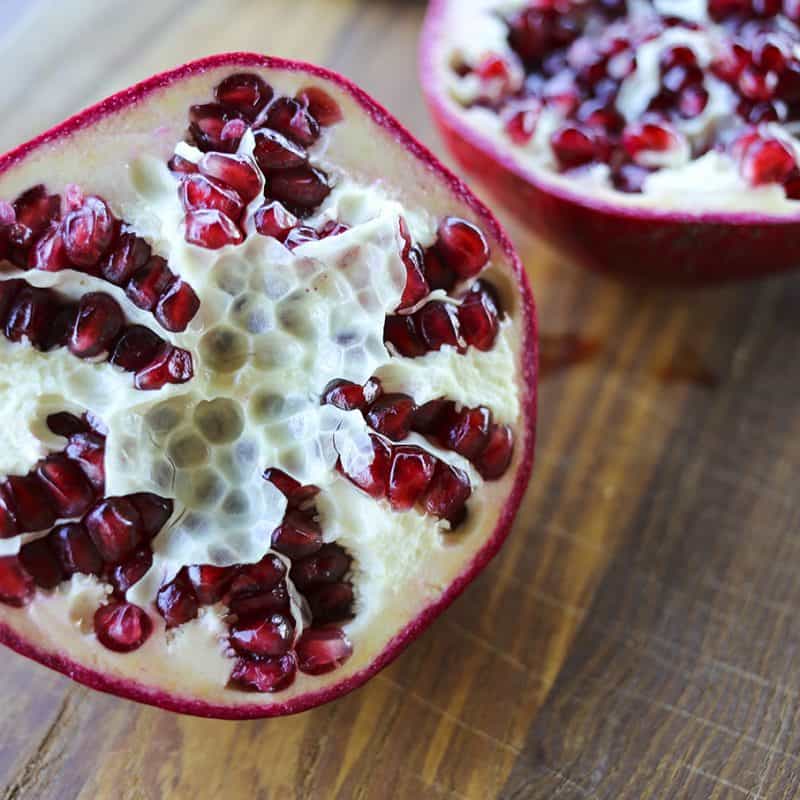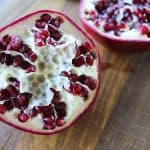 How to Deseed a Pomegranate in 1 Minute
Instructions
Score about 1/4-inch deep into the pomegranate around the equator of the fruit. Do not cut all the way into the fruit, you really just need to cut through the red exterior to where it begins to turn white. Push your fingers into the seam and use them to pry the fruit apart into halves.

Put one half, cut side down, on your hand over a bowl. Use a sturdy wooden spoon to thwack the pomegranate firmly a couple of times, turn the fruit a quarter of a turn and repeat. Be sure you smack every inch of the fruit,repeating until all of the seeds have been released into the bowl. Repeat with the second half. Clean out any little bits of pith that fell into the bowl. Serve immediately or store in an airtight container in the refrigerator for up to 5 days.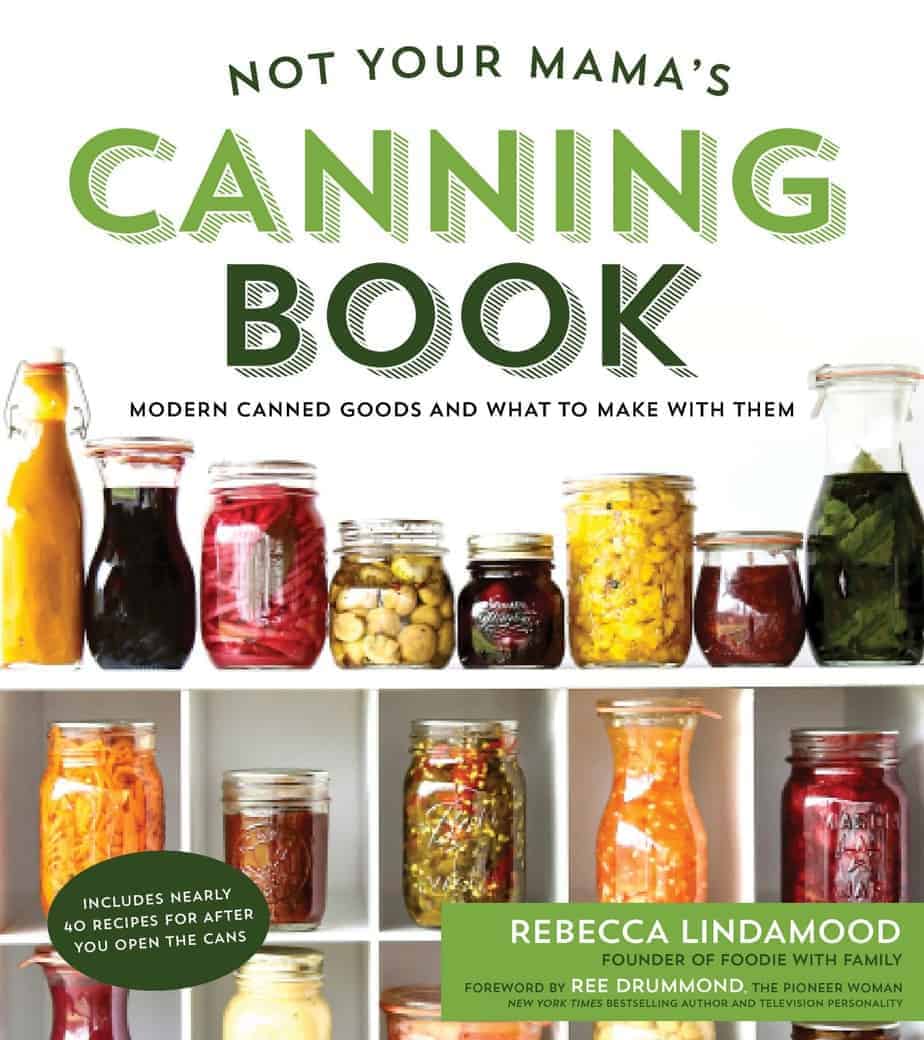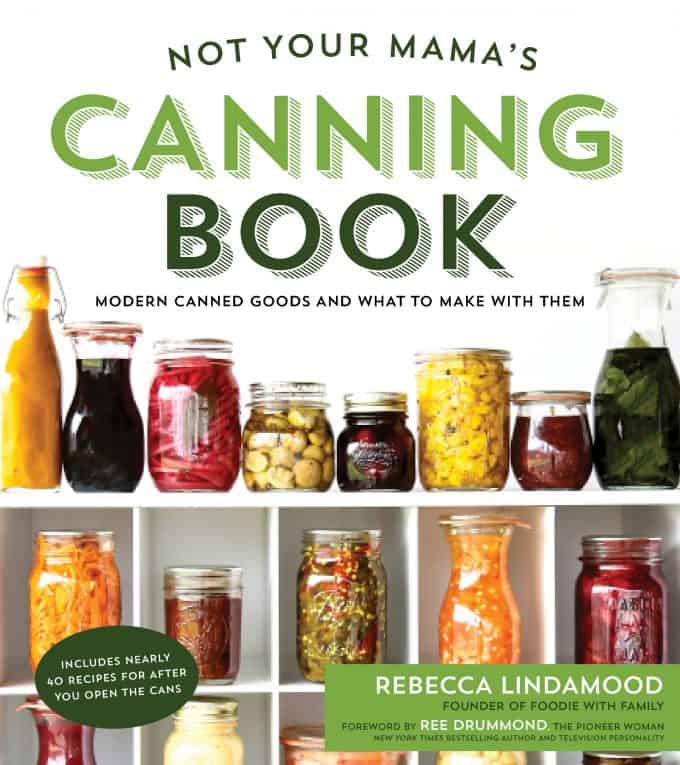 Not Your Mama's Canning Book: Modern Canned Goods and What to Make with Them is available to order through these fine retailers!