A couple of weeks ago, I got to spend the weekend in Phoenix, Arizona at the home of one of my best buddies (who also happens to be a blogger) with a bunch of great bloggers for a weekend of picking each others' brains, sharing blogging strategies, and cheesemaking. Having that many food bloggers in one place, you might think we also ate a lot. You'd be thinking correctly. Our collective favourite of the weekend was Snooze A.M. Eatery: a brunch-only restaurant. The line for a table snaked around the parking lot. We put our names on the list and did a little shopping while we waited. When we finally got our table, we ordered nearly everything on the menu to get a better idea of why they were so popular. In short? It's because all of their food is awesome. Of everything we sampled,  though, one stood out as a clear winner for the whole group: The Spuds Deluxe. Snooze's menu describes the Spuds Deluxe as being "A heaping portion of our hash browns, covered with melted cheddar & jack cheese, scallions plus choice of two fillings. …Soooo good with a cage free egg or two." We ordered our serving of Snooze Spuds Deluxe with beef barbacoa, bacon, and a fried egg because "PUT AN EGG ON IT" is my life motto at this point.
As I ate my way through my friend's plate (because she was the smart one who ordered the Snooze Spuds Deluxe), I knew I couldn't wait 'til I was in Phoenix again to have one of these glorious piles of delicious brunch brilliance. Within two days of being home, I had already started nailing down my beef barbacoa recipe so I could make Copycat Snooze Spuds Deluxe.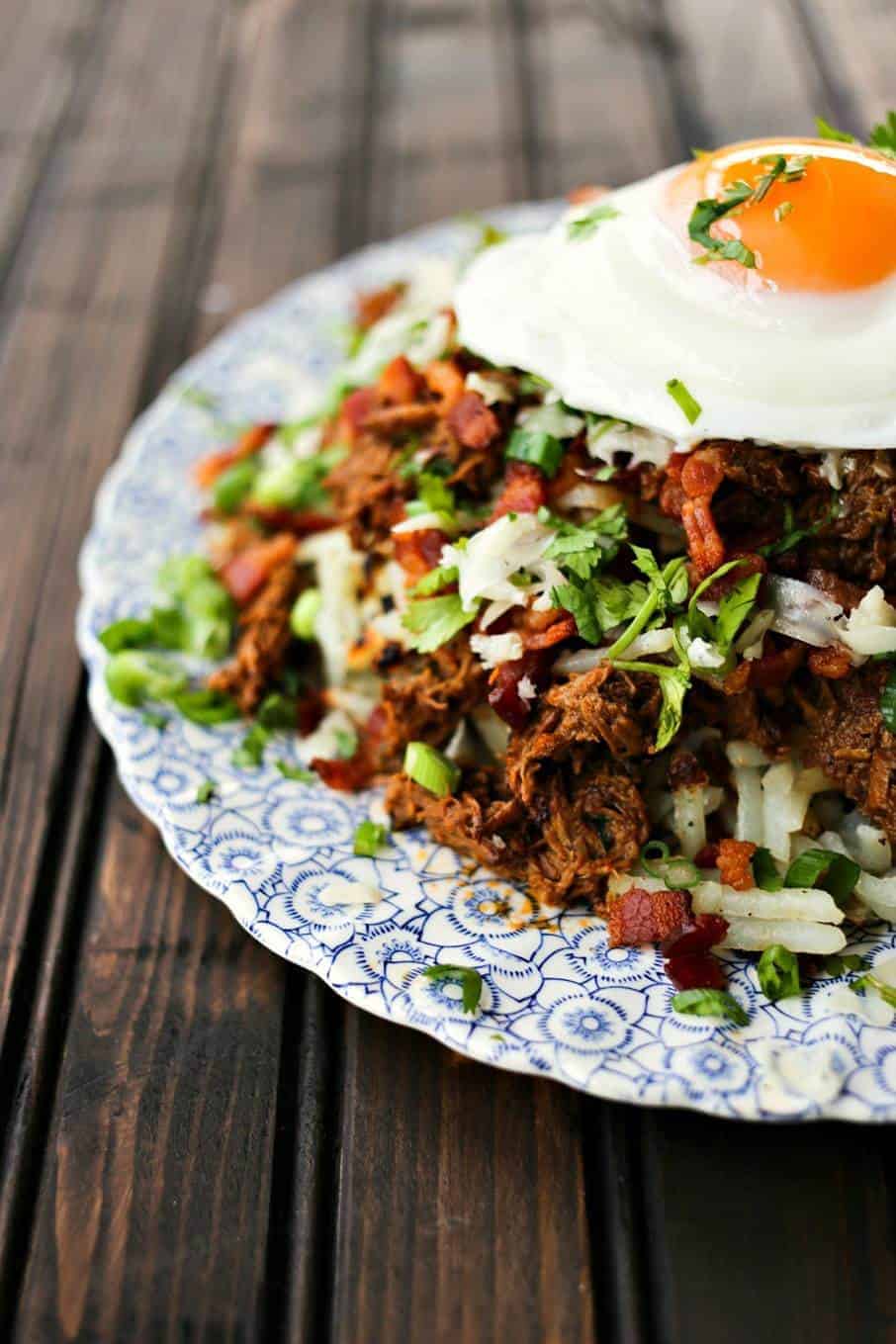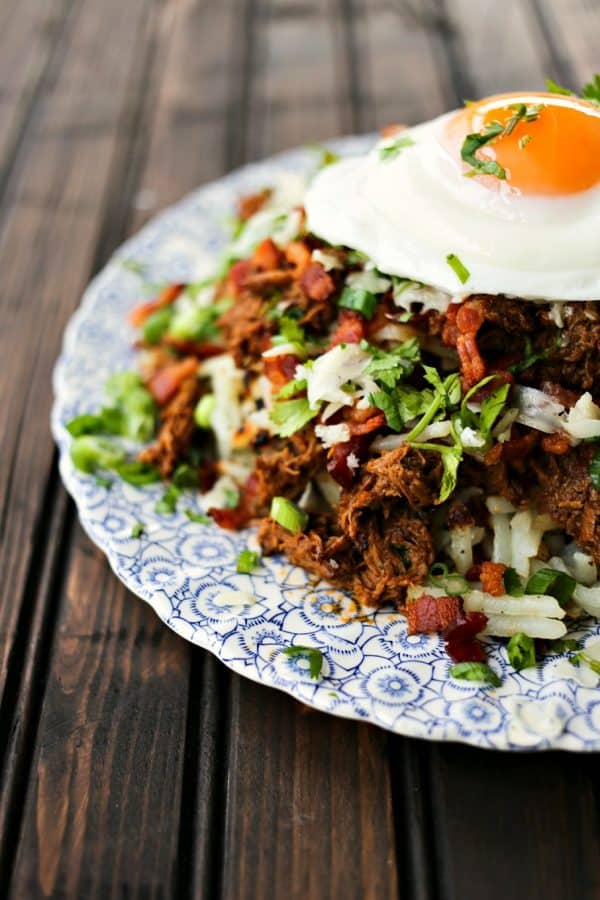 Happily, the process was a speedy one, and before I knew it, I was plunking a plate of Copycat Snooze Spuds Deluxe onto my table in front of my menfolk's happy, bugging-out-of-their-head eyes.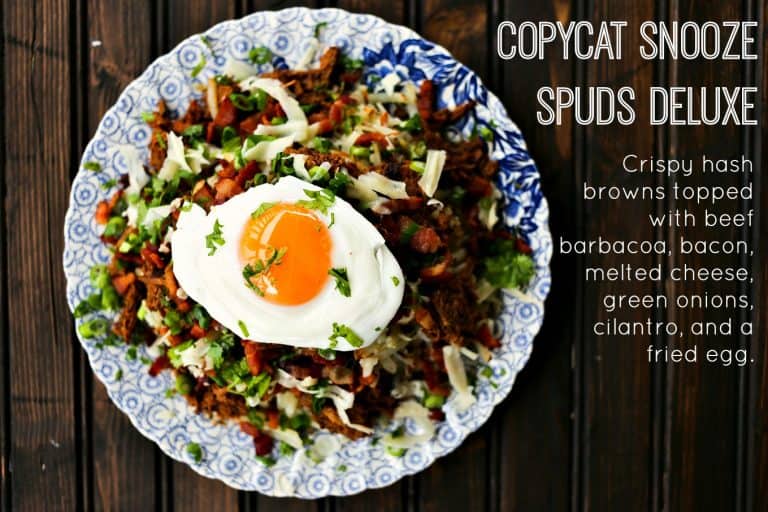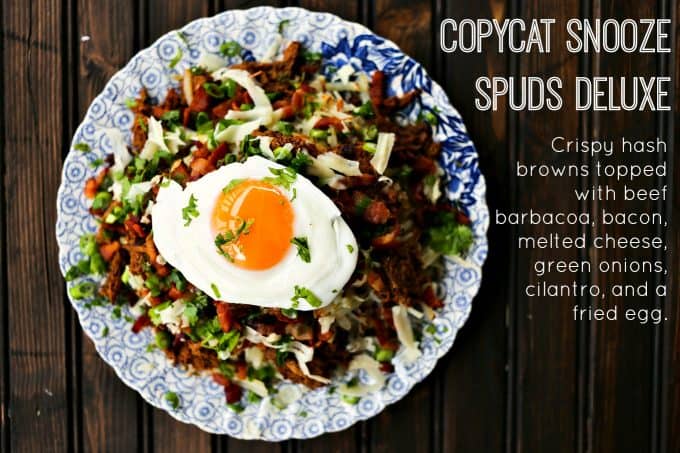 Their reaction to the Copycat Snooze Spuds Deluxe was much as I expected, so it was a good thing I had already started another skillet full of hash browns because…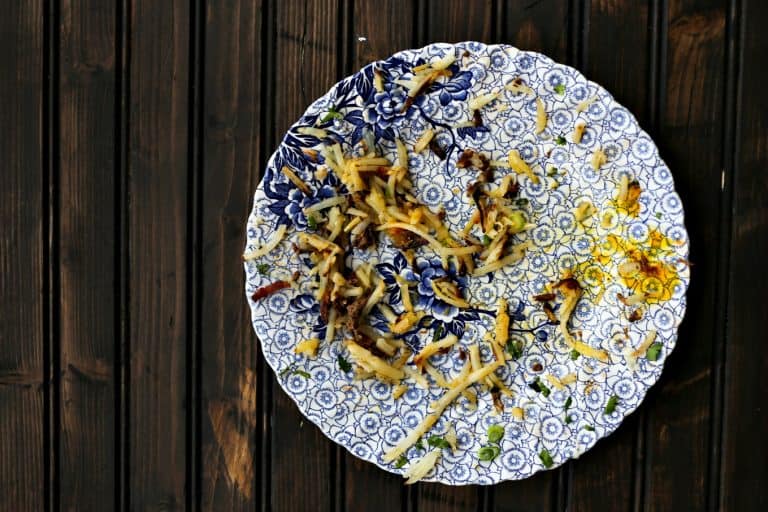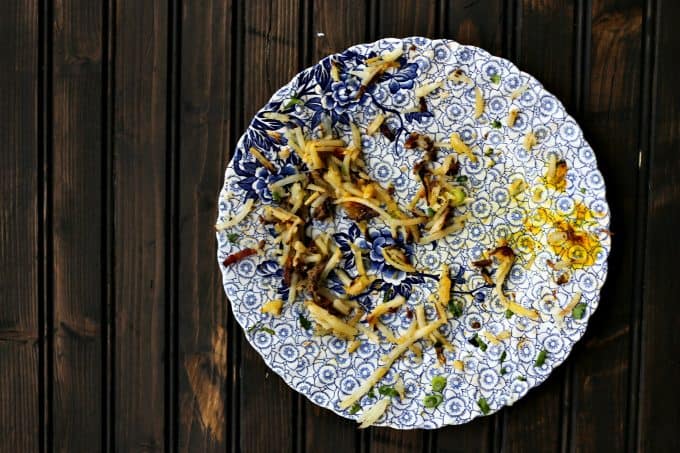 …this is what was looking at me by the time I got a fork in my hand. Buncha animals. They're just lucky they're cute and that I had more hash browns or it could've gotten ugly.
Cook's Notes
Copycat Snooze Spuds Deluxe can be a one-pan dish, quite easily. Just be sure to use a nice, heavy-bottomed skillet (preferably cast-iron) to first fry up your bacon, drain all but the necessary amount of fat to cook your hash browns, fry your hash browns, transfer to a plate and top with the grated cheeses, swipe the pan clean, then add the beef barbacoa to the pan to heat and crisp around the edges. Once you've topped the hash browns with the barbacoa and crumbled the bacon over the works, you can assess the pan. If it looks like a literal hot mess, you can either wipe it down carefully and add fat to cook your eggs, or grab a small, clean skillet to cook picture perfect eggs. I opted for the small, clean skillet because I have a thing for pretty eggs.
You can use whichever frozen, par-cooked, or homemade hash browns you prefer. I have been enjoying a variety I purchase from the produce section of my local grocery store lately. They cook more quickly than the frozen variety. This being said, purchase the type you like best (or make them from scratch!), just cook them according to your package or recipe directions. This is the foundation for all the deliciousness to come.
While the Snooze menu allows you to choose two toppings, making them at home in Copycat Snooze Spuds Deluxe form allows us a little more freedom, so I showered mine with chopped cilantro and Cholula hot sauce, too. This is strictly optional (but not really if you want that burst of cilantro goodness and hot sauce punch) so choose accordingly.
I serve Copycat Snooze Spuds Deluxe family style. In other words, I pile it all on a plate and let people pass the plate and help themselves at the table. It's more fun that way. However, if you are serving folks with the yardstick eyeballs, you are welcome to plate the dish individually, just divide between the desired number of plates. The recipe as given provided 4 decent sized servings.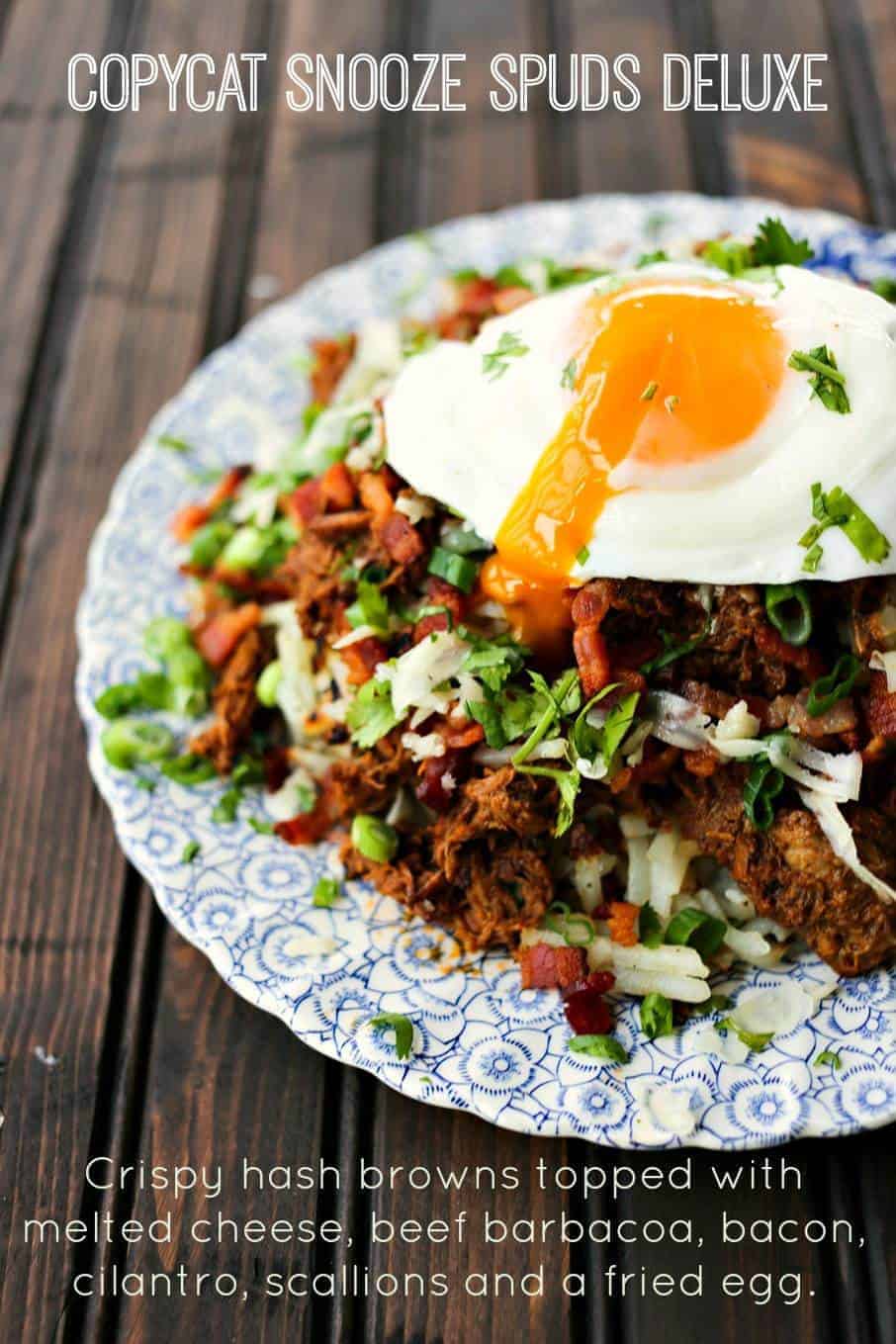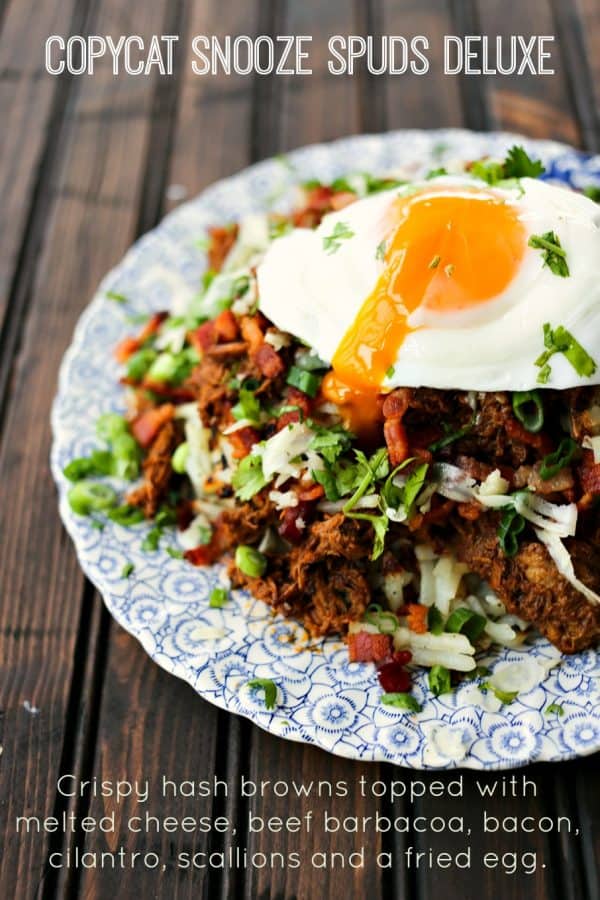 Connect with Foodie with Family
facebook | pinterest | instagram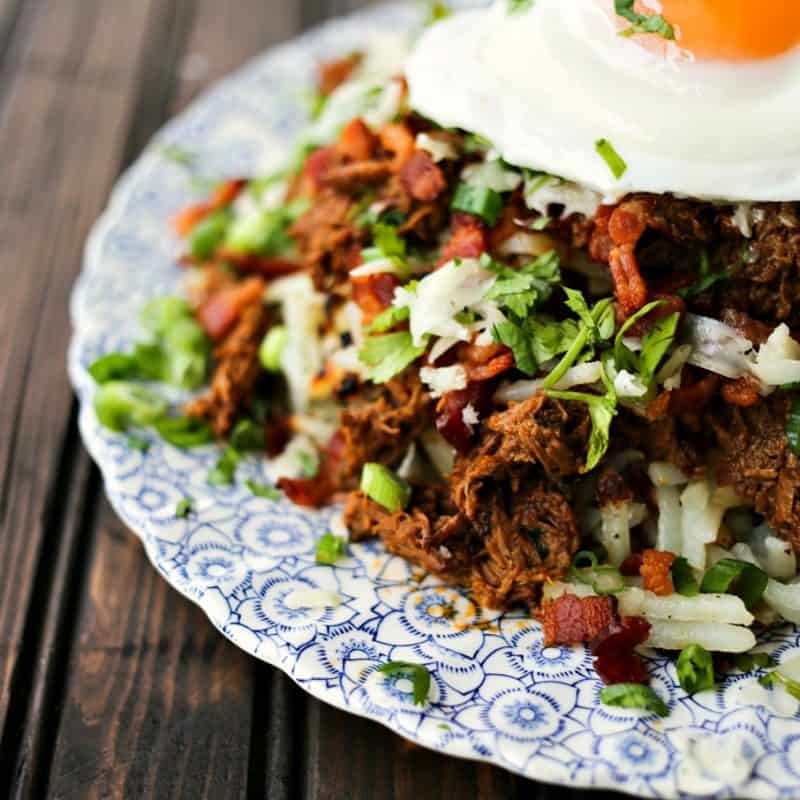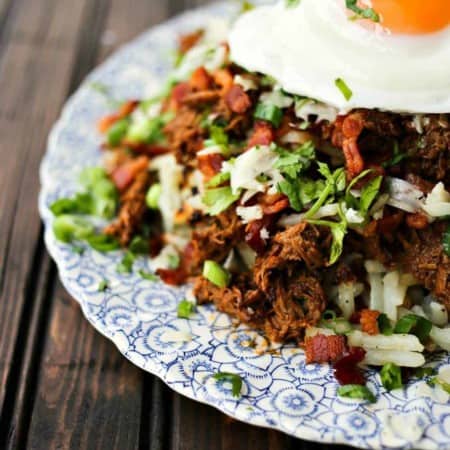 A heaping portion of crispy hash browns, covered with melted cheddar & jack cheese, beef barbacoa, bacon, green onions, cilantro, and a fried egg or two!
Ingredients
6

slices

bacon

cut into thin strips

6

cups

frozen

par cooked, or homemade hash browns

2

cups

leftover beef barbacoa

1

cup

mixed shredded pepper jack and Cheddar cheese

4

green onions

root ends trimmed, thinly sliced

a handful fresh cilantro

roughly chopped

1

to 4 fried eggs for the top

depending on number of eaters
Optional but delicious:
Cholula or your preferred hot sauce
Instructions
Place a large, heavy-bottomed skillet over medium heat and fry the thin strips of bacon until chewy-crisp. Use a slotted spoon to transfer the bacon to a paper towel lined plate to drain. Drain off all of the bacon fat from the pan except for the amount of fat specified on the hash brown package or recipe instructions. Add the hash browns and cook according to instructions. When the hash browns are done, pile them high on a plate and scatter the grated cheese and bacon over them.

Wipe the pan clean and return to the heat. Add the barbacoa to the pan and use a spoon to spread it out so that as much of it comes into contact with the hot surface as possible. Do not stir after you've spread it out. Cook until the bottom is crisped and the barbacoa is hot all the way through. Break it up and distribute over the hash brown pile. Toss the sliced green onions and cilantro over everything, then top with desired number of fried eggs. Serve immediately.
Nutritional information is an estimate and provided to you as a courtesy. You should calculate the nutritional information with the actual ingredients used in your recipe using your preferred nutrition calculator.