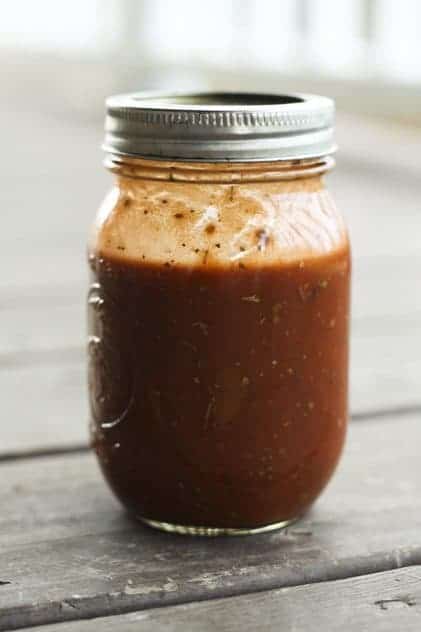 I mentioned in my Cuban Sandwiches post that my mom, Free Range Nana, and my sister, Jessamine, and I went to Cornell University to visit my baby sister, Airlia.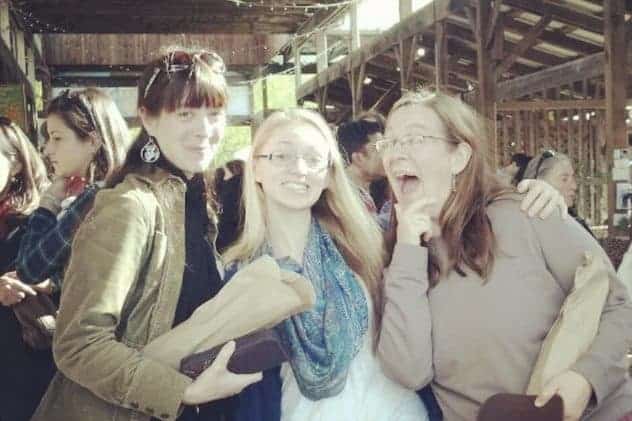 What I failed to mention in that post is that Airlia is not just my sister, she is a braniac. Want proof? Here she is outside of the building where she has most of her classes and spends most of her free time.
That's right folks. Nanoscale science. My sister is a PHYSICS major at Cornell University. She is currently building a machine to reduce light to its smallest state. As in visible only as a mere particle. Need another example? This is the stuff she does for fun: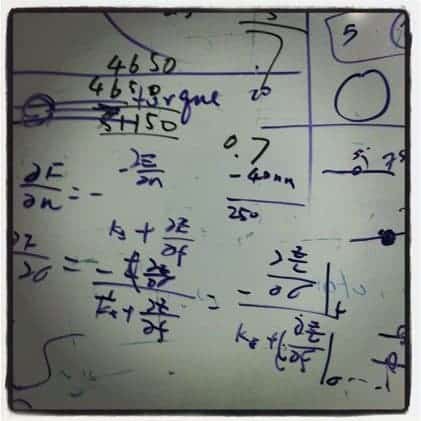 I took this picture understanding NOTHING of what was on there except the word torque. For some reason, the word torque has always cracked me up. Anyone else have words that crack them up? No? I'll be quiet now.
The point is this. She spends her FREE TIME in the LAB. Do we even need to discuss what I did with my free time in college? It's probably best if we don't.
Airlia took us all over campus…

And I DO mean all over campus. Up the slope, down the slope, up the slope again, up the one hundred and sixty one steps into the clock tower to watch a chimes concert, into libraries…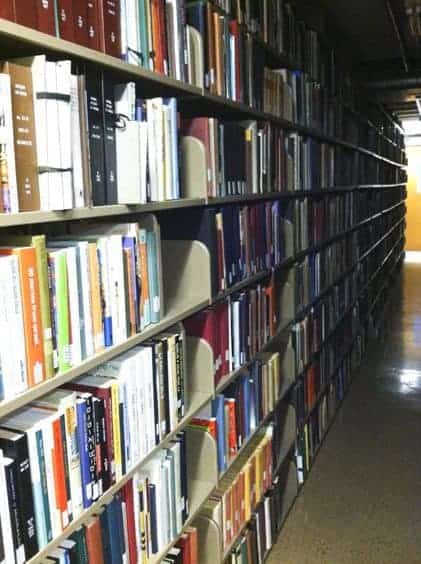 The stacks made me feel warm and fuzzy inside. At least until Free Range Nana and Airlia almost got us kicked out of the library for giggling and I almost got us kicked out for sloshing a cup full of ice water as I tried to walk ever so silently after reading the big old SHHHHHHHHHH sign. I failed.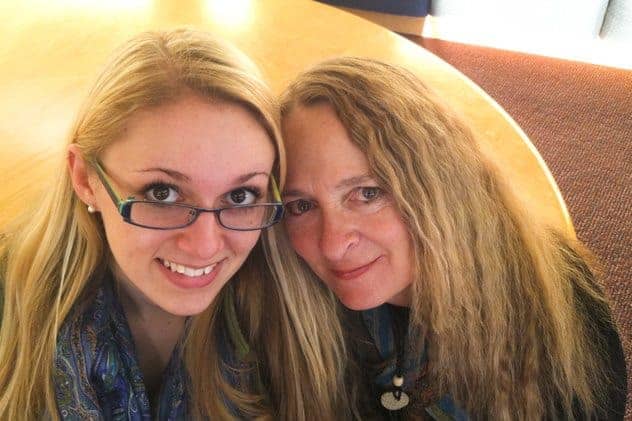 Don't blink. The angels have the library… Heh. Oh come on. I have to have at least ONE reader that loves Doctor Who.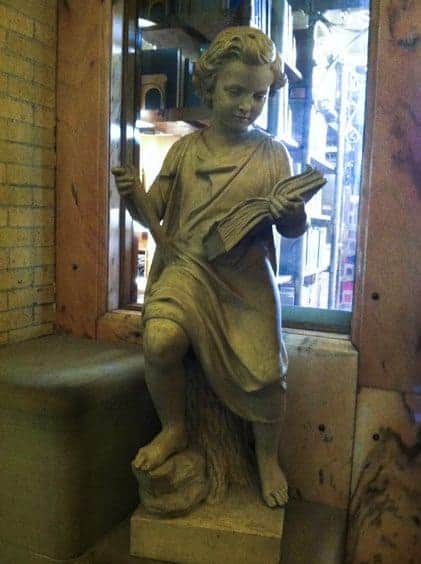 Uncharacteristically, Jessamine didn't do ANYTHING to get us kicked out of the library. She behaved like a saint, but only in the library. She looks downright beatified right here.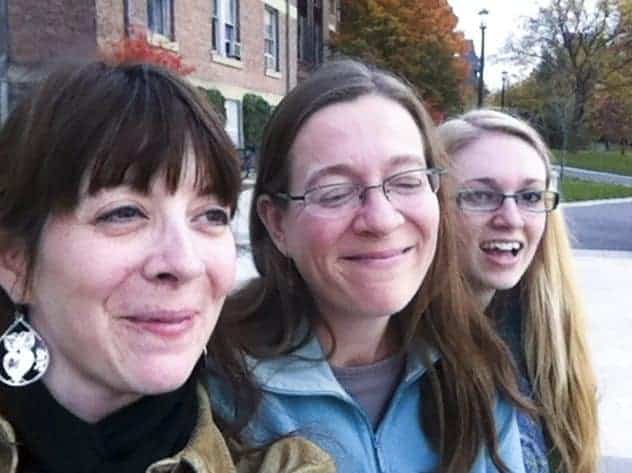 Then all bets were off… I can't even tell you what she's saying here. It is so not 'G' rated. She took her naughty vitamins before leaving home that day.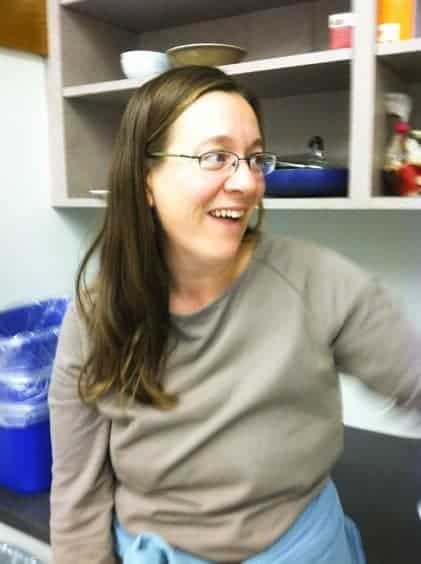 Gosh, I do love my sisters.
We got to see Airlia's favourite study spots and her dorm from last year. As we stood in a study hall in the old dorm, she pointed down through the trees and said casually, "That's where I get Julio fries."
"Julio-whats?" I asked.
"Julio fries. They're fries tossed with Red Hot and oregano."
Go on. Seriously? Are you all aware of my Frank's Red Hot fixation? If not, let me just say this… by this point in life, I should own stock in the company. It's not the hottest or fanciest hot sauce, by far, but it is like your best friend for life… you always know it's there and you can trust it to do what it's supposed to do.
You know I beat a hot path down to Louie's lunch truck, trying to act all casual so I wouldn't embarrass the Rocket Scientist who is my little sister. I didn't want her to be forever associated with that crazy woman who sprinted down the hill in not-sensible high boots and stood panting at the window of Louie's Lunch. I was chill. I did a run-walk instead of a sprint.
These Julio Fries are the brainchild of Louie's Lunch truck on Cornell's main campus. Louie, whoever he was, was a genius. Red Hot is a vinegar based hot sauce and vinegar is a natch with fries, right? So hot vinegar? Hubba hubba. And I don't know WHY he put oregano in there, but I'm AWFULLY glad he did, because holy moly. I thought Red Hot was great the way it was, but I don't know if I'll ever eat it sans oregano again. It's the flavour component that I didn't even know was missing.
Airlia showed us the proper Julio fries eating technique. Yes. She was down by the school yard. Help me out here people. Tell me someone is a Paul Simon fan…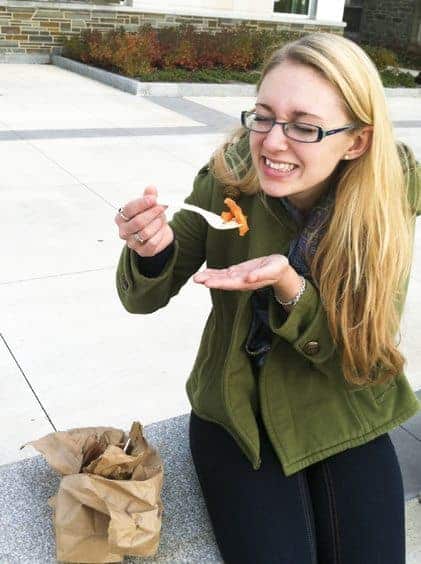 At least Airlia thinks I'm funny. And while I'm no nanoparticle scientist, my little sis thinks I'm pretty smart, too. Especially after I told her as soon as I got home I set to work and figured out the perfect ratio for making our own Julio sauce and then doused a big old batch of crispy tater tots with it. In fact, she called me brilliant.
I'm just going to revel in that for a moment or two. Okay, I'm going to revel in that with the aid of some Julio tots…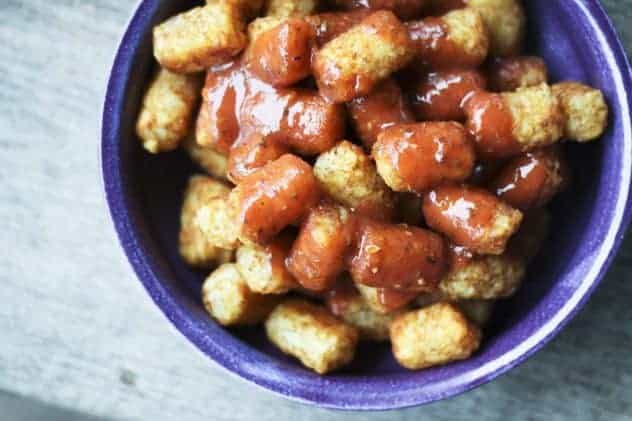 In the spirit of scientific inquiry -because I felt so inspired by the trip to Cornell- I did a little experiment with the Julio Sauce and the tots. One bowl had the pre-doused tots. The other had nekkid tots next to a big bowl of Julio Sauce for dipping purposes.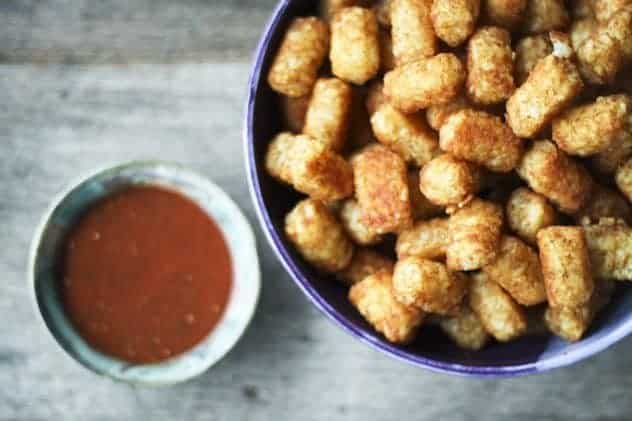 We put on very serious faces and sampled the pre-doused ones then dipped nekkid ones.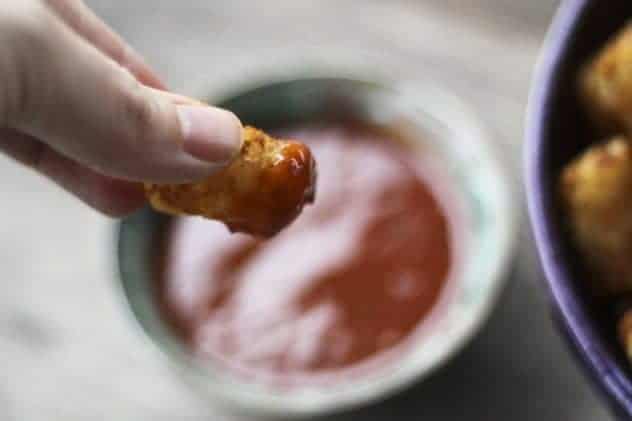 The consensus was that we preferred dipping the tots vs. pre-soaking them. They stayed crispier thatta way. Hey Louie! Sauce on the side- is it an option?
God love Louie and his sauce.
Go make yourself some Julio Sauce. It's what smart people eat.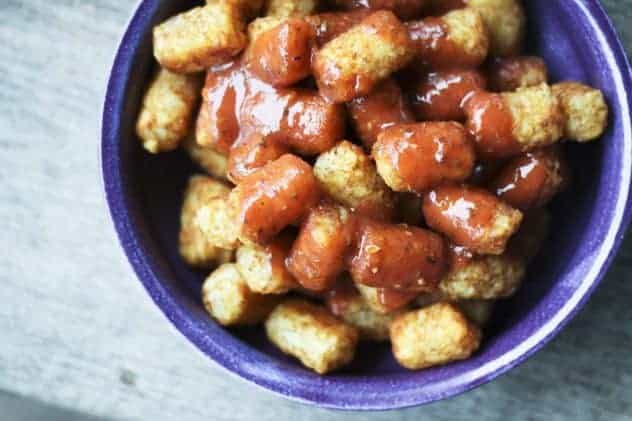 Mondays Cornell University Food Truck Style
Rate Recipe
Julio Sauce is my take on the classic Cornell University dish and sauce served by Louie's Lunch- Julio Fries. The vinegar based hot sauce mixed with oregano adds a burst of flavour to fries -to be sure- but it's also fantastic on all potato dishes. We loved them on tots, home fries and baked potatoes. What will you douse with Julio Sauce?
Ingredients
For Julio Sauce:
3/4

cup

Frank's Red Hot Sauce

1

heaping tablespoon dry oregano leaves
Instructions
To Make the Julio Sauce:
Add the Red Hot and oregano to a container with a tight fitting lid. Fix the lid firmly in place and shake. Store in the refrigerator for up to three months.
To Make Julio Tots:
Prepare frozen tater tots according to package instructions but cook them long enough to be terminally crispy. Super crunchy. Make 'em make noise when you bite 'em is what I'm saying.

Transfer hot, crunchy tots to a bowl and either serve with a side of Julio Sauce for dipping or pour over the tots for a softer dish.

Don't you feel smarter already?
Nutritional information is an estimate and provided to you as a courtesy. You should calculate the nutritional information with the actual ingredients used in your recipe using your preferred nutrition calculator.