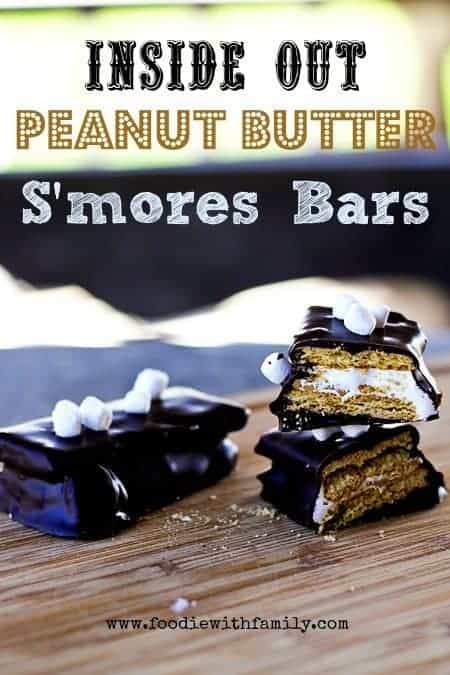 Ohmygoodnessgraciousohmygosh. Can we talk about this for a minute? This is so tasty, so easy, so…so…so… I don't even know how to describe it. It's everything you get in S'mores with a smidgen of peanut butter for good measure, flipped inside out, covered in dark chocolate and sprinkled with mini-marshmallows. But wait… it's like that plus a moon pie and a peanut butter/fluff sandwich! Plus it's adorable!
SQUEE!
It's cute, it's delicious, it's fall, it's just exactly perfect.
The inspiration for these came from an Amish woman named LydiaAnn who sells handmade treats at our local farmer's market. The boys and I have been loving her peanut butter bars (a chocolate covered, peanut butter filled, graham cracker dream) this past summer. The farmer's market, alas, is done for the season, so we were left with going without them for eight months (EGADS!) or making our own version. I obviously opted for making our own.
The boys have been clamoring for s'mores lately, so I thought I'd kill two birds with one stone (along with eliminating the whole fire/stick/great-ball-of-flaming-marshmallow danger) by adding some delicious marshmallow cream to the peanut butter. Needless to say, there were a great many boys both young and older -no, dear, you're not old- hovering around the kitchen while I made these. There were a lot of questions about just how long it would take me to finish them (I didn't know) and whether I desperately needed someone to lick the marshmallow creme from the spatula I had used to coax the creme into a pastry bag. (I didn't, but I pretended I did to great happiness from he who posed the question.)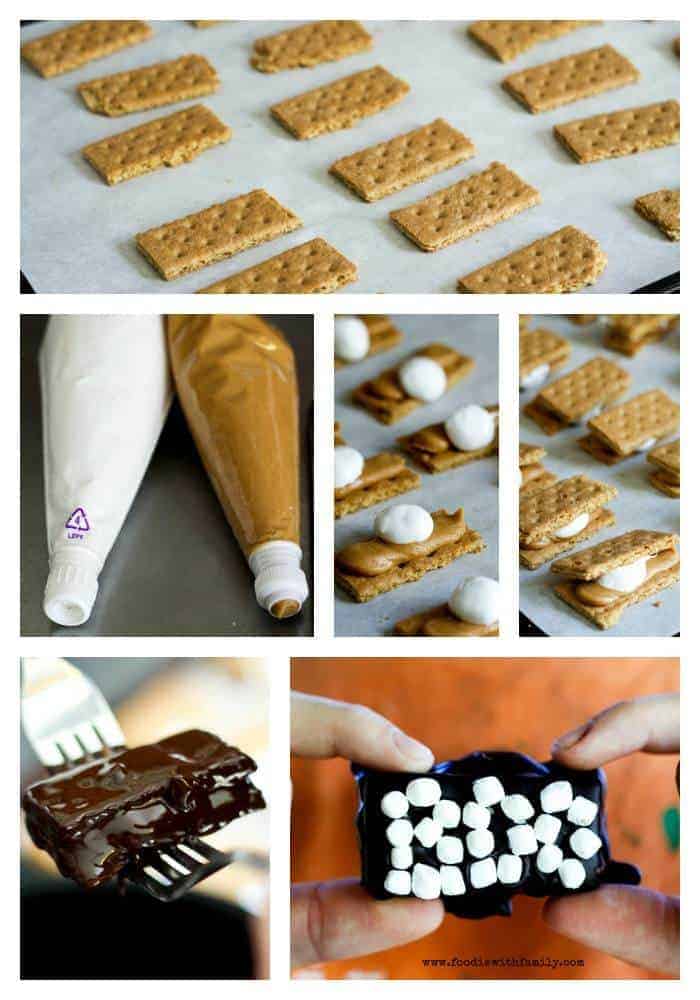 Someone asked if I could make it more Halloween-y by spelling "BOO" in Mallow Bits. I gave it my best shot. In the end, covered in marshmallow creme and melted chocolate myself, I decided it was a dreadfully messy and totally worth it project. If it was so messy, why was it worth it, you ask? Because my audience was so enthused about the end product they offered to clean the kitchen for me.
Okay, that's an exaggeration. They didn't offer, but I pointed out that they were doing the lion's share of the eating, and so doing the lion's share of the cleaning was only just if they ever wanted me to make these again. They complied. I kinda figured they would…
Some cooking notes:
There's no getting around it, the marshmallow creme is a bit sticky and tricky. I found it easiest to pipe the little coin of creme into the center of the peanut butter and slide a knife across the piping tip to encourage it to let go of it's marshmallow creme brethren in the piping bag. That was more successful than just twisting and twirling it into a curlieque on top. If you find a better way, please share it with me!
The marshmallow creme loves to slide around and ooze off of the peanut butter in various directions. No biggie. Just use the top graham cracker to help slide it back into place.
That top graham cracker? It has an alarming tendency to slide off of the top on the tide of oozy marshmallow creme. Again, no big deal. Slide it back into place before dipping in the chocolate coating. All shall be well in the end.
Don't skimp on the peanut butter… It's the glue here with all the slippery-slidey marshmallow creme. If you're allergic to peanut butter, go for sunflower butter.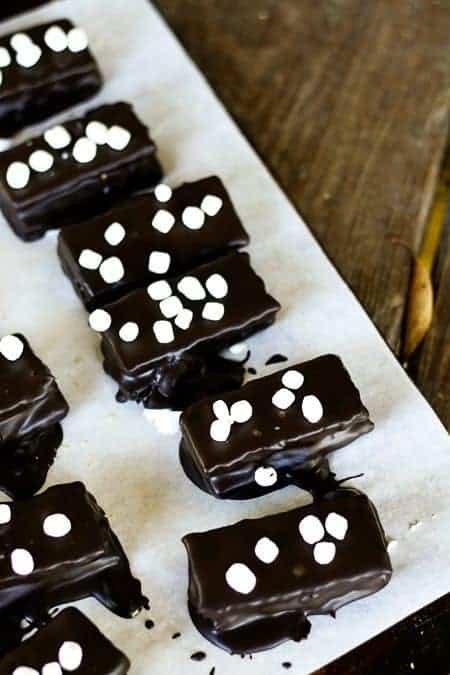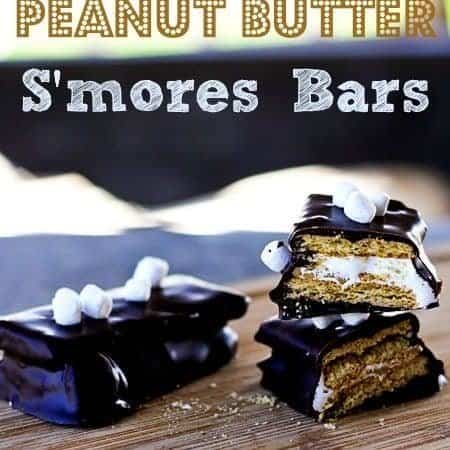 These chocolate covered, peanut-butter and marshmallow creme filled, graham cracker goodies taste like a cross between an inside out s'more, a moon pie, and a peanut butter-and-fluff sandwich!
Ingredients
1

box honey graham crackers

3 sleeves of crackers

1

jar smooth peanut butter

16 ounces

1

jar Marshmallow Creme

7 ounces

2 1/2

bags of semi-sweet* chocolate chips

12 ounce, *See Notes, or 5 cups of chocolate chunks

1/4

cup

extra virgin coconut oil or vegetable shortening

1

cup

Tiny Marshmallow Bits
Instructions
Line two baking sheets with parchment paper. Carefully break apart the graham crackers along the lines where they are scored, yielding 4 rectangles from each cracker. Lay half of them out with some space between them on them on the parchment lined baking sheets.

Scrape the peanut butter and fluff into two disposable pastry bags fitted with large plain tips or into 2 gallon sized zipper top bags (which are then zipped shut.) If using the zipper top bags, squeeze the fillings toward one corner, twist the bag to prevent it from squirting back into the empty space, use a twist tie to hold it in place and snip the corner off. Pipe a line of peanut butter down each cracker. Follow this by squeezing a dollop of marshmallow creme about the size of a marble or a nickel into the center of each line of peanut butter. Top each of these with one more graham cracker square. Set aside while preparing the chocolate coating.

Combine the chocolate chips or chunks and coconut oil or shortening in a microwave safe bowl. Microwave on HIGH for 2 minutes. Stir well, return to the microwave, and heat on HIGH in 30 second bursts, stirring after each burst, until the chocolate is fully melted and the mixture is smooth.

Pick up one graham cracker/peanut butter/marshmallow sandwich at a time, lower it into the melted chocolate, turn over to coat completely, and use two forks to lift it, allowing the excess chocolate to drain away as completely as possible before transferring back to the parchment lined sheet. Repeat with remaining graham sandwiches. Sprinkle the tops with micro Mallow bits, if desired, and allow the chocolate to set up. These are good stored at room temperature for up to 2 weeks.
Nutritional information is an estimate and provided to you as a courtesy. You should calculate the nutritional information with the actual ingredients used in your recipe using your preferred nutrition calculator.
Save
Save