Honey Sriracha Glazed Salmon Bites are happy food for me. Little nuggets of salmon, seared, then tossed in a sticky sweet and hot sauce redolent with garlic and fresh ginger that clings to the bites of tender salmon.
It's hard for me to overestimate just how much my family loves them. It's also hard to believe how easy they are to make.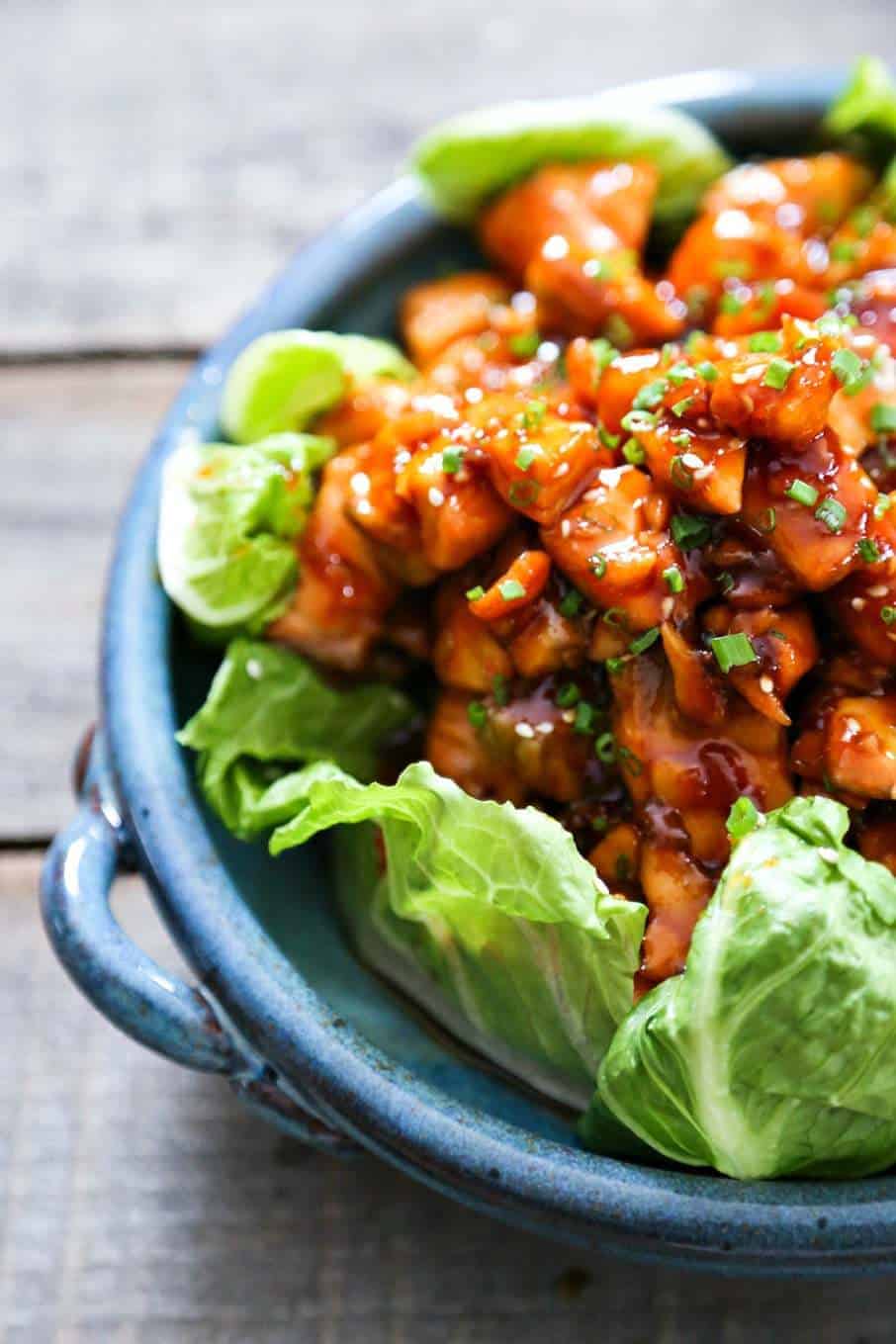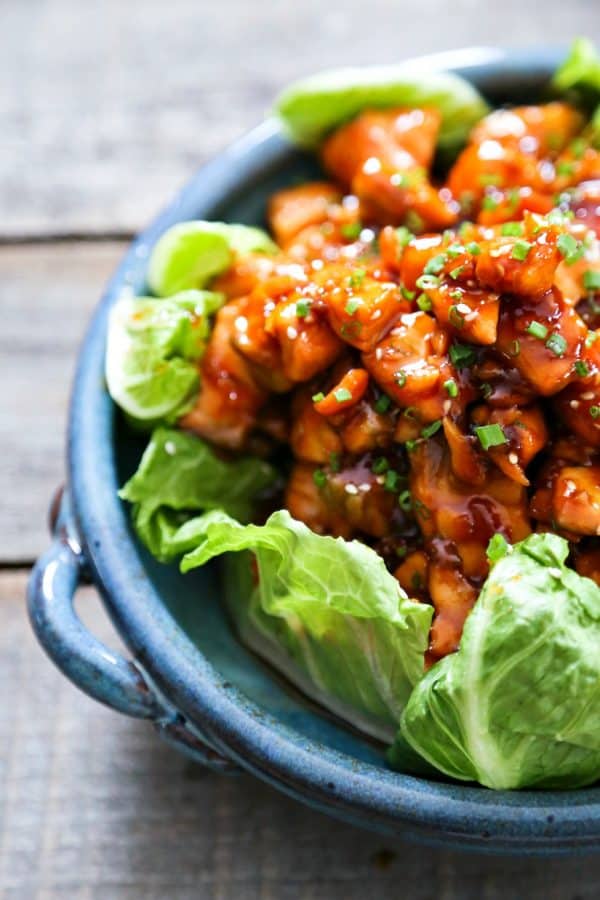 When my kids smell the honey, sriracha, soy sauce, ginger, and garlic simmering and becoming sticky in the frying pan, they huddle around with chopsticks in hand. I don't know when they started their love affair with chopsticks, but my kids pretty much take any chance they can get to eat with them, and this is one of their favourite options. It's not hard to see why.
The sticky little bite-sized pieces of Honey Sriracha Glazed Salmon are a great training food for chopsticks because that glaze makes the salmon cling to whatever you use to hold it, whether that be rice, lettuce wraps, or chopsticks.
I speak from experience when I say that while Honey Sriracha Glazed Salmon Bites are a great introductory chopstick dish, they are also a wonderful dish to convince those reticent to eat fish that they ought to broaden their horizons.
One of my boys was a steadfast member of the anti-fish camp until I started whipping these little niblets up every now and again. After realizing he not only tolerated but actually LOVED a fish dish, he became a much easier sale when it came time to try new fish entrées.
It's a good thing Honey Sriracha Glazed Salmon Bites are speed-of-light fast to prepare because the smell of that sticky glaze bubbling away is so intoxicating and distracting that it would be nearly impossible to get through the process otherwise. When I say it smells good, I mean it smells so good that I have to continually remind myself NOT to stick my finger in the blazing hot sauce while it simmers and thickens.
If you have ever had boiling honey on your skin you know EXACTLY what I mean. If you haven't found yourself in that predicament, please just trust me.
It's going to smell awesome. Be prepared. Resist the urge until it has cooled slightly.
Honey Sriracha Salmon Bites
Use fresh boneless salmon filets from your grocer's seafood counter for best results. If you can have your fish monger remove the skin, do so. Otherwise, you'll need to take care of that yourself when you get it home.
If you cannot get your hands on fresh salmon filets, you can thaw frozen ones. Just be sure to thaw them slowly in the refrigerator overnight.
You're going to sear the salmon in a hot pan, remove it, add the sauce ingredients and then bring that to a boil. Don't add the salmon back in until the sauce has reduced to a thicker, sticky, dark-ish sauce.
You don't want to add the fish in too soon, or it will effectively disintegrate in the sauce from the heat. It'd still be tasty, but it'd be salmon mash, not salmon bites.
I'm a big fan of sesame seeds and minced chives or green onions as garnish on Honey Sriracha Glazed Salmon Bites for both the visual pop AND the boost of flavour they deliver.
Use this to make Honey Sriracha Glazed Salmon Bites:
Are you a big fan of salmon dishes? Check out Blood Orange Miso Glazed Broiled Salmon for a gorgeous, company-worthy meal.
Another great option for salmon lovers is our Smoked Salmon Pasta Salad. It's great with grilled meats or by itself as a meal.
And don't forget The Best Way to Cook Salmon. An air fryer takes all the work out of dinner when you make this sure-fire winner!
Connect with Foodie with Family
facebook | pinterest | instagram | twitter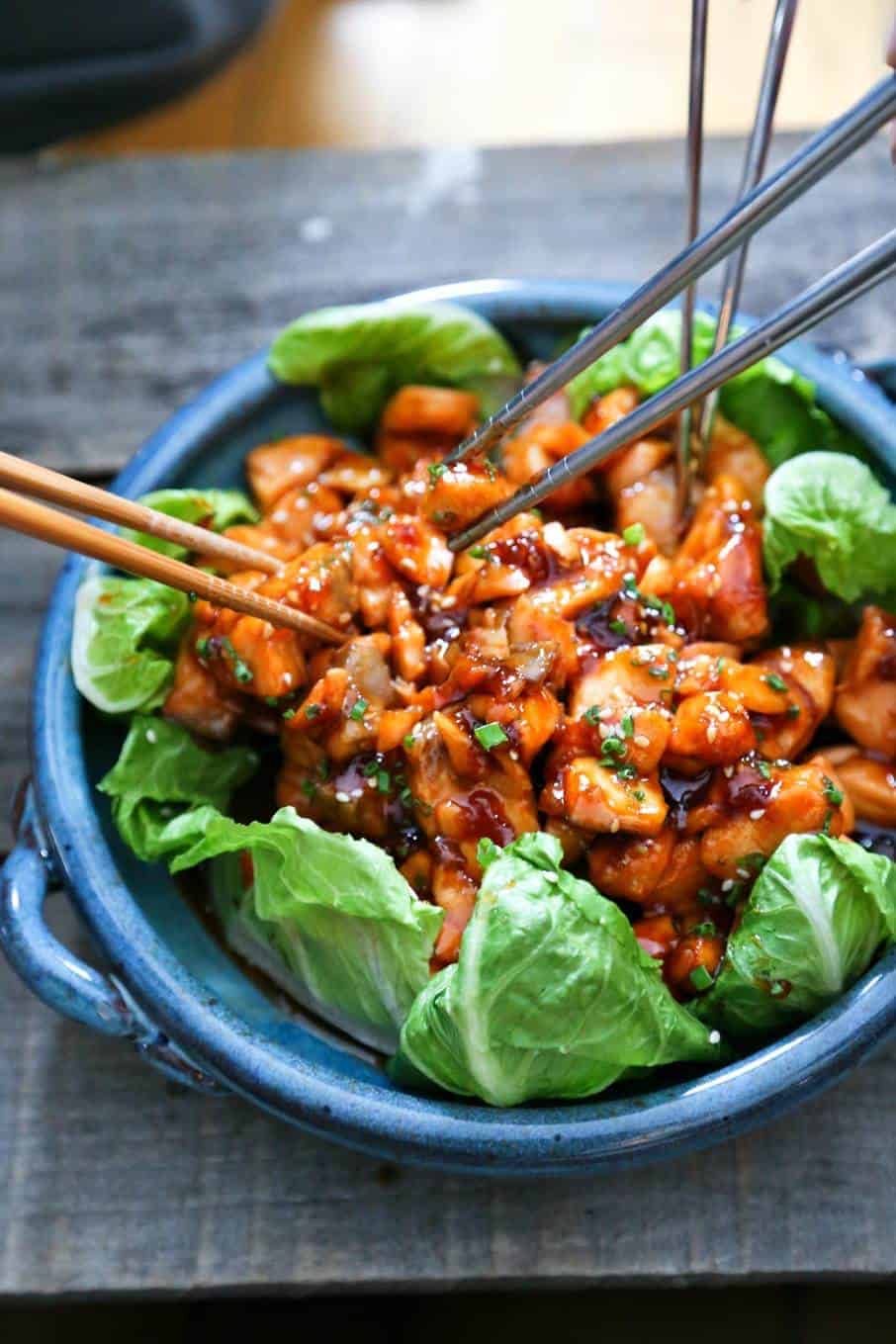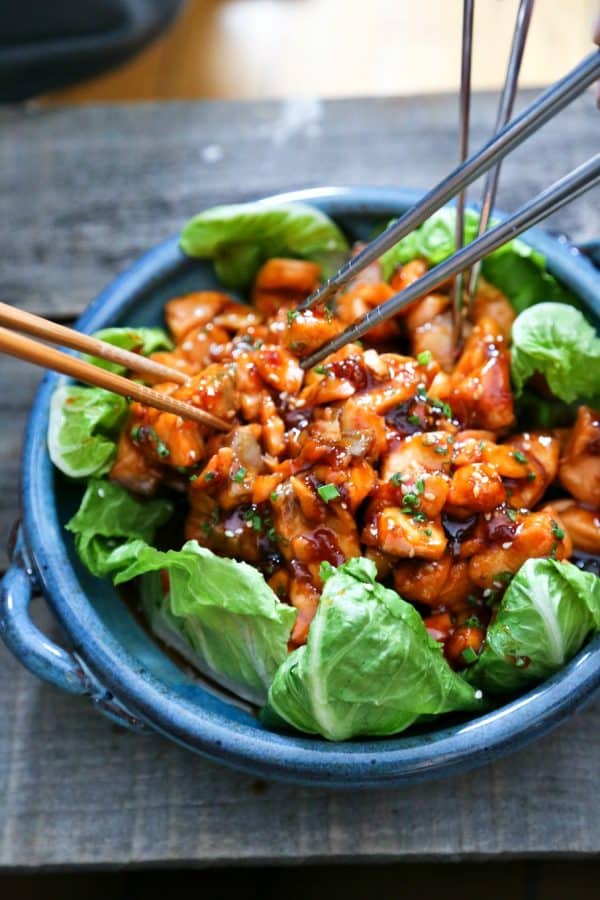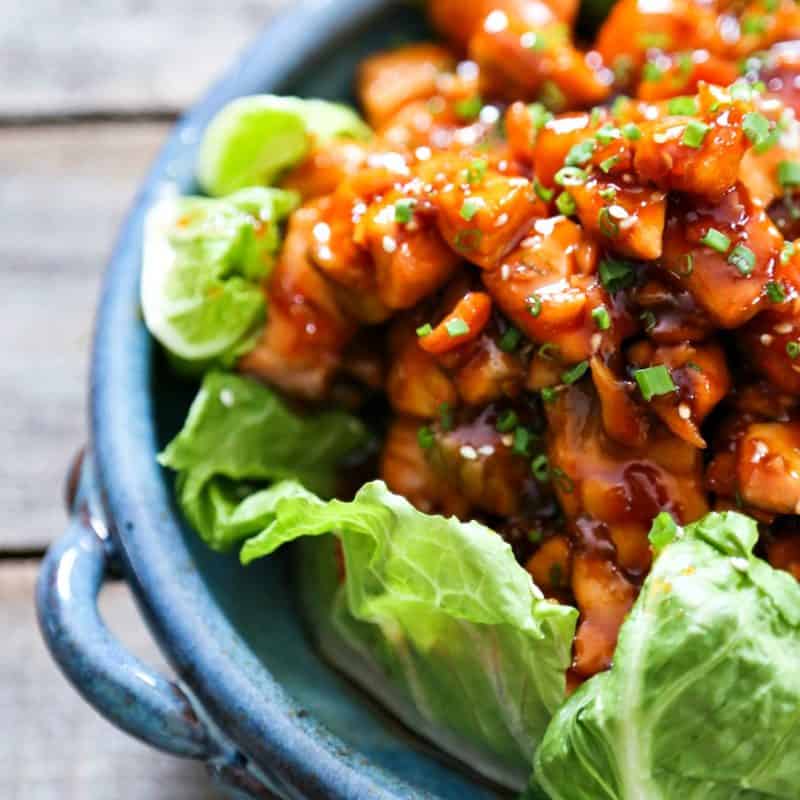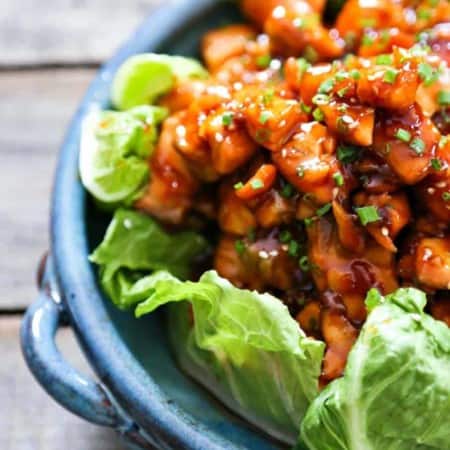 Ingredients
1

pound

boneless

skinless salmon filet, cut into 1-inch cubes

spray olive oil

1/2

cup

mild honey

2

tablespoons

sriracha

2

tablespoons

low sodium soy sauce

1

teaspoon

rice vinegar

1

garlic clove

minced or pressed

1/2-

inch

section of fresh ginger root

or 1/2 teaspoon dried ground ginger, grated

minced chives

sesame seeds
Instructions
Place a large, heavy-bottomed skillet over medium high heat. Spray the pan with cooking oil. Add the salmon cubes and sear the fish lightly on all sides, for no more than 30 seconds per side. Use a slotted spatula to carefully transfer the fish to a plate. Quickly return the pan to the burner and raise the heat to HIGH. Add the honey, sriracha, soy sauce, rice vinegar, garlic, and ginger to the pan and stir to combine. When the sauce reaches a boil, stir until the sauce is bubbly and thick and darkened, about 3 minutes, turning the heat down to medium if the sauce darkens too quickly. Add the salmon cubes and gently toss n the sauce before gently transferring to a serving dish.

Garnish with sesame seeds and minced chives. Serve over hot rice, on lettuce wraps, or by itself.
Nutritional information is an estimate and provided to you as a courtesy. You should calculate the nutritional information with the actual ingredients used in your recipe using your preferred nutrition calculator.

This post originally published March 13, 2015.