The guys and I are BIG fans of fish all year round, but we eat it a lot more regularly during the Lenten season when we -as a family- pass on meat on Fridays. Fish is one of my favourite proteins by virtue of how quickly and easily I can pull together a polished, delicious meal with it.
I can't think of many fish dishes that take more than 30 minutes to make, and many of them clock in well under that. It's the ultimate convenience food and when it's cooked right it's healthy to boot.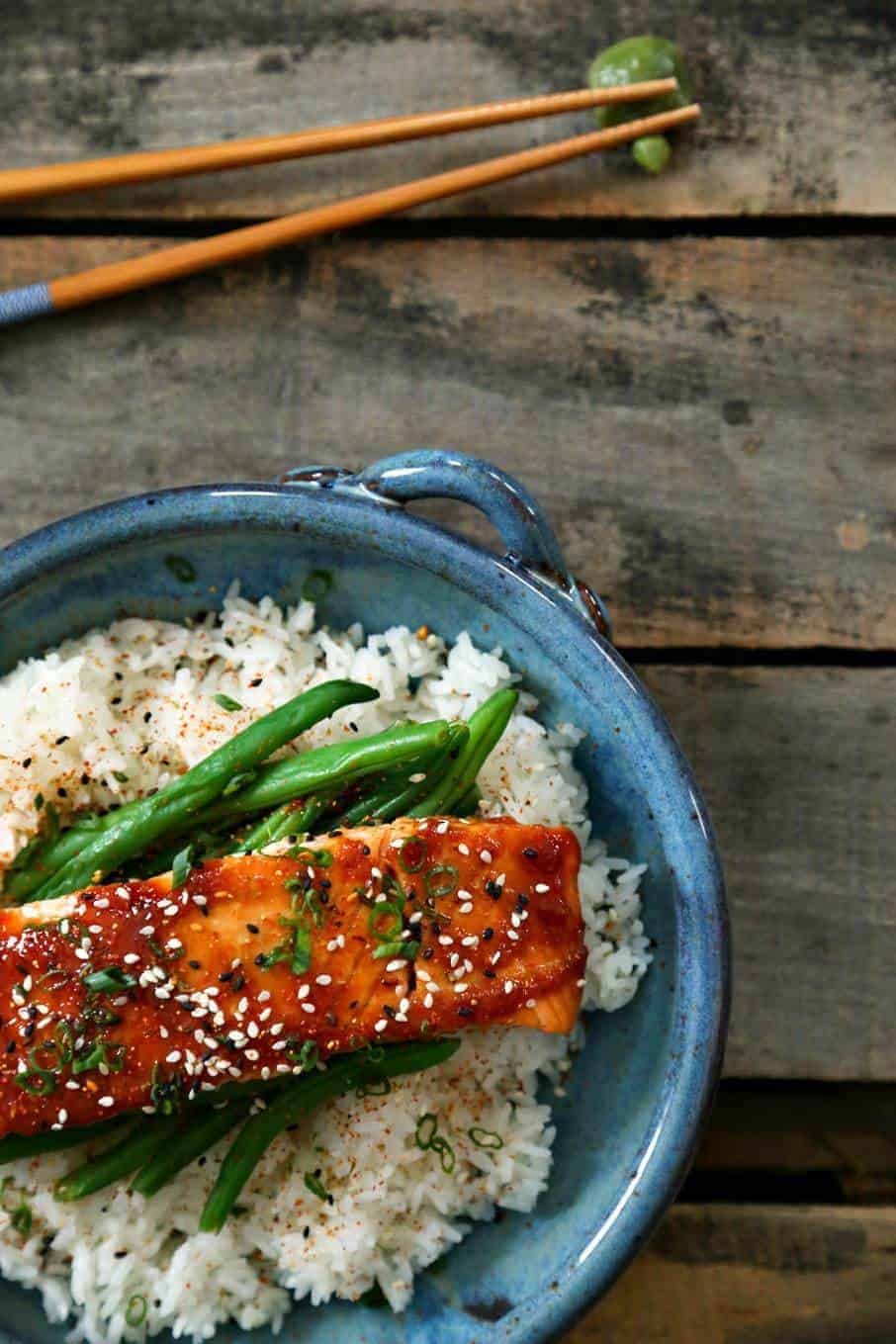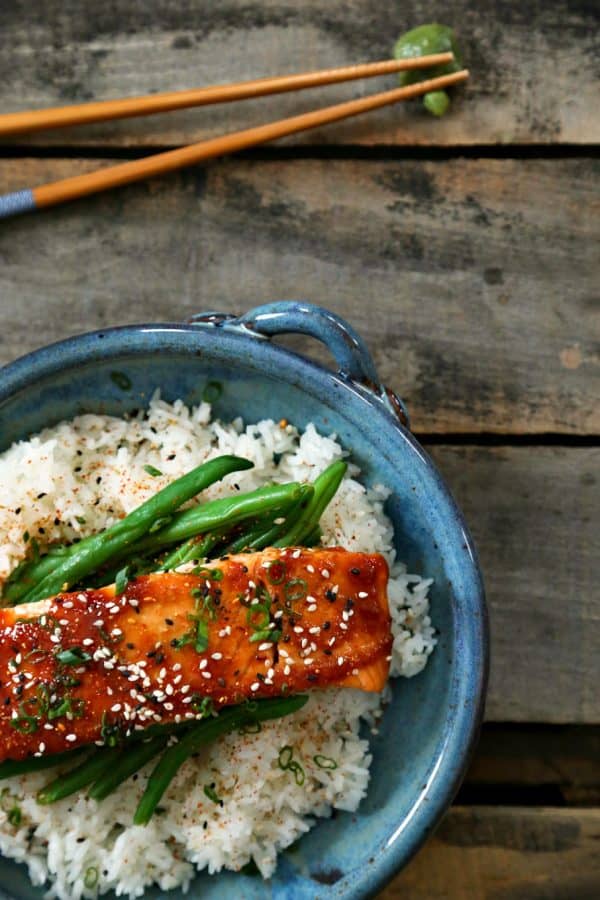 Blood Orange Miso Glazed Broiled Salmon is a perfect example of such a dish. The glaze itself takes about as long to make as the fish takes to cook.
Given that you won't be cooking that salmon for any more than 10 minutes (or I'll call the salmon police on your over done fish!) and even if you dawdle over the prep, the glaze shouldn't take more than 10 minutes from start to finish, we are looking at a magically fast meal.
The taste is one to remember; Japanese inspired blood orange and miso glaze is flavourful but surprisingly delicate with the light presence of honey, ginger, garlic, sake, and soy sauce. It doesn't hurt that Blood Orange Miso Glazed Broiled Salmon is pretty enough and quick-to-make enough to serve last minute dinner guests.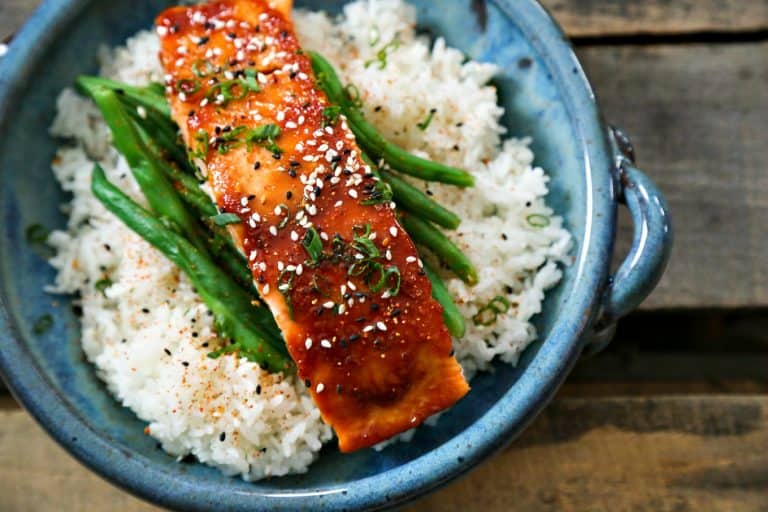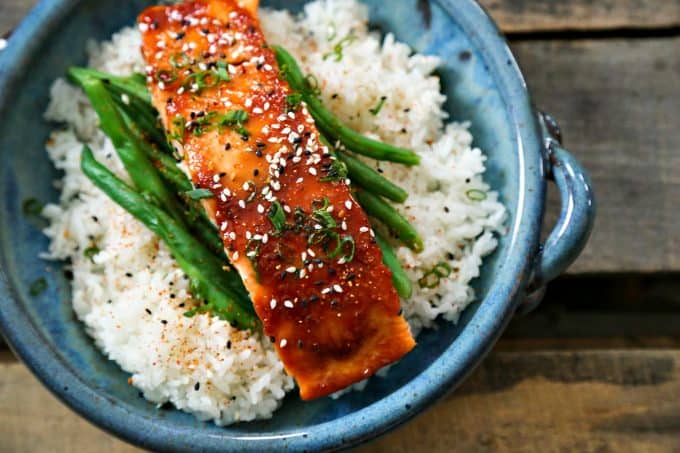 Broiled Salmon
As with most fish dishes, I prefer to make broiled salmon from fresh fillets OR from frozen ones that have been thoroughly thawed. It doesn't take much work to thaw them.
Simply follow the directions on the package to thaw. Most varieties suggest you pop them in the refrigerator the night before you'd like to serve them. If you're in a real hurry and have those handy, dandy individually frozen filets, you can float them in cool water for an hour or so and they should be thawed through and through.
The reason the red miso is whisked in at the end of the cooking of the glaze is that aggressive cooking (such as boiling a sauce down to reduce it) kills some of the health benefits AND flavours in miso. It won't be a disaster if you forget and add the miso at the beginning, but the Blood Orange Miso Glaze will lose some of its delicacy if you do that.
Speaking of miso, I use red miso in this glaze. I have not tested it with yellow or white miso. I buy my miso from my favourite Asian market or mighty Amazon.com.
Salmon is a fish that is often served overcooked. You really only need to cook it until it measures 130°F in the thickest part of the filet.
When you remove it from the oven and allow it to stand for a few minutes, the carry-over heat will finish bringing the filet to 140°F which is the ideal temperature for salmon. At this temperature, the fish will flake easily with a fork but will still be moist in the center.
When the fish has reached the aforementioned temperature, pull it from the oven whether or not the glaze has reached the desired state of sticky, beautiful, caramelization. You can help finish the job by running a torch over the top of the filet, about 2 to 3 inches from the surface. This will quickly caramelize the glaze.
I love a combination of white and black sesame seeds sprinkled over the dish just before serving. I can find both varieties in the Asian foods sections of better stocked grocery stores, at my local Asian market, or pre-combined via my beloved Amazon.com.
I also love to garnish Blood Orange Miso Glazed Broiled Salmon with a little sprinkle of Shichimi Togarashi (Japanese & Spice Blend) because the roasted orange peel in the togarashi echoes the orange of the glaze and that mild hint of spice in the blend sets off the other flavours nicely. Again, you can buy this at better stocked grocery stores, Asian markets, and Amazon.com.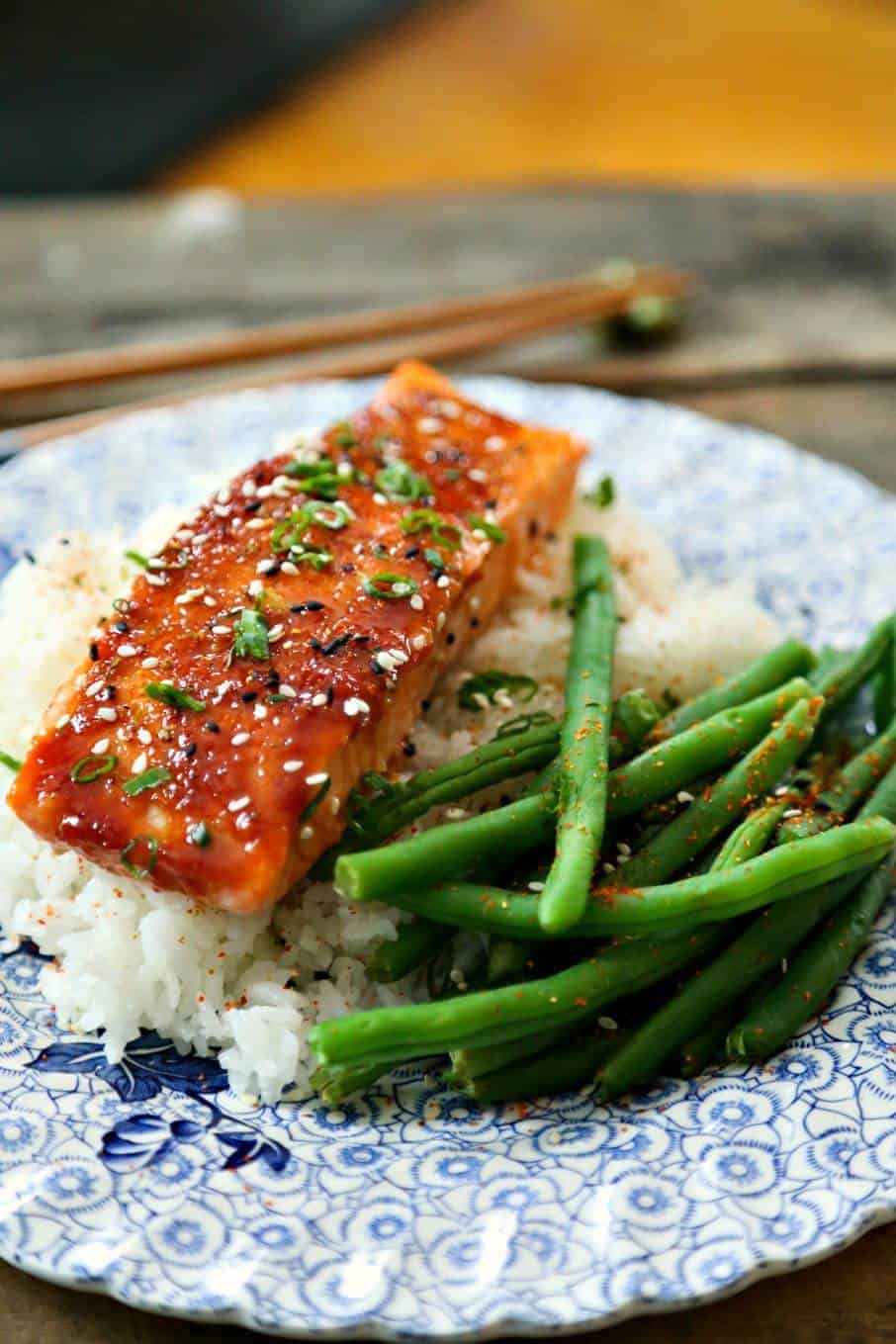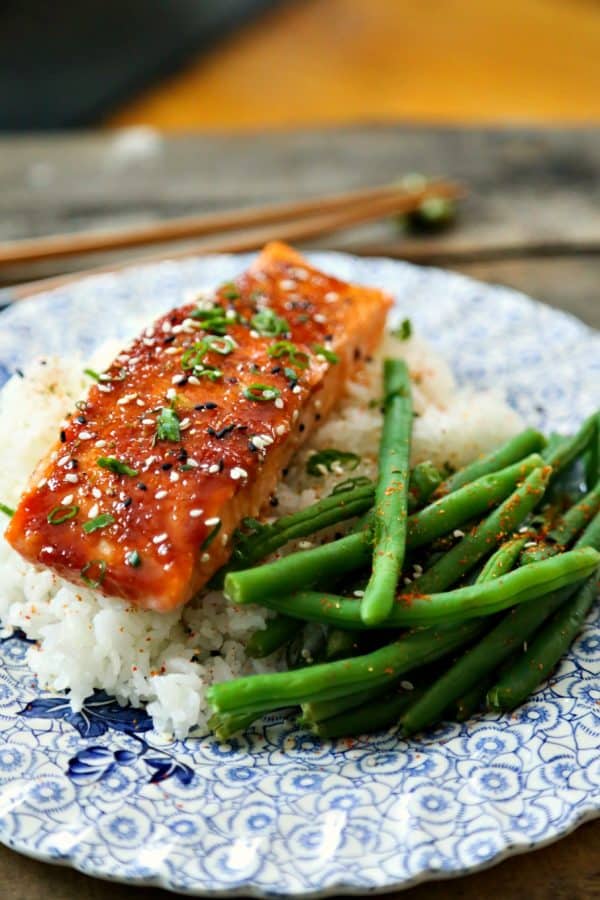 Connect with Foodie with Family
facebook | pinterest | instagram | twitter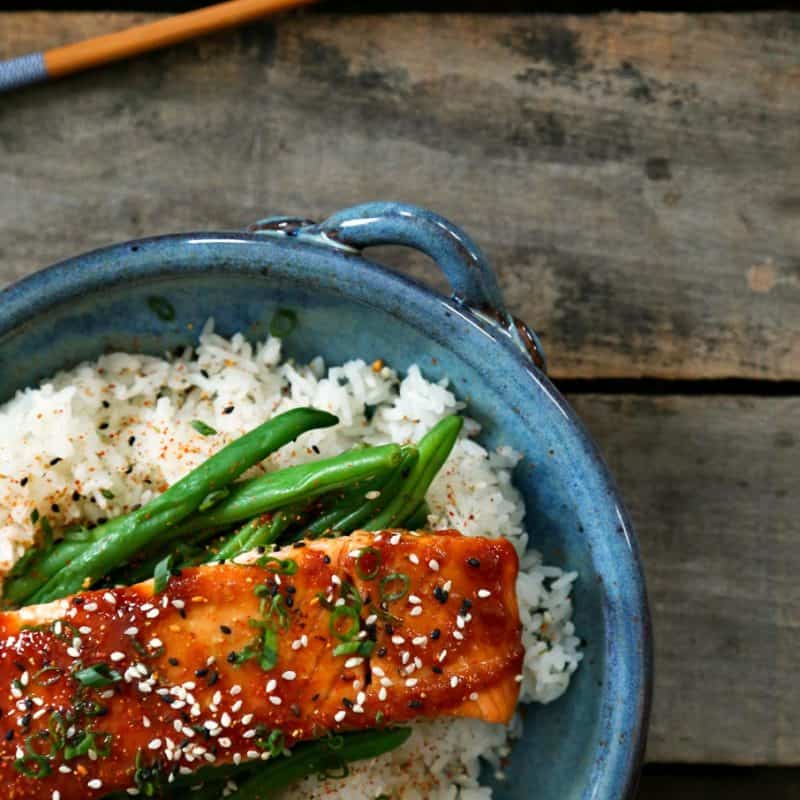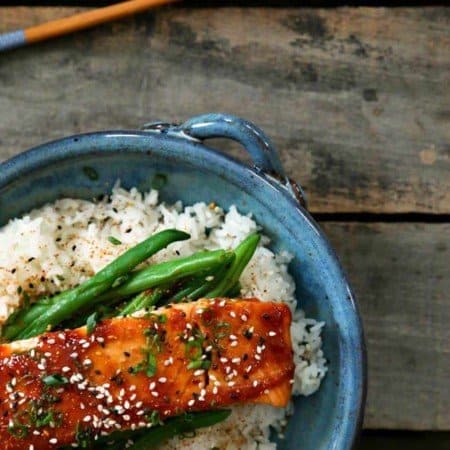 Ingredients
For the Blood Orange Miso Glaze:
The juice of two blood oranges

strained

2

tablespoons

mild honey

1-

inch

piece of fresh ginger root

grated

1

clove

of garlic

grated or pressed through a garlic press

1

tablespoon

sake

1

teaspoon

soy sauce

2

tablespoons

red miso
Also needed for the Salmon:
1

to 2 pounds boneless

skinless salmon filets

non-stick cooking spray or neutral oil and a basting brush

sliced green onions

black and white sesame seeds
Instructions
To Make the Glaze:
Whisk the blood orange juice, honey, ginger, garlic, sake, and soy sauce together until smooth in a small, heavy bottomed saucepan. Bring to a boil over medium high heat and boil until reduced by half. It should be thickened and somewhat syrupy. Remove from the heat and whisk in the red miso until smooth.
To Make the Blood Orange Miso Glazed Broiled Salmon:
Heat the broiler in the oven with a rack set about 6-inches from the broiler heat source. Line a rimmed sheet pan with heavy-duty aluminum foil and spray with non-stick cooking spray or brush lightly with neutral oil. Lay the salmon filets on the prepared pan and spoon about a teaspoon of the glaze over each filet, spreading it around evenly. Broil for about 3 minutes. Carefully turn the fish over and spoon more glaze over the tops of the filets. Return to the oven and broil another 3 minutes. Spoon the remaining glaze over the salmon and return to the oven for 2 to 3 more minutes, or until the fish measures about 130°F or flakes easily with a fork .

Note: The glaze should be bubbly and sticky when the salmon hits the right temperature, but if you'd like for it to be a little more charred in areas, you can quickly pass a torch over the top to really caramelize the glaze.

Serve hot, sprinkled with sliced green onions, black and white sesame seeds, and togarashi if desired.
Nutritional information is an estimate and provided to you as a courtesy. You should calculate the nutritional information with the actual ingredients used in your recipe using your preferred nutrition calculator.

If you liked Blood Orange Miso Glazed Salmon, you might also like Smoked Salmon Pasta Salad. It's a great meal by itself, but it also goes wonderfully with all grilled meats!
And if you're more into non-smoked salmon, give the Best Way to Cook Salmon a whirl. This air fryer salmon will change how you make dinner!
Don't forget Mojo Marinated Salmon from Barefeet in the Kitchen and Crispy Honey Soy Glazed Salmon and Asian Noodles from The Noshery. They'll make you ever so happy!