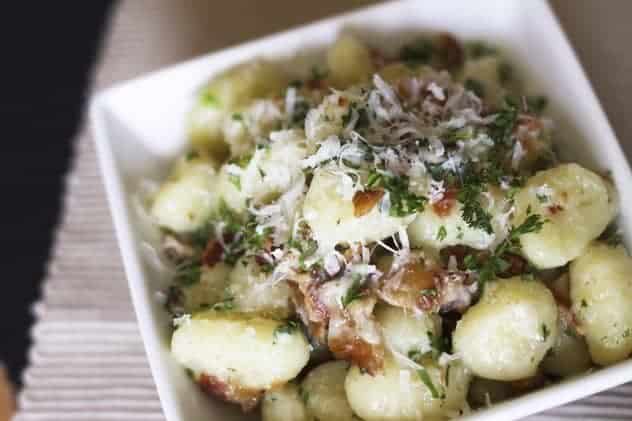 My kids friends are good sports. They follow my weirdo rules (no Minecraft or Wii before three p.m. unless there are extenuating circumstances like broken bones or cruddy life events, no drinks in the den, don't chase the dog, and -most importantly- love is the final rule.) Yeah. Like I said, they're good sports.
They are my taste-test posse. With very few exceptions, these awesome kids are willing to try anything I put in front of them. (In fact, some of these kids signed up for my 'Gross Foods' class locally. On purpose. Willingly!) Most of them don't ask what it is until they've taken their first bites. God love 'em.
I broke out a new recipe on a group of them just last week. After seeing Maria and Josh's crispy gnocchi, I was on a gnocchi bender. I figured making lunch for a grand total of ten people was an opportunity that couldn't be missed. I put on a massive pot of water, grabbed a few boxes of my favourite gnocchi* and assessed the pantry.
*I love hand made gnocchi. I do. I love it when its made by someone else. I know! I'm the Kitchen DIY queen, but gnocchi and I have this issue. Namely, the issue is that I mess them up dreadfully every time I make them from scratch and Delallo? Well, their boxed stuff is pretty darned good. For now, they win. I'll be back, though! *shakes fist at sky*.
I grabbed Gorgonzola and Romano cheeses, bacon grease (you DO have some in the fridge, right?), and some salt and pepper. I melted said bacon grease in a heavy skillet, thoroughly drained the boiled gnocchi and tossed it into the hot grease. I crisped the gnocchi up around the edges, grated cheese over the top, salted and peppered to taste, tossed in a nub or two of gorgonzola cheese and a splash of the water I'd used to boil the gnocchi. This brings me to a very important point.
Are you aware of how valuable pasta water is? No really! A splash or two and a fistful of cheese and Vi-O-La! you have sauce. Good sauce. You can use it in place of tap water when you bake bread for improved texture. Pour cooled pasta water into your plants to water them. I'm not kidding. Don't send it down the drain. Pasta Water for President!
To say the gnocchi was finished off is to euphemize (new word. I just coined it. At least that red squiggly tells me so…) the events at the table. If I were to play word association and throw out some words that came to mind watching the kids eat I might say: Hoover, locusts, disapparate, and black holes. I might even toss in a Doctor Who reference for good measure and say, "Crack in the universe into which matter disappears." But I'd only say that if you're wearing a bow-tie, fez or Stetson. Because those are clearly cool.
I shall digress.
This was a hit. And it was an even bigger hit when I made it two days later with actual bits of bacon in it and dusted it with fresh parsley. (I told you I was on a gnocchi bender.)
I just have to leave you with one thought before I share the recipe. My angelic blonde-haired, blue-eyed, ten-year-old approached me this morning and said, "Mom. Can we have gnocchi for lunch? Or as I like to call it, guh-naw-chee? Get it? 'Cause I gnaw on it? Guh-naw?" Sigh. Phonics jokes are a family trait. If you'll excuse me, I have to go make my boy some guh-naw-chee.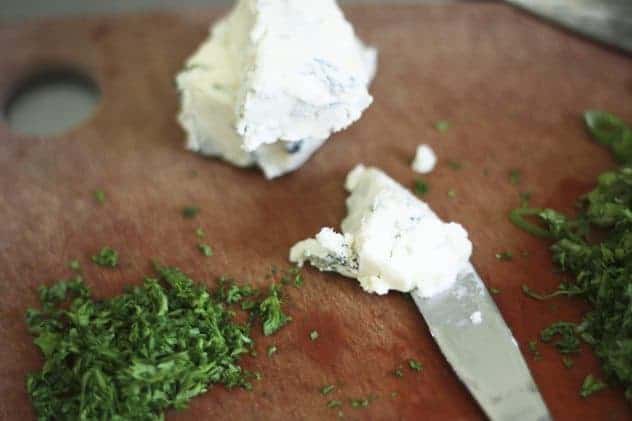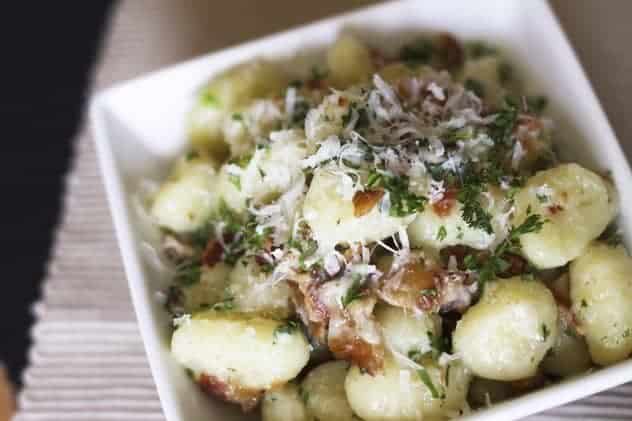 Pillowy gnocchi lightly fried in bacon fat, then tossed into a simple pan sauce of bacon, three cheeses, parsley and green onion.
Ingredients
2

1 lb boxes gnocchi

1/2-3/4

of a pound of sliced bacon

cut cross-wise into 1/2-inch strips

1-4

tablespoons

crumbled Gorgonzola cheese

to taste (If you are averse to bleu cheeses, you can substitute an equal amount of mozzarella or fontina here.)

1

cup

shredded mozzarella

1/4

cup

grated Romano cheese

plus extra for serving

2

thinly sliced green onions

green part only

1/4

cup

parsley

finely chopped
Instructions
Bring a large pot of water to a boil.

In a large, heavy skillet over medium high heat, cook the bacon until it is browned and crisp-chewy. Use a slotted spoon to transfer the bacon to a paper towel lined plate. Drain off all but 2 tablespoons of the bacon drippings.

Cook the gnocchi according to the package directions in the pot of boiling water. Use a sieve or slotted spoon to transfer the cooked gnocchi from the boiling water to a colander.

Return the pan with bacon grease to medium high heat. Add the drained gnocchi and toss to coat. Cook the gnocchi, stirring frequently, until golden brown on most surfaces. Lower the heat to medium, add all of the cheeses and a deep spoonful of the water in which the gnocchi was cooked. Stir gently, adding more pasta water -if necessary- to help the cheese melt and form a sauce. Stir in the bacon, sliced green onions and parsley and serve hot with extra Romano cheese if desired.
Nutritional information is an estimate and provided to you as a courtesy. You should calculate the nutritional information with the actual ingredients used in your recipe using your preferred nutrition calculator.