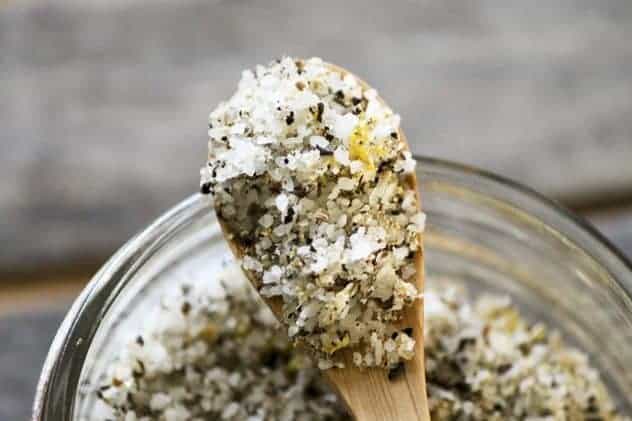 I am a collector of herbs and spices. I like to have a little bit of everything just in case I need a little bit of anything. I have just about every herb and spice on hand that you could possibly want. (And a few extras: anyone need za'atar or nigella? Anyone?) One thing I hadn't bought until recently, though, was lemon pepper seasoning.
I can't really explain why I didn't buy it. I love lemon and pepper together. My version of using lemon pepper usually involved squeezing and zesting a lemon and grinding a bunch of pepper on top.
Last week, a coupon and a sale conspired to convince me to buy my first ever little shaker jar of lemon pepper seasoning. I got it home, opened the safety seal, dipped my finger in and took a taste. Then I made a face and scraped at my tongue with my fingernails. EW. I mean really. The top note of this well respected manufacturer's lemon pepper seasoning blend was citric acid followed by chemical followed by IDunnoWhat. Egads, that stuff was awful! If I thought really hard about it, I could kind of taste lemon in there somewhere, but I think that was the power of concentrating on the yellow that was provided by the yellow food dye. FOOD DYE. In seasoning. Sigh.
It's often the little things -a pinch of this, a smidgen of that- that make the difference between a recipe that is good versus one that is great. I've seen quite a few recipes that call for lemon pepper seasoning and I've always done my lemon juice/zest/pepper hack, and it usually worked out just fine. After trying the stuff that flies off the market shelves, though, I was convinced that I could easily do much, much better at home.
And I did.
Here you have Foodie With Family's Homemade Lemon Pepper Seasoning. All the GOOD stuff, and none of the crizzap. Sprinkle this over grilled fish, chicken or pork. Use in place of commercial lemon pepper seasoning in equal amounts called for in other recipes. Put a dash or two over buttered popcorn. Go nuts. Now that I have the homemade stuff, I'll never be without it again.
Bonus: The homemade mix comes in significantly cheaper and worlds tastier than the commercial stuff. Give it a try… I know you won't regret it!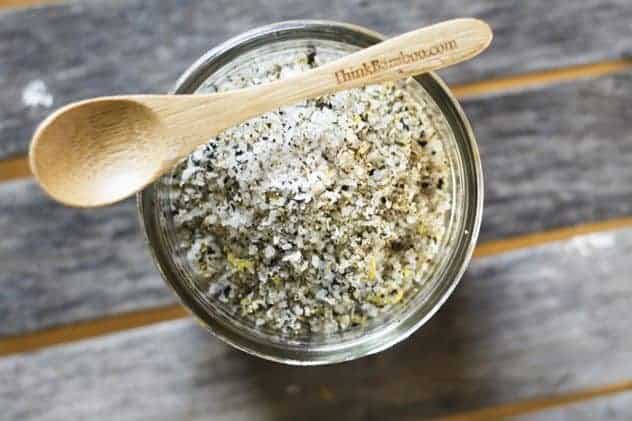 And in case you're wondering whatever became of the shaker top of lemon pepper seasoning I bought at the store, you'll be glad to know it didn't all go to waste. My kids peer pressured each other into trying it as a feat of strength, "Try THIS! It's REALLY GROSS! Can you handle it?" What can I say? Homeschooled kids have weird peer pressure.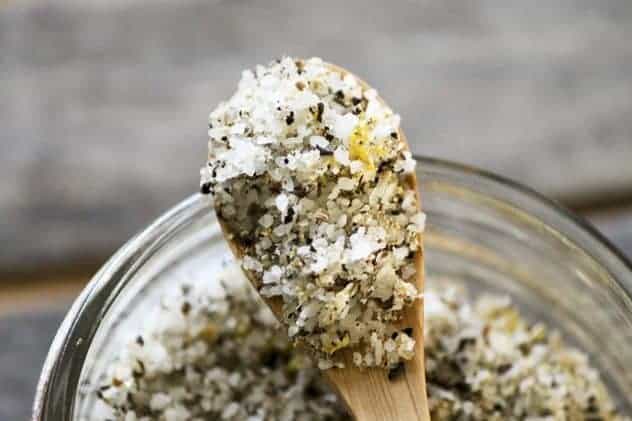 Add a punch of flavour to grilled fish, chicken, pork, popcorn, dips, salads and whatever else your heart desires with this perfect blend of salt, lemon zest, cracked black pepper rounded out with hints of onion, garlic and celery seed. You'll never want to be without it again!
Ingredients
3

tablespoons

lemon salt

preferably, or kosher salt

2

tablespoons

raw sugar

2

tablespoons

cracked black pepper

the zest of one lemon

just the yellow part- avoid the bitter white pith

a heaping 1/2 teaspoon of granulated onion

a heaping 1/4 teaspoon of granulated garlic

1/4

teaspoon

celery seed
Instructions
Stir together all of the ingredients and store in an airtight jar at room temperature. This can be refrigerated if desired. Because there are no funky preservatives or anti-caking chemicals added to the mixture, you may find it has a tendency to clump slightly. Just break it up with your fingers or a fork before using if this occurs.

Replace using commercial lemon pepper seasoning by substituting an equal measure of homemade lemon pepper seasoning.
Nutritional information is an estimate and provided to you as a courtesy. You should calculate the nutritional information with the actual ingredients used in your recipe using your preferred nutrition calculator.