Sometimes a gal just needs something good and greasy and salty to make her feel everything is right with the world. This past weekend was one of those moments. With the vehic-ules on the semi-permanent fritz, not being able to grocery shop in person ("No, honey. I know chocolate chips are expensive, but please get them anyway… And yes, we DO need more milk."), the kids having just recovered from not one, but two pernicious Spring bugs, and a host of other minor annoyances I needed a little bit of pampering. And I don't mean Pampers. I've seen enough of THOSE for quite some time, thankyouverymuch. Not that I'd pay that much for diapers, mind you, but Pampers in the diaper sense as Bandaids are to adhesive bandages. I mean to say that I needed something that was good for my soul if not for my middle which is a lost cause at this point anyway after carrying and birthing five baby boys. And -whatever this may say about my imperfections as a human- there is nothing like some fabulous deep fried goodies to lift my spirits.
Because the trips to the store lately have been limited (as in non-existant) I've been relying on hitting up my freezer and pantry to feed the beasts (and here I refer to all of us… I have no 'girly' appetite. I can eat most men under the table.)  I've been doing a pretty good job of it and my deep-fried endeavours were no exception. Whenever I get to town, I reflexively stock up on whatever tortillas I can find most cheaply. Last time the 28 ounce/ 36 count packages of white corn tortillas at Aldi happened to be the cheapest tortillas on the block. So I bought 8 packages. I stuck them in the freezer for a rainy day. I was using them up bit by bit when my craving struck. I sacrificed an entire package of the tortillas to make chips for my crew and the family members who visited over the weekend. Believe me when I tell you this was not overkill. There were no chips left in the bowl. If you've been lucky enough to eat homemade tortilla chips before this will not shock you. If, however, you've never known the hot, crispy, wonderful phenomenon that is a homemade tortilla chip then you're in for a treat.
One of the many nice things about making your own chips is the ability to flavor them in any direction you should choose. There is a small but very vocal contingent around here who prefers their tortilla crisps fried lightly and doused liberally with cinnamon sugar. The vast majority of the house (including ME!) prefers them fried crackling crispy and dusted generously with a spicy blackened fish seasoning and coarse sea salt. You see where I'm going with this? It's easy to make the exact chips you want. On a salt-restricted diet? Leave the salt off entirely and top with whatever spice blend flicks your Bic. How about cinnamon/nutmeg/powdered sugar? Or cheese powder, or Old Bay, or Lawry's Seasoning Salt, or nori flakes and sea salt. The sky's the limit!
And let's talk pocketbook for a second. Homemade chips are more filling than the variety you get in a bag, so you eat less of them. And at a whopping $1.25 for 28 ounces of white corn tortillas we're looking at the homemade equivalent weight of 1 1/2 of the cheapest pounder bags of pre-made tortilla chips known to man. When you add in the flavorings and oil for the deep frying  ("WHAT? Did she say deep-fry? I don't do deep-frying." Hang on and stick with me. It's not all that scary. I'll help you out. That's what I'm here for.) we're up to about $2.00 for the finished batch of chips. This is before you even factor in the fact that the homemade tortilla chips are  infinitely tastier than the purchased variety.
Yes. I said this recipe deep-fries. I know there are a lot of folks out there who are seriously worried about deep-frying food for a multitude of reasons. Among them:
Danger:  If done properly, deep-frying is no more dangerous than any other technique in the kitchen. With a properly sized DRY stable pan on a level stove with the proper amount of oil and no kids playing hacky sack in the room you're as safe as houses. I emphasize the word 'dry' because a drop of water in your oil (whether it be from a freshly washed pan or a pair of tongs with a lingering bit of water clinging to it) can wreak havoc with heating oil and cause popping like you wouldn't believe. But if you observe those cautions and proceed cautiously you'll be fine!
Expense:  This is a bit trickier. There is no doubt that oil is expensive these days. All I can say is that I generally plan to do at least two or three frying sessions with each batch of oil I dedicate to deep-frying. Of course, you need to do some planning with that. If you once fry fish in oil, it's pretty much only good for frying fish or the ubiquitous chips. If, however, you start the frying party with tortilla chips or French fries or something else intrinsically mild in flavor and at a moderate cooking temperature it should be good for at least one or two more uses if you strain it after using and store it properly.
Health:  Well yes. You probably don't want to eat this every day of the week or even every week. But in moderation it is a soul-satisfying way to cook. Add this to the wine/cheese/carb/egg/beer/etc… bogeyman list. If you eat a steady diet of it you're pretty well assured of dropping before your time. If you make it an occasional treat to be savored you'll not only not die instantly, but you'll appreciate it more.
Mess:  There's not a whole lot of getting around this. Deep-frying can be messy if done wrong and sometimes even if done right. If you have all your ducks in a row before starting to fry you'll have a much easier job of cleaning up. Some mess is inevitable, but since you're not eating this real often (see 'Health' bullet point above) the small mess you incur is probably worth it to you.
The truth of the matter is that it isn't the healthiest, tidiest, cheapest, least-fraught-with-potential-for-injury dish to make (Geez. Do I know how to sell my recipes or what? I have to be truthful. I've said it before. My moral compass if firmly pointed toward 'Honest'.) but sometimes I just don't care. I want a chip, dangit, and I'll be darned if I'm not going to eat one. Throw some caution to the wind with me and you'll wind up, at least temporarily, blissed out with a bowl full of the best chips known to mankind. I'd say that's worth the risk every once in a while.
I've shown you our two favorite toppings below, but go nuts and experiment with this. Play with your food a little bit. Worst case scenario is foisting a failed batch on your grateful dogs. I can almost promise you they won't mind.
For a printer-friendly, photo-free version of this recipe, click here!
Homemade Tortilla Chips
Ingredients:
White corn tortillas
at least 2 1/2 cups Neutral oil for frying (like Canola, Corn or Vegetable oil)
Optional for topping; salt, sugar, spices.
Cut white corn tortillas into wedges of desired size.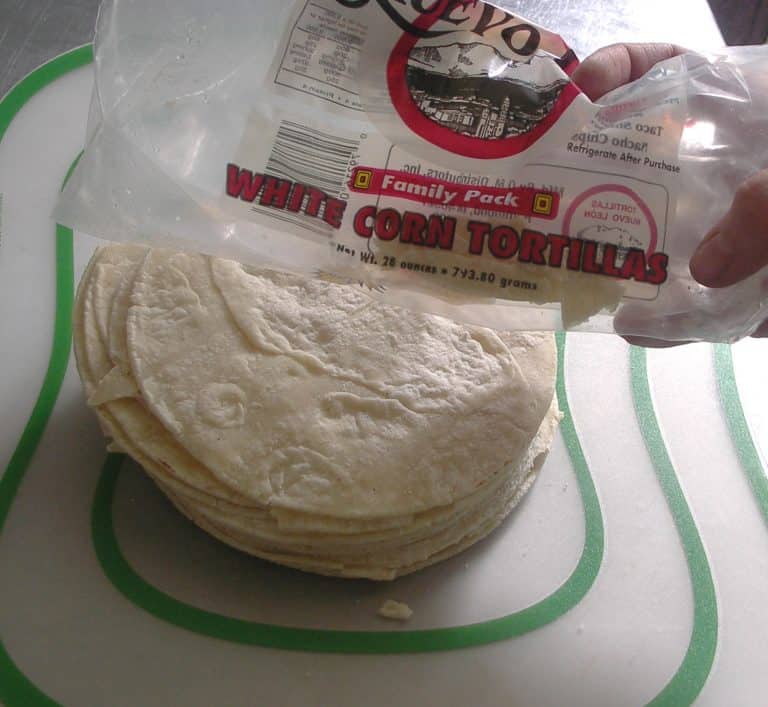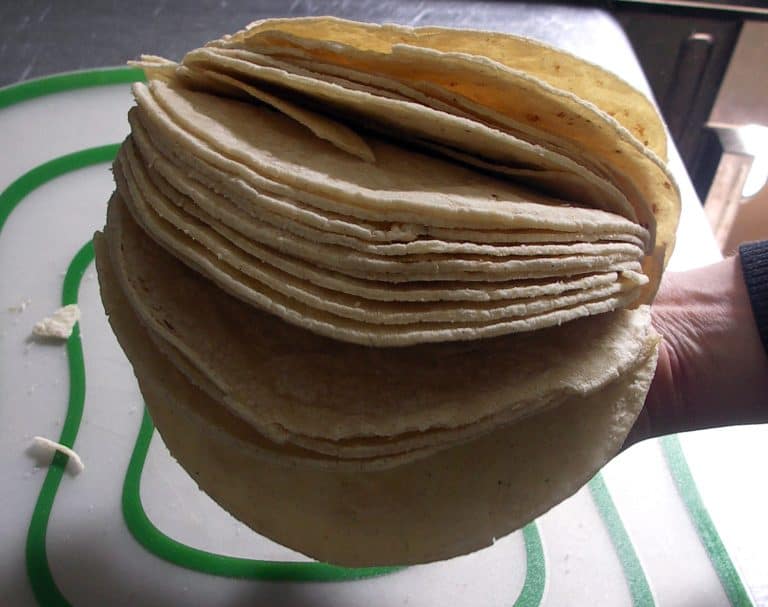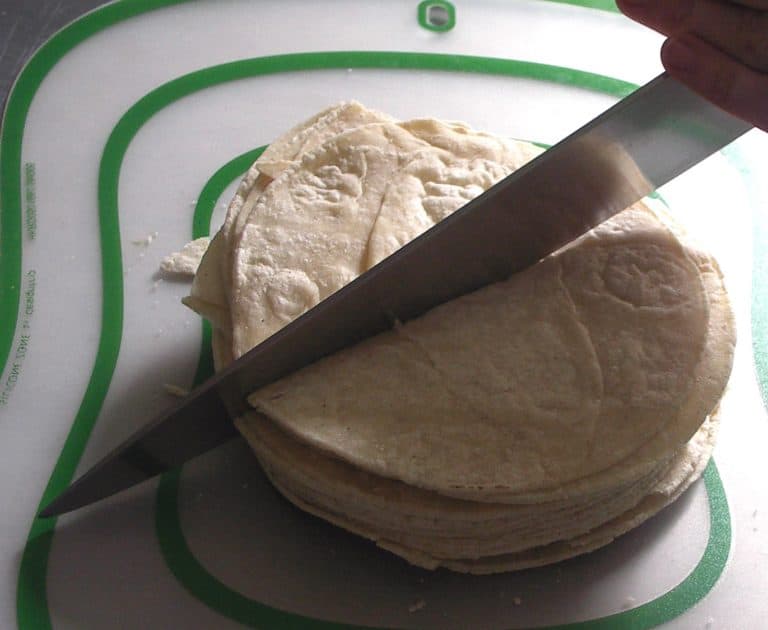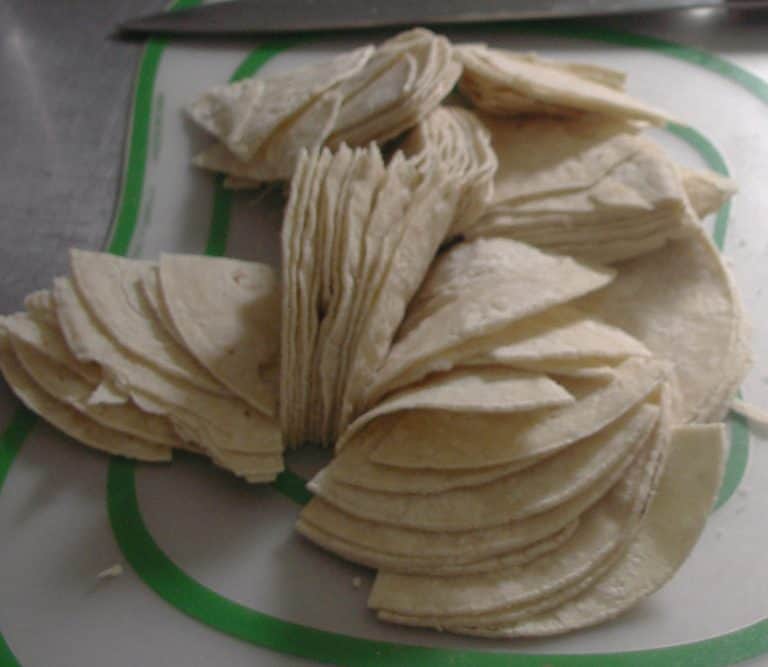 Place oil in a good-sized, heavy-bottomed, completely dry pan over medium to medium-high heat (For 2 1/2 cups oil you should use a high-sided pan that has a capacity of at least 2 1/2 quarts).
You should not fill the pan above 1/3 full for safety's sake.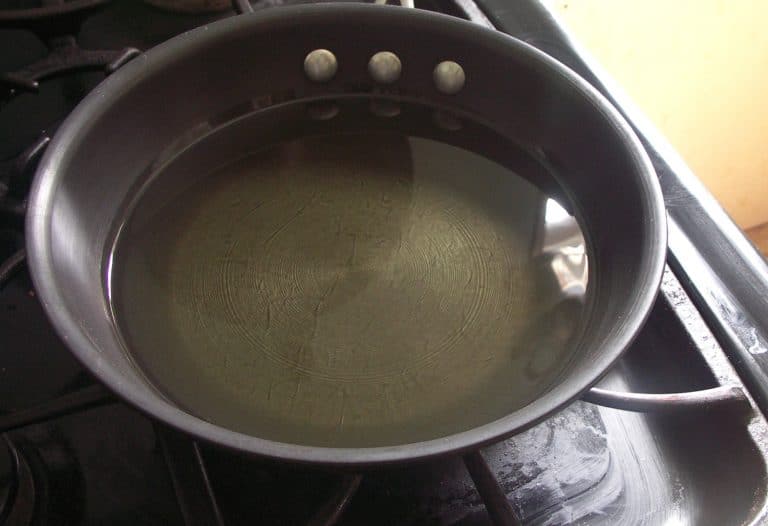 Watch the oil. When it starts getting little lines in it it is becoming hot. Test the readiness of the oil by inserting the corner of one of the tortillas into the oil.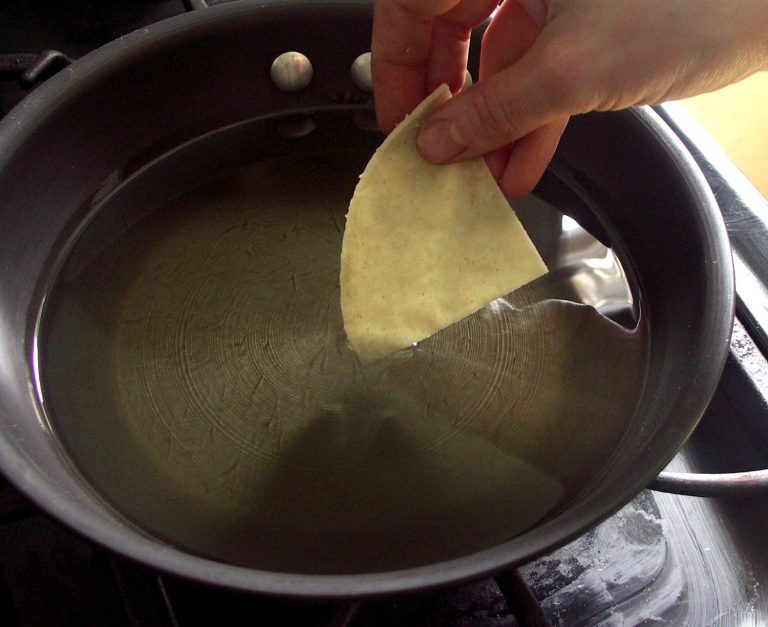 If many bubbles form quickly around the tortilla and rise to and break the surface then your oil is ready to go.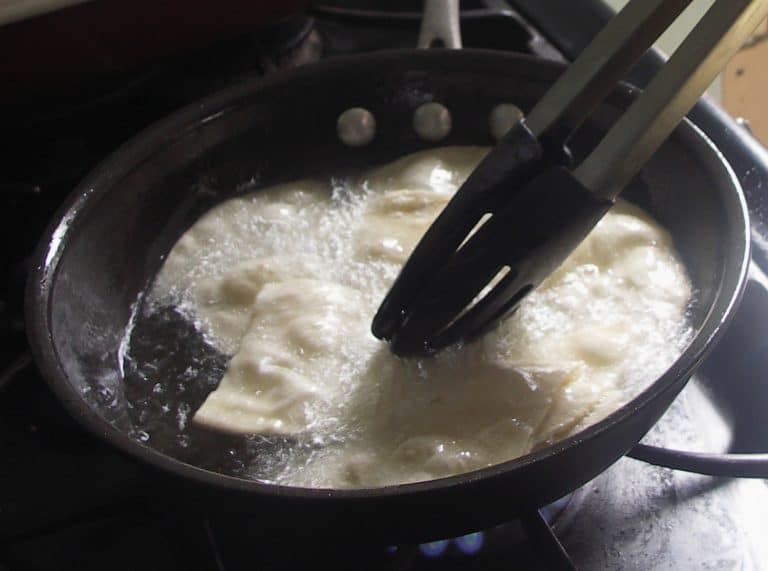 Your oil should never smoke when preparing these chips, but steam should come from the surface of the oil. Your nose will tell you the difference.
Carefully slide the tortilla wedges into the oil. Do not throw them into the oil. You stand a much higher chance of splattering oil on yourself or your stove if you toss in the tortillas. Add several tortilla wedges to the pan at a time, taking care not to overload the pan.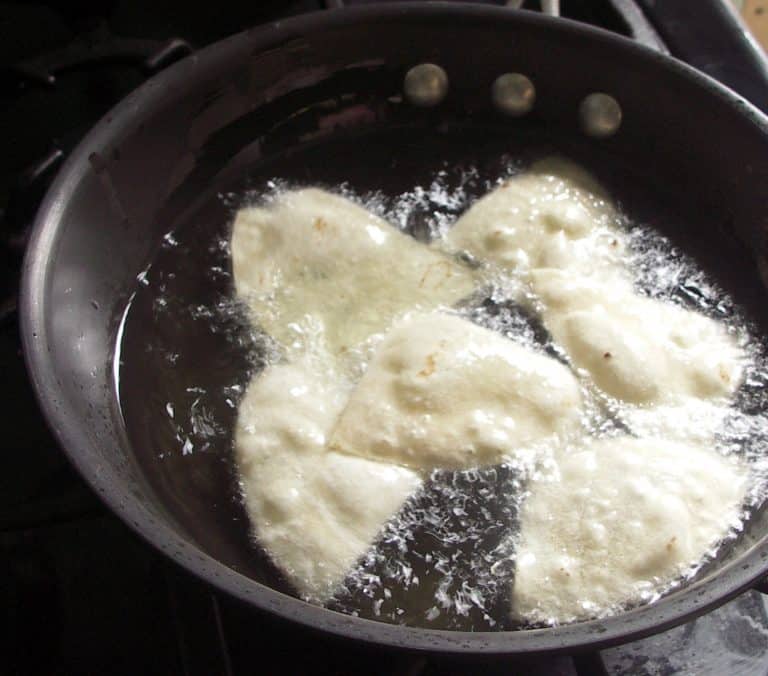 If you overload it you both lower the temperature of the oil, which makes your food take longer to cook/absorb more oil, and raise the level of the oil which increases the risk of boiling oil spilling over the sides of your pan. THAT would be a bad thing!
If you desire chips that are not super crispy, remove to a paper towel or newspaper lined dish after about 1 minute.
If you desire crispier chips keep frying them for another minute or so. Keep in mind that the color of the chips and degree of crispness will increase as they cool on the paper towels.
Your feel for the perfect time to remove your chips from the oil will improve as you continue. If you botch the first batch or so just let them cool and toss them to the dogs. They won't care if the chips are overdone and they'll be grateful for the treat.
As soon as the chips are on paper towels you should season them according to your tastes. This is a job best done when hot. Once the chips are cool they'll lose the power to hold on to all those tasty things you're shaking all over them.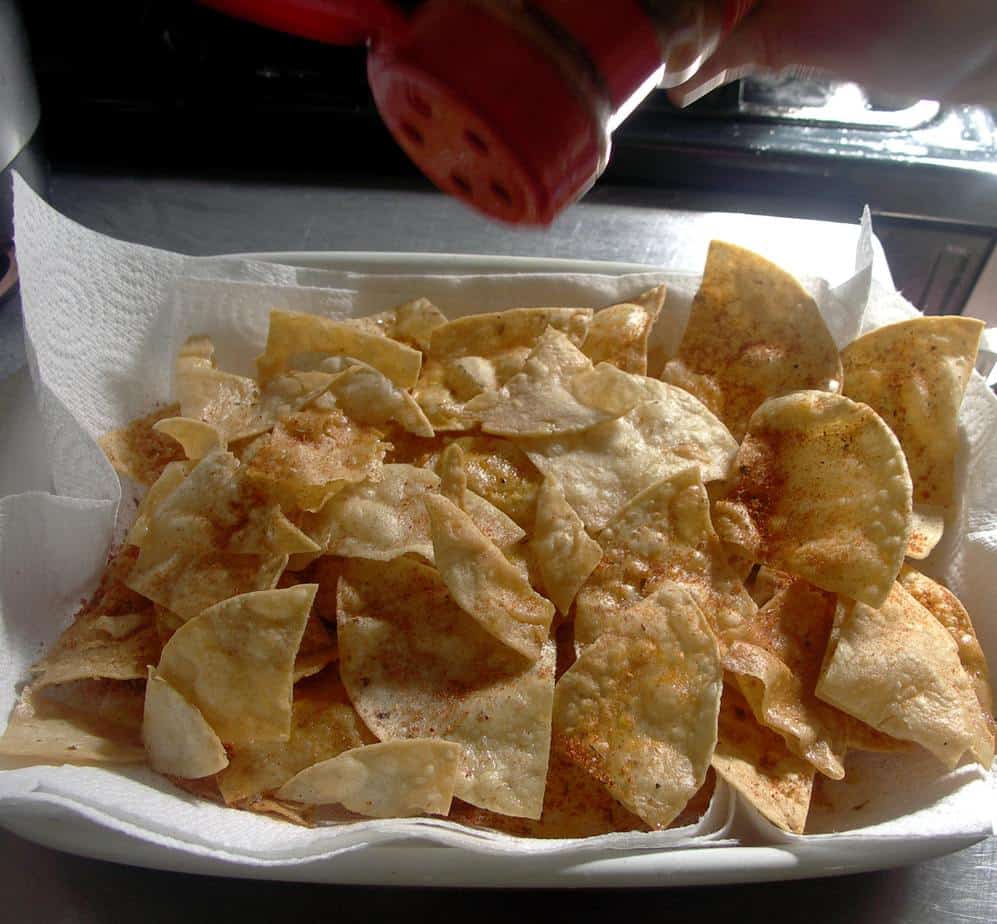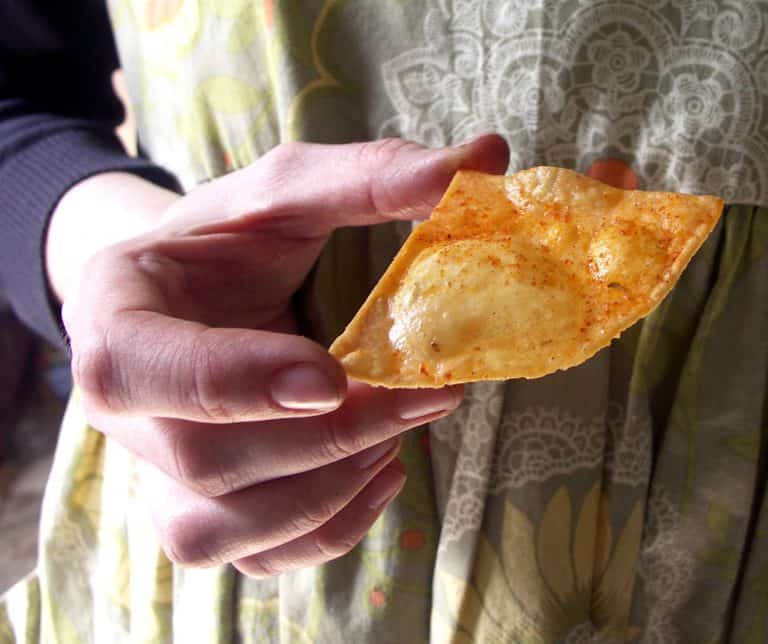 Serve while still warm for the ultimate homemade chip experience or store leftovers in a tightly closed container lined with a paper towel at room temperature. If they soften a bit after storage, you can refresh their crispness by tossing them on a pan and into a 350°F oven for just a few minutes… Remove and serve warm.
Of course, the possiblities for nacho-i-fying these are nearly endless. You'd never eat a better nacho in your whole life, but these are good enough to eat naked. The chips I mean. Not you. I'll just eat them in my turtleneck and long pants. Of course, if you want to eat these naked who am I to judge? I wouldn't recommend frying them naked, though…
Now about that oil. DON'T THROW IT OUT! Here's what you do: