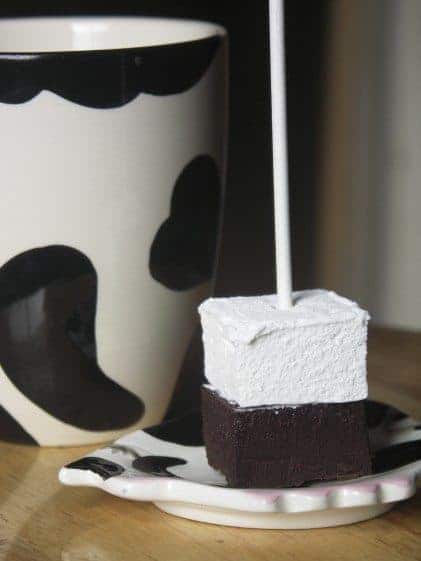 Were you to be looking for me this past Tuesday or Wednesday, you would've found me in the basement of the student center at Houghton College in Houghton, New York, selling tasty goodies at a table set up at the 26th Annual Houghton Arts & Crafts Fair. This was the first year the college did two floors of vendors and I was there on a mission: to sell as many baked goods as I could possibly turn out of my kitchen to benefit the Cookies for Kids Cancer organization.
First I want to say a word about this fabulous group. Cookies for Kids' Cancer was the brainchild of a mother who was inspired by her two and a half year old son's own battle with pediatric cancer. She took what is most parents' worst nightmare and turned it into a mission to help other families touched in the same way. Here are some important statistics to know about pediatric cancers.
Cancer claims the lives of more children annually than any other disease " more than asthma, muscular dystrophy, multiple sclerosis & AIDS combined.
46 children per day are diagnosed with cancer totaling nearly 13,000 new cases per year.
Cure rates have improved dramatically and advances in childhood cancer research has provided seminal insights into the cancer problem in general. Today, 4 out 5 children diagnosed with cancer can be cured.
Combined funding for all pediatric cancers accounts for less than 4% of the National Cancer Institute TOTAL cancer funding budget.*
All statistics sourced from Cookiesforkidscancer.org.
The opportunity to take part in the arts & crafts fair was pretty last minute, so I didn't have a ton of time to recruit friends and family to donate baked goods for sale, but I wasn't about to give up the chance to use my partnership with the GLAD Product Company to help as many people as I possibly could. Why was this such an opportunity? Because GLAD was going to donate up to $1.00 for every single cookie (or goody) I sold, up to $100,000. I knew I couldn't dream of turning out one hundred thousand cookies, but my kitchen kicked into as high a gear as I could make it go. I made a monstrously huge batch of Chex mix (as in three boxes worth of cereal, a bag of pretzels, a mega-box of Goldfish crackers,  three-quarters of a pound of butter and various other bits and pieces), a quadruple batch of salted caramel corn, and a bunch of homemade instant vanilla chai mix. I took them to the sale on Tuesday, hoping I might be able to sell out before the six o'clock end time to get home with plenty of day left to make things to sell the next day.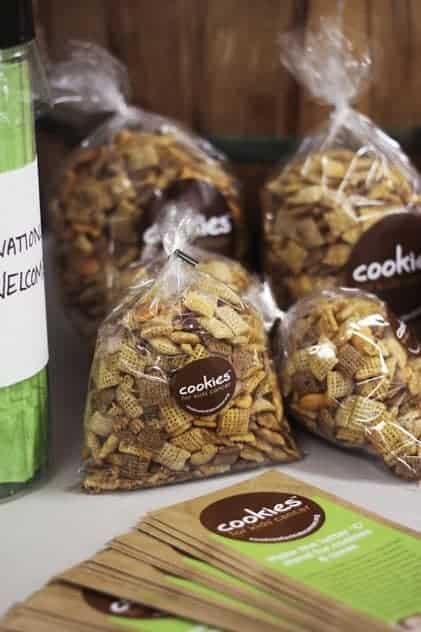 I had no idea.
I was cleaned out by two o'clock in the afternoon. The pleasant surprise spurred me to have more the next day, so the boys and I went home to make something REALLY spectacular for day two. I turned out forty eight Hot Chocolates on a Stick, four batches of homemade marshmallows (Bourbon Vanilla, Coffee, Orange Vanilla and Mint flavoured, respectively), another roaster pan of Chex mix and four batches of kettle corn (two classic, two spicy/sweet chipotle). Phew. I bagged everything maniacally Wednesday morning, pulled a brush through my hair and threw some makeup at my face, hoping it would land in the right place and had everything on my table to start selling at ten in the morning. My prayer was that I'd once again be able to sell most of what I had brought. I promised the kids they could eat whatever I didn't sell.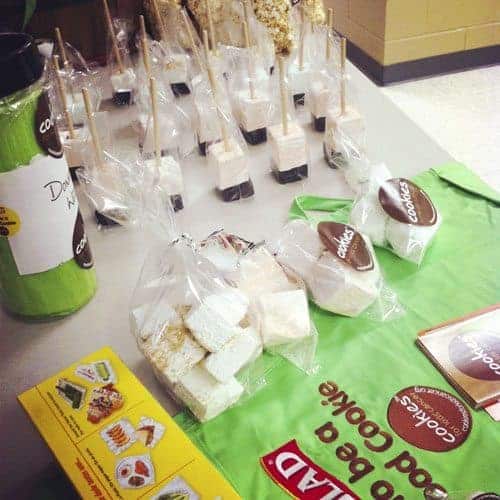 Again? Whoa.
Houghton students and community members from the county really know how to kick it into gear when it comes to charitable giving. I sold out again by two.
One student came by and listened sweetly to my spiel then opened her wallet and stuffed what she had into the donation jar with the simple statement, "I am cancer. I survived."
That makeup I threw at my face melted off as I thanked her tearfully.
All in all, I sold two-hundred and fifty items at that sale. My word.
You can get in on the giving, too, from the comfort of your own home or office and without baking a thing! Exchange a virtual cookie with a friend at the GLAD Cookie Exchange. GLAD will donate up to $1.00 to Cookies for Kids' Cancer for each virtual cookie sold, exchanged or given this November and December 2012 – up to $100,000! In other words, all you have to do to help is click! Keep on clicking, folks. Together we can take a bite out of Pediatric cancers. Please visit the Glad Cookie Exchange and Cookies for Kids' Cancer to see what you can do to help!
Now let's talk goodies and cookies round-up, shall we? All of these recipes are suitable for holiday cookie exchanges, giving or bake sales. First, let me show you what we offered at our bake sale.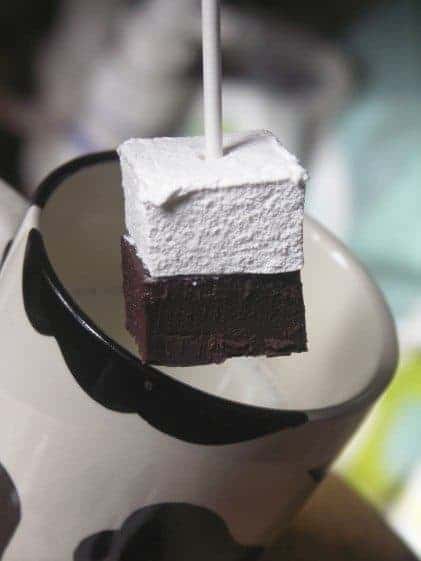 Sweet and Spicy Chipotle Kettle Corn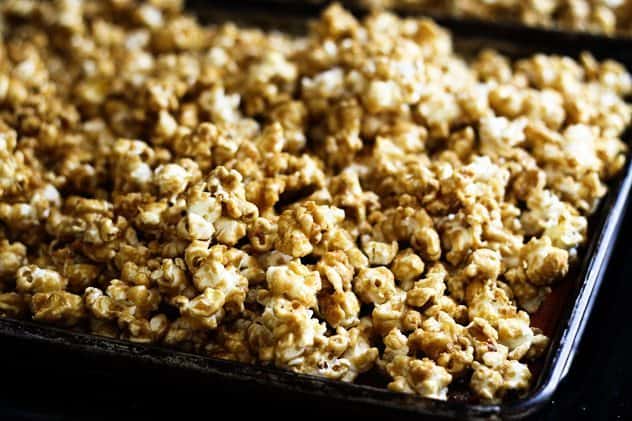 …And now for other cookies and goodies that make great gifts or holiday cookie exchange items!
Ada and Anna's Maple Sandwich Cookies (Maple Whoopie Pies)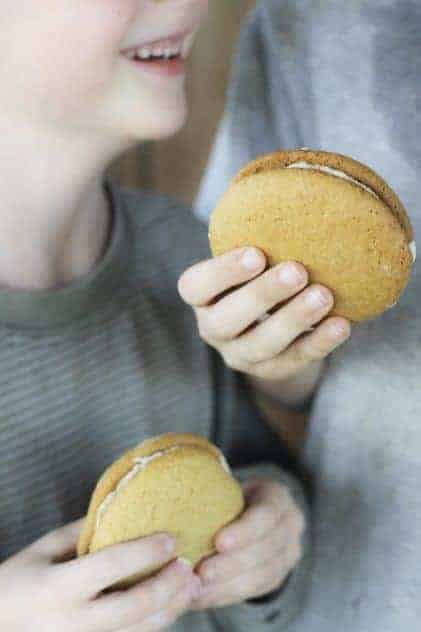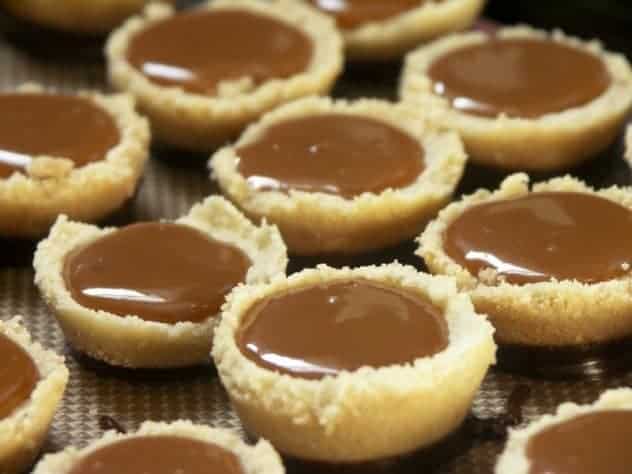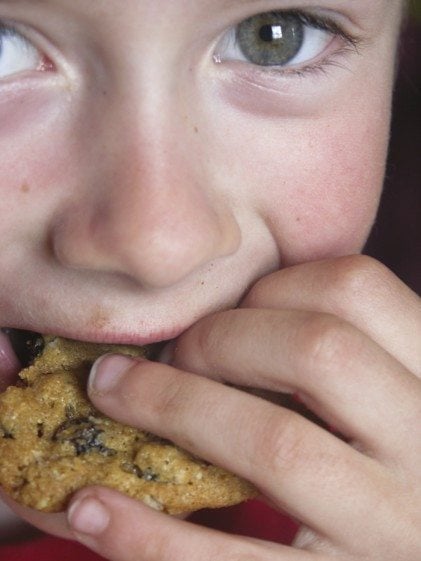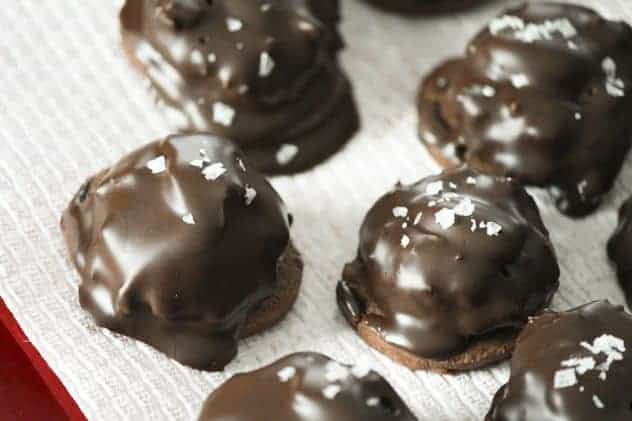 Pumpkin Chocolate Chip Cookies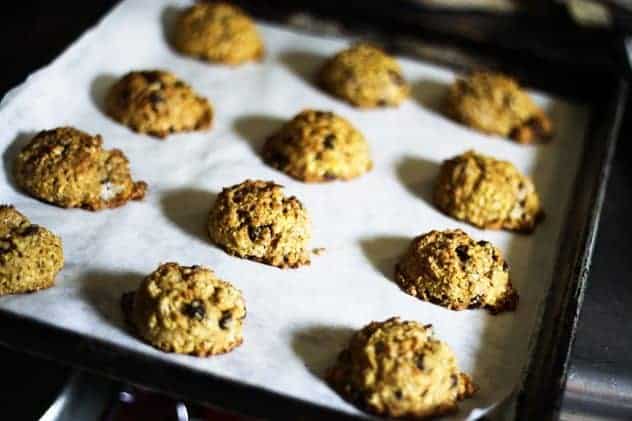 …And because not EVERYONE has a sweet tooth, include this for your favourite savoury snack lovers!

I have partnered with The Glad Products Company through DailyBuzz to help promote their Food Storage products. I have been compensated for my time commitment to work with this product. However, my opinions are entirely my own and I have not been paid to publish positive comments. Thank you GLAD!