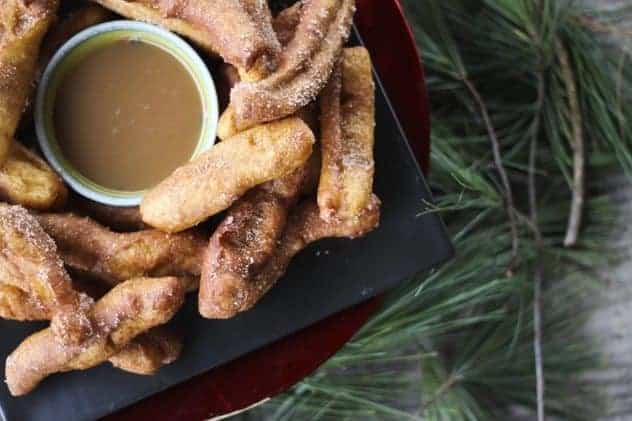 Hello, gorgeous dessert. Of all the recipes  I've done for the Captain Morgan's Spice Up the Holidays campaign, this is the one that disappeared the fastest. I guess it's natural, what with being deep-fried and all…
I introduce to you my final recipe that I developed for the contest: Banana Churros with Buttered Rum Caramel Dipping Sauce. I was bouncing ideas off of my little sister (and culinary genius), Christina. She texted me with one word: Churros. DING! We looked no further. Somehow the churros morphed into Banana Churros and I replaced the usual thick chocolate dip with a seriously festive Butter Rum Caramel Dipping Sauce. Can I get an amen?
Would you just look at those babies on the party table?
When I started this competition, I really didn't think I had much in the way of entertainment tips, but the more I thought about it, the more I realized I do. Maybe my tips won't win praise from a traditionalist, but this is how I do things.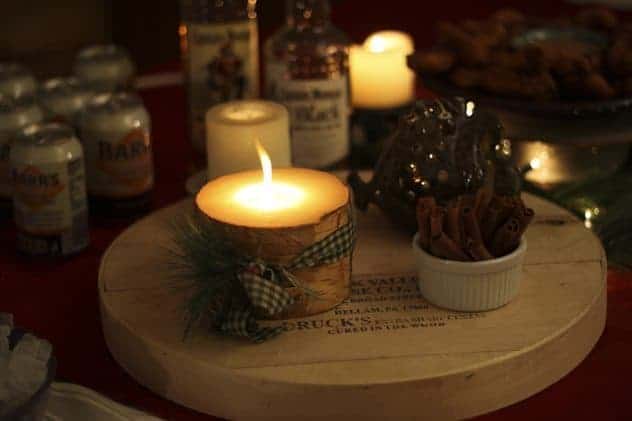 Foodie with Family Entertaining Tips:
Don't think a party has to include a full meal. A table full of appetizers and beverages keeps people full and happy. Mingling is easier with finger food than sitting down and serving multiple courses. Bonuses: Most appetizers can be done ahead of time and no seating plan necessary. People, I didn't even assign tables at my wedding. I'm consistent.
Remember the particular talents of your guests and take advantage. Do you have friends who are exceptional musicians? Ask them to bring their instrument to play instead of or in addition to a dish to pass. Do you know someone who makes an incredible pastry? Ask them to bring it along to share. Do you have a friend who makes killer homebrew? (You lucky dog.) Have them bring some to sample with your friends.
Don't be who you aren't for the sake of the party. Your friends love you for a reason. There's nothing wrong with challenging yourself, but do decor and food that you'd normally love. Grab pine boughs from the woods. Use items you already own in different ways (see the cheese box top in various party photos). If you're a super casual person, keep the party kicked-back. If you're a heels-and-pearls kind of gal, go formal!
Candles: use them. This is optional if you are having, oh say, a Jedi fancy-dress party where everyone will be swinging pretend light sabres, but otherwise, use as many candles as you practically can. Why? I just like 'em.
Serve cheese and nuts. This is not as random as it sounds. There's a good chance that if someone dislikes everything else on the table, they're still going to dig cheese and nuts unless they're a vegan with a nut allergy. Since they're both substantial foods, it'll help.
Speaking of cheese, splurge on it! If you're going to dip into the rainy day fund for a party, splash the biggest cash on a variety of cheeses. You don't need many -two or three is plenty- but get good ones. If you're not sure what to pick, ask someone at the cheese counter what they recommend for an after dinner cheese plate.
Our weeknight just-because-we-could party was a riot. I spiced things up by not telling anyone what was going on. You have to love a group of friends who shows up when you text them and ask them to come "dressed festively from the waist up." Sharon said, "it was so mysterious, this text. How could I not come?"
The cocktails and nibbles were a welcome respite in the middle of the workweek.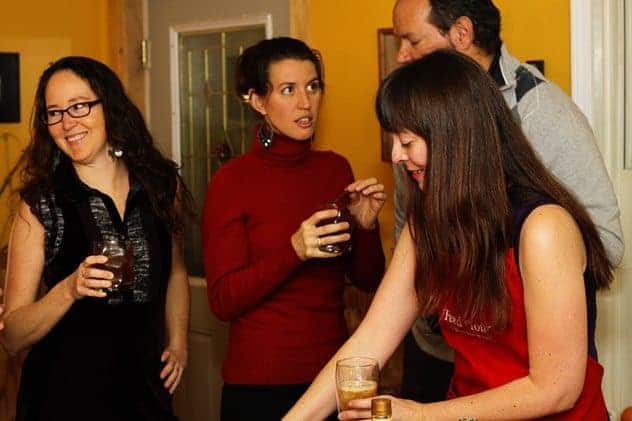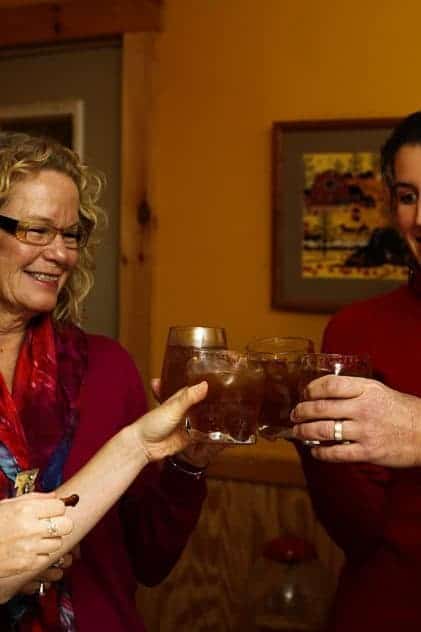 I think Gena was pleasantly surprised by the Dark & Stormy Orchard…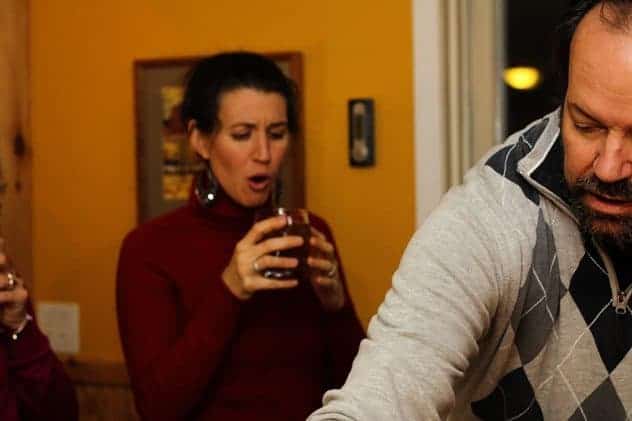 Bob was reaching for some goodies. Was he going for the Jerk Chicken Bites with Rum-Glazed Grilled Pineapple?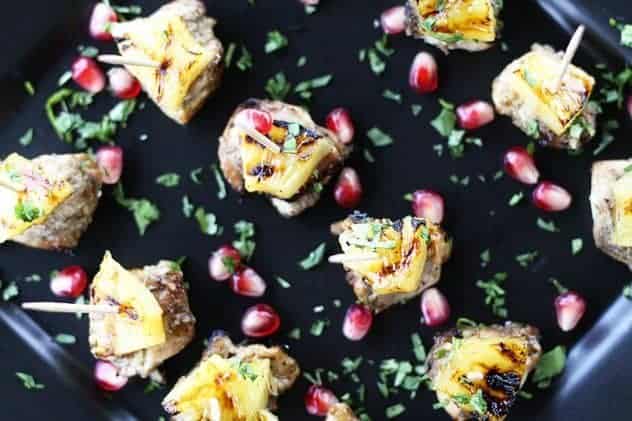 …Or the Rosemary Garlic Almonds? The cheese?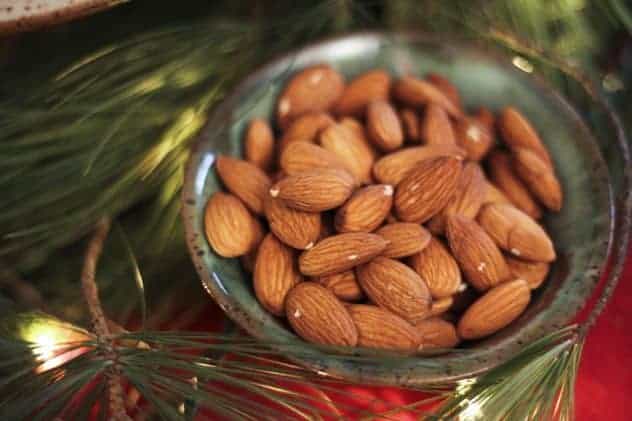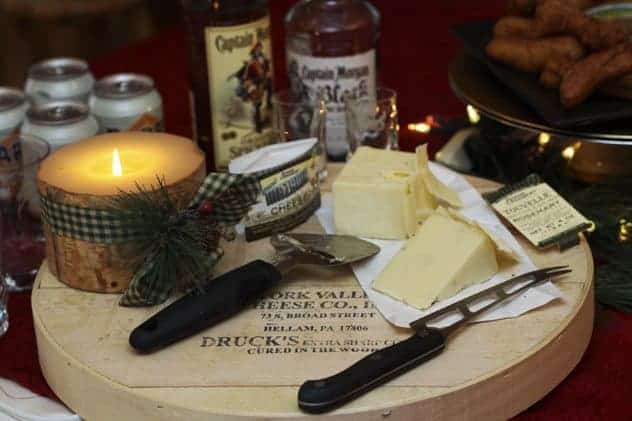 Staci and Sharon loved the churros. The Evil Genius and I loved the churros. Bob and Gena loved the churros. In short, churros ruled the party. Everyone seemed surprised by how light and crispy the churros were. Bob declared them to be superior to Krispy Kreme. In fact, I believe his words were, "These are four times as light and crispy as Krispy Kreme." I'll totally take that.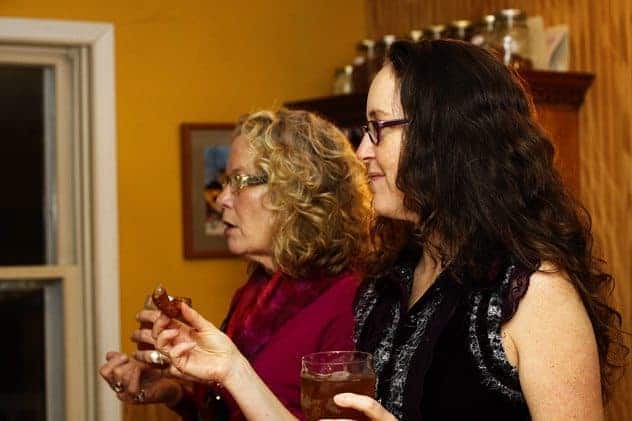 A mellow, weeknight get together was spiced up with the help of our Captain Morgan menu from the vittles to the Dark & Stormy Orchards.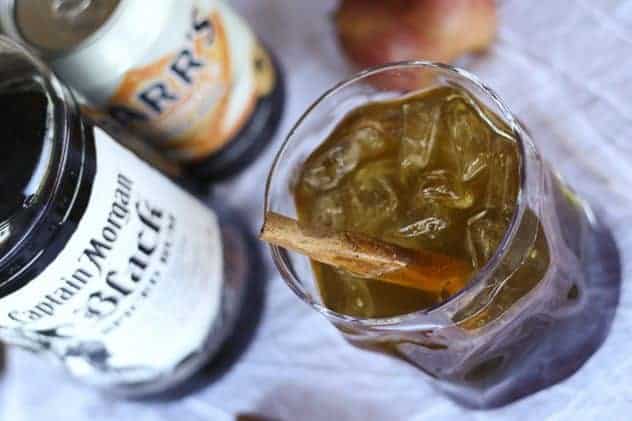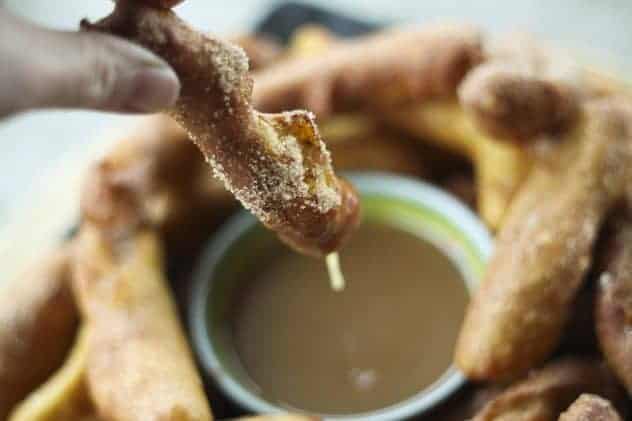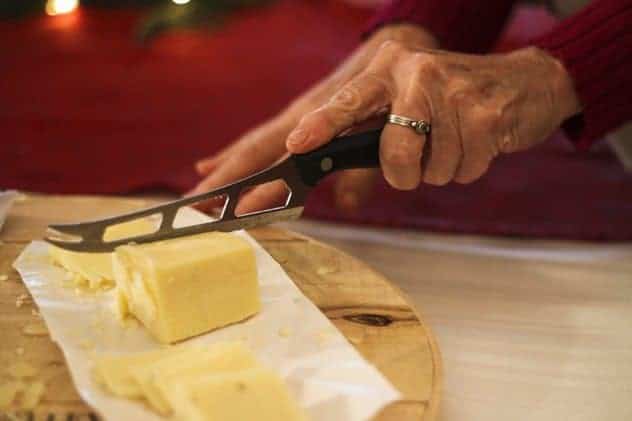 Happy Holidays and Merry Christmas everyone!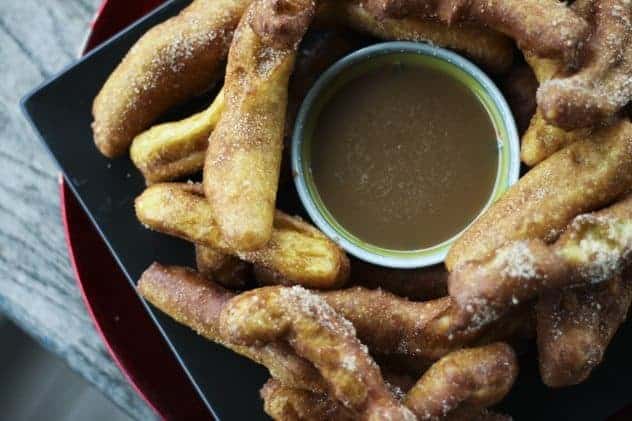 Light-as-a-feather and deep fried don't usually describe the same food, but that's exactly what these mildly-banana-flavoured churros are. Crisp on the outside, airy and moist on the inside, these Banana Churros with a creamy, rich, rummy dipping butter caramel sauce are a surefire hit wherever and whenever they're served.
Ingredients
Ingredients for Butter Rum Caramel:
3/4

cup

granulated sugar

1/4

cup

warm water

1

cup

heavy cream

3

tablespoons

Captain Morgan's Original Spiced Rum

1

tablespoon

cold butter

cut into small pieces
Ingredients for the Banana Churros:
1

very ripe banana

fresh water

4

tablespoons

unsalted butter

1

cup

all-purpose flour

4 1/4 ounces by weight!

1/4

teaspoon

kosher salt

3

large eggs

room temperature

enough peanut or canola oil to fill a heavy-bottomed

or lard, high-sided frying pan or pot with at least 1-inch of oil

cinnamon sugar for sprinkling finished Banana Churros
Instructions
To Make the Butter Rum Caramel:
Add the sugar and water to a heavy-bottomed saucepan. Swirl to start the sugar dissolving. Place over a high flame or high heat and bring to a boil. Do NOT stir this. Swirl it when necessary, but don't stir! Cook like this, swirling every so often, until it reaches a deep orange brown colour. Remove the pan from the heat and add the heavy cream all at once. Be careful, as it will splatter and spit quite a bit.

At this point you're going to think you've done something terribly wrong. The caramel you coaxed along so carefully will seize up in a horrid lump in the middle of the cream. Don't worry. It will all come out right in the end!

Place the pan back on the burner and reduce the heat to medium. NOW you can STIR! Stir frequently to help melt the caramel into the cream. It will bubble, that is okay! After about 5 minutes, the caramel should be fully melted into the cream. Remove the pan from the heat and stir in the rum and cold butter pieces until the butter is fully melted and incorporated.

Remove the pan from the heat and cover it, letting it cool, while you prepare the Banana Churros.
To Prepare the Banana Churros:
Peel and mash the banana until totally smooth. Scrape this into a liquid measuring 2-cup measuring cup and fill with water to the 1 1/4 cup line. Stir together and pour into a heavy-bottomed 3 quart saucepan. Add the butter and salt and bring to a rolling boil. Add the flour all at once, stirring vigorously to combine, over LOW heat. Continue stirring until the mixture forms a ball, about 1 minute. You'll know you've done it right if there's a little film on the bottom and sides of your pan.

Remove the pan from the heat and transfer the dough to the bowl of a stand mixer fitted with a paddle or a heat-proof bowl you can use with a hand mixer. Let it rest for 5 minutes.

While the dough rests, bring 1-inch of peanut or canola oil, or lard, up to 375°F in a heavy-bottomed, high-sided frying pan.

Back at the mixer, add the eggs in all at once and beat on high speed until fully incorporated and the dough holds the shape of the beater or paddle in it.

Scrape the dough into a large pastry bag fitted with a large star (1/2-inch opening) or a large blank tip (1/2-inch opening). Twist the top of the pastry bag and use a twist-tie to cinch it shut. Carefully pipe 4-inch strips into the hot oil. Use a blunt side of a butterknife to help release the strips from the pastry tip if necessary. I almost always need to do this. Only pipe 4 or so strips at a time, do not crowd the pan because they will expand as they fry!

Fry them until golden brown for about 2 minutes per side, turning with tongs when necessary. Drain the churros on paper towel lined plates. Sprinkle lightly with cinnamon sugar and serve with a bowl or squeeze bottle of Butter Rum Caramel.
Nutritional information is an estimate and provided to you as a courtesy. You should calculate the nutritional information with the actual ingredients used in your recipe using your preferred nutrition calculator.
A reminder: Please check out all the great work my competitors put into their parties and say howdy to them! Also, be sure to check in next week to find out who won!
 Disclosure: I am a participant in the Spice Up the Holidays contest sponsored by Captain Morgan USA. I received products to use in my recipe development and compensation for additional ingredients but all opinions are my own.