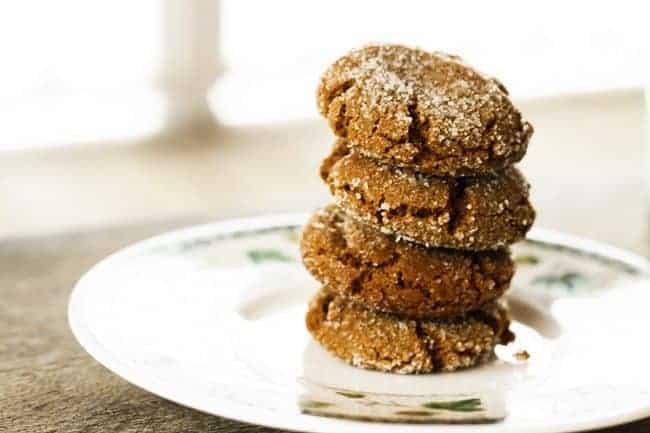 This week feels like it has gone almost as quickly as that stack of cookies up there disappeared. Is it just me? We're bustling around to get the house ready for the arrival of the many family members and friends who will be joining us for a Celebration of Life service next week for my beloved bonus mom (stepmom), Valerie. This week's Friday Fifteen has food to feed a crowd, books that I love for quiet time, and a woooonderful giveaway to cap off our week.
Let's do this thing!
Main Dish Madness
Thai Chicken Tacos by Gimme Some Oven Whoa. Can everyone agree with me? Just whoa. Tender chicken on slaw with Thai peanut sauce drizzled over it. I want it badly.
Kale, Mushroom, and Cheddar Bake by Simply Recipes Word. I want a pan of this and a spoon and a comfy chair. Clearly, I am in need of comfort food. This looks like the thing to do the job.
Garlicky Greens and Chevre Hand Pies by Starting Fresh Recipes It's pretty safe to say that I am totally, 100% obsessed with these right now. As a born-Yooper, I have a hand-pie birthright (Hello, Pasties!) and I am eminently qualified to judge hand pies. I declare these to be crave-able. I also declare these to be on my to-do list.
Easy Chicken Green Chili Tacos by My Life as a Mrs. YES, baby!!!! I think tacos and pizza are the perfect foods. They're the right ratio of meat/cheese/tacos/crunchy goodness. Rawr. RAWR. I could use a half dozen of these right now.
Thai Chicken Pizza by Seeded at the Table Didn't I just say pizza and tacos are perfect foods? Heck to the yes. I will stick my face in the pizza very, very soon. Mark my words.
Appetizing Appetizers and Snacks
Nutella Brie Bites by Bev Cooks Seriously, Bev. You need to stop doing what you're doing or I'm going to weigh 500 pounds. These are little tiny rectangles of puff pastry baked with thin slices of brie on top so it gets melty and bubbly as the pastry gets puffy. When they come out of the oven they're drizzled with warm Nutella. Dear heavenly Father. I'm totally making this for the houseful of guests I have this week. I guarantee my sisters will be parked in front of the tray as it comes out of the oven. I'd better get a big honkin' wheel of brie.
Pickled Avocados by La Fuji Mama I am all over this like brine on a pickle. It's a well known fact that I am obsessed with pickles. Also well known is my fixation on avocados. This is happening here and soon and probably getting served on top of a rice bowl with a fried egg and some pickled carrots. That's all I have to say about that.
Beautiful Breads
Fabulously Fluffy Buttermilk Butter Biscuits by Fields of Cake Biscuits are the instant gratification baby of the bread world. I know biscuits and these biscuits look fantastic. Can't you just imagine a plate of these fresh from the oven slathered with marmalade? I know I can.
Deadly Desserts
Ho Ho Cake by La Fuji Mama Fuji Mama hit my Friday Fifteen twice this week and for good reason. Lemme tell you, I was talking to my aunt who's flying up to our area from Florida for the memorial service and I asked what she wanted me to make for her food-wise. She said, "Honey? Just comfort food. Lots of it." I would say this cake qualifies with a capital Q. It's a ho-ho cake, people. I think I'll make three.
Jello Blood Worms by The Idea Room I made this with a cooking class I taught for kids last year. It went over like gangbusters, people. They actually looked like REAL worms after being tossed with Oreo crumbs. In fact, someone came to me and asked if I was really and truly letting the kids eat worms. You'd like photographic evidence? Absolutely. That's my boy!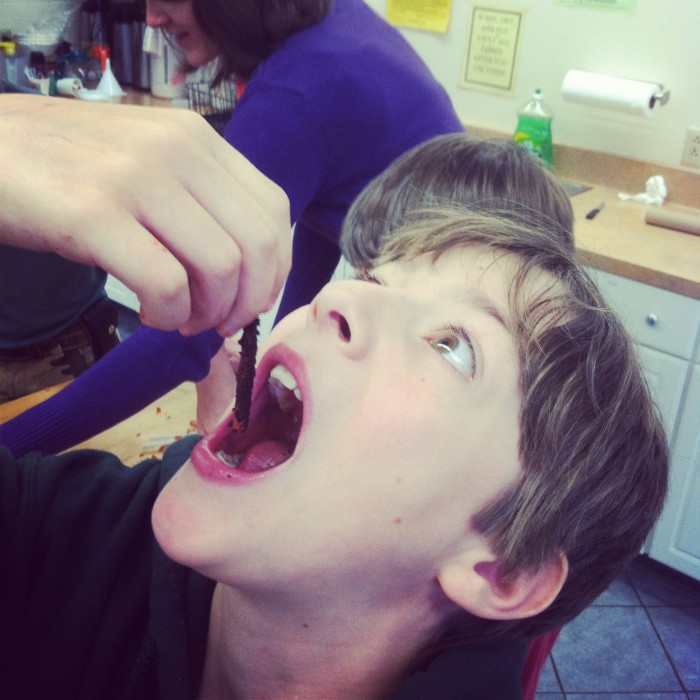 I do have one piece of advice: have people handy to help you squeeze the jello worms from the straws. Your hands get slippery and it ends up (*wimpy alert*) kind of hurting your hands a bit.
Knock You Naked Brownies by The Pioneer Woman Well, I don't know about THAT. I mean, I want those brownies more than I want my left foot right now, but I think I'd keep my clothes on. I'm kind of neurotically modest like that. Well, aside from the time that I actually lifted my shirt to prove to Ree that I was wearing Spanx (the one time I actually WORE Spanx because they're EVIL) when I was visiting her for the Bush's Beans event. But that's another cup of coffee. And the point remains: I want these brownies, but I will eat them clothed. In lots and lots of clothing.
 Beautiful Breakfasts
Oatmeal Brulee with Maple Cinnamon Cream by Very Culinary Oatmeal rocks my husband's world. I'm pretty fond of the stuff myself. I'm pretty sure this beautiful concoction from Amy at Very Culinary is one of the best looking oatmeals I've ever seen. And I'm also equally certain that the heavy cream in it is offset by the whole rolled oats and fruit in the recipe. Heyyyyyy. I didn't get to the pinnacle of food bloggerhood without some serious rationalization. It's my gift to you.
Books, books, books!
The Code of the Woosters by P.G. Wodehouse. Many years ago, Val gave me my first Wodehouse collection. I had never read anything by him before and I didn't know what to think about them. It was daughterly duty that made me crack that first cover but -oh my goodness- once I was two pages in, I was hooked. Wodehouse does situational slapstick unlike anyone else I've ever read. The Jeeves and Wooster stories are so lighthearted, so sweet, so ridiculous and so endearing that I re-read them nearly every year. They're the perfect summer read and they do not tax your emotions while still remaining smart and quick. These have my absolute recommendation!
Sense and Sensibility by Jane Austen. Oh sure, everyone knows Pride and Prejudice, and for good reason. Sense and Sensibility is the Jane Austen book that truly has my heart, though. The story -spun only as Jane Austen can- focuses on Elinor who is rational and sensible and her sister Marianne who is a wild, uncontrolled romantic and their suitors. The book isn't some soppy romance, though, as Jane Austen managed to marry satire and romance. I adore this book.
GIVEAWAY!
Update: The "Pick a Giveaway Winner" plugin has chosen Barbara N. as our winner. Barbara, please check your email and send your mailing address so we can get your goodies out to you! Congratulations!
You know I love Harry & David dearly. They sent me a gorgeous Easter box of their best Royal Riviera pears to review this week. My review, in short, is that they are the best pears I've ever had. This is my fourth batch of Royal Riviera pears and they have all been equally wonderful. They're so juicy and tender that you can eat them from the skin with a spoon. I hate to say it, but we're ruined on other pears for now because the Royal Riviera pears are so darned good.
How to Enter the Giveaway!
Harry & David has generously offered to give an Easter gift to one very lucky Foodie with Family reader. Do your best Easter Bunny impersonation and hop on over to look at Harry & David's Easter gift selection then hop back here and leave a comment letting me know which item under $60 you'd like. That's it- you're entered! One entry per person, please! We will use random.org to choose a winner Monday, March 25, 2013 and announce it here by noon on this post.